Study Finds Coal Ash Contamination Widespread In Ohio Valley
More than 90 percent of the nation's regulated coal ash repositories are leaking unsafe levels of toxic chemicals into nearby groundwater, including ash sites at more than 30 coal-fired power plants in the Ohio Valley.
A new analysis released Monday by the Environmental Integrity Project and other advocacy groups looked at federally-mandated groundwater data from 265 coal plants and their more than 550 coal ash sites across the country.
The data show unsafe levels of pollutants including lead, arsenic and mercury are leaking into nearby groundwater from coal ash sites at 14 coal-fired power plants in Kentucky, 10 in Ohio, and 7 in West Virginia.
"This is a crisis because coal ash is poisoning an invaluable and irreplaceable resource," said Lisa Evans, senior counsel with the environmental advocacy group Earthjustice, and one of the co-authors of the report. "Even if this water is not now used for drinking, contaminated groundwater flows to lakes and streams and can contaminate these waters making them unsafe for fishing, recreation and irrigation."
The groups analyzed industry-supplied groundwater data required by the U.S. EPA under its 2015 coal ash rule. The Obama-era regulation requires utilities to not only conduct groundwater monitoring at ponds and landfills, but close leaking ash ponds and clean up polluted groundwater.
The first round of data was posted last spring and includes eight rounds of testing for 21 pollutants.
While the 2015 rule does not apply to all coal ash sites across the country, Abel Russ, senior attorney with the Environmental Integrity Project and lead author of the report, said the new analysis provides the most up-to-date picture of how pollutants contained in coal ash are leaching into the environment.
"Our report provides a unique, nationally comprehensive snapshot of the industry and it's confirmed that virtually all coal plants are contaminating groundwater," he said.
Regional Contamination
The report's findings mirror those published last year by the Ohio Valley ReSource and member station WFPL. In Kentucky and West Virginia, every power plant covered under the EPA rules had coal ash waste sites with evidence of contaminated groundwater.
In some cases, the data showed levels of pollutants many times higher than the federal drinking water standards. For example, coal ash sites near West Virginia's Pleasants Power Station had levels of the neurotoxin arsenic 16 times what the EPA deems safe. The radioactive and cancer-causing pollutant radium was found at levels six times higher than acceptable.
The groundwater data was collected close to the unlined coal ash pits and landfills. More testing is needed to determine to what extent those contaminants affect drinking water.
Kentucky's Ghent Generating Station — located along the Ohio River about an hour northeast of Louisville — ranked among the 10 worst contaminated coal ash sites in the country.
The report's authors said in light of their findings, federal and state regulators must move to regulate all coal ash repositories and quickly.
However,  the Trump administration has moved to weaken the 2015 coal ash rule.  The EPA extended the deadline for utilities to stop using some coal ash ponds by more than a year, and has allowed utilities to assure regulators that leaking contaminants won't get into groundwater. It is expected to release further changes to the rule this year.
This story was originally published by Ohio Valley ReSource.
Large Natural Gas Producer to Pay West Virginia Plaintiffs $53.5 Million to Settle Royalty Dispute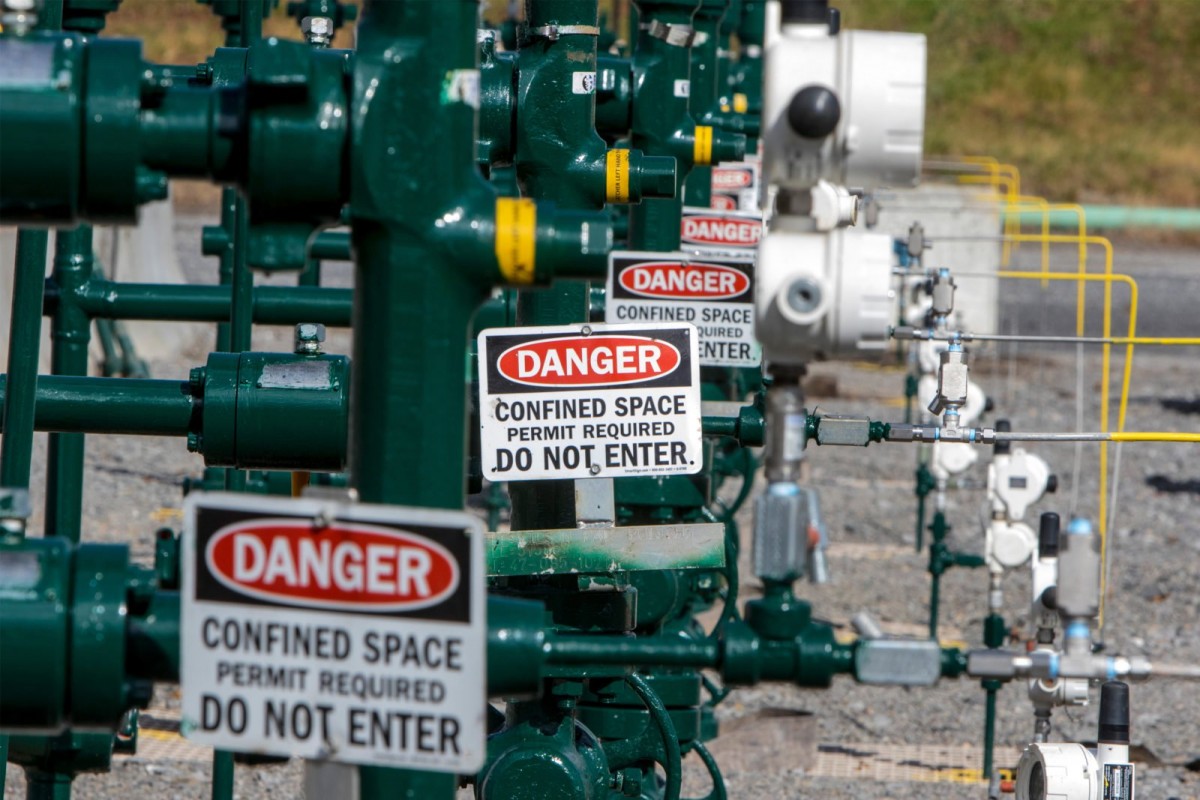 This article was produced in partnership with the Charleston Gazette-Mail, which is a member of the ProPublica Local Reporting Network.
As ProPublica's investigation detailed, EQT Corp. had been accused of deducting a variety of unacceptable charges from natural gas royalty checks. The company says it wants to "turn over a new leaf" in its relationship with the state's residents.
The second-largest natural gas producer in West Virginia will pay $53.5 million to settle a lawsuit that alleged the company was cheating thousands of state residents and businesses by shorting them on gas royalty payments, according to terms of the deal unsealed in court this week.
Pittsburgh-based EQT Corp. agreed to pay the money to end a federal class-action lawsuit, brought on behalf of about 9,000 people, which alleged that EQT wrongly deducted a variety of unacceptable charges from peoples' royalty checks.
The deal is the latest in a series of settlements in cases that accused natural gas companies of engaging in such maneuvers to pocket a larger share of the profits from the boom in natural gas production in West Virginia.
This lawsuit was among the royalty cases highlighted last year in a joint examination by the Charleston Gazette-Mail and ProPublica that showed how West Virginia's natural gas producers avoid paying royalties promised to thousands of residents and businesses. The plaintiffs said EQT was improperly deducting transporting and processing costs from their royalty payments. EQT said its royalty payment calculations were correct and fair.
A trial was scheduled to begin in November but was canceled after the parties reached the tentative settlement. Details of the settlement were unsealed Wednesday.
Under the settlement agreement, EQT Production Co. will pay the $53.5 million into a settlement fund. The company will also stop deducting those post-production costs from royalty payments.
"This was an opportunity to turn over a new leaf in our relationship with our West Virginia leaseholders and this mutually beneficial agreement demonstrates our renewed commitment to the state of West Virginia," EQT's CEO, Robert McNally, said in a prepared statement.
EQT is working to earn the trust of West Virginians and community leaders, he said.
Marvin Masters, the lead lawyer for the plaintiffs, called the settlement "encouraging" after six years of litigation. (Masters is among a group of investors who bought the Charleston Gazette-Mail last year.)
Funds will be distributed to people who leased the rights to natural gas beneath their land in West Virginia to EQT between Dec. 8, 2009, and Dec. 31, 2017. EQT will also pay up to $2 million in administrative fees to distribute the settlement.
Settlement payments will be calculated based on such factors as the amount of gas produced and sold from each well, as well as how much was deducted from royalty payments. The number of people who submit claims could also affect settlement payments. Each member of the class that submits a claim will receive a minimum payment of at least $200. The settlement allows lawyers to collect up to one-third of the settlement, or roughly $18 million, subject to approval from the court.
The settlement is pending before U.S. District Judge John Preston Bailey in the Northern District of West Virginia. The judge gave it preliminary approval on Monday, which begins a process for public notice of the terms and a fairness hearing July 11 in Wheeling, West Virginia. Payments would not be made until that process is complete.
The Charleston Gazette-Mail and ProPublica want to tell the story of the changing landscape in West Virginia, and how coal and natural gas are impacting it. West Virginians: Tell us how your community is changing. Call or text us at 347-244-2134, or email us: changingwv@wvgazettemail.com.
Kate Mishkin and Ken Ward Jr. cover the environment, workplace safety and energy, with a focus on coal and natural gas for the Charleston Gazette-Mail. Email Kate at kate.mishkin@wvgazettemail.com and follow her on Twitter at @katemishkin; email Ken at kward@wvgazettemail.com and follow him on Twitter at @kenwardjr.
This article was originally published by ProPublica.
As Top Dem on Senate Energy Committee, Manchin Prepares to Tout Region's Resources
The Senate Energy and Natural Resources Committee will begin holding full hearings this week with a new top Democrat: West Virginia Sen. Joe Manchin.
Manchin's ascension to lead the Senate committee devoted to energy issues drew concern from environmental groups and more left-leaning members of his own party who fear the centrist Democrat may not be a strong climate advocate.
At a recent meeting of West Virginia oil and gas producers, the senator from coal country said he hoped to address climate change in this role, but would also use his newfound post to better promote the Ohio Valley's energy resources.
Manchin, who said he will have a staff of about 17, will work closely with Sen. Lisa Murkowski (R-AK), who chairs the committee.
"The beauty about it is this: Lisa comes from Alaska, I come from West Virginia. Two heavy-lifting states, two heavy-producing states for the energy this country needs," he told attendees of the West Virginia Independent Oil and Gas Association winter meeting last month in Charleston. "With that being said, we can set an agenda that basically shows them what we're doing."
Manchin said he hopes to highlight the energy contributions made by West Virginia and other states in the region from both the coal and growing natural gas industries.
"We haven't been able to tell our story," he said. "We're just not telling it because there's a strong wind blowing that doesn't want that to get out. They want to believe there's something utopian in a perfect world. Well, I'm hoping we get there in our lifetime. I don't think so. Maybe our children or grandchildren, whatever. But until that happens I want to make sure they understand the ships from Russia are bringing natural gas in to the northeast. I want them to see that picture."
'All-In Energy Policy'
Environmental groups have expressed concern about Manchin taking the top spot on the Senate Energy and Natural Resources Committee in large part over fears the coal country Democrat will not be a strong voice for climate action.
In recent years, Democrats on the committee have used their positions to rail against Trump administration efforts to backtrack on climate policies and science.
Manchin has been steadfast in his position that while he believes climate change is real and that the country needs to prepare for its impacts, he will advocate for energy policy that contains a mixture of emissions-free electricity including renewables, but that also includes the use of fossil fuels for the foreseeable future. That is a break from some in the Democratic party who are seeking the immediate phase-out of fossil fuels in order to prevent the worst impacts from climate change.
"I've got a far left agenda coming from the people in my caucus, and I tell them basically that we're looking for an all-in energy policy," Manchin told the crowd.
Speaking after the meeting, Manchin also noted both he and Murkowski are pragmatic about the threat of a changing climate.
"We understand energy, we understand climate," he said. "We understand that we have to live in this wonderful, beautiful world of ours, make it cleaner and better, but use all the energy we have in a much cleaner fashion."
Manchin declined to provide examples of specific legislative proposals he might champion, but said investing in technology and research would be a top priority.
In preparing to take his post as second in command, Manchin said he had spent some time chatting with Microsoft founder and philanthropist Bill Gates. The billionaire has invested significantly in clean energy, including nuclear power. Manchin characterized Gates as pragmatic about the need to balancing clean energy and fossil fuels, and said he hoped to bring him to the committee.
Storage Hub Major Priority
The lawmaker also stressed his commitment to building more natural gas liquids storage capacity in the Ohio Valley. Specifically, Manchin noted his continued support for the Appalachian Storage and Trading Hub.
Manchin has long been a proponent of the project, now almost a decade in the making. It would be built with a combination of private investment and a $1.9 billion loan guarantee from the Department of Energy, which is being applied for by the project's developer, the Appalachia Development Group, LLC.
A year ago, the project got approval for the first of two application phases for a $1.9 billion U.S. Department of Energy loan. Last summer, ADG announced it was hiring an outside firm, Parsons Corporation, to help with the second phase and data collection.
"It's like the field of dreams, build it and they'll come," he said of the hub. "I think everything leads from that if people know we have available, dependable and affordable energy there to be accessed for the development that we need for our state, our region and our country, defense of our country, that's a no-brainer."
The full committee kicks off hearings this week. On Tuesday, it will hear testimony about the state of the country's energy and mineral markets. On Thursday, it will hold a hearing on energy innovation in the United States.
This article was originally published by WV Public Broadcasting.
Unpacking The Ways Climate Change is Affecting West Virginia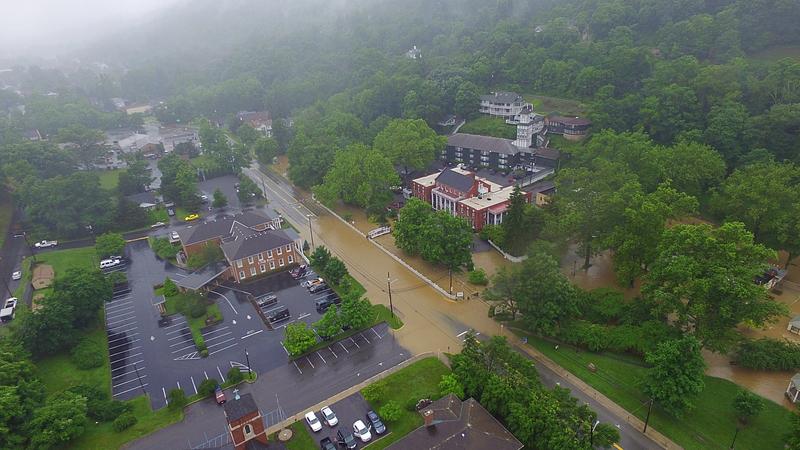 Last week, the Intergovernmental Panel on Climate Change, or IPCC, the U.N. body that provides objective, scientific reports on climate change issued a grave warning: Humans are running out of time if we are to prevent the worst impacts of global warming.
While the report took a global view, here in the Mountain State, scientists can already document the impacts of climate change. Many parts of the world are bracing for more extremes including and higher temperatures and more severe droughts, while the prognosis in West Virginia is more of a mixed bag.
"West Virginia's climate has become milder with warmer winters, cooler summers and generally more humid conditions year-round," said Evan Kutta, the climate sciences program manager for West Virginia University's Institute of Water Security and Science.
Data show that between 1906 and 2016 maximum temperatures decreased 5.3 percent, while minimum temperatures increased 7.7 percent. Over the last century, precipitation has increased 2.2 percent.
While some aspects of West Virginia's economy may benefit from the milder winters as a result of a changing climate – including agriculture and some outdoor recreation industries – expected increases in rainfall could pose challenges to human-constructed infrastructure.
"The flooding that happened two summers ago in 2016 was truly severe and that could be something that we see more often," Kutta said.
West Virginia is one of the most flash-flood prone states in the country, and maybe even the world. The stacked ridgelines of the Appalachian Mountains and deep hollows are really good at shaking moisture out of storms, and channelling it quickly downstream to larger rivers.
He added that more research and planning is needed to tap into the opportunities that could be wrought from climate change as well as challenges.
Agriculture and Forests
When it comes to West Virginia agriculture, climate change has mixed implications.
Unlike in places like California, where climate models predict warmer, drier conditions, in Appalachia, milder conditions could result in a longer growing season that could support a more diverse variety of crops, Kutta said.
However, with more moisture also comes more cloud cover.
"That reduces sunlight available for crop growth," he said.
In fact, the impacts of a wetter West Virginia are already being observed across the state's forests. Scientists see changes in the types of tree species putting down roots in West Virginia. Oaks are being replaced by maples, which prefer shadier and wetter conditions.
"Maples are more vulnerable to droughts, but the increasing number of maple trees in the state indicates that droughts are becoming less severe and water resources are becoming more abundant," he said.
West Virginia's Role
The IPCC report stresses that to prevent 2.7 degrees of warming, greenhouse gas pollution must drop significantly. Burning coal for electricity, which is the most carbon-intensive source of fuel, would have to decrease from almost 40 percent today to between one and seven percent by 2050.
That could greatly impact West Virginia, which is the second largest producer of coal in the United States and in 2017 sourced 93 percent of its own electricity from coal-fired power plants, according to the U.S. Energy Information Administration.
The state could also play a significant role in mitigating climate change, according to Kutta.
"The ongoing transition away from coal has been difficult, but West Virginia is rich in other natural resources that could represent a boon for the state's economy," he said. "The Marcellus and Utica Shale formations represent sources of natural gas, a cleaner fossil fuel that may ease the crucially needed transition to renewable energies."
Furthermore, the rugged terrain of the Mountain State offers many opportunities for renewable energy.
The ridges of the Allegheny Mountains could be prime wind turbine real estate. Abundant water resources could support hydroelectric generation and Kutta said West Virginia is even rich in geothermal energy.
"It's actually from all of the wells that have been drilled in the state," he said. "They've found temperatures in excess of 150 degrees Celsius just a couple of kilometers below the surface, which would be suitable for commercial scale energy production if the funds are available."
Overall, the new IPCC report paints a rather grim picture. The scientists who put it together looked at more than 6,000 published studies and found that over the next two decades the planet is on track to see global temperatures rise nearly 3 degrees above where they were prior to the industrial revolution.
The authors note the impacts of continued warming include food shortages, wildfires, severe droughts. Coral reefs will experience mass die-offs and millions of people living on the coasts will need to relocate.
The report estimates the cost of not preventing global temperatures from rising above 2.7 degrees will cost some $54 trillion in damages.
The authors also note that doesn't have to be our future, but the world needs to act fast to prevent it from happening. Kutta agrees.
"It's a problem that is bigger than each individual, so we need to be working together as a group to solve this truly enormous challenge," he said.
This article was originally published by West Virginia Public Broadcasting.