Fact-check: Shelley Moore Capito Mostly Right About Recent GDP Growth, Unemployment
In a recent op-ed, Sen. Shelley Moore Capito, R-W.Va., wrote that the economic environment in West Virginia — and the United States as a whole — is the healthiest it's been in years.
In the op-ed, published Jan. 3 in the Daily Mail WV, Capito wrote that "the American economy had quite a year. In fact, our economy is growing at its fastest pace in nearly four years. Unemployment is at an all-time low."
Is this accurate? We reached out to Capito's office but did not receive a response, so we turned to official federal economic data. We found that Capito's comment is mostly — but not completely — on the mark.Economic growth
The typical statistic used to measure economic growth is the percent change in inflation-adjusted gross domestic product over the previous quarter. Here's how that looks since the beginning of 2007, right before the onset of the Great Recession.
In the most recent quarter for which data was available — the third quarter of 2018 — inflation-adjusted GDP grew by 3.4 percent. The quarter before that — the second quarter of 2018 — it grew at 4.2 percent.
The last time the quarterly growth rate was higher than that was in the third quarter of 2014, when the rate stood at 4.9 percent.
That's about four years ago. So if you look at the two most recent periods, they are both higher than any other quarter going back about four years.Unemployment rate
On the unemployment rate, Capito is close but not exactly correct when she says it's at an all-time low.
Here's a chart showing the most commonly cited unemployment statistic going back to 1948, when the calculation first took its current form.
At the time the op-ed was published, the most recent unemployment rate, for December 2018, was 3.9 percent. And in the recent past — from August to November 2018 — the rate had hovered between 3.7 percent and 3.8 percent.
That's quite low by historical standards, but not the lowest ever.
In 1968 and 1969, unemployment was below 3.7 percent for more than a year. And for most of 1951, 1952 and 1953, it was also under 3.7 percent.Our Ruling
Capito said, "Our economy is growing at its fastest pace in nearly four years. Unemployment is at an all-time low."
She's right about the pace of economic growth, and she's close on the unemployment rate, which has in recent months been at its lowest rate in about half a century, though not since the creation of the statistic.
We rate her statement Mostly True.
This article was originally published by PolitiFact.
W.Va. Governor's Race Reveals Identity Crisis Among Both Parties
According to the Secretary of State's website, 18 people filed financial disclosures last year declaring their intention to run for governor against incumbent Republican Jim Justice. The official period to file just began in the state, and candidates have until Jan. 25 to get their paperwork submitted to the Secretary of State's website. West Virginia's primary election is May 12.
Independent producer Kyle Vass looks at some of the candidates running against incumbent Republican Jim Justice, who was elected a Democrat but switched to the Republican party only seven months into his term.
Part One: GOP
Normally, gubernatorial incumbents don't have to worry about being challenged from within their own party. But with six republican candidates challenging Gov. Jim Justice in 2020, this race is anything but normal.
To understand why the incumbent governor, a Republican, has such a large field of candidates from his own party running against him, we have to go back to 2017, when Justice switched parties.
"It was unexpected. He had been such a down-the-line Democrat with Joe Manchin," ousted Wood County GOP Chairman Rob Cornelius said. "No one knew what to make of it."
Cornelius said he refused to start supporting the governor just because he switched to his party. In fact, Cornelius went as far as to go to newly elected State GOP Chairwoman Melody Potter. He wanted the state's GOP leadership to distance themselves from Justice.
"Melody had pledged to me…that she would be an independent person. She would not sell out to the now-Republican governor," said Cornelius, who recalled a conversation he had with Potter about Justice's switch to the GOP. "She believed he was corrupt and would be a bad person to have in the party — that he was dangerous to our reputation, our morals and our standards, and she would have nothing to do with him."
Cornelius said he recorded his conversation with Potter, because he believed Potter would later change her story. And almost a year after this conversation, when Melody Potter accepted a large donation to the state GOP from Justice and his wife, Rob Cornelius uploaded the conversation to YouTube. Shortly after that, Potter issued a letter firing Rob Cornelius, in the interest of "effective organization and party harmony," citing the state GOP bylaws.
Cornelius said his firing created a precedent in the West Virginia GOP: speak out against Justice or GOP leadership, and even an elected official could get fired. As a county chairman, Cornelius was elected, and just like that, he was gone.
He filed suit against Potter and the Secretary of State Mac Warner over his dismissal, and that case is ongoing. We reached out to Melody Potter, as well as Justice's campaign, for multiple interview requests, but they had no comment.
Cornelius isn't the only Republican official claiming to have been fired by Justice's administration or GOP leadership for threatening the governor's power. One of them is now running his own campaign against the governor — Woody Thrasher.
Thrasher was Justice's commerce secretary but was fired in 2016. Now he's running the second-largest campaign in the Republican primary in terms of money raised.
According to Justice's administration, Thrasher mishandled federal money earmarked for victims of the 2016 West Virginia flood. But Thrasher said the allegations aren't true.
In terms of fundraising, Mike Folk is running the third-largest campaign in the Republican Primary. He's behind Thrasher and Justice, who are number one and two, respectively.
Folk explained his platform is largely focused on taxes.
"Instead of going to the taxpayers for more money when the budget's tight, I think we ought to do like every household in West Virginia has to do, which is tighten their belt," said Folk, who argues that Justice is not being fiscally conservative enough.
"In 2017, when the current governor was new to office, he campaigned on being a businessman that could balance the budget without raising taxes. He instead proposed the largest tax increase in West Virginia history," Folk said.
West Virginia Wesleyan College political science professor Rob Rupp said the way he interprets the crowded gubernatorial race, is that many people from both parties frankly have a hard time trusting Justice.
"Perhaps Justice himself is indicative of what's happened to the breakdown a party labels," Rupp said.
Having a Republican governor in West Virginia is unusual. But what's really unusual, Rupp said, is that same governor having to defend his position from candidates who are claiming to be even more Republican than he is.
"He's alienated the Democrats by leaving his party allegiance. And he's distrusted by Republicans because of his recent conversion."
Part Two: Democrats
Democrats in West Virginia find themselves trying to displace a Republican governor for the first time in two decades. And with U.S. Sen. Joe Manchin deciding not to come back and run for governor, a lot of questions remain as to might be able to take back the governor's mansion.
Six Democratic candidates filed pre-candicay papers in 2018: Jody Murphy, Ben Salango, Cecil Silva, Edwin Vanover, Stephen Smith and Ron Stollings, who said he brings a lot of experience to the ticket with his three terms in the West Virginia Senate.
Another candidate, Kanawha County Commissioner Ben Salango, said he's running because he wants to bring his economic development experience to the governor's mansion.
"One of the main things that I've done, as Kanawha County Commissioner, is the Shawnee Sports Complex. It has brought in tens of millions of dollars in the sports tourism industry," he said.
Both Stollings and Salango are very quick to distance themselves from Democrats at the national level.
"I have a proven track record of being a centrist, more socially and economically moderate than our Washington, D.C., friends," Stollings said. "I'm not far left, am a moderate Democrat. People call it a West Virginia Democrat."
The term West Virginia Democrat refers to Democrats who tend to vote more moderately than most Democrats across the country, Rupp explained.
"In West Virginia when you're a Democrat in an increasingly conservative state, you do what I call the West Virginia Democrat two-step, which is you're taking a step away from the National Party."
Rupp said West Virginian Democrats have become increasingly conservative during the past 15 to 20 years.
And then you have community organizer Stephen Smith, who is a West Virginian and a Democrat. But, don't call him a West Virginia Democrat.
"What you see in West Virginia politics is either people sell their souls to big corporate interests and lobbyists and PACs, or they're already a rich guy who's made a bunch of money off the backs of other folks and they put their own money in the race," said Smith, whose campaign raised a record breaking amount in small donations for a West Virginia gubernatorial candidate.
And, he sees his race for governor as just one race in the "West Virginia Can't Wait" campaign he helped start. They're currently backing 58 candidates in various elections around the state.
"What we need are candidates at every level of office and a politics that responds to everyday working people, not to the wealthy few. And we can have that government, but only if all of us come together and only if we stop waiting on some politician, any politician, to come and save us," Smith said.
"Smith is really mobilizing Democrats getting a lot of small contributions," Rupp said. "Usually in West Virginia politics, it wouldn't work — that populist candidate makes a challenge, but usually doesn't win. But of course, these are not usual times and Smith is not running a usual campaign."
Rupp said he sees an identity crisis in both parties in West Virginia's 2020 gubernatorial race.
"For the Democrats, it's more strategic long range, where are they going to bank their future on the populist emphasis of a Smith, or a more moderate and traditional one? And the argument for the Democrats is not just about this election, it's about the next three elections. And the Republicans are just saying how they want to stay in power."
This story was originally published by West Virginia Public Broadcasting in an episode of Inside Appalachia that looks at politics across Central Appalachia.
Farmers' Experience of Climate Change Doesn't Alter Politics, Study Says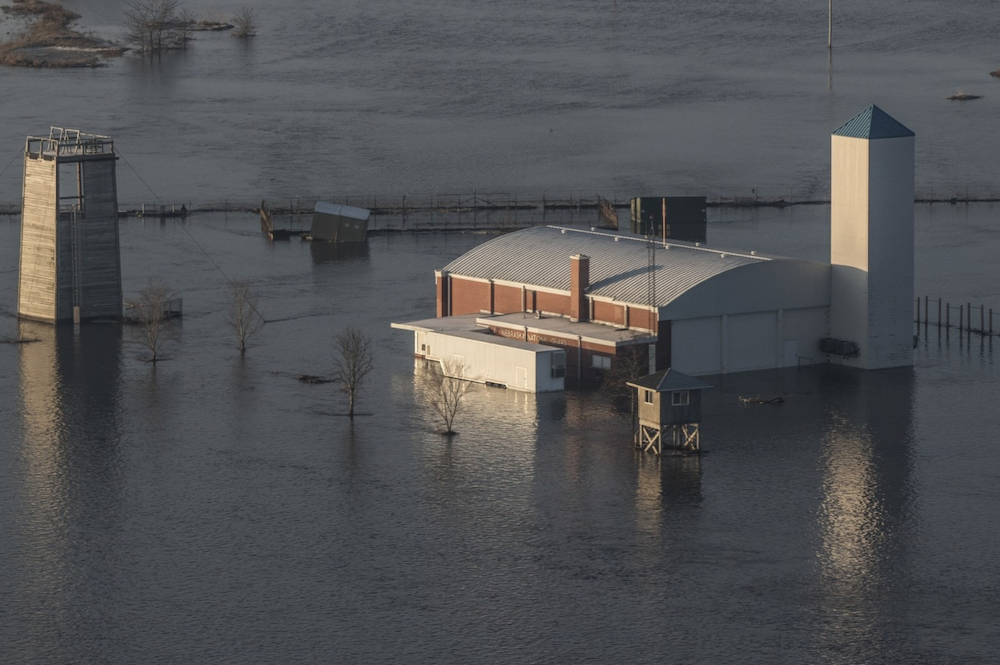 Farmers see climate change as a business challenge, not a political cause that requires public action, according to a qualitative study in the Midwest.
Farmers understand that the climate is changing but don't favor collective action to address it, according to a series of interviews conducted by researchers.
Instead, farmers tackle to the impact of climate change as a business challenge that they address through standard farming practices, like applying more fertilizer after heavy rains.
The report's findings contradict a theory of change held by many social scientists that direct experience will change political opinions.
"Farmers are a very compelling group to study when it comes to climate change opinions," said Dr. Matt Hauser, a sociologist at the University of Indiana and co-author of the study. "In some ways, they're an ideal archetype of the climate skeptic: white, male, older and conservative."
Hauser said that farmers are acutely tuned to their local environment, unlike many people who work indoors. "This makes farmers a living laboratory for social science research, where we can study the question of what will lead to social change," Hauser said.
The interviews were conducted by University of Indiana researchers focusing on the nexus of nitrogen fertilizer application, climate and weather, water quality and political opinions. More than 100 row crop farmers in Indiana and Iowa were interviewed for the project. The co-authors report their findings in the paper, "Farmers' Perceptions of Climate Change in Context: Toward a Political Economy of Relevance," published in Sociologia Ruralis, the Journal of European Society of Rural Sociology.
Participating farmers reported that they had, indeed, noticed a increase in changing weather patterns, particularly with the number of heavy rain events. When these heavy rains occur, nitrogen fertilizer is likely to wash into rivers and streams. Many farmers then re-apply fertilizer to support crop production, leading to increased overall levels of fertilizer application.
In addition to the cost of the extra fertilizer, increased nitrogen runoff is also implicated in water pollution and contributes to approximately 75% of the "dead zone" in the Gulf of Mexico. Nitrogen fertilizer production, with fossil fuels as its main ingredient, is also a major contributor to greenhouse gas emissions.
"Our findings indicate that political economic pressures, like declining profit-margins, motivate farmers to be primarily concerned about the barriers to profits presented by heavy rain events and Nitrogen loss," the study states. "Though certain environmental impacts of Nitrogen loss were acknowledged, farmers primarily typified the impact of heavy rains as a barrier to production."
"One of the main points of the study, and our research more broadly, is not to say that farmers are bad actors or that they're acting irrationally," Hauser said. "Instead, it's important to understand the system of production imperatives and public policy that farmers are embedded in."
Hauser said that the evidence suggests that the need to maximize profits through a perceived lens of maximizing production leads to "an accelerated treadmill and overlooked contradiction when it comes to nitrogen management."
In West Central Iowa, spreading nitrogen fertilizer in the fall or winter for next year's crop is a standard practice, according to farmer Bill Frederick. The Jefferson area farmer produces crops and livestock, along with operating a custom cover crop business.
"There is a lot of potential for changing practices to improve the problem" of nitrogen fertilizer loss, Frederick said. "Through cover crops and no till practices, the potential is there.
Frederick, a member of Practical Farmers of Iowa, applies liquid nitrogen in the spring and uses no-till and cover crops during seasons when his fields are not producing corn, soybeans and oats. While he said these practices haven't led to a decrease in nitrogen fertilizer on his farm, they haven't increased fertilizer application either.
"I'm pretty much in the minority around here," Frederick said. "But the last two falls have been abnormally wet, and we are able to get into our fields (for harvest) when others can't. I don't know how much of that is the no-till and how much is the cover cropping, but there's a lot of potential to expand these practices."
Farmer-driven research efforts like those of Frederick and Practical Farmers of Iowa could help to improve the quality of research and evidence for understanding these inter-related problems. With climate models predicting an increase in heavy rain events due to increased temperatures and humidity, the question of how farmers adapt and understand climate change is likely to be a continued source of social science research, according to the authors.
"These findings do not support the notion that societal responses to environmental issues emerge as the consequences related to pollution and resource degradation are experienced," the study states. Instead, "farmers are primarily interpreting these events as threats to profitability and responding with practices that they believe will protect profitability, in many cases unknowingly increasing the likelihood of future heavy rain events," such as increased nitrogen fertilizer application.
"This finding, in part, contributes toward explaining how the majority of farmers in the U.S. can remain skeptical of anthropogenic climate change despite evidence of their ability to accurately perceive climatic changes," the study concludes.
This article was originally published by the Daily Yonder.
Fact-check: Has West Virginia's Economy Boomed since Trump, Gov. Justice Took Office?
President Trump has established a close relationship with West Virginia, the state that gave him his second-widest margin of victory in 2016.
On July 21, Trump tweeted a boast about the state's recent economic success:
"The Great State of West Virginia is producing record setting numbers and doing really well. When I became President, it was practically shut down and closed for business. Not anymore!"
Because the tweet's vague phrasing is hard to measure mathematically, we won't be rating the statement on the Truth-O-Meter. Instead, we will look at some key economic factors to get a rough sense of whether the state's economic performance has turned on a dime since 2017, the year that both Trump and his ally, Gov. Jim Justice, took office.
Broadly speaking, we found that the state's economic performance has improved during that period — but for several key statistics, that improvement continued the ongoing trend lines in place before Trump and Justice took office. (Justice was elected governor as a Democrat, but he switched to the Republican Party in 2017.)
For instance, here's a look at the state's unemployment rate since 2007. As with the other charts below, the red portions denote the tenures of Trump and Justice.
West Virginia's unemployment rate in August 2019 was 4.6%, the lowest since the start of the Great Recession, and it has fallen from 5.3% in January 2017, when Trump and Justice took office.
However, as the chart shows, the state unemployment rate also fell under President Barack Obama and Justice's Democratic predecessor, Gov. Earl Ray Tomblin. Indeed, the country's unemployment rate as a whole has declined during that period, so this pattern was not unique to West Virginia.
We also looked at median household income in West Virginia:
This chart also shows good news for West Virginia — modest gains above the rate of inflation in 2017 and 2018.
Here too, though, inflation-adjusted median income also rose in West Virginia in 2015 and 2016, before Trump or Justice took office. And the pattern in West Virginia was similar to what it was for the nation as a whole.
Here's a look at food stamp use — one of the main statistics that measures the extent of poverty in the state and the nation.
The number of West Virginians on food stamps has declined since the start of 2017, which is positive news. However, the decline began several years before Trump and Justice took office, and it mirrors the pattern nationally.
Meanwhile, here's a chart showing the change in quarterly gross domestic product for West Virginia. That's a measure of all economic output in the state, compared to the previous quarter.
The quarterly GDP growth is good news, too, for West Virginia. In six quarters, the state saw an increase, compared to three quarters in which there was a decline. The quarterly increases ranged from about 2% to almost 10%.
That said, "it's hard to attribute economic growth to any president's policies," said Eric Bowen, an energy economics specialist at West Virginia University. "In the case of West Virginia's economic growth, I think you would have to consider the trends prior to the changeover in administration."
Perhaps the most striking improvement occurred in the labor-force participation rate. This is a statistic that calculates the percentage of West Virginia's civilian, non-institutionalized population that is either working or looking for work. Economists say that a higher percentage is always preferable because it shows that a smaller share of the population is unable or unwilling to work.
Here's a chart showing West Virginia's labor force participation rate since 2007, about a year before the Great Recession hit. 
The chart shows that prior to 2017, West Virginia's labor-force participation rate was generally falling or stagnant. But since early 2017, it has risen consistently, even if not to pre-recession levels.
This improvement is especially notable since the labor force participation rate for the country as a whole has been stable even as West Virginia's has been rising.
However, it's worth noting that after rough stability in population in the first half of the decade, West Virginia's population shrank by about 25,000 people between 2016 and 2018. So while employment did increase, the rise in the labor force participation rate was magnified by the shrinkage in population.
Having a shrinking population "doesn't look so good for the economic outcomes in the state," said Tara Sinclair, a George Washington University economist.
Finally, we looked at data for a specific industry that has been a key focus of policy attention for both Trump and Justice — mining and resource extraction. Both Trump and Justice have advocated easing environmental and regulatory restrictions on the mining and oil and gas sectors. West Virginia ranks near the top nationally in coal and is also a significant natural gas producer.
This chart shows the amount of economic output every quarter from mining, quarrying, and oil and gas extraction in the state:
The economic output has been on an upward trajectory since the start of 2017, though it also rose — somewhat more gradually — for several years prior.
However, it's worth noting that the recent gains for the extraction sector are limited. Here's a chart showing the number of employees in the extraction sector:
In other words, the sector has gained a few thousand jobs since its low point in 2016, but its current level remains far below its pre-recession level and even well below its peak in late 2011 and early 2012.
"For a variety of reasons — mostly due to low natural gas prices and a falloff in coal exports — the election year of 2016 was a particularly bad year for the state's coal mining industry, and we have seen some rebound since then," Bowen said. "But mining employment and production are still well below what they were as recently as 2011."
The Bottom Line
Key economic statistics show that West Virginia is on an upward course. The most impressive turnaround since Trump and Justice entered office has been in the labor force participation rate.
Other statistics also show gains during their tenures, but in many cases those continued the trend lines seen under their predecessors, calling into question how much credit either can claim for the economic progress.
This article was originally published by PolitiFact.