Making a Living as a Traditional Weaver in Appalachia
Most Americans typically wear clothes made in factories overseas. The same goes for fabrics in homes, such as potholders, rugs and blankets. But it has not always been this way.
Hand weavers once made a majority of people's fabrics and rugs using old wooden fashioned looms that one can often find today in a historical museum. But as the textile industry became more industrialized, hand weavers no longer were a necessity.
However, there are some people who still remember the craft of weaving and even practice it today. One such person is Jane Gilchrist.
Her shop is just off a narrow neighborhood road in Stonewood, West Virginia. It is a small, brick store with a sign titled, "Loomy Ladi Handwovens."
The Art of Weaving
When she is weaving, Gilchrist sits on a sheepskin covered bench facing the loom.
On the day I visited, she wore a green top patterned with teal petunia petals. Her nails were painted a rouge pink.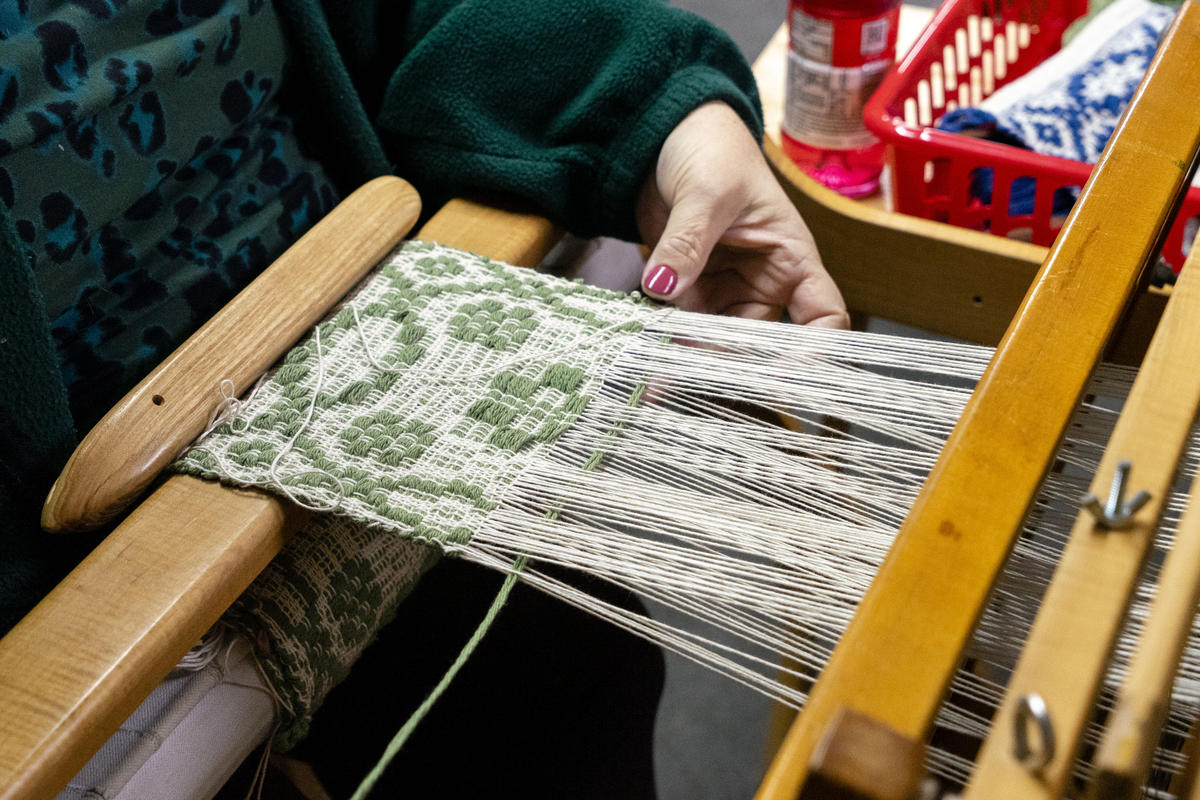 Floor-to-ceiling shelves were filled with colorful yarns, and a hand-woven, baby blue coverlet blanket with little white flowers was on display. In the corner were some of Gilchrist's square pot holders and scarves for sale.
"So this is the overshot pot holder," she said. "A real pretty earthy green with a natural warp."
The small shop is also Gilchrist's space for creating.
In the center of the room are three wooden looms, and one table loom hanging on the wall. All of them are no bigger than a desk, and each held a different project. Several looms even sat, folded up in the corner.
When she steps on a treadle, or a peddle, a layer of the tightly strung yarn lifts up, which allows her to thread the colored yarn through. With enough threading she will create a tightly woven item, like a pot holder.
'I Always Knew'
Gilchrist has been weaving as a hobby for almost two decades, but it only recently became her main source of income.
She grew up in Ohio with eight other siblings and not a lot of money. "I was the next to the youngest and I just always felt lost," she said. "I was the little fat kid without a lot of friends, middle of nowhere living on a farm and I was pretty lonely."
She made friends with a woman who was quadriplegic, although she had some use of her arms. This woman introduced Gilchrest to weaving.
"She had a big rug loom and she made rugs, and I sat next to her and I got introduced to weaving. I always knew someday I wanted to be a weaver; that just felt right to me."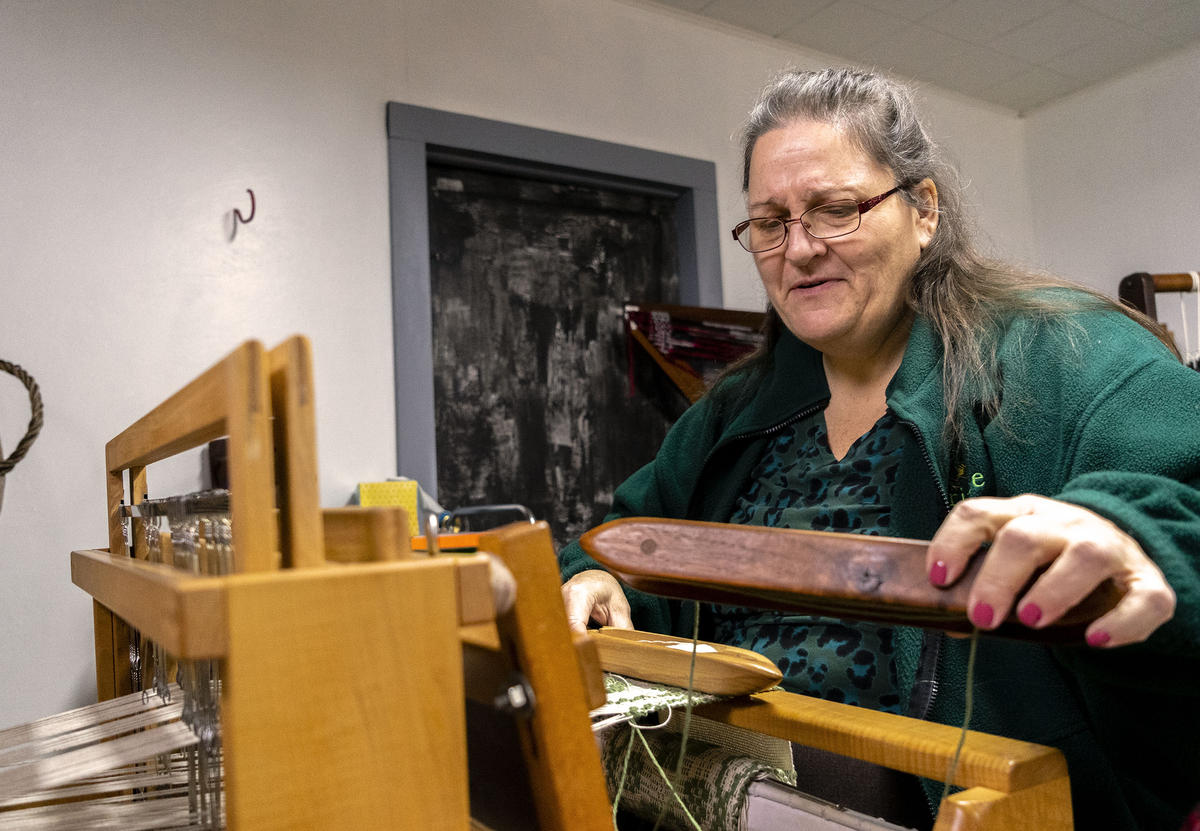 It felt right because weaving is her happy place. Gilchrist said she finds the repetitive motion relaxing, but also stimulating.
"I don't have time to think about what is or isn't, the good or the bad, and dwell on things I can't change and can't control," she said.
Later in life, she learned that weaving was a part of her family's history. She has record that her great-great grandfather used weaving as a source of income during the long, cold West Virginia winters.
Weaving was vital in the early settler days in Appalachia, Gilchrist said, adding that it helped create cloth for clothing and blankets – items that were not yet available in the rural region.
But as clothing became more available during the Industrial Revolution, weaving became a lost art.
"It went from being an essential, 'you have to do this,' to being a hobby," she said.
Gilchrist does her part to help keep an Appalachian tradition alive.
"When I sit down at one of those looms and I start creating a piece of cloth, I feel connected to my ancestors. I feel connected to the people that have come before," she said.
Over the years Gilchrist has become a reputable weaver. She is part of the Tamarack Foundation, an organization for professional artists that is not easy to get into.
She sells some of her products, like the pot holders, through Tamarack.
She also has her master's in education, so she has developed several weaving tutorials for classroom settings. In fact, about 60 percent of her income is from teaching weaving.
'Mug Ruggin' It'
But her biggest claim to fame is something she calls "Mug Ruggin' It."
It is a hand-woven rug for one's coffee mug. Gilchrist teaches "Mug Ruggin It" as an informal class at several West Virginian art festivals and fairs, where people can weave the rugs themselves. It's a spinoff of a traditional Appalachian rag rug, just downsized.
Over the past five years,  about 3,000 people have been through the "Mug Ruggin It" program, Gilchrist estimates.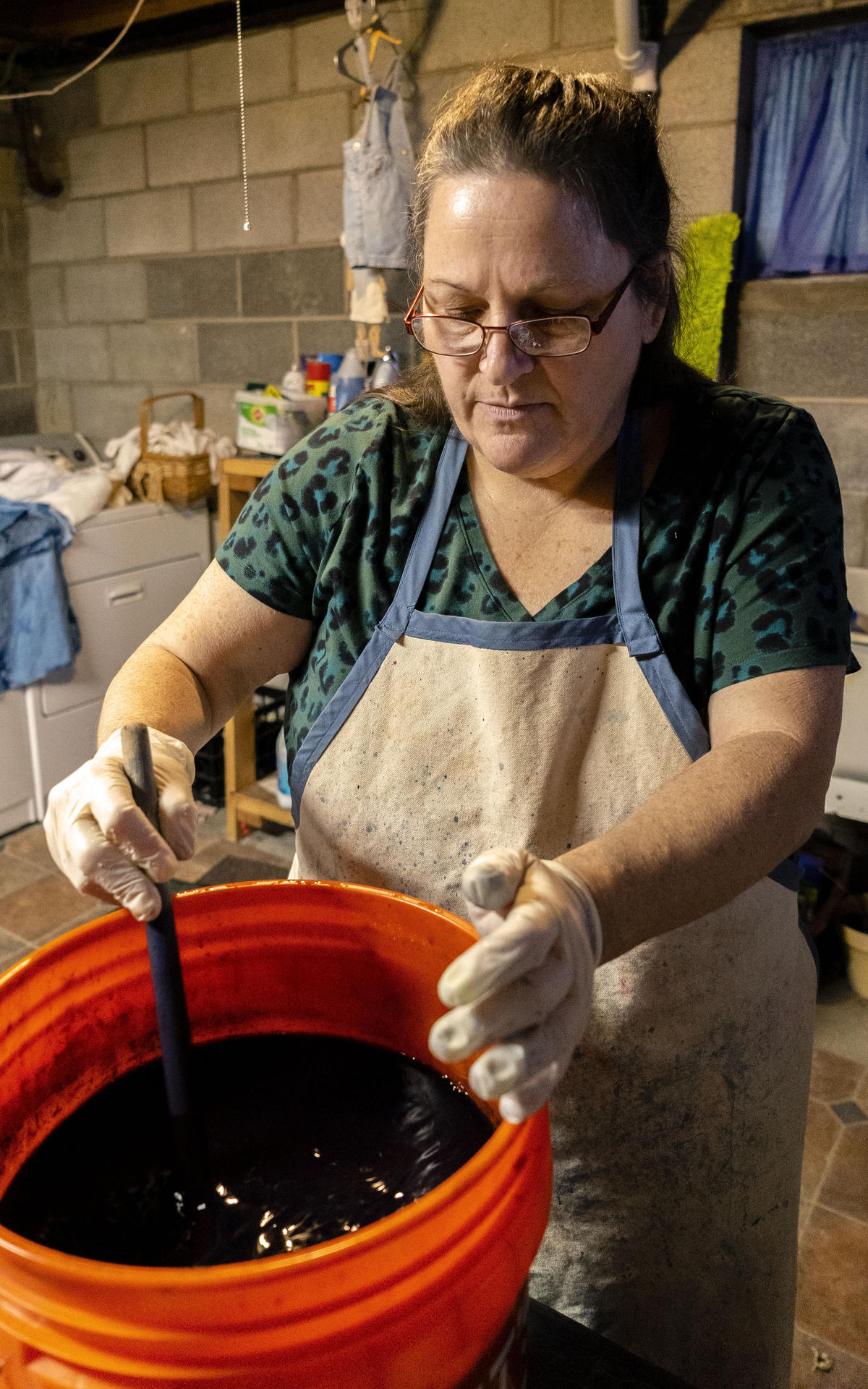 "I hope when I'm old and decrepit, and I'm walking through a craft show or flea market and I see somebody who's got their wares for sale and I say, 'Where'd you learn to weave?' And they say, 'Oh, well I went to the Vandalia festival and there were these people who set up these looms. I did this thing called 'Mug Ruggin' it' and I fell in love with weaving.'"
Gilchrist keeps her weaving as traditional as possible. She has even learned to dye her own yarn, as well as spin her own wool – which she has dedicated a decent amount of her living space to. She has a yarn dying station setup near the laundry room, a wool spinner near the T.V. and another loom in the corner.
Some people might caution turning a hobby into a livelihood, but Gilchrist says it's not work for her. She says she knows she will never get rich off it either, but that's OK.
"But if I can make the world more creative, and they understand our heritage as we get further and further away from those days, and if I can share that, I think I'll have done something pretty successful."
This article was originally published by West Virginia Public Broadcasting.
W.Va. Students Adapt Old Time Appalachian Story Telling Technique
This summer in West Virginia, elementary school students had access to  a special summer art camp series almost every week.
Students learned a  story telling art form rooted in Appalachian tradition called crankies. Crankies are also sometimes called moving panoramas, as they are a drawing or painting that can be manually moved and is portrayed within a box.
"It has paper wrapped around two scrolls and when you turn the cranks it moves forward and you can draw either different frames or one big picture that you scroll to see," said 11-year-old Timmy Carlson. "And it moves and it's like an old form of entertainment before TV."
At the camp, Carlson is painting a crankie box bright orange.
The crankie is thought to have originated in the United Kingdom in the 1800s. It made its way to Appalachia to tell stories and accompany music.
World-renowned storyteller Peter Stevenson is something of a crankie expert. He lives in Wales, but was in West Virginia this spring for an art exhibit which featured some of his handmade crankies.
Stevenson is especially interested in the historical connection of crankies to Appalachia.
"They would sing a song, and old mountain ballad, play music, tell a story, while the picture was moving," he said. "If you think about it, it's early animated film. It's like animation special effects movies, but without electricity. It's what they did up in the mountains before they had electric, they used these crankies."
Local artist Eddie Spaghetti also specializes in making crankies. His work was part of the art exhibit, as well, and he is teaching the crankie class. He said they are similar to old timey YouTube videos.
"In a way this crankie idea connects to something that we're very comfortable and familiar with in our modern age, but bringing back an old thing," Spaghetti said.
One of his students drew a story about Ned Flanders from The Simpson's. Spaghetti helps interpret the story with a song and ukulele.
Each student illustrates their song on a 10-foot-long paper. They write the song lyrics on it and draw and paint images that represent the song for them.
Carlo Arthurs chose 'Don't Stop Me Now' by Queen.
"Around the mid it says "Don't stop me now." So, I did the finger wag, a stop sign, and then me. So it's "Don't stop me now,"" Arthurs said.
Once the scrolls are finished, they have to be installed on the wooden spools in a box.
"They've been sawing, they've been clipping, they've been cutting, they've been painting," Spaghetti said.
He helps the kids use a drill to create holes in the box for the spools…so the scroll can be turned.
"Yeah, it's nice they get to do a little carpentry work too," Spaghetti said.
On the last day of the camp, the kids present their crankies. The room is filled with wooden boxes that are a little bigger than a piece of printer paper. They are painted in every color.
Zoey Gilliam chose the song 'Something Just Like This' by the Chainsmokers and Coldplay.
You can hear the distinct sound of wood turning while she sings…
Carlo Arthurs, the one who chose the Queen song, said learning to make a crankie has revealed his artistic side.
"I'm better than I thought I was at art, and I feel like art is something I will do more often and try to do more often," he said.
This article was originally published by West Virginia Public Broadcasting.
Reviving Small, Appalachian Towns with Local Assets
Walking down the streets of Greensboro, Pennsylvania, it feels a bit like a ghost town. There are houses, business signs, a post office, but only two cars drive by in 10 minutes and no one is walking the streets.
The small town in southern Pennsylvania is just across the West Virginia border. It sits on the banks of the Monongahela River, surrounded by small hills and patches of trees. In years past, the town has weathered the boom and bust of a pottery industry, river trade and coal. Lately, it has been more bust than boom.
But now, some artists are trying to stimulate the local economy using what they know best: creativity. They are all part of the Greensboro Art Cooperative – a non-profit art collective.
The Co-Op
Shane McManus, a West Virginia native, is the founder of the co-op. He's spent his life immersed in music and arts. Now at 31 years old, McManus is trying to use his love of the arts to revive the town.
"Our goal is to preserve the past but promote the future. Through using what the past has given us, we can create really beautiful art in our small Appalachian towns, which in my opinion is diminishing," he said.
Three buildings on the main street of Greensboro make up the art co-op. The quiet atmosphere of the town abruptly changes when one walks into the former ice cream parlor turned 'Music Shop,' where McManus and his friends play music.
The entire room is filled with artwork and antiques. There's a stone chair shaped like a hand, porcelain dolls lining the bookcases and a boar's head hanging near the ceiling.
Live old-time Appalachian music fills the room. McManus and his friends Niko Kreider and Evan Collins are playing the tune called "Water Bound."
The co-op not only provides a space for artists to sell their work, but it's also a space for artists to create. There is a woodshop, a bike shop, pottery room, music room, painting area – anything an artist wants to do there is likely a tool for it.
Members pay a $200-lifetime membership or the equivalent in labor, and profits from wares made at the co-op are split 50/50 with the artist.
McManus says the goal is for the co-op to be a centerpiece for Greensboro, where the population is down to 249 people. He wants the co-op to be a reason for people to come visit, and a reason for people to stay.
"Getting them to see hope, where there was none. That's why people leave, to find greener pastures," McManus said.
History of Greensboro
Greensboro was once a thriving town with a rich artisan history. It was originally settled by German glass blowers in the 1700s.
It is also right on the Monongahela River, so it was part of a major river trading route.
Greensboro's mayor Katie Sill says she's heard stories of the early days when a hotel stood right by the river.
"At one point a circus came down the river and they had an elephant in the lobby. It was a booming and bustling town," Sill said.
In the 1800s, the first large-scale pottery operation opened in Greensboro. The wet, muddy soil near the river creates rich clay — perfect for pottery.
"A lot of these New Geneva or Greensboro pots you see on Antiques Roadshow that go for $30,000 to $40,000 were made right here," McManus said.
In fact, it is not rare to find 200-year-old pottery today. The co-op has preserved an original kiln used by settlers.
But, as artisans moved away and trade moved away from rivers, Greensboro became less relevant. It made a slight comeback in the coal industry in the mid-1900s, but Sill says that too has disappeared.
"Some buildings have fallen into disrepair or [have] been torn down," Sill said. "There are not really many businesses left in the town."
The Economics
In some ways, Greensboro is not that different than many small Appalachian towns, where the coal industry, which was once a driving economic force, is now declining.
This leaves many towns without a sustainable economy, much like Greensboro.
Tim Ezzell is a research scientist at the University of Kentucky, and he focuses on asset-based development, which, as he explains it, means "using the assets you have at hand or at your disposal, basically what your community already has in place. Your local talents, resources, skills, art, heritage and using those to create economic opportunities for people in your community," he said.
Ezzell says concepts like the co-op can grow a town, but it has to be done realistically. As in, it is not cheap, it can take many years, it needs momentum and, most importantly, the local community must be accepting of change.
"Change is hard and you have to be willing to accept change in order to move forward," he said.
And Sill says the town is ready for that change.
"We're all really hopeful that we'll get that next wave of whatever that wave will be," she said. "Something new to bring a little bit of bustle into the town. I don't know if it's ever going to be quite the same, but every phase is different."
And the co-op is relying on local assets to try to bring about that next wave. Members are fixing up old storefronts to use as studios. They're also using local clay to create art.
"Everything is donation, all of our resources have been found, donated, upcycled and recycled," McManus said. "It's really amazing what you can put together just with what you find around."
As for operational costs, McManus said he's been quite fortunate. His father, Keith McManus, has funded most of the co-op. A former mayor of the town, Keith is something of a musical legend in the region because of his involvement in the old-time music community over the years.  
Looking Forward
People can be assets too, and in many ways, Keith himself is one of the town's greatest resources.
Because of the financial cushion, and Keith's arts and music connections, McManus says there is not a push for co-op artists to mass produce and or even sell their work. Rather, they can focus on creating art.
"Our goal is to stay within a tri-county, if not a tri-state area. We don't want to branch out as far as what we sell on the internet. We've purposely held out to keep our wares locally," McManus said.
During the past eight years, the co-op has renovated Greensboro's old, abandoned theatre into a studio space. And it has 65 members — some from the Appalachian region and others from across the world. Many are people McManus has met through work in the music and arts industry.
McManus says the co-op has given some of these artists a reason to either stay or come back to create in Appalachia.
"So many of my peers and friends have had to go and move out of the state, out of Appalachia where they are from just to find a studio," he said.
So artists come and go throughout the year — whether it is for an impromptu jam, to fix their bicycle or to make their next piece of pottery. Sill says this is important for the town.
"They breathe that extra bit of life when they are there," she said.
The next goal for the co-op is for artists to work and live in Greensboro, but right now it is not fully developed.
The studio spaces are a little rough around the edges, and the storefront is still more of a working space. McManus hopes to renovate two buildings into a coffee shop and restaurant, but he says it takes time.
It takes time to create change, to bring Greensboro's artisan history forward into the modern day. And it also takes a vision, like the ability to find strengths and assets in unlikely places.
This story is part of an Inside Appalachia episode exploring folklife and material culture in Appalachia.
This article was originally published by West Virginia Public Broadcasting.
'Foot by Foot': Artists Illustrate Ohio's Appalachian Region
David Mitzel believes people have stereotypes about Appalachia– about Appalachian attitudes, Appalachia culture, and even Appalachian art.

Mitzel organizes the annual Zanesville, Ohio, exhibit "Foot by Foot," which celebrates art depicting Appalachian Ohio communities.

"These [sterotypes] are all wrong," Mitzel said. "It's a much broader and deeper type of response to the world."

Mitzel distributes 12 inch by 12 inch canvas or gesso boards to artists in Ohio counties as far south as Athens, and as far north as Coshocton. Completed artworks are then delivered to an opening event and the exhibit forms a patchwork vision of the region.

In the accompanying mini-doc, I selected five participating artists to film in-process as they prepared their piece for the 2018 "Foot by Foot" exhibit. My objective was to illustrate the diversity of Ohio's Appalachian region.

Jane Evans is a sheep farmer who works in fiber arts and plays saxophone in her spare time; Paul Emory restores buildings in downtown Zanesville, Ohio, and sometimes paints the ones which are about to be demolished; Michael J. Rosen works in ceramics and has created a kind of nature reserve in Perry County where he meditates on ecological dilemmas and has begun to etch haiku into his plates.

The documentary short also contextualizes the "Foot by Foot" project within The Winding Road initiative, which, in addition to the arts, seeks to highlight other aspects of Appalachian Ohio, such as heritage, recreation, local foods and more.

"The region has experienced major extraction of its resources," Mitzel said, but through The Winding Roads initiatives, including such arts programs as "Foot by Foot," Mitzel and others are working to "make the region [one] of attraction rather than extraction."