Fact-check: Did Obamacare Premiums Rise 160 percent in West Virginia in Four Years?
West Virginia Attorney General Patrick Morrisey, a Republican, recently took to Facebook to criticize the Affordable Care Act, the landmark law also known as Obamacare. Morrisey is seeking to overturn the law through a suit filed by a number of Republican attorneys general.
In his Jan. 2 post, Morrisey said the country must move on from the law because of "skyrocketing premiums" and "corrupt subsidies." He said he would pursue other ways to help "people with preexisting conditions."
Morrisey sought to bolster his claim by citing how much premiums have increased in West Virginia.
"We need affordable, high quality, health care choices," he wrote. "Obamacare isn't doing that. Premiums have gone up 160 percent in West Virginia in 4 yrs — bankrupting families & destroying choice."
Just how much have premiums gone up in West Virginia in the last four years? We took a closer look. Premiums have gone up, but not by as much as Morrisey said.
Morrisey's evidence
Morrisey's office pointed to a document published on May 23, 2017, by the federal Department of Health and Human Services. The document broke down premiums by state between 2013 and 2017.
A table in the report said that premiums in West Virginia rose from $261 in 2013 to $702 in 2017, a 169 percent increase. By this measure, Morrisey actually understated the increase slightly.
But there are two caveats to note.
First, the period 2013 to 2017 is not the most obvious interpretation of "premiums have gone up 160 percent in West Virginia in 4 yrs," because data also exists for 2018 and 2019.
And second, the choice of 2013 data adds a complication, said Linda Blumberg, a fellow at the Urban Institute specializing in health care policy and the Affordable Care Act.
That's because Obamacare mandates — such as barring denials of applications and requiring certain "essential benefits" — hadn't kicked in yet. Regulations changed in 2014, making it difficult to compare 2013 with 2017.
"The 2013 plans, on average, had lower actuarial value, covered fewer benefits, and excluded significant segments of the population — those with significant health problems or risk of health problems," Blumberg said. Because of this, "the premium comparisons are inappropriate across the periods, unless of course, you want average in the infinite premiums charged to people denied coverage outright, or the very high premiums charged to people who decided the plans offered were not worth the high prices charged to them."
Morrisey's office also provided updated data showing that the premiums for West Virginia using this method rose from $702 in 2017 to $855 in 2018. That demonstrates continued premium hikes — a 228 percent increase over 2013 — but in addition to using the problematic base year of 2013, this covers a span of five years, not four, as Morrisey had said.
Premium increases
So what does the data look like over the most recent four years, from 2015 to 2019? This is an apples-to-apples comparison because the Obamacare mandates were in place all four years.
The Kaiser Family Foundation, a nonprofit that focuses on health policy, tracks data on Affordable Care Act premiums by state. According to the foundation, the average benchmark premiums for West Virginia in the online insurance marketplace have risen from $289 in 2015 to $596 in 2019.
That's an increase of 106 percent.
Using this measure, premiums did rise over the period Morrisey mentioned, though not quite as high as the 2013-to-2017 premiums did.
Blumberg offered a similar figure — 94 percent — for the same period, using an online tool that tracks the state-by-state change in the lowest-priced "silver" premium, a mid-range category of coverage.
Blumberg added that the 2018 and 2019 premiums experienced an extra bump because Morrisey's fellow Republicans in the Trump administration stopped paying for cost-sharing subsidies directly, meaning that insurers have had to work those costs into their premiums.
Our ruling
Morrisey said that Obamacare premiums "have gone up 160 percent in West Virginia in 4 yrs."
The source cited by Morrisey's office offered a figure close to 160 percent, but it used data for 2013 to 2017, which is not the most recent data. Also, it's important to know that there was a change in the regulatory rules in 2014.
However, the actual rise in West Virginia premiums over the most recent four-year period, while not quite as fast as Morrisey said in his Facebook post, has been substantial. We rate the statement Mostly True.
This article was originally published by PolitiFact.
Fact-check: Did Donald Trump win West Virginia by 42 points in 2016?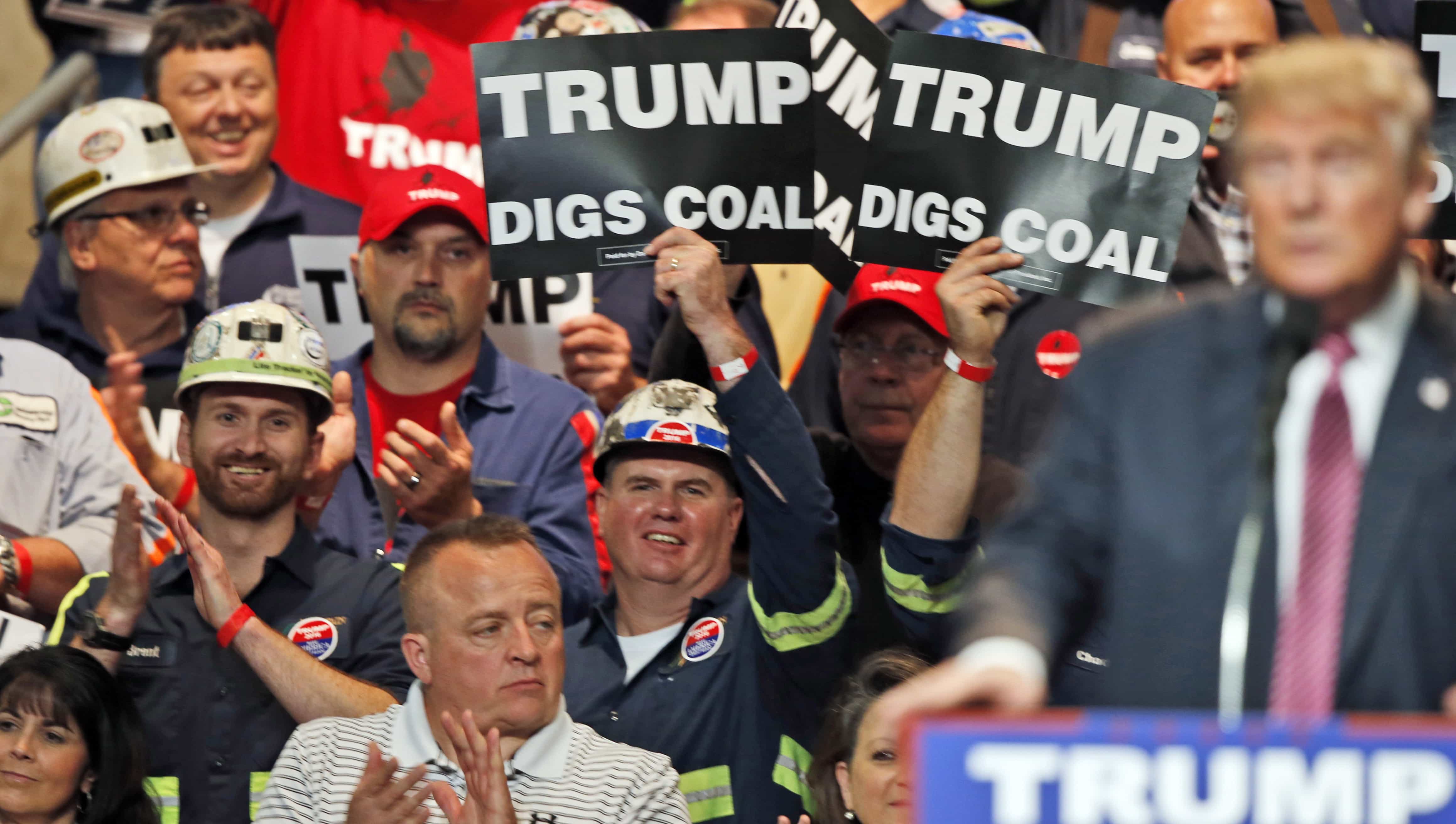 At a rally in neighboring southwestern Pennsylvania, President Donald Trump trumpeted his wide 2016 presidential election victory in West Virginia.
"I won that one by 42 points — 42 points — West Virginia," Trump said during his Aug. 13 speech in Monaca, Pennsylvania.
That would be a big win. Was his victory in the Mountaineer State that large?
The Trump campaign pointed us to the official results on the website of the West Virginia Secretary of State, which showed that Trump won West Virginia with 68.63 percent, outpacing his Democratic opponent, Hillary Clinton, with 26.48 percent. The difference is 42.15 percentage points — right in tune with what Trump said.
West Virginia accounted for Trump's second-widest margin of victory of any state, following Wyoming at 46.29 percent.
The 2016 results were also the latest sign of the widening of the gap between Republicans and Democrats in West Virginia, a state where Democrats were once dominant.
The following chart shows how Democratic margins of victory in the presidential race shrank between 1992 and 1996, then produced increasingly large Republican margins of victory.
As the Pew Research Center has noted, this pattern has coincided with the increasing alignment of national partisan politics on certain demographic factors, notably race, educational attainment and population density.
Geographical areas that are less racially diverse, less college-educated and more rural have swung hard to the Republican Party in recent years, especially in federal-level elections. When Governing magazine recently analyzed all 50 states on these three demographic factors, it found that West Virginia had the strongest Republican-aligned demographics of any state.
Our ruling
Trump said that in the 2016 presidential election in West Virginia, he won by 42 points. He's correct; in fact, it was his second-widest margin in any state, trailing only Wyoming. We rate the statement True.
This article was originally published by PolitiFact.
Fact-check: Does the United States Rank First in the World in Oil Consumption?
Richard Ojeda, a former West Virginia state senator who briefly sought the Democratic nomination for president, used Twitter to share several areas in which he said the United States leads the world– but not in a good way.
On Aug. 25, Ojeda tweeted, "If this is your measurement for claiming we are the best you really need to know that being #1 in something isn't always a good thing."
The attached graphic listed a graphic with the following "#1" rankings:
#1 in student loan debt
#1 in drug prices
#1 in mass shootings
#1 in war spending
#1 in prison population
#1 in gun deaths
#1 in climate denial
#1 in oil consumption
Here, we'll fact-check whether the United States is "#1 in oil consumption" in the world since international comparisons of data on oil use are more consistent than for many of the other comparisons Ojeda made.
Ojeda told PolitiFact West Virginia that he found his information through Wikipedia. We turned to original sources.
Measured by total oil consumption, the United States does rank first in the world, according to the BP Statistical Review of World Energy 2019, a comprehensive review of data on global energy.
In 2018, the United States consumed 20,456,000 barrels a day — far beyond the second-place nation, China, with 13,525,000 barrels a day.
However, it's worth noting that using the overall consumption figure is an imperfect method for measuring global oil consumption
Oil consumption "is related to two factors — high consumption and population size," said Anna Mikulska, a nonresident fellow at the Center for Energy Studies at Rice University's Baker Institute for Public Policy.
Because larger countries will usually have larger totals than smaller countries, it's also important to look at per capita consumption — consumption divided by population.
By this measure, the United States is near the top, but it isn't quite No. 1.
According to calculations by Eni, an Italian oil company, the United States ranked third internationally in per capita oil consumption. Saudi Arabia ranked first with 34.91 barrels a year, followed by Canada with 24.16 barrels and the United States with 23.12 barrels.
Our ruling
Ojeda said the United States is "#1 in oil consumption" in the world. That's correct for total consumption, but that's partly because of the United States' large population. On a per-capita basis, the United States ranks third behind Saudi Arabia and Canada.
We rate the statement Mostly True.
This article was originally published by PolitiFact.
Fact-checking Jim Justice's Boast About W.Va. Highway Rankings
Facing a competitive reelection bid in 2020, West Virginia Gov. Jim Justice sought to tout his record on improving the state's highways.
"Our WV highways rank 16th in the country in a national survey of highway systems, up 20 spots from last year's ranking!" Justice tweeted Aug. 22. "This ranking affirms all the hard work we've done, and that we continue to do, fixing our state's roads."
Let's take a closer look at the source of his assertion. (Justice's office did not respond to inquiries for this article.)
Justice's tweet linked to a news release from the governor's office that cited the source of the rankings as the Reason Foundation's 24th annual highway report. The Reason Foundation has a libertarian perspective, including individual liberty and free markets, the foundation's website says.
The annual highway study uses spending and performance data that state agencies send to the federal government. To do this, it ranks the 50 states in 13 categories, such as highway expenditures per mile, pavement conditions, congestion, bridge conditions and fatality rates.
Looking at the overall state figures, West Virginia does rank 16th in the country, a rise of 20 notches from 36th in the previous year's survey.
Compared to its neighbors, the report finds West Virginia slightly ahead of Ohio (18th) and Maryland (39th) in overall ranking but behind Virginia (2nd). West Virginia is doing worse than some regionally comparable states like Kentucky (5th) but better than others such as Indiana (33rd).
The top overall state was North Dakota, and the worst was New Jersey. Read the full list here.
Some caveats
It should be noted that West Virginia's 16th-place overall ranking obscures some aspects of the report that paint a less rosy picture of the state's highways.
For starters, the bulk of the highway data in the most recent report covers 2016, which is before Justice took office. Only two categories out of 13 use 2017 data, when he had begun his first term.
So while this report represents a positive development for West Virginia, it doesn't fully reflect Justice's own policies, as he implied when he referred to "all the hard work we've done."
In addition, a technical change in the report's methodology played a role in West Virginia's increase. According to the report's summary of the state's rankings, West Virginia "benefited from the report no longer measuring narrow rural arterial lanes," a category where the state ranked 50th last year.
Finally, looking only at the overall ranking, as Justice does, obscures some relatively weak ratings for West Virginia on key sub-categories.
Notably, the state ranks 36th in its overall fatality rate, 48th in structurally deficient bridges, 20th in urban Interstate pavement condition and 21st in rural Interstate pavement condition.
The state scored better on cost measures, ranking second in total spending per mile and third in capital and bridge costs per mile.
"To improve in the rankings, West Virginia needs to reduce its percentage of structurally deficient bridges and its rural arterial pavement condition," Feigenbaum told PolitiFact West Virginia. "The state is in the bottom five for structurally deficient bridges and the bottom 15 for rural arterial pavement condition in the country."
Our ruling
Justice tweeted, "Our WV highways rank 16th in the country in a national survey of highway systems, up 20 spots from last year's ranking! This ranking affirms all the hard work we've done, and that we continue to do, fixing our state's roads."
Justice has a point about the overall number, but his celebratory tone is somewhat exaggerated. Most of the data reflects a period before he became governor, and a major reason for the increase came from the elimination of a category from the previous year's report in which West Virginia ranked 50th nationally.
The statement is partially accurate but leaves out important details, so we rate it Half True.
This article was originally published by PolitiFact.