Climate Change Discussions Back on the Hill Agenda as Democrats Begin Committee Work
At the first Congressional committee hearing in ten years to have the words climate change in the title, a Democrat and a Republican, perhaps surprisingly, stood side by side on the issue.
"We can't afford not to take urgent action," North Carolina Democratic Gov. Roy Cooper told members of the House Natural Resources Committee this week in Washington.
Sitting next to him before the committee was Charles Baker, the Republican governor of Massachusetts. Both testified to the effects climate change has had on their states, including industries, like agriculture and tourism, that have taken a hit.
"Climate change is also warming our coastal waters and threatening some of the nation's most important commercial fisheries off the coast of New England. Stretching from Cape Cod to Cape Sable Island in Nova Scotia, the Gulf of Maine is warming faster than 99 percent of the world's oceans. Warming waters have already led to 80 percent reduction of Atlantic cod habitat over the last decade," Baker told the committee during his testimony,
Changes in federal policy, that are accompanied by long-term commitments, have addressed and solved environmental problems for Massachusetts in the past, Baker said, pointing to the ending of acid rain caused by power plant, industry and vehicle emissions and the healing of the ozone layer thanks to an international treaty phasing out the use of harmful chemicals around the world. Those problems became manageable because of reasonable, long-term legislative fixes, Baker said.
In North Carolina, Cooper is willing to forgo expansion in the fossil fuel industry through offshore drilling to protect what he called safer and more sustainable industries like commercial fishing and tourism that rely on healthy coastal environment.
The testimony from the governors, however, was the only show of bipartisan agreement on the issue of climate change, even as the two continued to point to similar challenges faced by communities across their states.
Chairman Raul Grijalva, a Democrat from Arizona, opened the hearing by highlighting the dangers and challenges of climate change that the general public is most likely familiar with, if not from personal experience, then through the media, like rising sea levels, disappearing coastal communities, draughts and superstorms.
But instead of discussing climate change, the ranking Republican member of the committee, Rep. Rob Bishop of Utah, met Grijalva's remarks with a jocular response, an attitude that persisted through the length of the meeting and was reflected in the banter of the roughly four GOP members of the committee who were also in attendance.
The Republican members attempted to frame the conversation as public land management issues, in effect reducing the complex problem of a changing climate to one of government inefficiency and deflecting from the science of tracking climate change-induced natural disasters. California Republican Rep. Tom McClintock was among the most vocal supporters of the idea that privately-owned forests seem to be coping much better than the mismanaged public lands.
Gov. Cooper pushed back at the idea, though, that pervasive wildfires could be prevented by simply managing federal lands better, saying that any action designed to increase the resiliency of habitats must be accompanied and balanced with proper environmental protections that reduce the strains on those habitats.
Witnesses at the hearing didn't just testify for the protection of lands, but also of vulnerable populations that are on the frontlines of climate change, whether on the coasts of North Carolina and Massachusetts or in the coalfields of central Appalachia.
Derrick Hollie, the president of the advocacy group Reaching America, said minorities suffer disproportionately from environmental injustice and are overburdened by high energy prices. Many black communities can't afford cheap green solutions, because they have already suffered so many negative economic impacts, he said.
The hearing happened on the eve of New York Democratic Congresswoman Alexandria Ocasio-Cortez and Massachusetts Democratic Senator Ed Markey's Green New Deal framework, which proposes the most ambitious climate change agenda in American history.

Released Thursday, it includes proposals to address the economic issues of historically underprivileged and oppressed populations, not just in fossil fuel dependent communities like central Appalachia, but across the country.
So far, the framework lacks clearly defined policies that would make its ambitious goals feasible. Ocasio-Cortez, Markey and other lawmakers supporting the initiative succeeded, however, long before the release of their Green New Deal proposal inputting climate change back in the national headlines, potentially creating at least some of the momentum necessary for major policy change.
You can watch the full hearing here.

The Golden-winged Warbler: One Indicator of a Changing Climate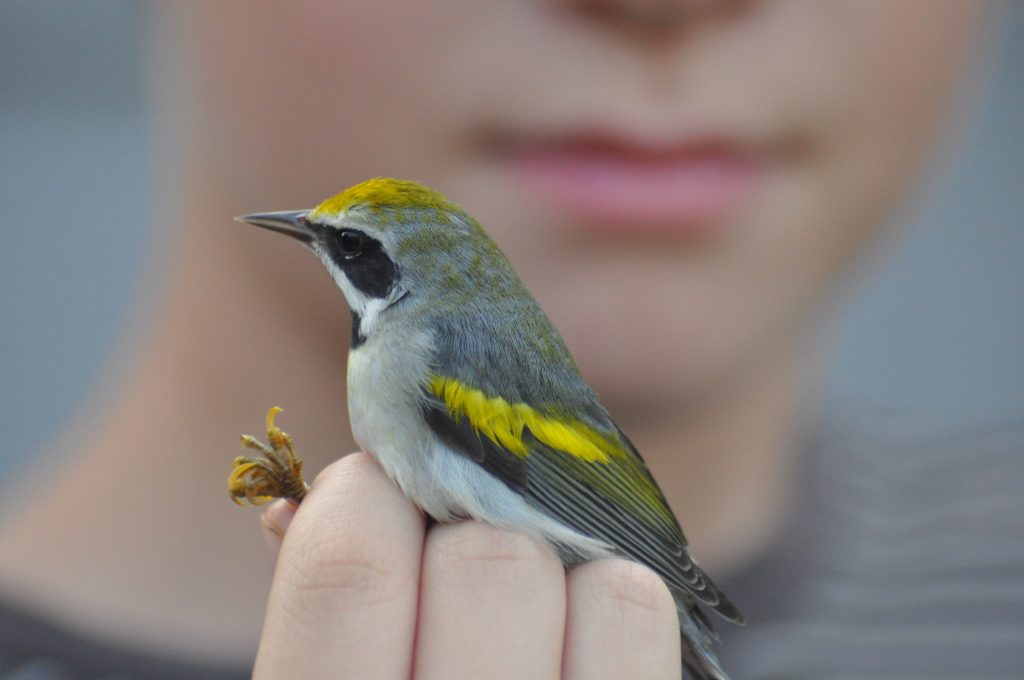 Birds capture the imagination because they are unlike any other creature. With prehistoric origins and the ability to fly, birds defy the realm of human capability.
Over 1,000 species of birds are native to North America. Since 1966, however, one-third of North America's wintering bird population has declined. The National Audubon Society, a nonprofit bird conservation organization, found in a 2015 "Birds and Climate Change Report" that "Of the 588 North American bird species Audubon studied, more than half are likely to be in trouble." Across this region, bird species could lose more than 50 percent of their current range by 2080 if the climate continues to warm at its current rate.
The impact of climate change on birds is often studied because they are highly sensitive to their environment, meaning that small changes can have a huge effect. Their unique breathing system and efficient flight style contribute to this sensitivity. Studies of bird flight reveal that small changes in environmental factors like sea surface temperature dramatically affect a bird's ability to fly. Birds depend on aerodynamics to carry their relatively heavy bodies across the sky, meaning that minute changes can affect flight.
In Appalachia, the Golden-winged Warbler has received special attention due to its steep decline. The songbird, which breeds in Appalachia during the summer, experienced a 97.8 percent population loss from 1966 to 2010. Habitat destruction, warming temperatures and interbreeding with the Blue-winged Warbler (a related but separate species) contribute to their disappearance.
"The core population [of Golden-winged Warblers], 90-95 percent, live in the Great Lakes region. The Appalachian population is relatively small, only about 5 percent of the global population," said Curtis Smalling, director of conservation at Audubon North Carolina.
The Appalachian population prefers to dwell at the highest points of mountains, about 2,500-5,500 feet. They are a highly specialized species, requiring shrubby young forest with adequate canopy cover interspersed with herbaceous openings for the bird to breed and thrive.
The Golden-winged Warblers are particularly fond of the Highlands of Roan, a high-elevation, grass and shrub-covered area that straddles North Carolina and Tennessee. The Southern Appalachian Highlands Conservancy (SAHC), a nonprofit land trust, works to conserve natural resources in this part of Appalachia. SAHC offers outdoor recreation and farming opportunities for residents, coordinates conservation activities and other work to conserve the land, which includes protecting and maintaining the Golden-winged Warbler's mountain home.
"They lack the open farmland and scrubby habitat. Here in the Appalachians, we're losing a lot of farmland. We are working to maintain that habitat," said Marquette Crockett, the Highlands of Roan stewardship director at SAHC.
Crockett helps coordinate conservation efforts like managing SAHC-owned properties to working with private landowners on best practices for preservation and organizing volunteer bird surveys. This multi-faceted approach is a community effort, Crockett emphasized. With so many different elements contributing to the Golden-winged Warbler's decline, it takes cooperation between researchers, conservationists and volunteers to make conservation a reality.
Although the species is still struggling, places where conservation activities have happened often see positive results.
"We've definitely seen Golden-winged Warblers disappear from spots that have become too overgrown or disturbed, like a housing development. But we've also been able to do projects that have immediate consequences," Crockett said. Those results are promising and motivate conservationists to continue their work.
Recent research indicates that the songbird's problems might have more to do with their winter home than their summer breeding grounds in North America. The Golden-winged Warbler winters across Central and South America in Guatemala, Honduras, Nicaragua, Venezuela and Colombia. Deforestation and poor land management practices are major problems, particularly in Nicaragua and Venezuela. This could explain the more dramatic decline of the Appalachian bird, which winters further south in these countries, compared to the Great Lakes birds that tend to go to Central America. Although it is tempting to conclude that the wintering grounds are the problem, further research is needed to say so definitively.
"There are just too many unknowns at the moment" about the warbler's problems, said Amber Roth, an assistant professor at the University of Maine and co-chair of the Golden-Winged Warbler Working Group. Further research is crucial for filling in these blanks, such as learning more about migratory behavior.
One factor is clear: climate change is affecting the birds. Roth elaborated:
"The population [of Golden-Winged Warblers] has declined and the population has shifted. They are a good indicator of climate change, but I would caution relying on one species to understand climate change. I think they are part of this huge list of things that points to climate affecting all sorts of other things, like trees."
"By managing habitat for Golden-Winged Warblers we are managing habitat for other species," Crockett said. Both Roth and Smalling echoed this statement by emphasizing that by managing for the needs of the Golden-winged Warbler, a highly specialized species, the needs of other species are typically met. Thus, conserving the Golden-winged Warbler encourages better overall forest management. This is important to remember because the Golden-winged Warbler is not the only declining bird population in the region. The Cerulean Warbler, Black-billed Cuckoo and Eastern Whip-poor-wills are among other threatened species.
This tiny, golden-winged bird that weighs about as much as four dimes represents something bigger: The possibility, in spite of irreparable human impact on the environment, that there is still hope of conserving and saving Earth's biodiversity. The fate of the Golden-winged Warbler remains undetermined, but with dedicated researchers, scientists, conservancies and volunteers working to protect it, the Appalachian population has hope.
Annie Chester is a writer and co-founder of expatalachians. She is currently an English teacher on the Island of Corsica, France.
This article was originally published by expatalachians.
Appalachians Share Solutions for Coal Transition with Congress
Democrats in the U.S. House are continuing their focus on climate change, this week shifting from its environmental to its economic impact and looking to Appalachia for next steps to aid communities with fossil fuel-based economies.

On Thursday, members of the Energy and Mineral Resources Subcommittee heard testimony on how struggling coal communities are working to transition to more efficient, greener industries that can still provide the region with an economic base.

"Investing in the economic revitalization of the communities that have been extraction based…must be front and center in the shaping of policies addressing climate change," Brandon Dennison told the subcommittee.

Dennison is the CEO of West Virginia-based Coalfield Development Corporation, an organization that retrains workers who have lost jobs in coal's decline and incubates new business initiatives in Appalachia, but Dennison said retraining programs like his that are already in place are not enough because businesses who could employ them are not thriving yet in the region.

Dennison argued the transition away from coal is already underway in central Appalachian communities and it is creating not only an economic, but also a social and environmental crisis that must be addressed by thoughtful federal policy. He recommended lawmakers work to create a task force focused on a just transition

Peter Hille, president of Mountain Association for Community Economic Development in Kentucky, agreed with Dennison that a focus on just transition, one that provides economic and social supports for communities, is necessary, but urged lawmakers to consider not just how to recreate the jobs lost in the extractive industries, but rather how to create a new, diverse economy.

"We envision economic transition driven by entrepreneurs whose businesses create goods and services to drive diverse local economies and focus on sectors that not only generate economic activity but also generate benefits for the community," Hille said.

But Bill Bisset, president of the Huntington, West Virginia, Regional Chamber of Commerce, didn't share the same sense of urgency about finding an economic solution for his home state. West Virginia is experiencing a boost from increased international demand for metallurgical coal and natural gas.

Instead, Bisset is concerned that while the nation focuses on the global climate problem, states like West Virginia will be disproportionately hurt, precisely because of its natural resources wealth.

"We simply do not have to sacrifice one industry to create new opportunities," Bisset told members of the subcommittee. "Sacrificing the economic future of West Virginia and Appalachia will have little impact on global man-made carbon, but you will succeed in creating more poverty, more hopelessness and an uncertain future for those of us…who call West Virginia home."

Republican members of the subcommittee, however, wanted to focus the conversation on one proposed legislative solution that has been controversial in Washington: the Green New Deal.

The Green New Deal is a package of economic and social proposals that would transition the United States toward full independence from fossil fuels and address historical, societal inequalities.

Recently, unauthorized iterations of the proposal were leaked online that New York Rep. Alexandria Ocasio-Cortez– the Democrat largely behind the Green New Deal– denounced as "doctored," but their contentious contents becem the subject of lines of GOP questions for witnesses Thursday.

Wyoming Republican Rep. Liz Cheney interrupted majority witnesses and persistently demanded that they defend the proposal, regardless of the fact that none of them were asked to Washington to advocate for the program.

Despite the extensive and diverse testimonies throughout the meeting, the conversation still dissolved into a partisan shouting match, largely signifying business as usual in Washington.

Making Snow in a Warming World: Winter Sports Industry Prepares for Climate Change
The days have gotten shorter across Appalachia and the temperatures dropped which for many means the start of one thing — snow season. It means strapping on skis or hopping onto a sled to tear into soft, fluffy powder.
That's the case for Greg Corio, who for almost two decades has been an avid ice climber.
"The only way to describe it is it's magical," said Corio. "There's so many features, and so many details and little knobs and little pieces and dripping water as you're climbing up it. It's like climbing up the side of Magic Kingdom's castle."
Ice climbing is a fickle sport. Prolonged bouts of cool temperatures are required in order for ice to form into thick enough layers to support climbing. In temperate West Virginia, there has traditionally been just a small window of time where climbers can get out on the ice. Enthusiasts are ready to drop everything when the opportunity presents itself, Corio said.
But in recent years, as temperatures have warmed, Corio said the window for ice climbing seems to be shrinking.
"We had several years in a row where we didn't have any ice climbing at all," he said. "And it's kind of sad, like 'wow, okay — that whole season, it never formed up.'"
He's not the only one who is concerned. West Virginia's ski industry, which generates an estimated $250 million in economic benefits annually, has long relied on snowmaking to help it keep reliable powder on the ground. But in the face of climate change, one resort is investing in new technology, in part to prepare for a warmer future.
The 'Art' of Making Snow
During a recent visit to Snowshoe Mountain Resort, nestled high on West Virginia's second-tallest peak, the air is thick with falling snow and the tell-tale whir of snowmaking machines.
"Basically, if we didn't have snowmaking here, we might not be able to open until February, maybe a couple of weeks in February," said Ty Tagmeyer, snowmaking manager at the resort. "We generally don't get a nice, a good heavy snow until late January, February. We will get dustings in, you know, a foot at a time, but to be able to open a ski trail, we need four to five feet of natural snow."
Snowshoe aims to open Thanksgiving week, the first of the state's five resorts to open each year. In its more than 40 years of operation, it has always relied on snowmaking to supplement mother nature.
To replicate what nature does, Taymeyer's snowmaking team takes highly-pressurized water and air and pipe it into a snow making machine, often called a snow gun. When the two elements collide, the water breaks into tiny particles. When they are blown into below freezing air they turn to snow. It's a process he calls an "art" more than a science.
"It usually takes a season of making snow to learn how to make snow," he said. "Every gun is different and a lot of the older style ground guns, it's more of an art to figure out how to make snow with those."
In recent years, warming temperatures, driven by climate change, is impacting the amount of time available for for snowmaking at Snowshoe, according to Shawn Cassell, the resort's public relations manager.
"The snowmaking windows that we see — the windows of time when the temperature is low enough to make snow — have gotten shorter over the years," he said.
To hedge against future warming and to reduce its own electricity use, Snowshoe has invested more than $4 million in newer, more efficient snowmaking machines.
"We have to make as much snow as we used to, but in shorter buckets of time and the technology is keeping pace with that, and so continuing to invest in that technology is critical," he said.
Newer and Nimbler
Cassell takes me to see some of the new snowmaking machines. We head to Cupp Run, a long steep trail on the mountain's western facing slope.
The run is outfitted with 75 stick guns. Snow flies out of these 30-foot high metal poles, no thicker than a pipe you might find under your kitchen sink. They're quiet enough that we can have a conversation standing right underneath them.
"I think we've had these on since Monday afternoon and it was grass before that. So, it's Thursday and there's almost enough snow to open it," Cassell said.
Enough snow is an understatement. As we walk out on the run, we drop mid-thigh deep in icy powder.
The stick guns use eight percent of the energy some of the older machines use. In total, the equipment upgrades at Snowshoe save an estimated 5 million kilowatt hours of electricity each year, or enough to power 500 homes. Some of the resort's snow making machines have been automated to shut off when temperatures get too warm to make quality snow. The goal, Cassell said, is to be nimbler as snowmaking becomes an ever-increasingly important.
But boosting climate resilience isn't the top problem for everyone who works with West Virginia's ski industry.
Joe Stevens, executive director of the West Virginia Ski Areas Association, said the state's variable topography has always meant West Virginia ski resorts have had to rely on snowmaking to provide that reliable product that skiers and snowboarders want.
"Traditionally in West Virginia, we have numerous freeze thaw cycles throughout the winter," he said. "That's just because of the situation and that's not a change from years past."
Over the years, one thing that has changed, Stevens said, is the amount of resorts offering summertime activities.
Many resorts across West Virginia and the country, including Snowshoe, have also boosted summer offerings to include mountain biking, hiking, swimming, ziplining and more.
While it makes financial sense to diversify, the move also serves as another hedge against climate change, especially warming temperatures.
Warmer and Wetter
Data from the last 50 years shows West Virginia is warmer than it once was, said Jake Crouch, a climate scientist at the National Oceanic and Atmospheric Administration's National Centers for Environmental Information.
Compared to much of the rest of the United States, temperatures in West Virginia have not risen as much, but that is expected to change.
"So, we're kind of in a sweet spot right now where temperatures are warming, but they're not warming that fast for West Virginia yet," the Beckley native said. "That is expected to change in the coming decade."
Already, the data show temperature variability has changed.
"One thing we are seeing is that the really warm years are getting warmer and the really cold years are also getting warmer," Crouch said.
As a result of climate change, West Virginia is also getting more precipitation. This has increased flooding, and in the near term it could mean more snowfall for parts of West Virginia, he said, "until the temperatures increase to a point where that precipitation changes from snow to rain."
Nicolas Zegre, associate professor of forest hydrology and director of the Mountain Hydrology Lab at West Virginia University, said in many ways how the Mountain State is experiencing climate change is unique, driven largely because West Virginia is impacted by weather patterns from multiple surrounding regions, including the Gulf of Mexico, the Great Lakes and the Atlantic Ocean.
"The different weather systems combined with the complex topography means that we have a lot of variability in precipitation and streamflow and forest type and so on and so forth," he said.
And because West Virginia receives precipitation year-round, predicting how climate change will manifest in West Virginia gets tricky.
"The really the important thing is the system as we know it is changing because it's becoming more variable," he said.
Back at Snowshoe, Cassell said the increasing variability due to climate change is an important reason the company is investing in new, more efficient snowmaking equipment.
"I think that it's something that's always on our minds," he said. "I think with things like the snowmaking investment, we want everybody to try to lighten their carbon footprint, but we can't expect anybody else to if we're not. So, I think we're trying to really walk the walk and not just talk the talk."
This story was originally published by West Virginia Public Broadcasting.