P.A. Students Look for Creative Solutions to Water Infrastructure Needs in Central Appalachia
On a rainy, chilly fall day, a research team made up of graduate students from the University of Pennsylvania pack up and depart from a hotel lobby in Princeton, West Virginia.
It takes about an hour to get to the Elkhorn Water Plant in McDowell County, where, outside, water from an old coal mine flows swiftly down the mountain.
This is the source of tap water for this district. Operators say it's good water, that does need to be treated, but doesn't require an intense process like reverse osmosis to get it ready for the tap.
The graduate students are trying to get a handle on the context and history of the water systems in the region.
"It's hard for someone who is not from the area to kind of get their head around some of the challenges faced without really having a chance to see the area," Karl Russek said. He's one of the students in the Master of Environmental Studies program at the University of Pennsylvania.
Russek and his fellow students listen to a local representative of the public service district explain the massive challenges they have in maintaining these small water systems.
Jared Brewster explains that a lot of these systems have been in disrepair for over 50 years, and so just getting these systems up and running properly would costs millions of dollars, and years of work.
Those same challenges face water systems in rural communities all over the country, to some degree. But as Russeck notes, the problems facing water systems in coal country are worse than most. He grew up in a coal town in Pennsylvania.
"I think a lot of the demographic challenges and a lot of the socioeconomic challenges are very similar to where I grew up," Russek noticed.
"One of the differences is when the mines did shut down in the 1950's, there was still enough economic critical mass that the communities [in Pennsylvania] could survive a little longer," he said. "They're hollowing out like small towns across the country are hollowing out, but it's not quite as geographically isolated as parts of central Appalachia."
In their project focused on rural water systems, the team is first working to identify where existing mechanisms fall short. Replacing infrastructure is not cheap, and sometimes paying higher bills or writing a grant in a tiny community just aren't options.
"There are a lot of people doing some very hard work and some very good work, but the existing tool kit is not built to handle some of these problems because there's just not the scale necessarily– the number of people involved, the number of customers to be able to support systems and how these projects are supported in other parts of the country," Russek explained.
Mahvish Ilyas, another graduate student working on the project, said visiting the region provides an opportunity for the students to connect some of their studies to the people it could possibly impact.
"It just diversified our understanding of the problem," Ilyas explained. "This is a diverse issue, but at the same time we have so many opportunities."
"We have the opportunity of leveraging funding, starting meaningful conversations with the communities, introducing technology and creating jobs and we had a very interesting conversation with the mayor of Northfork," she added.
Northfork is a town in McDowell County that's been on a boil water advisory for years. The advisory will end when the system is replaced or there's another solution put in place.
"It just showed that the local administrative bodies they are willing to become a part of the solution," she said. "They were so welcoming when they heard about our project."
The goal is to come up with suggestions for community leaders in southern West Virginia. Students hope that specific solutions for this region could inspire water infrastructure solutions in other rural communities.
"This would serve as a baseline study," Ilyas said. "I'm sure there are a lot of research papers and articles out there but nothing has been consolidated to this level."
The team is still compiling the results. It's not clear when the result will be released.
This story was originally published by West Virginia Public Broadcasting.

Mussel Woman: Biologist Passes Along Pearls Of Wisdom About Threatened Mussels
This article was originally published by Ohio Valley ReSource.
Janet Clayton is standing thigh-deep in a back channel of the Elk River. Clad in a wetsuit and knee pads, the silver-haired biologist with the West Virginia Division of Natural Resources reaches into a bright orange mesh bag submerged in water.
Inside are a half dozen mussels she plucked from the rocky river bottom.
"This is called a long solid," Clayton says. An earthy colored shell about the size of a computer mouse sits in the palm of her hand. "As it gets older it gets really long."
Her bag also includes a pocketbook mussel, wavy-rayed lampmussel and kidneyshell.
The biologically diverse waterways of the Ohio Valley are home to more than 100 species of freshwater mussels. Each can filter five to 10 gallons of water daily. But pollution, land-use change and a changing climate threaten their very existence. They're among the most endangered animals in the United States.
Clayton, a West Virginia native, began her career researching aquatic invertebrates but quickly switched gears to studying the state's mussels and never looked back. She has worked with them for three decades and leads West Virginia's mussel program, which she helped develop.
As Clayton approaches retirement next June, she is reflecting on how the field has grown and changed. Today, scientists know a lot more about freshwater mussels and how to protect them, partly due to her work.
Some other biologists call her a "hero" for the often overlooked species. But just as Clayton prepares to pass on her pearls of wisdom, she is also sounding an alarm about the population decline she has documented, and what that says about river quality.
"Mussels live for decades in our streams," Clayton said. "So, they're like the canary in the coal mine."
Mussel and Flow
In addition to filtering water, mussel excrement provides food for macroinvertebrates and benthic critters. Mussels themselves are a food source for many mammals, and the bivalves also help keep river bottoms in place.
To protect and preserve freshwater mussels, Clayton and her team use a three-pronged approach.
"Surveys, monitoring and restoration are kind of the three components," she said.
Working with partners across state and federal agencies in the Ohio Valley, Clayton developed mussel surveying methods that have been widely adopted. Her team has also set up 26 long-term monitoring sites, which helps the team assess the health of the state's mussel population. The researchers also help restore mussels to waterways, sometimes by relocating parts of healthy stock. Other times, lab-grown mussels are used.
"One of the important things that scientists have learned in the last couple of years is how to grow them in captivity without their specific host fish," said Tierra Curry, a Kentucky-based scientist with the Center for Biological Diversity, which advocates for federal protections for mussels and other threatened species.
"So now, the knowledge to be able to breed them and save them is available, but they don't have the funding that they need to keep them from going extinct," she said.
Curry said Clayton's work on mussels has been very important to the field.
"Janet Clayton is a total hero for freshwater mussels," she said. "She's been such an asset to West Virginia and to the whole study of freshwater mussels."
On the Elk
One aspect of that study is tracking mussels found at long-term monitoring sites. On a recent weekday, Clayton and a handful of researchers clad in wetsuits and goggles bobbed in the gurgling Elk River.
Bright yellow string shimmers beneath the surface dividing the river bottom into five-by-five meter squares, resembling a giant underwater game of tic-tac-toe.
The scientists are plucking every mussel they can find out of the water and placing neon flags in their wake.
"When we go back, we can put the mussel in a hole," Clayton said. "So it's easier, less energy-consuming for that mussel to rebury into the substrate."
Each mussel will be tagged with a small silver plastic tag and measured.
"So we've actually had mussels in here who've been tracked for the 15-year period we've been monitoring here," she said.
Five years ago, Clayton and her team pulled hundreds of dead and dying three-ridge mussels from this river. The cause remains a mystery.
"We have no idea," she said. "We've gone through investigations trying to figure out what's the problem."
Good quality water is vital to the health of mussels. And humans have not always treated waterways with care. Chemical discharges, excess sediment and dams pose challenges to mussels.
The team has successfully restored mussels after mortality events and have even seen once mussel-free streams come back. But there are also examples, like at this site in the Elk River, where the mussels aren't flourishing, and it's unclear why.
As she nears retirement, Clayton said she fears legacy impacts from coal mining, such as acid mine drainage, mean some waterways will never again be healthy enough to support mussels.
And new threats have emerged. Climate change could alter water flow and temperatures, and the growing natural gas industry brings water-intensive processes and pipelines that are being constructed through waterways.
"I'm concerned. I'm very concerned," she said. "If mussels are dying – which in this case, they are – if mussels are dying, what's in this water that's causing them to die? We need to wake up and pay attention to what's out there."
One Piece at a Time: Cleaning Trash from W.Va Waterways
It is a hot, muggy day along the Monongahela River. Zoma Archambault is standing on a small, sandy beach about 10 minutes from Morgantown. It is one of the few along the river, as much of it is covered in thick brush and mud.
The beach used to be an informal camp spot. Zoma found it abandoned, with trash covering the ground in every direction. It is almost all picked up now, aside from some muddy clothes, a couple hypodermic needles and roof shingles.
The nearby stream flowing into the river erodes the dirt, exposing some of this older trash.
"Yeah there's still trash, it'll be eroding out for years," Zoma says.
Toxic to Aquatic Life
In Morgantown abandoned campsites along the rivers, like the one described, are common. Over time the left-behind trash can break down and contaminate river ecosystems, which is something that concerns Zoma. He has volunteered the past year and a half cleaning these trash sites.
"I strongly don't believe in, of course, microplastics in the ocean – we have a tremendous problem in the world because of it," he says.
Microplastics are the size of a sesame seed and nearly impossible to clean, according to the National Oceanic and Atmospheric Administration (NOAA), and they are toxic to aquatic life and birds. Microplastics can form from littered plastic products, like a grocery bag, that over time, break down into smaller and smaller pieces, eventually getting washed into our waterways. 
"Yeah, that stuff does not belong in our rivers," Zoma says.
The sites Zoma cleans are usually hidden from the bike path, so they can go unnoticed. To get to this particular site Zoma bikes about 10 minutes from Morgantown on a paved trail, but the last stretch he points his bike down a narrow, veiled path leading into dense, green bushes.
Zoma
Zoma is unassuming. He is lanky and tall – he stands almost 6 and a half feet. He has a gray goatee and a head full of salt and pepper hair. He typically wears a pair of jeans cut off at the knees, with a loose cotton T-shirt.
Zoma is always observing. While he is cleaning up abandoned camps, he often thinks about who the people were, why they had the things they did.
"The human memories and such. There's some reason people carried that object with them," he says.
But it is also personal for him. In the past 10 years Zoma says he has lost 25 friends to drugs and suicide, and so cleaning these sites, where people were likely suffering from addiction, is a healing process.
"So to help I think erase that so it's not out here is also a huge reason. Just try to clear it up. And I like these places," Zoma says. "West Virginia is a beautiful place and it doesn't deserve to be trashed this way."
Zoma grew up on the West Coast, but he settled in Morgantown 21 years ago.
More Needles
Zoma has seen the city grow, and in the past couple of years he has noticed more trash, and a different kind of trash.
"These sites used to be full of beer bottles, and the transition is now to needles," Zoma says.
And this is a trend other organizations have noticed too, Jonathan Suite operations manager for Friends of Deckers Creek, says. Deckers Creek is an almost 25-mile-long tributary of the Monongahela River that flows through Morgantown.
"We come in with tongs and a sharps container and get rid of them. They are definitely common and it's really unfortunate," Jonathon says.
Friends of Deckers Creek dedicates a lot of time to cleaning up trash along the waterway. Just a couple weeks ago Jonathan cleaned up a site with a mattress pad, clothing and blankets. He says the trash is a river ecosystem hazard.
"It's bad for all the aquatic life in the creek. And when you have a clean area I feel like people are less likely to dump there, as opposed to if it's already a really nasty, trash-filled area," he says.
And that is Zoma's thinking too. The first site he cleaned was in Morgantown at Whitmore Park last year. There were over 300 hypodermic needles, three tents, several futons and other trash completely covering the grass.
"I remember returning like two weeks later just hoping somebody else had cleaned this up and nobody had," Zoma says.
The Clean-up Process
Zoma attached a small trailer to his bike – which he calls 'Big Red' – and loaded up shovels, rakes, garbage bags and a machete for the thick brush. He began cleaning Whitemore Park a year and a half ago.
"We had to load stuff up on tarps to drag it out, like all the bedding. We couldn't put that in bags, and we just made giant mounds of clothes. Mounds of clothes. It was amazing," he says.
A lot of the sites Zoma cleans alone, but friends occasionally come and help haul the trash bags away.
Zoma uses 33- and 55-gallon size trash bags. Just this year he has filled 100.
He likes to document the sites, taking before and after photos and videos and posting them to Facebook.
Barbies, Teddy Bears, Chocolate Milk Bottles
Zoma especially likes to document sites when there is an excessive amount of trash or unique items left behind, which was the case with his most recent clean-up site.
It is still on the Monongahela River, and it is roughly the size of half a football field, with overgrown trees creating almost a roof.
"Well this place is not perfect yet, but I tell you one thing is missing and that's 25 bags of trash," Zoma says.
There is still some work to do. But Zoma has gathered all the remaining trash into piles.
There is a Disney princess backpack, a Barbie with blonde hair, a chocolate milk bottle, Haines underwear and a moldy, medium-sized, brown teddy bear.
"I'll remove it sooner than later, or later than sooner. Not too sure," he says.
There were 40 teddy bears that Zoma already threw out.
Originally he had only found two hypodermic needles at this site, but as he is talking Zoma uses a stick to rustle around in the dead leaves. Ultimately he finds 18 needles within one square foot.
"Well, so much for that," he says.
Zoma uses the chocolate milk bottle to carry the needles out. 
Cleaning the Water
Primarily Zoma picks up trash on the banks of the rivers, but he does do some trash clean up in the water. He has focused mostly on Decker's Creek.
"It amazes me just how shredded the plastic bags will be. It's already working its way to be microplastic and it hasn't even hit the major rivers yet," Zoma says.
He has found bicycles, grocery carts, parts of bridges, furniture, old railroad ties and a lot of old coal slag.
Zoma uses a four-prong hook to pull out larger trash. The hook is about the size of a tennis ball.
"It's a grappling hook. It's what I use to pull grocery carts out of the river," he says.
But for smaller, magnetic trash, he uses a powerful magnet that is about the size of a grapefruit.
He walks along the banks of Decker's Creek with the magnet. A big thunderhead is rolling in.
The magnet is attached to a long rope, which allows him to throw it in the river and reel it back in. Kind of like fishing.
"This is 65 feet of rope – I can throw the whole thing," Zoma says.
The water is dark, and Zoma has cleaned up this location before. He does not expect to catch anything.
"There's something on there. It's a steel ring of some sort," Zoma says.
He puts the little bit of slag and metal he finds in a yellow bucket. He'll throw it out later. 
There are hundreds of miles of waterways just in Monongalia County. Trash could potentially be everywhere. Even the spots Zoma has cleaned, eventually get re-trashed — he says it is almost expected.
But, standing back on the banks of the Monongahela River, at one of his cleanup sites, Zoma smiles, looking at a beach that was once covered in trash. He is proud of the work he has done.
This story is part of a recent Inside Appalachia episode exploring some of Appalachia's most unique destinations, on the water and beneath the water. 
This article was originally published by West Virginia Public Broadcasting.
How Protecting Civil War Battlefields Helps Protect Drinking Water
In 2014, a coal cleaning chemical leaked into the Elk River in Charleston, West Virginia, the drinking water supply for tens of thousands of people in the Kanawha Valley.
The chemical couldn't easily be removed from the water and people in the valley spent more than week unable to drink, cook, or clean with their tap water.
After the spill, the West Virginia Rivers Coalition created the Safe Water WV initiative. The idea is simple: to strengthen a community's connection to their drinking water and encourage them to work together to better protect it.
A couple years ago, Jefferson and Berkeley Counties decided to build off that initiative in a unique way – using the conservation of farmland and Civil War battlefields as a model for drinking water protection.
About two miles from the heart of Shepherdstown is the site of the bloodiest battle in West Virginia during the American Civil War. More than 600 Union and Confederate soldiers died in a two-day battle in September 1862.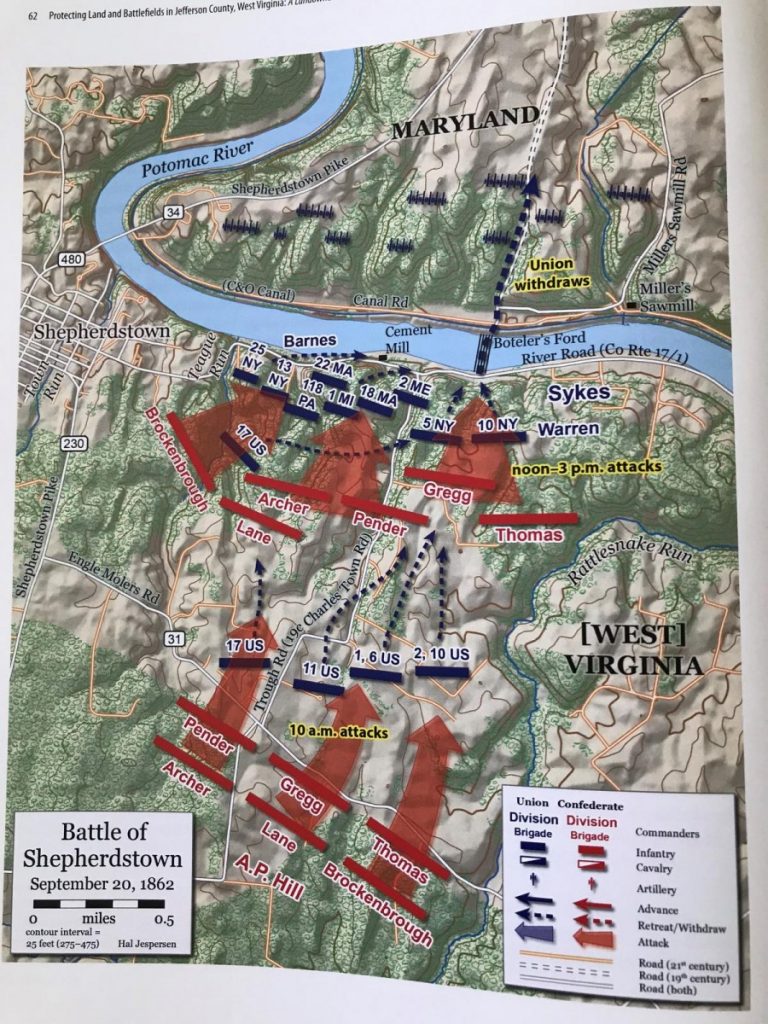 The Battle of Shepherdstown may have been small in comparison to other battles of the Civil War, but historians agree, the battle not only halted the Confederates' northern invasion, but it also opened the door for President Abraham Lincoln to issue the Emancipation Proclamation.
Since 2011, the site of the Battle of Shepherdstown has been a protected historic landmark. The battle site also happens to be at a unique location – along the Potomac River. The Potomac provides drinking water to Shepherdstown residents, and other nearby areas.
"The Landmarks Commission owns about a half-mile of the Potomac River frontage," Martin Burke said.
Burke is the chairman of the Jefferson County Historic Landmarks Commission – the group responsible for protecting the site of the Battle of Shepherdstown.
"Controlling the runoff, planting trees, all helps improve water quality."
That's why his group, along with the Jefferson County Farmland Protection Board, the Berkeley County Farmland Protection Board, and the West Virginia Rivers Coalition decided two years ago to work together. They started an initiative called the Safe Water Conservation Collaborative in the Eastern Panhandle.
"We formed the Safe Water Conservation Collaborative to bring together, for the very first time, water utilities, land conservation organizations, and watershed groups to take a collaborative approach to protecting drinking water using the conservation of land, and protecting land forever, to protect our drinking water sources," Tanner Haid said.
Haid is the Eastern Panhandle Field Coordinator for the West Virginia Rivers Coalition.
The initiative focuses on using land conservation easements to protect drinking water. A conservation easement is a voluntary private or government contract with a landowner to protect land for ecological reasons – to improve water quality, maintain a historic site, or protect wildlife.
Haid said this approach makes drinking water protections stronger, because land conservation easements help to prevent potential contamination threats or development that could impact a source water intake.
In Jefferson County alone, there are more than 16,000 acres of battlefield land that have been identified, according to the Jefferson County Historic Landmarks Commission. Only 800 acres of that is currently protected.
Liz Wheeler is the Director of the Jefferson County Farmland Protection Board. Her organization administers conservation easements to protect historic farmland and battlefields in Jefferson County.
"When we protect land, we're not just protecting cropland. We're protecting woodland, we're protecting streams, we're protecting historic resources, so it fits into what we do; to be able to contribute to source water protection," Wheeler said.
But the Safe Water Conservation Collaborative in the Eastern Panhandle doesn't come without its challenges. Finding enough money to protect the land can be the biggest challenge, but so can educating landowners about their options if they qualify for a conservation easement or historic status.
Haid said, in the coming year, he and his team hope to identify and prioritize areas of land in the Eastern Panhandle not currently protected that are close to drinking water areas.
"And then in particular, closest to the water intake or the utilities who draw up the water, because those are the areas most threatened by development and actions that we take on our land that has an impact on our water quality," Haid said.
Jefferson and Berkeley Counties are among the most successful in the state for land conservation, according to West Virginia Rivers. Together, these counties have protected more than 10,000 acres of land.
West Virginia Rivers said, so far, they haven't collected data on how water quality has improved through the Safe Water Conservation Collaborative in the Eastern Panhandle, but over the past two years, they have signed up 30 partner organizations interested in the project.
The group hopes this model – to protect water by conserving land – isn't just for the Eastern Panhandle but could be used across the state.
This article was originally published by West Virginia Public Broadcasting.