Study Finds Higher Risk of Brain Tumors in Appalachia
Appalachians have a 5 percent higher incidence of malignant brain tumors and other central nervous system tumors than the rest of the U.S.
That's according to a recent study published in the Journal of Neuro-Oncology. The study also found a higher mortality rate in the region due to these tumors and poorer survival rates.
A potential contributing factor to these higher rates? Access to health care.
"Brain tumors, especially malignant brain tumors, are often treated at academic medical centers or large, highly specialized medical centers," Quinn Ostrom, a researcher on the study, said. "Depending on where you live, you may not be able to access the kind of highly trained surgeons that specialize in these kinds of tumors."
A great many people throughout Appalachia live far from those speciality services that aid in treatment and recovery.
Ostrom is a postdoctoral associate at Baylor College of Medicine and a member of the Central Brain Tumor Registry of the United States, which has data on every brain tumor diagnosed in the country in the past 15 years.
Ostrom said the organization has been exploring how regional differences might point to health disparities. Appalachia was chosen because of a range of health disparities in the region in relation to the rest of the country, including obesity, diabetes and other cancer-associated risk factors.
Appalachia has a larger white non-Hispanic population compared to the rest of the country, Ostrom pointed out, which is the population with the highest malignant brain tumor incidence – about twice as high as among African-Americans and higher than Hispanics.
An examination of health insurance produced one of the study's surprises.
The researchers found that while in the rest of the country the highest survival rate for people with malignant brain tumors is with those who have private health insurance, in Appalachia better survival outcomes are found in those who have Medicaid.
In Appalachia, "there was a survival advantage to being within the Medicaid system," Ostrom said, "which we found surprising." She and her colleagues believe this could be a consequence of people being unable to meet their private insurance copays or deductibles.
The incidence of malignant, or cancerous, brain tumors was higher for both males and females in Appalachia. The rate among males was higher than females, which is reflected in the general population.
The study found a heightened incidence for all age groups in Appalachia. This follows a 2017 study conducted by the University of Kentucky that found Appalachian children are at a significantly increased risk of low-grade brain tumors.
Researchers at UK write that genetics may play a role, but added that environmental factors "may also contribute to the increased risk of brain tumor development in Appalachia." They note that while the role of carcinogens in the cause of brain tumors is controversial, limited studies have indicated factors that are prevalent in Appalachia, including smoking and pollution.
Ostrom and her colleagues found the highest rates of malignant brain tumors in central and northern Appalachia. The variations in regions within Appalachia, Ostrom suggested, could be attributed to the varying percentages of white non-Hispanics from one region to another, varying access to health care and insurance patterns.
The researchers explored non-malignant brain tumors as well, and found an incidence that is 3 percent lower than the rest of the country.
"At first, we were somewhat surprised by that," Ostrom said. "But there are a couple of factors that we think can complicate the story."
Benign tumors often go much longer without being diagnosed, she explained, because the symptoms tend to be milder, and poor access to health care may mean that a significant number of these tumors remain undiagnosed.
Ostrom said that a number of research projects are being considered as follow-up to this study. The researchers hope to further explore the role that socioeconomic status plays in the incidence and outcomes of brain tumors, and to look in more detail at the significance of proximity to urban areas and specialized medical centers.
"I think there should be more research on access to care and on populations that might not have access to the types of treatment that would increase their survival, or, in the case of non-malignant tumors, increase their quality of life," Ostrom said.
They also hope to further examine the genetic factors that might explain differences in risk.
"Large studies like this can point researchers to unexpected variables that merit further investigation," said Dr. Jill S. Barnholtz-Sloan of the Case Western Reserve University School of Medicine and a mentor to Ostrom. "These multifaceted lines of inquiry are critical for us to better understand this disease."


How Telehealth Gives A Rural School More Mental Health Services
To tackle a growing problem among young people, and fewer mental health professionals in rural areas, school leaders have joined a pilot project where students can talk with mental health therapists via a two-way video chat.
In rural areas, access to mental health services can be limited, sometimes even more so for teens and children. And the need for these services is growing, so one Midwestern school is using technology to help bridge this gap.
Two hours south of Indianapolis is Orleans, a farming and manufacturing town, population 2,000. The highway into town passes the junior-senior high school, which sits on a large lawn. Inside, a row of basketballs lines the top shelf in Principal Chris Stevens' office.
They're a symbol of rural Indiana, where schools — and basketball — are often the heart of community life. Many young people in these communities, and across the state, share something else: a struggle with mental illness.
To tackle this growing problem, Orleans leaders are involved in a pilot project to help students. In the corner of Stevens' office is a mobile stand with an iPad and speaker; students can use it to talk with therapists at IU Health via a two-way video chat.
"It's been overwhelming as far as the amount of people … who either support it or have come forward and saying, 'I want to be on this list,'" Stevens says.
School guidance counselor Kristin Bye says students tend to struggle with depression and anxiety. Others are dealing with traumatic childhood experiences.
"A lot of our students are being raised maybe by grandparents or in non-traditional homes," Bye says. "There's a lot of past trauma."
And while Orleans has some nearby options for mental health services, that doesn't mean students can easily access them.
"Parents either work and they find it difficult to get off work, or they are worried about insurance or their child missing school," Bye says. "If they go to Centerstone at Bedford, that's a 20-minute drive up a 20-minute drive back, plus the session itself."
Parental consent is required for students to participate in the new service — generally known as telehealth. The consent issue has stirred debate as lawmakers tried to tackle the rate of Indiana young adults considering suicide –– one of the highest in the nation.
Shannon Mace of the National Council for Behavioral Health says there's growing evidence that telehealth is an effective way to deliver mental health services. However, legal and logistical red tape have slowed the rollout of these services.
"So once you get over the hurdle of just being able to invest in the infrastructure itself, then they need to find a way in order to be reimbursed for the services that they're providing," she says.
Reimbursing for telehealth services can be tricky, because policies vary by state or insurance provider. And initially, incentives for telehealth services were aimed at physical health.
"So since then, behavioral health providers have really been playing catch up," Mace says.
Insurer CareSource partnered with Orleans Jr/Sr High School to donate equipment and set up the services. The company says insurance won't be a barrier for Orleans students who need treatment.
"We'd love to have this option available in every rural school setting if it's successful," says CareSource Indiana Market President Steve Smitherman.
The pilot project took about two years to get off the ground. And as schools are increasingly responsible for students' mental health needs, it remains to be seen if this is a viable option for other districts.
"It is possible, I think you definitely still have to have the correct players in the game," says Carrie Hesler, project manager for IU Health. "Access to funding to get the equipment, I think, would be one of the biggest barriers."
IU Health says a school would need to purchase the $3,500 equipment, find a provider and navigate health insurance. And deal with two bureaucracies.
"We found out though, that our small school bureaucracy kind of works a little faster than some of the hospital bureaucracies," Stevens says, laughing. "So some things took a little bit of time."
He adds that doing this work means making sure everyone is on the same page.
"Not just small schools, but in every school, the workload is tremendous, and the needs are sometimes immediate," he says. "But I feel like by us being proactive, that's going to pay dividends in the long run for us and our kids."
Results of the pilot — including grades, disciplinary records, missed school days and reduced depression and anxiety — will be tracked.
HOST OUT: People in need can call a suicide hotline number at the National Suicide Prevention Lifeline at 1-800-273-TALK (1-800-273-8255) to reach a trained counselor. The national crisis text line can be accessed by texting CONNECT to 741741.
This story was produced by Side Effects Public Media, a news collaborative covering public health. It was originally published by the Daily Yonder.
How Death Doulas Ease the Final Transition
End-of-life caregiving is an ancient practice that's now re-emerging in the death positivity movement, which urges a shift in thinking about death as natural and not traumatic.
Vivette Jeffries-Logan and Omisade Burney-Scott are friends for life—and collaborators in death.
Three years ago, when a mutual friend realized she wouldn't survive pancreatic cancer, the two central North Carolina women were within the circle of friends she summoned.
Over the course of about three months, the women stayed at Cynthia Brown's side as the community activist and one-time Durham City Council member went about the process of dying.
They rubbed her head, kept a watchful eye on her pain, and helped her decipher doctorspeak. And when her spirits appeared to lag, they'd tell her jokes and sing at her bedside.
This, Jeffries-Logan says, was a good death: "If I can help someone at the end of life heal and be clear, I will. There are some things we are required to do alone, but we are not isolated. We are community people. What happens to my nation happens to me. What happens to me happens to my nation."
Jeffries-Logan and Burney-Scott are death doulas; their form of caregiving is both old and new. The ancient Greek word "doula," meaning "woman servant" or "slave," was repurposed in the 1960s to describe birth workers who offer encouragement, back rubs and other assistance during childbirth.
These days, end-of-life doulas, sometimes called death midwives, are an emerging profession in the growing death positivity movement, which urges a paradigm shift for thinking and talking about death as natural and not inherently traumatic.
They provide nonmedical support to help ease the final transition for the terminally ill. But it's not merely about that culminating moment, "The End." They help the dying and their loved ones navigate death with all its "before and afters"—including sickness, acceptance, finding resources for all the legal housekeeping, funeral planning, and bereavement.
For Burney-Scott and Jeffries-Logan, it's the highest calling.
Sisters in ritual, they performed sacraments of soothing and release drawn from their West African and Indigenous spiritual traditions. Burney-Scott is African American and was initiated in the West African Ife religious practice, and Jeffries-Logan is a member of the Occaneechi Band of the Saponi Nation, a tribe rooted in the North Carolina Piedmont region.
Being a death doula "is not fun. But it's an honor," says Burney-Scott, a healer and longtime advocate who most recently worked as a reproductive justice organizer in North Carolina.
She stumbled into the practice when her mother's dear friend, a hospice nurse, showed Burney-Scott what to do at her mother's passing. "I didn't want to do it," she says. "The thing I feared most, from when I was a little girl and even when my mom was healthy, was losing my mother. She was that mom that all my friends would talk to, the mom who could let you know [you] were the most special person in the world even when she was yelling at you to do your laundry."
Near the end, her mother made her retrieve a manila envelope containing her will, insurance information, deeds—the bureaucracy of death. But without ever using the word "doula," her friend guided Burney-Scott in ushering out of this world the woman who had brought her into it.
"Aunt Cora" encouraged Burney-Scott to whisper her love in her mother's ear, to hold her hand, play music, and to be present in "an organic practice." One day, when her mother struggled to breathe, Cora assured Burney-Scott that she didn't need to fetch doctors—that nothing was wrong. "She's leaving," Cora told her, a simple statement that's also a tenet of end-of-life care: Death can't be controlled, but you can prepare for some aspects of it.
Because there is no universal or official training, no licensing and no regulation, there is no official estimate of how many death doulas operate in this country.
But death and dying are constant. And beyond the eulogies and coffins, there's a clear and growing need for death-related services. The number of Medicare-approved home- and hospital-based hospices, for example, rose from barely 30 to slightly more than 3,400 between 1984 and 2009. A decade later, more than 4,500 exist, according to the Centers for Medicare & Medicaid Services.
Groups such as the International End-of-Life Doula Association and others train and certify doulas, providing hands-on experience, like a practicum. Still, many death doulas enter the field as Burney-Scott did, pressed into duty by a family member's passing. Few can make it into a full-time, paying job. Others have a background in the clergy or are people of faith, are volunteers involved in work with the sick and shut-in, or are shamans or healers.
Still others become end-of-life doulas because they are nurses, midwives or health care professionals who, through experience, have come to know that the end of life is more than just what happens to your body.
Merilynne Rush, a nurse and home-birth midwife, co-founded Lifespan Doulas, an organization that trains and certifies end-of-life doulas. In three years, she says, the group has trained 200 people. She sees the need to educate and vet death doulas even while she thinks that community-trained doulas are valuable and necessary.
"There are so many people who are called in their communities [to do this] that no one should tell them they can't," Rush says. "I'd never be able to go into every community. That's one reason for never having any kind of regulation that imposes a state-sanctioned structure that says you are in or out.
"At the same time, when you are working within a medical organization, they need to know you are OK and there are some standards," she adds. "Training should never be mandatory, but optional."
A diversity consultant who focuses on Native communities and trauma, Jeffries-Logan distrusts what she believes is a move toward professionalization.
Her death doula work is grounded in Indigenous customs, and communicating with the ancestors does not happen through curricula. Heeding a call from her ancestors, she did a traveling ceremony, designed to pave a deceased person's road to the afterlife, for an infant relative who died before he turned a year old. As part of a common tribal custom, she won't speak the name of the deceased aloud for a year; to do so could keep the spirit tied to its temporal life—now a thing of the past—and distract it from the arduous journey to the ancestors.
Neither she nor Burney-Scott takes money for what they do. Rather, they extend their services to family and friends based on existing connections and an understanding that death is cultural and clinical. "It's not like I was going to roll up and do this with just anyone. I don't do shallow-ass relationships," Jeffries-Logan says.
She questions what happens when the training moves out of informal community pedagogy and into a classroom.
"Who's the certifying body? Who has the funds to pay for services?" she asks. She thinks of formalizing death doula work in the same vein as yoga, an Indian spiritual system that has been co-opted from communities of color and networks of caring to be dominated by white instructors who teach a fraction—the poses, the breathing—of the whole for pay.
Both women know that communities of color lag in accessing end-of-life care—whether because of cultural beliefs, experience and well-founded fear of racism in medical settings, lack of insurance or financial resources, or misconceptions about what's available.
For example, Black people represented 8 percent of those receiving Medicare-funded hospice benefits in 2017, compared to 82 percent for white people.
In many Southern Black communities, people won't talk about death, Burney-Scott says. "There is truth in our mouth. You can manifest things with your word. Don't talk about death [lest] you invite it in."
That goes for other communities, as well. A 2010 study comparing Latino immigrants to white cancer caregivers found that the Latinos were surprised and even disturbed by transparent talk about death in hospice pamphlets and consultations.
Furthermore, Rush says that generally when death is imminent, "most people are overwhelmed and don't know where to turn. They don't even know that they can get hospice earlier. And even then, they may have a nurse come in for a few hours or an aide, but they aren't there all the time. People have to rely on their community and network."
And that's just what Cynthia Brown did once she accepted that she wasn't going to beat cancer, calling on the women her family members sometimes referred to as "Cynthia's girls."
"She invited us into the process from the very beginning. We swung into action on the logistical things: running errands, taking her to appointments, making meals," Burney-Scott says.
"And then she said, 'I want to cut my hair.' She had 12 braids left. Each one of us cut two braids. Then, she called and said, 'Hey, will you come over and help me write my memorial?"
She summoned Jeffries-Logan and another friend to help her assemble and bless her ancestors' altar. With trademark precision and humor, she even planned who would cook at her funeral repast or meal: not her many loving white friends; she didn't trust their chops in the kitchen.
Her death doulas and friends, in turn, called on each other, their own histories of loss, and their ancestors to help guide Brown through her own departure.
And when the end came, the friends all rolled to the hospital one last time. Burney-Scott donned her trademark white head wrap and packed a bag with crystals and Florida water, a citrusy blend believed to have calming properties.
Jeffries-Logan carried tobacco as an offering; red cedar to represent blood and life force; water from the Eno River, which courses through her tribal nation's territory; and a ceremonial turtle rattle, used by tribes in special ceremonies.
"Cynthia fed me, I laid up on her couch, we carpooled to anti-racism trainings around the state," Jeffries-Logan says, her eyes moist and a catch in her voice. "And when we did a ritual for my mother [who died from Alzheimer's disease] in the ocean, Cynthia told me, since she had lost her parents at a young age and had to be like a mother to her younger siblings, she knew what it was like to be a motherless child. I was going to do whatever I could for her."
She didn't want her beloved sister-friend "scratching and clawing to stay here." So she stroked the soles of Brown's feet—which got cooler and cooler as death approached—not to bring back sensation, but to help untether her from this earth.
When Brown took her last breath, Burney-Scott's and Jeffries-Logan's hands were among those resting on her body. It was a fitting end: a social death for a community advocate who told her friends, "You continue to fight the good fight, and you have to promise me that you won't leave anyone behind."
This article was originally published by YES! Magazine.
Cynthia Greenlee, Ph.D., wrote this article for the Death Issue, the Fall 2019 edition of YES! Magazine. Cynthia is a writer, editor, and historian based in North Carolina. Follow her on Twitter @CynthiaGreenlee.
Rural Hospital Closings Reach Crisis Stage, Leaving Millions Without Nearby Health Care
Presidential candidates and other politicians have talked about the rural health crisis in the U.S., but they are not telling rural Americans anything new. Rural Americans know all too well what it feels like to have no hospital and emergency care when they break a leg, go into early labor or have progressive chronic diseases, such as diabetes and congestive heart failure.
More than 20 percent of our nation's rural hospitals, or 430 hospitals across 43 states, are near collapse. This is despite the fact that rural hospitals are not only crucial for health care but also survival of their small rural communities. Since 2010, 113 rural hospitals across the country have closed, with 18 percent being in Texas, where we live.
About 41 percent of rural hospitals nationally operate at a negative margin, meaning they lose more money than they earn from operations. Texas and Mississippi had the highest number of economically vulnerable facilities, according to a national health care finance report in 2016.
As rural health researchers, we're well aware of the scope of rural hospitals woes', which span the entire country. Struggling rural hospitals reflect some of the problems with the U.S. health care system overall, in that the poor often struggle to have access to care and there are few obvious solutions to controlling rising costs.
If 20 percent of America lives in a rural county, why is the nation so slow to address rural health disparities?
There goes the hospital, and the town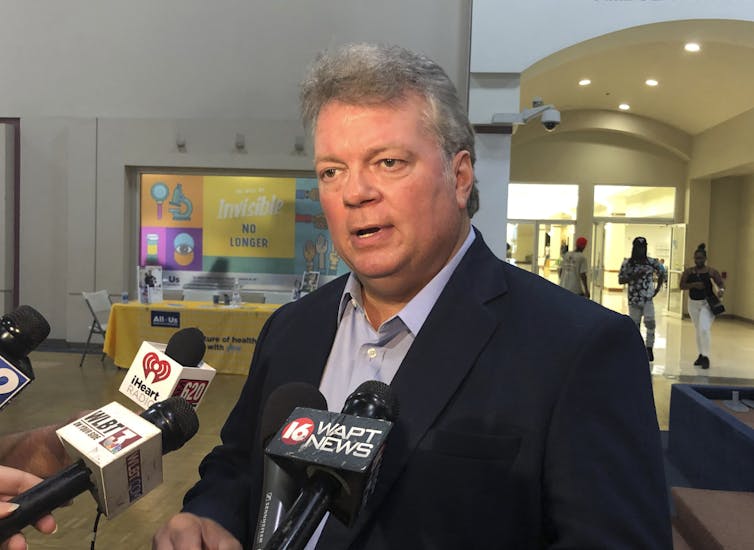 Each time a rural hospital closes, there are tragic consequences for the local community and surrounding counties. While the medical consequences are the most obvious, there is also loss of sales tax revenue, reduction in supporting businesses such as pharmacies and clinics. There are also fewer professionals, including doctors, nurses and pharmacists, and fewer students in local schools.
The closing of a rural hospital often signals the beginning of progressive decline and deterioration of small rural towns and counties. Hospitals often serve as financial and professional anchors as well as source of pride for its small rural community. It also often means loss of other employers or inability to recruit new employers due to lack of nearby health care. When a rural hospital closes its doors, unemployment often rises, and average income drops.
There are no nurses, doctors, pharmacists or ERs for local farmers, ranchers, growers and assorted men, women and children who love living and working in America's vast rural regions. Rural communities and rural citizens are often left with no options for routine primary care, maternity care or emergency care. Even basic medical supplies are often hard to find.
Residents in these communities have had to take their chances living in America's heartland, finding alternative options for basic health care services.
A compound fracturing
Those rural hospitals that have remained open are facing increasing legislative, regulatory and fiscal challenges. Some policy analysts have noted that the states with the most closings have been in states that did not expand Medicaid.
And, many of the towns in which they are located suffer from an apparent leadership vacuum. There are typically few experts within small towns who are prepared to address ways to avoid the loss of rural health care services and rural hospitals.
Small, rural communities are also less likely to have conducted formal comprehensive health needs assessments or invested in strategic planning to strengthen the ability of the community to adapt more quickly to changes in the local economy as well as changes in financing health care at the federal level. Health care services planning is often limited to input from the rural community leaders and "power brokers" rather than a cross-section of the greater community.
For example, community leaders may want to have an orthopedic surgery option, but if they had input from the community, they would know that prenatal/maternity care was more of a priority and these patients don't have transportation so they also need a bus or van to pick up for appointments.
There are also cross-cutting rural community challenges such as:
Declining reimbursement levels
Shrinking rural populations
Health professionals moving to bigger cities for higher compensation
Increasing percentage of uninsured leading to rising uncompensated care
Increasing operating costs
Older and sicker rural dwellers with complex multi-system chronic diseases.
The result is that rural hospitals often lack a dependable economic base to operate. In addition, changing processes, payment strategies and regulations coming from state and federal regulators place the small rural facility at particular risk because keeping up with changing payment or reporting rules often requires a full time person.
The continuing closures have accelerated the urgency to understand and address the problems faced by rural Americans seeking access to care. Each rural region of the country has its own industry, economy, cultures and belief systems. Therefore, rural solutions will be unique and not an urban solution downsized to a smaller population.
Replacing the hospital with … what?
At Texas A&M Health Science Center, we are among several researchers focused on rural disparities by researching causes of socio-economic inequities and by working within those rural communities to "give a leg up" to distressed rural communities and counties nationally, and in Texas.
We've come to see that providing health care services in rural counties may not include maintaining a full-service hospital, but rather "right-sizing" care to match the resources, demographics, geography and availability of providers in the community.
For example, the ARCHI Center for Optimizing Rural Health is currently working with hospitals and their communities to determine feasible health care options that will be supported by the community, meet community needs, and most importantly, offer local, high-quality care. Using tools like ARCHI's DASH – a quarterly dashboard that shows performance of the hospital in financial, quality and patient satisfaction arenas – may help hospital boards, communities and local leaders better understand their status and need for change from business as usual.
While it may be that the changing health care delivery systems are altering what health care delivery looks like, change can almost never be instant. Communities may need to envision alternatives to hospitals.
In some communities, urgent care with radiology and lab services may be able to service the majority of health care needs. In other communities, a "micro-hospital" with an ER and swing bed options – which allow rural hospitals to continue to treat patients who need long-term care or rehabilitation – may be the better fit. Telehealth, or providing care through televideo virtual face-to-face from remote sites to rural residents, can also be an option.
Challenges specific to the dilemma of rural hospital closure will take a national, state and local effort focused on the plight of rural communities struggling to maintain availability of essential health care services. Our nation's vulnerable rural communities deserve a focused, coordinated effort to address this compelling problem before any more rural hospitals close their doors.
This article is part of a collaborative project, Seeking a Cure: The quest to save rural hospitals, led by IowaWatch and the Institute for Nonprofit News, with additional support from the Solutions Journalism Network.
Jane Bolin, Professor of Health Policy + Management, Deputy Director of the Southwest Rural Health Research Center; Associate dean of research, College of Nursing, Texas A&M University ; Bree Watzak, Clinical assistant professor, pharmacy, Texas A&M University , and Nancy Dickey, Professor, Executive Director, Texas A&M Rural and Community Health Initiative, Texas A&M University
This article is republished from The Conversation under a Creative Commons license. Read the original article.