Law enforcement has a classification problem, and it's making America more dangerous.
For the last two decades, local police and the FBI have categorized the criminal activities of white power groups as isolated incidents or hate-related.
We believe that's wrong and leads to a lack of understanding of the power of these groups and the direction they are taking. It also leads to the under-policing of these groups.
As criminologists, our research is based on the rationale that "alt-right" groups are no different from conventional street gangs.
A uniform definition for a "gang" does not exist among scholars or law enforcement. However, criminal codes usually define a street gang as an ongoing group, club or association composed of five or more individuals that participate in either a felony, simple assault or destruction of property.
Categorizing alt-right groups as gangs would increase the attention they get from law enforcement and likely stem their violence. When police use traditional crowd control techniques to corral alt-right gangs at public demonstrations, it only reduces the chances of violence and does not address the root cause of white supremacy.
Unless law enforcement changes their approach accordingly, these groups will likely continue to grow and contribute to increases in extremist violence, particularly anti-Semitic attacks.
From tweets to the streets
In spite of public perception, scholars point out that the alt-right is not composed of "lone wolves" or a bunch of "Internet trolls."
Nor is it a monolith with a unified ideology.
Instead, the alt-right is composed of a variety of factions that oppose multiculturalism, feminism, political correctness, globalism, establishment politics and immigration, and support President Donald Trump. The group's core, however, is a racist movement revolving around beliefs of white nationalism including anti-Semitism and fear of "white racial genocide."
Over the last two decades, the white power movement has adapted to thrive with the growth of the internet and social media. Digital communication platforms such as message boards, blogs and social media have provided an cheap way to promote white supremacy ideology, recruit members and maintain social ties between members.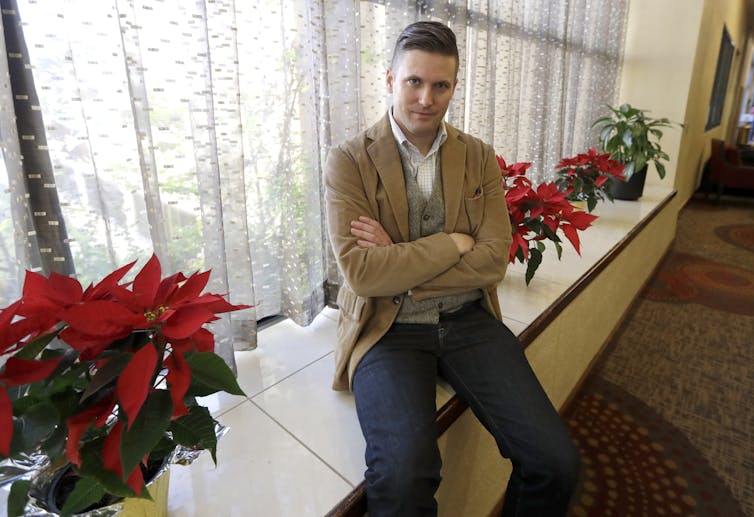 Even though the alt-right evolved in the digital world, it has manifested in the real world. Alt-right gangs are regularly seen demonstrating and rallying in public, as in Charlottesville, Berkeley and Portland, Oregon. All of those events ended in violence. Recently, in New York alt-right gangs have abandoned the pretense of peaceful gatherings and are now openly participating in street brawls.
Since 2017, the nonprofit Jewish organization, the Anti-Defamation League, has documented 54 far-right extremist protests and demonstrations, particularly in more progressive urban centers across the United States.
In the past year, the ADL has also documented more than 900 incidents of white power propaganda on or near college campuses.
Over the last two years, alt-right groups have also engaged in murder, stockpiled firearms and explosives, and plotted terrorist attacks.
The alt-right's other activities include assault and harassment and hate-related crimes.
Proud Boys: An alt-right gang
Proud Boys is a self-described "Western chauvinist" men's club that was founded in 2016 by Gavin McInnes. Like conventional street gangs, many of the characteristics used by scholars and law enforcement to identify a member of Proud Boys are used to identify members of a street gang.
Members are initiated with violent rituals. They routinely gather to socialize in spaces guarded from outsiders. Members are encouraged to engage in criminal acts of violence. Finally, McInnes has publicly called the group a gang – a documented predictor of gang membership.
McInnes claims that Proud Boys have chapters sprouting up all over the globe. There are, however, only about 30 chapters documented in the United States. A half dozen exist in Canada. Even fewer exist across Europe, and McInnes has promised that chapters are "coming soon" to the rest of the globe.
Proud Boys are just one example of three known right-wing groups that are emerging as alt-right gangs.
Rise Above Movement and Atomwaffen Division are two other groups whose members, like Proud Boys, celebrates anti-Semitic violence, stockpiles weapons and regularly participates in violence against counterprotesters.
Responding
Policymakers, law enforcement and analysts have the opportunity to change course and start addressing the lapse in policing of these domestic far-right extremists.
Education and exposure are effective remedies at limiting the racist message of the alt-right. But law enforcement could be more proactive.
A good starting point would be to begin systematically monitoring members of alt-right gangs, particularly individuals that are regularly engaging in street violence. The consistent and responsible collection of information for a gang database can be a tool to effectively target violent crime while also protecting individual civil liberties.
It is equally important for police agencies to be able to easily share such intelligence amongst themselves. This would greatly help police agencies identify those alt-right gang members that are participating in street violence across various jurisdictions.
Next, police agencies could utilize a "focused deterrence" approach that targets problematic groups engaging in violence. Such a strategy concentrates on chronic offenders and sends the message that violence will be met swiftly with enhanced sanctions. It also involves offering opportunities and resources to these individuals, such as vocational training, housing and substance abuse treatment to help end their criminal behavior.

Such approaches have consistently produced significant reductions in gang violence and can be part of the process to limit street violence of alt-right gangs.
Matthew Valasik is an assistant professor at Louisiana State University and Shannon Reid is an assistant professor of Criminal Justice and Criminology at the University of North Carolina – Charlotte.
This article is republished from The Conversation under a Creative Commons license. Read the original article.