Fact-check: Did Median Incomes Hit a Record Level in 2017?
Politicians often point to the success of America's middle class as a barometer for the health of the broader American economy.
On Sept. 29, the West Virginia Republican Party tweeted, "Thanks to President Trump and Republican policies, middle-class income rose to a record level in 2017 as the strong economy lifted the fortunes of more Americans, the U.S. Census reported Wednesday! #WVGOP"
Thanks to President Trump and Republican policies middle-class income rose to a record level in 2017 as the strong economy lifted the fortunes of more Americans, the U.S. Census reported Wednesday! #WVGOP https://t.co/bNtp9GQn9i

— WVGOP (@WVGOP) September 12, 2018
Is this accurate? We will give context for the party's claim of credit for the Trump administration, but our fact-check is looking solely at the numbers.
Middle class income
"Middle class" is a vague term that does not have a consistent definition. However, economists generally consider median income to be a reasonable yardstick for the "middle class."
According to an annual study published by the U.S. Census Bureau in September 2018, the U.S. median income was $61,372 in 2017, a 1.8 percent increase from the previous year after adjusting for inflation.
The new level of $61,372 represents a record high since the statistic has been recorded, although the inflation-adjusted figure has come close a few times in the past, census data shows. In 1999, for instance, inflation-adjusted median household income reached $60,062, and in 2007, shortly before the Great Recession, it reached $59,534.
Who gets credit?
Less certain is the assertion that the record median income level is "thanks to President Trump."
As we have frequently noted, economists say that presidents don't deserve either full credit or full blame for employment trends on their watch. The president is not all-powerful on economic matters; broader factors, from the business cycle to changes in technology to demographic shifts, play major roles.
"I suppose President Trump could claim that the upward trend in per capita or median income between 2016 and 2017 was due the policies that his new administration adopted or pursued, in deregulation, taxation, immigration, and trade," said Gary Burtless, an economist at the Brookings Institution. However, he said, "that is not terribly compelling, because incomes had been improving for several years before Mr. Trump took office."
Indeed, between the beginning of the post-Great Recession recovery in 2010 and 2016 — a period when President Barack Obama was exclusively in office — inflation-adjusted median income rose by about 9 percent. Taking into account the longer period of time, that's a little slower than 1.8 percent annual increase under Trump, but it's not dramatically different.
So the bump in median income under Trump is largely similar to the trajectory under Obama, rather than representing a major turnaround. That undercuts the argument for crediting Trump exclusively.
Our ruling
The West Virginia Republican Party said that "middle-class income rose to a record level in 2017 as the strong economy lifted the fortunes of more Americans."
According to the U.S. Census Bureau, median household income did rise to a record high in 2017 of $61,372.
The party is on far less certain ground when it credits Trump, who, like any president, deserves some — but hardly all — credit for the economy's performance on his watch.
Looking solely at the numbers, though, the statement is accurate. We rate it True.
This story was originally published by PoltiFact and was produced through a partnership between PolitiFact and the West Virginia University Reed College of Media.

Kentucky Called a 'Warning Signal' on SNAP Work Requirements
This story was originally published by the Ohio Valley ReSource.
The federal government is considering a work requirement for some people who get food assistance through SNAP, or the Supplemental Nutrition Assistance Program. A new study uses Kentucky as an example of what that change could mean for the country.
The SNAP rules require 80 hours of work a month and cap assistance at three months over three years. This applies to able-bodied adults without children. The rules have been around for a while but hadn't been enforced until recently.
"Those requirements were waived for several years during the recession and that was pretty much true across the entire country. And then slowly as the economy has improved, you know, a number of states have begun reinstating those stricter requirements and benefit limits," said Elaine Waxman, a senior fellow at the non-profit Urban Institute and an author of the report.
The pending rules would make it more difficult for states to get a waiver. She said Kentucky offered a "natural experiment" to show the impact of putting the work requirements into effect.
She said the study explored the difference between eight Kentucky counties that retained the waiver and the surrounding counties that did not. Both groups have similar high rates of poverty and unemployment.
Waxman said the counties that retained the waiver were part of a federal pilot program called Paths 2 Promise, which provides SNAP participants with job training and other forms of support in eastern Kentucky.
The different outcomes were pretty dramatic, she said.
"What we see is that during that time the decrease in the waived areas is only about 2 percent of the whole SNAP caseload for this group, but it's about 44 percent for the counties in the surrounding area. And that's a huge difference," she said.
She said people who lose benefits often don't have any source of income to cover the cost of food.
The report showed overall more than 13,000 Kentuckians lost SNAP benefits between 2017 and 2018.
The comment period for enacting these restrictions across the country ends Tuesday, April 2.
Several states are considering similar restrictions for people who qualify for Medicaid.
Kentucky's plan for Medicaid work requirements was rejected for a second time in court las week.
This story was originally published by the Ohio Valley ReSource.
Medicaid Work Requirements: Where Do They Stand after the Blue Wave?
The 2018 midterm elections have dealt a significant setback to President Trump's agenda in the legislative arena.
However, there are still many ways for the Trump administration to keep swinging away at the Affordable Care Act. One particularly effective unilateral instrument is the regulatory process – that is, the implementation of statutory law by executive agencies.
This may prove particularly consequential for Medicaid, the health coverage program for those with low incomes or disabilities. One particular area of attention for scholars like me is so-called community engagement or work requirements for Medicaid beneficiaries. These mandates generally require beneficiaries to conduct work-related activities or lose coverage.
While still in litigation, the Trump administration has indicated its strong commitment to moving forward with these efforts.
Helping individuals leave poverty is a worthwhile cause. As someone who studies health policy, I am concerned, based on research that others and I have conducted, that the focus of the Trump administration is misplaced. Indeed, their actions run counter to a broad scholarly consensus which universally emphasizes the benefits of health coverage. Most critically, they may disproportionately affect populations with vulnerabilities.
Work for coverage: What the evidence from welfare reform tells us
Work requirements have been implemented in a variety of public assistance programs outside of Medicaid. They have been featured most prominently in the Temporary Assistance for Needy Families program, or what Americans generally refer to as "welfare."
When President Clinton and a Republican Congress "ended welfare as we know it" in 1996, they imposed strict work requirements and time limits for beneficiaries. The resulting changes can only be described as transformational. Importantly, they include a dramatic decline in the nation's welfare case load.
Proponents of work requirements have hailed these developments as vindication of the policy. More deliberate assessments, however, have raised questions about this interpretation.
For one, there is strong evidence that a significant reduction in caseload was a result of the strong economy in the late 1990s. The reduction also coincided with the expansion of the Earned Income Tax Credit, which made work more profitable for low-income earners. Additionally, a major portion of the reduction of the welfare load has been the result of eligible individuals merely being diverted from the program.
When it comes to the experience of people who benefit from Medicaid, more causes for concern emerge. Indeed, most employment and income gains have proven ephemeral.
Individuals who were subject to work requirements generally found only entry-level, low-paying jobs without benefits.
Moreover, employment is often impermanent and therefore highly unstable.
Critically, beneficiaries have also failed to transition into better-paying jobs over time. As a result, they continue to struggle with housing and food security.
Studies have found no hard evidence for sustained reductions in poverty.
And certain populations faced particularly negative impacts. These include those with significant employment barriers such as chronic health conditions, low job skills, and low education status.
Minorities appear to also be disproportionately affected. The same holds for those suffering from addiction or domestic violence.
Perhaps of greatest concern is evidence that for a significant portion of those beneficiaries forced off public assistance the result has been a slide into deep and persistent poverty.
Work requirements and the Trump administration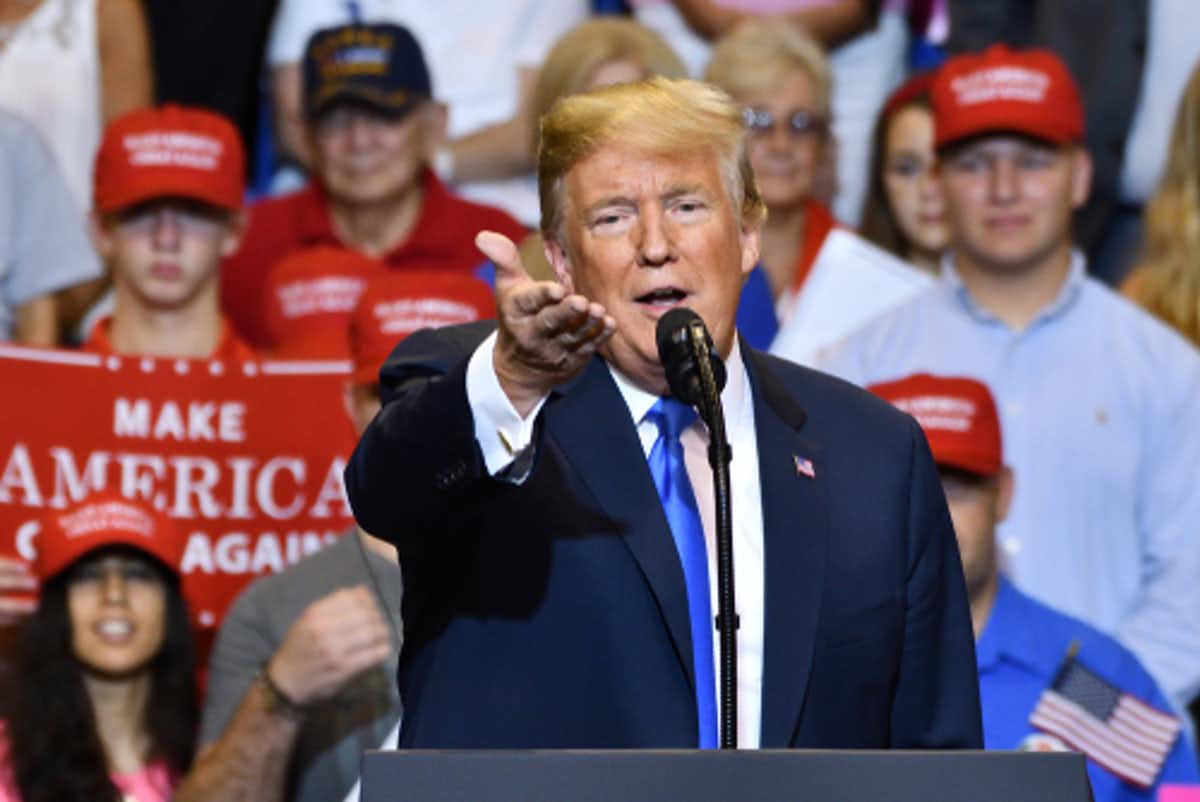 Since taking office, the Trump administration has sought to aggressively introduce work requirements into the Medicaid program. It has argued that doing so would "put beneficiaries in control with the right incentives to live healthier, independent lives."
It has done so using so-called 1115 demonstration waivers. These waivers allow states to make temporary changes to their Medicaid programs that omit certain statutory requirements.
These waivers have been traditionally used by both parties to expand, not reduce, coverage.
As a result, the Center for Medicare and Medicaid Services has received more than a dozen waiver requests seeking to implement work requirements from states like Kentucky, Arkansas and Michigan. Proposals differ significantly between states in terms of such characteristics as work effort required, what activities count toward compliance and exemptions.
Yet due to legal issues, the only program currently operational is in Arkansas.
The experience in Arkansas appears emblematic for many efforts to impose work requirements. In particular, it illustrates what appears to be a deliberate attempt to reduce enrollment, rather than to help people leave poverty.
Work requirements, as implemented in Arkansas, are particularly concerning because they impose several significant burdens. One of these that has raised particular concern is the requirement that Medicaid recipients report compliance of their work requirements solely to an online portal. No provisions are made for beneficiaries to report in person, on paper or via phone. This is in a state that ranks at the bottom nationwide when it comes to internet access.
Moreover, the portal is offline for a significant number of hours each day. There have also been no efforts to support beneficiaries' work efforts such as job training, child care assistance or transportation allowances.
And indeed, early experiences confirm many of the fears of advocates and scholars alike, as thousands of Arkansans have already lost coverage.
Many of those losing coverage may have lost coverage not because of failure to work but instead because they were unable to report their work efforts.
Supporting work instead of taking away health coverage
Proponents of work requirements argue that requiring people to work will make them healthier and more economically secure. Accompanying this argument is the assertion that many beneficiaries are willfully choosing not to work. Thus, beneficiaries have to be pushed into the workforce by a paternalistic government.
However, this line of argument runs counter to the expert consensus that has emerged. Indeed, most scholars emphasizes the strong, positive effects that sustained health coverage has in supporting the work efforts of people who receive benefits. Taking away medical coverage runs contrary to the goal of alleviating poverty and transitioning Medicaid beneficiaries into stable work environments.
Blaming Medicaid beneficiaries, most of whom are indeed working, taking care of family members or disabled, for not working misses many of the subtleties of the underlying problems. Many beneficiaries face personal and systemic barriers such as lack of education, transportation or economic opportunity. Many are unable to find long-term, stable jobs with health benefits despite their best efforts.
Yet, the effects of work requirements go well beyond the population targeted by them. Perhaps most concerning, work requirements may cause significant harm to populations with vulnerabilities such as minorities, the disabled and the chronically ill. Confusion, lack of information and the stresses of living in poverty may prove overwhelming. The results may be disenrollment. This holds even for those who are technically exempted from work requirements.
Unfortunately, this may not be a glitch but may point to the true underlying rationale. That is, the true goal for many supporters of work requirements may be the disenrollment of large numbers of beneficiaries, reductions in government expenditures and ultimately a disengagement from the social safety net.
Despite these concerns, one should not ignore the valid concerns of many working low- and middle-income Americans who are working and struggling.
I believe what the U.S. truly needs are policies that provide equitable opportunities for all Americans. A particular focus should be on offering access to affordable health care and education, and policies that encourage, support and reward work. Proven policy solutions to do this include expanding the Earned Income Tax Credit and providing access to affordable health care and educational opportunities.

Scholars play an important role in this process by informing policy choices with empirical evidence. We are also tasked to stand up and point out when our work is misrepresented in the political process. Finally, we have to be particularly mindful of those with vulnerabilities.
Simon F. Haeder, Assistant Professor of Political Science, West Virginia University
This article is republished from The Conversation under a Creative Commons license. Read the original article.
General Motors has announced plans to close its plant in Ohio's Mahoning Valley. But it's not only jobs that are at stake.
When the first car — a Chevrolet Impala — rolled off the line at the Lordstown GM complex near Youngstown, Ohio, in 1966, the Mahoning Valley was still a blue-collar haven. Steel mills operated around the clock, and factories, like Youngstown Steel Door and General Fireproofing, used their product for a variety of applications. Youngstown was also home to a bustling downtown with three movie theaters and two department stores, countless bars and restaurants, and a growing university, all serving a blue-collar community making enough money to be considered middle class.
A little more than a decade later, this heyday came to a screeching halt. The mills closed quickly, throwing thousands out of work, with ripples affecting thousands more. An estimated 50,000 jobs were lost in a five-year span. The area's population dropped precipitously, and its per capita income took an even more pronounced hit. Throughout the 1980s and 1990s, efforts were made to recreate manufacturing jobs, as the region looked for a magic bullet in the form of a blimp factory, a Pentagon payroll center, and the auto industry.
Through it all was a common refrain—a reassurance, even: at least we still have the GM plant.
But we may not be able to say that much longer. On Monday, General Motors announced plans to "accelerate its transformation for the future, building on the comprehensive strategy it laid out in 2015 to strengthen its core business, capitalize on the future of personal mobility and drive significant cost efficiencies." According to this plan, the Lordstown plant—along with facilities in Detroit; Warren, Michigan; Oshawa, Ontario; and outside of Baltimore, Maryland—will be "unallocated." Practically, this means the loss of 1,400 jobs in the valley, in addition to nearly 3,000 recently lost. It also means the end of an era.
Like Sheet & Tube a generation earlier, GM was more than a place to work; it was a point of pride.
Tim Ryan, the Congressman whose district includes Lordstown and most of Trumbull County, likened the news to "another Black Monday." That's a deliberate choice of words. Black Monday refers to the day, in 1977, when Youngstown Sheet & Tube—at the time the largest steel producer in the Mahoning Valley—announced it would close its larger mill at the end of the week, throwing 5,000 people out of work. It was the beginning of the end of the steel industry in Mahoning Valley, and a line of demarcation in the region's history.
The announcement is only the latest in decades of disappointment and decline with respect to the Lordstown plant, but it has some of us with ties to the area remembering what Bruce Springsteen said twenty-three years ago in "Youngstown":
Seven hundred tons of metal a day
Now sir, you tell me the world's changed
Once I made you rich enough
Rich enough to forget my name 
For me, the Lordstown GM plant has always represented home. After I grew up and moved away, the sprawling complex, visible from the Ohio Turnpike, meant I was nearing my parents' house on the west side of Youngstown. Even now, I still drive past the plant a couple of times a month. For those of us with a connection to the Valley, the anticipated closing of the Lordstown plant represents more than just the loss of jobs, as devastating as that reality is; it means the loss of an institution.
A rare confluence of factors made the Mahoning Valley—a regional corridor consisting of Youngstown, Warren, and a series of nearby towns—a destination in the early twentieth century. Iron ore, slag, coal and limestone, all readily available in Northeast Ohio, gave rise to the steel industry, and railroad service made shipping convenient. (At one point, Youngstown was served by four trunk line railroads, which was unheard of for a city of its size.) The open hearth mills that grew up along the Mahoning River needed thousands of laborers, and Youngstown's population, bolstered by waves of immigrants, swelled from 40,000 in 1900 to 120,000 in 1920.
By the 1960s, things were fraying at the edges. Postwar population estimates had the city of Youngstown growing to as many as 250,000 people, but residents instead started to build houses in the municipalities surrounding the city. An industrywide steel strike in 1959 made people throughout the Mahoning Valley nervous; they realized it was a one-industry region. At the same time, Governor James Rhodes was determined to bring as many jobs to Ohio as he could, and made special entreaties to auto manufacturers, regardless of their country of origin. (In the 1970s, he would lure Honda to Central Ohio.)
And so, in 1966, a swath of farmland in Lordstown became an auto assembly line stretching six-tenths of a mile—going "from fields to wheels," as promised at the groundbreaking. Initially, the plant hired about 5,000 workers but received more than 35,000 applications. The plant started out making Impalas and Pontiac Firebirds. A van line was added in 1970. But it soon became the site for the assembly of small cars—beginning with one of the biggest disasters in General Motors history.
The Chevy Vega was a subcompact, intended to combat the smaller cars coming in from Europe and Japan. It featured a revolutionary cast-aluminum engine and was designed with the aid of computer-assisted drawing. The Vega was named Motor Trend car of the year for 1971, but its flaws were numerous and came to light quickly. In addition to an anemic engine, rustproofing was an issue. I can recall seeing many Vegas on the streets of Youngstown in my youth but the car has virtually disappeared, unmissed from American roads.
While assembly of the Firebirds and Impalas came at the rate of 60 vehicles per hour, the plant needed to pump out 100 Vegas per hour to maintain a healthy profit margin. The speed of construction at Lordstown was expected to be maintained despite layoffs. Laborers filed grievances (more than 16,000 at one point) and, in 1972, went on a 22-day strike that was described as an "industrial Woodstock"—a watershed moment in labor relations with effects throughout the country.
The cars sold well, aided by rising gas prices. Since then, Lordstown's fortunes have been intertwined with small cars. In the 1980s and 1990s, it made the J-cars, including the Pontiac Sunbird, Buick Skylark and Chevrolet Cavalier. As a teen, I drove a Cavalier. The long list of cars my father owned included a Pontiac 2000, which later became the Sunbird. My friends drove Sunbirds; one nicknamed his the "Super Chicken." Like Sheet & Tube a generation earlier, GM was more than a place to work; it was a point of pride. Local car ads touted the cars "made right here in Lordstown," and a common bumper sticker read: "I build GM. I drive GM."
My cousin, who is older than me, said the Youngstown of his youth—in the 1950s and '60s—was a "get tough or die" kind of place, albeit a prosperous one. The Mahoning Valley of my younger years was just as rough-hewn, but it was also a tougher place to make a buck. The great conundrum of my life is that I am who I am because I grew up in Youngstown—and every ounce of success I've had in my life has come because I left.
The Mahoning Valley struggled in the late '70s and early '80s. The closing of the mills left virtually no sector of the local economy unscathed. With no big medical plans for steelworkers and their families, hospitals cut beds; school districts, accustomed to buying new textbooks every year, suddenly had a hole blown in their budgets; the city's two downtown department stores closed, undone by changing shopping habits and a lack of disposable income in the community. Restaurants closed, as going out to eat became an unaffordable luxury. The city used to have an amusement park, built in 1899 at the end of a trolley line. It lasted longer than most trolley parks because it had tied its fate to company picnics and picnics for various churches and ethnic groups. When the companies dried up, it was only a matter of time until the park did too. It limped along until 1984, when a fire forced its closing.
We tried everything to make up for the lost jobs—even as a child, I was part of the effort. My second-grade class was part of a letter-writing campaign to lure General Motors' new Saturn division to the Mahoning Valley. Instead, it went to Tennessee.
Employment at the Lordstown plant peaked at around 12,000 in the mid-1970s, but as late as the mid-Nineties it still employed more than 10,000. (By comparison, total employment at Sheet and Tube was around 9,000, between the two big mills and their corporate headquarters.) And they were good paying jobs, enabling solid middle-class lifestyles in Youngstown or one of its suburbs.
In an area like the Mahoning Valley, there's a playbook for events like the Lordstown closure.
Things didn't look good for the plant in the late 1990s. General Motors flirted with bankruptcy at the beginning of the decade. The van plant closed in 1992. Local political and union leaders embarked on a "Bring it Home" campaign for General Motors to continue building cars at Lordstown, first the Chevrolet Cobalt and then the Cruze. The plant's been on borrowed time since. For awhile, rising gas prices kept up demand for the smaller vehicles; three shifts employed a total of around 4,500 people. Then the Great Recession hit, forcing GM into bankruptcy.
The recession also dropped gas prices below $2 per gallon, further sinking demand for smaller cars. Third shift was eliminated, then second. By the time GM announced this week that it would discontinue production of the Cruze, there were fewer than 1,500 employees still working at Lordstown—a third of the number of workers there when it opened more than half a century earlier, and a mere sliver of the 12,000 who worked it in the '70s.
More than 40 years after Black Monday, the Mahoning Valley hasn't recovered. It's shrunk drastically, even compared to other regions in the Rust Belt. An area that once boasted one of the highest home ownership rates in the country has recently been searching for funds to tear down abandoned houses; Youngstown City Schools, one of the poorest districts in Ohio, has been taken over by the state.
Last year, Donald Trump held a rally in Youngstown at the Covelli Centre, an arena built on the site of a former steel mill. "Don't move, don't sell your house," he told a crowd of residents. "We're going to fill up those factories or rip them down and build new ones." He had made promises like this before, and a lot of people in the Mahoning Valley, long a Democratic stronghold, believed him; despite warnings from union officials, he carried Trumbull County in the 2016 election, and narrowly missed carrying Mahoning County as well. But he has become just one more in a long line of politicians and businessmen who promised more than they could ever deliver.
Trump didn't kill the Lordstown plant—decades of decline had weakened it to the point of breaking—but his administration's policies ultimately made the final decision easier for GM. Tariffs ate into the company's profits, and, all things being equal, a bigger car makes more profits than a smaller one. Trump's administration also froze fuel efficiency standards, which took away the incentive to produce smaller cars.
In an area like the Mahoning Valley, there's a playbook for events like the Lordstown closure: It will start with entreaties to General Motors for another product in Lordstown; maybe the plant won't shut down permanently. If it does, people with the economic wherewithal will leave; those who don't—or who feel a sense of obligation to family or the Valley itself—will stay. The places immediately around the plant, where people would go for a cup of coffee on the way in or a beer on the way out, will close up, or at least find it harder to make a go of it—as will the rest of the town. The "unallocation" of the Lordstown plant isn't the body blow Black Monday was, but for those of us with ties to the region, it makes optimism—already in short supply—even harder to come by.
This article was originally published by Belt Magazine.