Georgia's Gubernatorial Race Could be a Bellwether for Democrats Nationally
Democrats haven't won a major statewide office in Georgia since 2000, but this year's gubernatorial race in the state is a tossup.
As a political scientist who studies elections and lives in Georgia, I've been watching this race closely.
Polls have the Republican candidate, Georgia Secretary of State Brian Kemp, and the Democratic candidate, former State House of Representatives Minority Leader Stacey Abrams, in a virtual dead heat. Political forecasters at FiveThirtyEight estimate this is the closest statewide race in the nation.
The 2018 gubernatorial election is Democrats' best chance in decades to pick up a Georgia win.
Running uphill
From the outside, Georgia appears to be a solidly red state, but underneath the surface it's pretty closely divided. There have been 10 races in Georgia for major statewide offices – that includes senator and governor – since 2000. Democrats have lost all of those races, but based on data I've compiled the Democratic candidate has won 45 percent of the vote five times, and 47 percent of the vote three times. Republicans have won an average of 52.9 percent of the vote. This is a very low average margin of victory for a state in which one party wins so consistently.
Each candidate in this year's gubernatorial race has a significant electoral weakness.
Kemp is a far-right conservative who won the primary election with a campaign grounded in anti-immigrant and pro-gun messages, and Donald Trump's endorsement. He's facing a strong national Democratic tide brought on by President Trump's lagging popularity and high levels of enthusiasm among Democratic voters.
Abrams is an African-American woman running for office, and even in 2018, minority and women candidates have a harder time winning elections.
In both cases, these qualities may hurt the candidate in the general election by dampening voter enthusiasm.
Kemp the ideologue
Kemp made national headlines in April and May during the Republican primary with a campaign designed to win over the most conservative voters in Georgia.
Kemp released an ad in which he had a conversation with a teenage boy while pointing a gun at him as an illustration of how committed he is to upholding the Second Amendment. In another ad he boasted about "round[ing] up criminal illegal aliens" in his own pickup truck.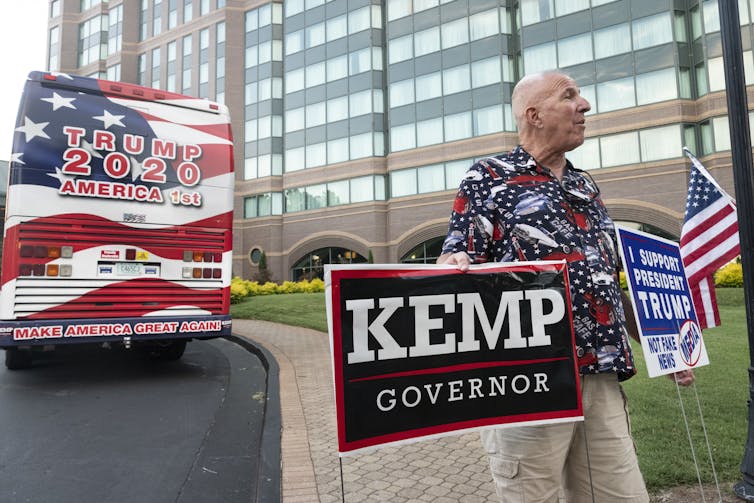 This conservative rhetoric is well-designed to win a Republican primary, because the people who vote in primary elections tend to prefer strongly ideological candidates. Kemp easily defeated his more moderate opponent, Casey Cagel, who lamented that the primary had devolved into a contest over "who had the biggest gun, who had the biggest truck, and who could be the craziest."
A significant body of research suggests that the conservative image Kemp built up in the primary will not serve him well in the general election. People who vote in general elections tend to be more ideologically moderate than primary voters.
And even though voters have grown more polarized over recent years, they remain more centrist than party activists or elected officials. General election swing voters – true partisan "independents" – aren't looking for strong ideologues. They tend to prefer moderate candidates who appear bipartisan.
All of this means that in general elections, moderates have an advantage. In those contests, ideologically extreme party nominees win a significantly smaller share of the vote than moderate nominees.
Candidates who win a primary with a strong ideological campaign might try to moderate their stances for the general election, but that usually doesn't work very well. Voters may not believe the switch in tone is genuine, or the candidate may have already alienated core voters in the primary.
Abrams, race and gender
In contrast to Kemp's efforts to position himself as a strong conservative, Stacey Abrams tends to focus on traditional Democratic issues such as education and health care. However, she faces a different set of challenges in the race.
Abrams is trying to become the first female African-American governor of any state. Unfortunately, both Abrams' race and her gender will play a role in how voters perceive her, even in 2018. And neither of those factors will play to her favor.
African-American candidates have a harder time winning elections than white candidates. Research shows that voters – in particular white voters – assume that black candidates are predisposed to favor minority groups in society. Voters also tend to view black candidates and officeholders as being more liberal than white candidates, which can hurt black candidates in a general election.
More directly, some white voters are influenced by negative stereotypes about African-Americans. As a result, white voters evaluate black candidates and officeholders less favorably, and are less likely to vote for African-Americans.
Abrams is counting to make up some of these electoral losses by focusing her efforts on stimulating turnout among Georgia's nearly 2 million black voters in November, but there is little evidence that minority candidates, in and of themselves, stimulate minority turnout. Nonetheless, some call Abrams' efforts, along with those of other African-American candidates pursuing a similar strategy in other states, a model for the democratic party to follow nationally.
Female candidates are subject to similar types of scrutiny on the campaign trail. When voters evaluate candidates for office, their opinions are strongly influenced by gender stereotypes. Women are perceived as being more warm and compassionate, while men are perceived as being more assertive and competent. In general, the traits many people tend to associate with good leaders are traits voters also associate with men and masculinity.
As a result, many voters – both male and female – implicitly assume men in general are more competent than women are. These stereotypes can directly influence who voters vote for, as voters tend to prefer candidates who display male traits.
Despite these disadvantages, female candidates tend to win elections at about the same rate as male candidates for office. But that's only true because, on average, female candidates for office tend to have more political experience than men do on average, are more strategic about running in districts where they have a good chance of winning, and work harder than men at winning elections. If these disparities existed in an even playing field, we'd expect to see women win more often.
Black women have to deal with both sets of stereotypes, which creates an even higher bar to clear for women of color who run for office.
Who will win?
This fall, the Georgia election is likely to come down to which candidate can best overcome these significant electoral disadvantages.
Will Kemp be able – or even try – to expand his appeal beyond the most conservative elements of the Republican Party? Will Abrams be able to appeal to moderate whites who might never have voted for an African-American before? Whichever candidate can better address their specific challenge is likely to be the next governor of Georgia.
The election may have national consequences as well. Right now Georgia isn't a true swing state – Republicans have a small but very reliable edge here. If Abrams can break through and win the state, it might signal a strong showing for Democrats nationally on Election Day. It might also be a bad sign for Republicans in future elections, as one of their more reliable states could be put into play.
Jeffrey Lazarus,Associate Professor of Political Science, Georgia State University.
This article is republished from The Conversation under a Creative Commons license. Read the original article.
Teens and Guns: Will School Shootings Impact First Time Voters' Choices at the Polls?
Nicholas Chaffins saw a need for change.
On March 14, Chaffins, then a junior at Morgantown High School in Morgantown, West Virginia, joined his peers to walk out of their classrooms to protest gun violence.
"If you talk to pretty much any student, we're pretty fed up with it and we want something to change," Chaffins said. "We were doing something. We were participating in activism."
It was a month after the shooting at Marjory Stoneman Douglas High School in Parkland, Florida, where 17 people, including 14 students, were killed. Morgantown joined dozens of schools across the country in walkouts following the incident calling on their lawmakers to make changes to gun laws in their states.
But other shootings followed. On May 18, 10 people–eight students and two teachers– were killed in a shooting at Santa Fe High School in Texas.
"These walkouts, these protests, they're not going to stop until something happens or we grow up and take their offices," Chaffins said in an interview more than seven months after his first walkout.
Chaffins wants to see a more complete background check system in the U.S. and a ban on assault-style rifles.
And he's not alone in those opinions. After the Parkland shooting, a group of survivors organized rallies and marches at their state and eventually the U.S. Capitol calling for increased background checks and stricter gun laws.
Closer to home for Chaffins, 100 Days in Appalachia and Inspire U.S., a nonpartisan organization that encourages high school students to be civically engaged, polled nearly 800 high school seniors in West Virginia about an array of political issues in September. More than half of respondents, 59 percent, either agreed or strongly agreed that there should be restrictions on access to semi-automatic weapons.
Courtney Ramage, a sophomore at Lincoln High School, in Shinnston, agrees with Chaffins that background checks should be more strict, but said once someone goes through an intensive review process, they shouldn't face restrictions on what they can and cannot buy.
But Ramage said when she hears a loud noise at school, she gets scared.
"I feel like if there is a big noise, they should make an announcement and be like, 'It's nothing. It's fine,'" she said. "To make sure we're fine, not panicking."
Sometimes, Ramage said, she feels uneasy in her school because of the rash of school shootings in the country this year. Alison Proffitt, who is also a sophomore at Lincoln, agreed that sometimes, she doesn't feel safe at school. If her teachers were armed, Proffitt said, that might help.
"I think they should obviously have a background check, but I don't think I would mind if teachers were armed," she said. "I trust most of my teachers."
The 100 Days in Appalachia poll found 34 percent of respondents agreed or strongly agreed with Proffitt that their teachers should be allowed to carry guns, but 46 percent opposed or strongly opposed it.
Chaffins said he would feel uneasy if his teachers carried firearms.
"In my view, guns shouldn't be in school at all," he said. "If the problem is guns, you shouldn't be handing out more guns.
Chaffins hasn't always had an interest in government, but recently, that's changed.
"Now that I just see that there's nothing happening about an issue of our time, I'm very invested in government and what people have to say about it," he said.
Young people are notoriously known for having low voter turnout rates, but if that would change, political pundits believe they could potential swing a number of elections.
100 Days in Appalachia's poll found half of the respondents who are eligible to vote in Tuesday's midterms said they would definitely cast a ballot compared to just 3 percent who said they definitely would not.
This story was produced as part of a social justice reporting collaboration between Morgan State University's College of Global Journalism and Communication and the Reed College of Media at West Virginia University.
West Virginia Teachers Inspired a National Movement. But Will They 'Remember in November?'
Jessica Salfia has had a busy nine months.
Salfia is an English teacher at Spring Mills High School, one of the largest in West Virginia, situated in the state's Eastern Panhandle. She's one of the organizing members and president of the West Virginia chapter of the National Council of Teachers of English and, most recently, added the title of co-editor to her list of accomplishments for her work on "55 Strong: Inside the West Virginia Teachers' Strike."
Published in July, the book is a collection of personal accounts and essays by those involved in the state's 2018 work stoppage. Salfia had led the movement at Spring Mills.
"What people need to know is that no teacher wanted to leave their classroom. That's the very last thing that any teacher wanted to do," Salfia said. " Our hand was forced by legislators who refused to listen to the teachers' story and hear the teachers' struggle."
But, eventually, they heard. The movement that started in West Virginia caught fire and teachers in three additional states– Kentucky, Oklahoma and Arizona– also walked out of their classrooms. The nation watched as teachers' filled the hallways of the state Capitols and called on their lawmakers to do more for public education and educators alike.
West Virginia teachers' wanted stability in the pricing of their health insurance. Instead, they got a pay raise and the promise of a healthcare solution during the 2019 legislative session.
But Salfia said they won't forget that promise.
"Teachers are still watching and listening and focusing on making sure legislators do the things they promise to do," she said.
And West Virginians haven't forgotten either. The nine day strike has inspired women of all ages to get involved in politics and even to run for office.
The West Virginia Teachers' Strike
West Virginia teachers walked out of their classrooms on February 23 this year and, after nine days of standing on the picket line and crowding the halls of the West Virginia Capitol, they returned on March 7 with a promised 5 percent pay raise.
According to Erin McHenry-Sorber, seventy-six percent of West Virginia teachers are women and at most schools, the movement was led by women like Salfia. McHenry-Sorber is an assistant professor of higher education administration at West Virginia University and has studied strikes in other states. She said that female majority combined with what was happening nationally at the time played a major factor in the unions' ability to rally teachers around the cause.
"We can think about this work stoppage as it is situated within a historical period of unrest and mass protest, led by the Women's March," McHenry-Sorber said. "Perhaps these large-scale strikes are suggestive of women finding their voice."
But there were other factors that led to the success of the movement as well, McHenry-Sorber said. In rural areas, like much of West Virginia, schools stand as the heart and social center of a community and teachers were seen as taking a stand to protect public education.
Perhaps more importantly, though, McHenry-Sorber said a nationwide teacher shortage contributed to the success of West Virginia teachers and those that followed in their footsteps in other parts of the country.
"The severity of the teacher shortage is really important because, even when states or legislators have threatened to fire picketing teachers, the argument was moot. There are no prospective teachers waiting in the wings to fill these positions," McHenry-Sorber said. "In short, the vast teacher shortage means that teachers have nothing to lose."
From inside the movement, though, teachers like Salfia felt like they had everything to fight for, and that fight sparked more than just a movement.
Inspired by a Cause
For 18-year-old West Virginia University student Adia Kolb, the teachers' strike wasn't just something she heard about on the news. It was something she lived.
Kolb, a freshman psychology major, comes from a family of teachers. Her grandparents are retired teachers and her mother teaches family consumer sciences. Kolb's mother made the trip to Charleston several times to rally outside of the state House and Senate chambers.
In her senior year at North Marion High School at the time, Kolb said she was already interested in politics when her teachers walked out– she had attended a couple of Bernie Sanders' rallies and had organized a voter registration drive at her high school– but instead of joining her mother at the Capitol, Kolb decided to stand on the picket lines at her high school, with her teachers, she said because of the impact they've had on her life.
"I've seen the hardships that teachers had gone through up until then and everything that they had dealt with and continue to deal with," Kolb said. "I couldn't just not do something. I couldn't not go stand with them. It was very personal to me."
That personal interest in the strike led Kolb to Kendra Fershee, the Democratic candidate for Congress in West Virginia's 1st Congressional District. Kolb, who will vote in her first general election on November 6, is also a first time campaign volunteer.
"I remember seeing Kendra back in February on the front lines of the teachers strike and standing with the teachers," Kolb said. "Kendra is an educator herself, so I think that's something that is very personal and something that convinced me. It's a grassroots, from the bottom-up, people-oriented campaign, which I really find attractive."
As an intern for Fershee, Kolb is responsible for communicating the campaign's goals to the community. She sends letters, makes phone calls and travels to campaign events to shake hands and talk to people about the issues.
"I really think that those tiny mundane connections with people, even if I get through to one or two people, I'm able to express to them how I personally feel," Kolb said. "It's such a good feeling to realize that you've gotten through to somebody on that level."
Despite an overall history of low turnout rates for young people, Kolb believes that voters her age can make an impact.
"There is hope somewhere," she said.
From the Picket Line to the Campaign Trail
It was Amy Nichole Grady's experience during the teachers' strike that also inspired her to take action this election cycle.
Grady is a teacher at Leon Elementary in Mason County and said during the work stoppage, she heard from teachers in her area and around the state that their politicians lack an understanding of what teachers and public school employees go through. So, she said, she decided to run for a seat in the West Virginia Senate.
"I'm the type of person that doesn't like to delegate responsibility, I like just to do it myself," Grady said. "So, my husband and I talked about it and I said, 'I'm tired of going into the voting booth, thinking, well, this guy's a nice guy. Let's hope that he does what we want him to do.' And I just decided to put myself on the ballot."
A first time candidate, Grady joins 154 others who have put themselves on the ballot for a statewide office for the first time. Six of those are also teachers.
For her, the most important thing isn't politicians "siding" with West Virginia teachers, but rather, relating to them.
"I can try to explain to people what education needs or what I need as a teacher or what students need or public education in general, but unless you've actually seen it from the inside, you can't really grasp it completely," Grady said. "I think it's really important for our legislators to stay in contact with teachers so that they understand what it is that the school system needs."
But she isn't a one issue candidate. Though her primary focus is public education, Grady said that her time on the campaign trail has opened her eyes to issues that she hadn't thought much about before, like healthcare, social security and veterans benefits. What she's heard the most, though, is concern about West Virginia's opioid crisis.
"We have a drug crisis that affects the school systems", Grady said. "It affects jobs, it affects the community in all ways. And, for the most part, the drug problem creates a lot more problems. So I think that's a major issue that we should start trying to hit head-on."
But Will They 'Remember in November'?
Although the 2018 strike was a milestone in West Virginia history, it wasn't the first time teachers have walked out.
In early 1990, David Bateman, a music teacher in Berkeley County, went on strike with teachers from 47 of the state's 55 counties, but said this time, social media made all the difference. McHenry-Sorber saw that impact too.
"Even when state-level union structures suggested teachers go back to work, social media created a platform in which teachers could continue to organize en masse," McHenry-Sorber said, and that level of digital communication has largely continued.
The Future of 55 PAC Facebook page has over 2,500 followers and shares candidate endorsements and information about voting, including how to find your polling place. Through Facebook, Twitter and other platforms, West Virginia teachers have been able to keep promoting their messages and have encouraged other states to do the same, keeping up the momentum.
"We want to make sure people are involved more in the elections, not only getting out to vote, but we've also got a lot of education personnel that are running for office this time in the state, which is really encouraging," Bateman said.
In a previous study of a teacher's strike in Pennsylvania, McHenry-Sorber found that what happens after a strike is just as important as the labor stoppage itself, because the community will remember.
"In my earlier research, participants referred frequently to a teacher strike in the district 20 years prior," McHenry Sorber said. "Similarly in the 2018 labor dispute in West Virginia, media outlets made frequent references to the most recent work stoppage and the state's rich labor history. Work stoppages linger in the collective psyche."
With Tuesday's midterm election quickly approaching, teachers and voters in West Virginia, and  across the nation, are waiting to see if the political activism inspired by the strike has indeed lingered long enough to make a difference at the polls.
This story was produced as part of a social justice reporting collaboration between Morgan State University's College of Global Journalism and Communication and the Reed College of Media at West Virginia University.
In Pennsylvania Trump Country, Redistricting Has Made One Solidly Red District Competitive
Karen Frey is dressed head to toe in mementoes of the 2016 election. Offering cookies on a platter to passersby from beneath a tent outside a shopping plaza, she wears tennis shoes bearing "Trump" logos. She bought them online.
Her hoodie reads, "Deplorables Club Est. 2016 Lifetime Member." The words circle an emblem of a basket. Her bright red hat says, "Make the Slate Belt Great Again," a localized version of Donald Trump's ubiquitous slogan.
This is the "Slate Belt," a small chain of towns in Northeastern Pennsylvania where slate mining was once a key industry. If you could turn Trump's unforeseen victory in 2016 into a Halloween costume, Frey is wearing it.
An organizer in several local Republican organizations, Frey is a grandmother, but she's spritely. She moves around, greeting fellow activists, and stops to reposition a sign barring pictures of Pennsylvania's Democratic governor and his running mate under the words "For a More Socialist PA."
Two years ago, this town, Mount Bethel, was dotted with Trump yard signs, recalls Chadd Horton, a fellow organizer.
"You started to see them pick up when the other candidates left the [primary] race," he says, and they kept accumulating. Trump carved his unpredicted path to the White House through such de-industrialized patches of the Rust Belt.
Frey is out to convince her neighbors to vote Republican in the midterm elections on Nov. 6 to support Trump's agenda. "They might not like how he says things and words things," she says, "but the overall rating of what [Pres. Trump] is doing is making people understand he's doing the job he said he was going to do for us."
A Republican Looks to Beat the Odds
The congressional candidate at this meet-and-greet, Marty Nothstein, is also wearing a reminder of the recent past — his own. Tall and slim, he circulates through the crowd in a Team USA jacket.
A native son of the Lehigh Valley, Nothstein, 47, was an Olympic cyclist. In his pocket, he carries the gold medal he won in Sydney in 2000. He's ready to show it to potential voters. It leaves a lasting impression.
Since retirement, he has lead a local cycling organization, run a farm and served on the Lehigh County Board of Commissioners, his first elected office.
But Nothstein walks a line when it comes to Trump.
"As an elected official in this district, you're a check and balance on the president no matter who he is or what side he's on," he says, "and he's done some good things for this district, but he's done some things I don't agree with."
He is pleased with the economy, but he's critical of government spending under Trump and the president's dismissal of Russian election interference. "[I]f our intelligence officers are saying Russian is doing something," Nothstein says, "I tend to believe them."
As a cyclist, Nothstein earned the nickname "The Blade" for weaving in out of the pack, cutting ahead of opponents to win narrow victories. He will have to pull off some equally skilled political maneuvering to win an election that changed mid-cycle to favor his opponent, former Allentown City Solicitor Susan Wild, a progressive Democrat.
The New 7th
Pennsylvania was a key state to Trump's triumph and in 2016, it also sent 13 Republican congressmen to Washington, out of its 18 seats. Two years later, the Democrats have the wind at their back; the party in power usually loses seats in midterms, but Republicans in Pennsylvania had the advantage of a congressional district map considered one of the most gerrymandered and GOP-friendly in the nation. Suburbs and small cities were welded to rural, conservative voting blocs through sprawling, curling shapes and contortions.
Early this year, the state Supreme Court overturned that district map. The new one replaced Republican-safe districts with competitive ones, and this year, Democrats have the chance to even out Pennsylvania's congressional delegation, contributing to a possible party takeover of the U.S. House of Representatives.
When Nothstein entered the primary in October of 2017, he was running in the 15th district, which retiring Republican Charlie Dent had won by at least 10 points since 2004. The 15th was a wrench-shaped mass that extended 80 miles across, from the eastern state line almost to Harrisburg. Nothstein was redistricted into the new 7th, centered on the small but growing city of Allentown– population 121,283.
"It's a purple district," Nothstein admits. "It depends where you're at. It depends on what neighborhood you're in."
Take all the votes cast in the towns and cities that make up the new 7th and in 2016, Hillary Clinton would have narrowly won it. In this election, Democrat Susan Wild has a 3-to-1 advantage in cash and leads Nothstein by seven or eight points in recent polls.
Six of the new districts are competitive, but the 7th "is about as even as you will find," ideologically, says Christopher Borick, professor of political science at Muhlenberg College in Allentown and director of its Institute of Public Opinion.
It's also an area in transition. Billy Joel eulogized Allentown in his 1982 ode to the dying Rust Belt, named after the city. Allentown was where "they're closing all the factories down" and neighboring Bethlehem was where "they're killing time, filling out forms." Now, Allentown is the fastest-growing city in Pennsylvania and urban planners predict more than a million people will move to the Lehigh Valley by 2040. Fueling the population growth are jobs in healthcare and office support, affordability to retirees and empty-nesters and a wave of Latino migrants.
The 7th is "a little of everything," says Borick. "It's a little microcosm of the entire state. It has cities. It has suburban and rural areas. It's a beautifully competitive area and it had been ripped apart by the old lines."
Pennsylvania's Gerrymandered Past
In 2011, Republicans, in charge of the state House and Senate and the governor's office, redrew Pennsylvania's congressional map. Those districts became infamous for their squigglies, hammerheads and claws. One outside Philadelphia was dubbed "Goofy kicking Donald Duck"  and became emblematic of party-rigging of district lines.
The effort was nakedly partisan, says Borick.
"The visuals tell the story," he says. "The tortured nature of the map was a glaring effort to squeeze the competitiveness out of the state."  
Pennsylvania's urban centers are Democratic strongholds and its rural expanses lean heavily Republican. But some areas should be "naturally competitive," says Borick– those encompassing small cities, like Erie and Allentown, and the suburbs of Pittsburgh and Philadelphia.
Under the 2011 map, those places were sewn to rural voting blocs. In 2012, Democrats lost two seats, holding on to five, those centered on Pittsburgh, Philadelphia and Scranton. Republicans took the rest. With one exception, every victor that year won by more than 10 points.
"That's not natural to the makeup of the state," says Borick. Democrats have long lead Republicans in voter registration in Pennsylvania, about 4 million to 3 million.
In January, the League of Women Voters initiated a lawsuit challenging the old congressional map, dubbing it "the worst partisan gerrymander in Pennsylvania's history and among the worst in American history." The state Supreme Court agreed that it "clearly, plainly and palpably violates the [state] Constitution."
The court tasked state legislators with creating a new map. Instead, Republican lawmakers fought the decision, unsuccessfully petitioning the U.S. Supreme Court to hear the case. They missed deadlines to create a new map, so the court brought in a Stanford Law School professor with an expertise in redistricting to draw the districts. He tried tried to avoid breaking apart counties and created districts in neater geographical clusters.
State Republican leaders contend the court acted with ill intent and outside its constitutional boundaries. "This entire exercise, while cloaked in 'litigation,' is and has been nothing more than the ultimate partisan gerrymander," stated Senate President Pro Tempore Joe Scarnati and House Speaker Mike Turzai in a joint statement. (Neither responded to emails requesting an interview for this article.)
As they ran out of options, the new districts took effect for May primaries and shifted the ground beneath candidates' feet.
The New Districts and Their New Races
Several Republicans in the old 15th district wanted to replace Dent in the House. Candidates were districted out of the race when it changed or "got cold feet" about its competitiveness, says Nothstein. That left him and Lehigh County Commissioner Dean Browning. In another razor-thin victory for The Blade, Nothstein won by 300 votes.
In the Democratic primary, Northampton County District Attorney John Morganelli was an early frontrunner. Morganelli seemed to be making a play for Trump voters. He tweeted at the president for help on immigration enforcement and wrote in a Facebook post announcing his candidacy, "[T]his is not a liberal district and it fits my moderate profile well."
Given the president's hold over rural Pennsylvania, that seemed like a good strategy, even for a Democrat. Then redistricting shaved off a long stretch of mid-state voters.
Several candidates challenged Morganelli from the left. Progressives gravitated towards Wild. She eked out a victory with 33 percent of the votes (15,262) to Morganelli's 30 percent (13,754). Wild stands against nearly every Trump policy and prerogative.
A Democrat Speaks With Urgency, But Not About Donald Trump
"I'm Susan Wild. I'm 61 years old. I've been practicing law in the Lehigh Valley here for 30 years. I moved here in 1988 for what was supposed to be two years and here I am."
Wild is speaking to a room of small business owners at the Shanty on 19th, a bar/restaurant in Allentown's liveliest neighborhood, the West End, centered on the old Civic Theatre. She wears a light blue blazer and her blond hair sits on her shoulders
She recounts growing up in a working-class family and taking out a federal loan for law school. The interest rate was one percent.
"I tell you all because it exemplifies what our government used to do," Wild says. "It used to invest in its people." She laments that recent graduates have "monstrous student loans that look like mortgages on a house."
"There once was this concept of good government," she says. "Not government that gives you handouts, but government [that] gives you a hand-up and helps its people who are not the uber-rich, not the one percent, not corporations, but ordinary people who struggle to pay their bills."
Wild got her start in government work as city solicitor, chief legal counsel for Allentown. She decided to run for congress to "stop being distressed," she says in an interview. "I have two kids and I am worried about their future."
Wild's message is one of urgency, particularly on kitchen-table issues like debt, healthcare, wages, income inequality and what she sees as lack of governmental investment in ordinary citizens.
As for Trump?
"I don't talk about Trump unless specifically asked," she says. "People have opinions about the president I won't be able to change."
Christine Stazo, an insurance agent, and Lewis Eckert, owner of an Allentown hair salon called only The Salon, shared a table at the event.
Stazo describes herself as "very progressive."
"I'm looking for somebody who is all in," she says. "Charlie Dent was okay, but he was on the opposite side of the fence. I do believe it is time [for his seat] to go to a Democrat."  
Eckert is "more in the middle." He has seen political issues infiltrate the salon he has owned for 20 years. Young people in the field wither under rising costs of living and student debt, he says.
"I just don't know how somebody in their 20s who has gone to beauty school makes it."
He is also aghast at Trump's attitude about women, exemplified in the infamous Access Hollywood tape released in 2016 and the saga of Brett Cavanaugh's confirmation to the Supreme Court.
"My life has been around women," says Eckert. "Women have opened up to me about their sexual assaults." He says they speak more openly — and anxiously — recently. "I think the subliminal message of MAGA is, 'Let's go back to the old days,'" says Eckert. "Let's go back to Mad Men.
He says his ideal presidential candidate is Republican Ohio Gov. John Kasich. Eckert likes Kasich's appearances on Anderson Cooper 360, a CNN show where he has often rebuked Trump. This election, he plans to vote for Wild.
The Pennsylvania Election Math
"Democrats will pick up three to five seats" in Pennsylvania, says Terry Madonna, director of the Center for Politics and Public Affairs at Franklin and Marshall College. The most assured wins are three districts in the suburbs of Philadelphia. Wild and Conor Lamb, running in the suburbs of Pittsburgh, are also "in a good position."   
In this complicated year, U.S. Rep. Lamb won a special election to replace Republican Tim Murphy, who resigned amidst a sex scandal, and was redistricted to a new district to face another sitting congressman, U.S. Rep. Keith Rothfus.
Madonna adds that the election cycle will probably add three or four women to the state's currently all-male congressional delegation.
2016 was an anomaly in Pennsylvania, according to Madonna, because of Trump's strong "Rust Belt strategy." In 2018, voters will return to habits that narrowly favor Democrats, he says. He notes that Democratic incumbents in two statewide elections, Gov. Tom Wolf and Sen. Bob Casey, both seem safe.
"The Democrats are more motivated, but we are in uncharted territory," Madonna says. "We'll see if Republicans can close that enthusiasm gap."
Out in the District, Democrats Feel Motivated
Judy Lapos of Bethlehem is waiting in line for ice cream at the Lehigh Valley Mall in Whitehall, Pennsylvania. In a sign of the area's economic health, the mall has no empty storefronts at a time when malls, symbols of late 20th century middle-class prosperity, are dying.
Lapos voted for Trump.
"I thought he was strong," she says. "I thought he was an 'I-can-take-care-of-it' kind of guy." But she probably won't vote in the midterms. "I just don't know the candidates," she says.
A few feet away, Riydenor Camara of Allentown has finished a meal at the food court and is chatting with his adult son. Camara says he doesn't know who is running in the midterms, but he plans to vote for straight Democrat, which he has done since he became a U.S. citizen in 1998. Camara, who has dual citizenship in the U.S. and his native Brazil, says he's motivated to vote against Trump. "I find him so stupid," he says.
The 7th District, where Wild and Nothstein are facing off, extends to the foot of the Pocono Mountains. Stroudsburg, at the foot of those mountains, is an entry point for vacationers. Wineries, bars and eateries serve residents and visitors. On a sunny October day, people there are still enjoying sidewalk tables.  
Tony Cuttitta, a psychotherapist out for a walk, bristles at the mention of Trump.
"We have a president who has a bent towards an authoritarian streak," he says. "He is a criminal. He did collude with the Russians." Events like the violent calamity in Charlottesville, Virginia, have him fearing "a civil war." He plans to vote straight Democratic.
Aubrey Levy, catching up with a friend outside Café Duet, says that Trump's victory inspired her to increase her involvement in politics. A Democrat, she ran for mayor in her borough, Delaware Water Gap, population 746. She lost, but found the experience "challenging and fun." Her main voting motivation is "women's rights."
"We need to protect those now," she says. A constituent in the 7th, she plans to vote for all Democrats on the ballot.
When her companion says he doesn't plan to vote, Levy exclaims, "I'm totally going to kick your ass."
Swing districts, such as the ones bestowed on Pennsylvania by the state Supreme Court, could put Democrats in control of the U.S. House, stalling Trump's agenda and altering the course of the nation. These political middle grounds, which pop up across the country, are exciting for that reason. But there is a downside to living in a mixed-ideology area.
Many people approached for this article declined to discuss their voting habits on the record, for concern neighbors and coworkers would judge them.
A woman who was also at Café Duet, eating lunch, in Stroudsburg plans on voting Democratic this year, which is usually how she votes.But this year, she doesn't want anyone to know. She works as a fundraiser for an animal welfare organization and thinks Republicans might not give through her if they know her voting preference. She has lived in Stroudsburg all her life, more than 60 years, but says in the last few, she's clammed up about politics.
"There is such an emphasis on us vs. them, me vs. you," she says. "Most of us have the same concerns and worries, particularly about the economy…For some people, political affiliation governs everything they do."
She says that ideology-biased news sources have pitted people against each other and sensationalized issues. "The news has been turned into a form of entertainment." She remembers the days of high-school civics classes and when the entire country tuned in to hear one trusted voice, that of CBS Evening News' Walter Cronkite.
"I think we need to go back to that," she says, "instead of the cheap hysteria."