This story is part of a series of special reports titled "Work in Progress," with support from Foothills Forum and Rappahannock News looking at the dynamics of changing agricultural economies. The story was originally published by Rappahannock News.
As Rappahannock ages and farmers struggle, where does business — particularly tourism — fit into the economic mix?
Rappahannock County is the kind of place that makes dreams seem possible.
Bill Gadino knows this. It was almost 30 years ago that he bought a rolling patch of 15 acres between Washington and Sperryville, secluded behind the county's elementary school, yet not far from the tourist thruway of Route 211.
Within a year, he was planting grapes, and soon was selling them to the Gray Ghost Vineyards down the highway. In 2003, he and his wife, Aleta, took the leap and moved here. A year later, they started making their own wine. The year after that, Gadino Cellars opened for business.
The dream was coming into focus.
It wasn't easy, but in time, as many as 150 people were showing up at the winery on a good weekend.
Lately, the future seems less clear. Weekend crowds have shrunk to more like 60 or 70 people, he said. The boom in Virginia wineries and cideries — there are more than 260 — has not been good for the ones in Rappahannock. Now, there's much more competition between here and Washington, D.C., and local wineries are feeling the pinch.
"We've built a beautiful place here, but this is draining for us, expense-wise," said Sudha Patel, owner of Narmada Winery in Amissville. "You worry how long can you keep it up."
Bill Gadino shared a recent, troubling conversation with a mother and daughter who had stopped by. He mentioned to the mother that he hadn't seen her for a while.
"And she said, 'You're just too far for me to come out to.' I asked her where she was coming from," he recalled. "And she said, 'Oh, I live in Gainesville.' That's the mentality of people."
When tourists do make the drive here, he added, they often expect to pay less for their wine than they would closer to D.C. And so, business has taken a hit, as has Bill and Aleta's plan of one day turning the winery over to their daughter, Stephanie and son-in-law, Derek Pross, who worked there. The younger couple has moved to North Carolina.
"She told me, 'It's not going to grow, Dad. It's going down, it's not going up.'"
Old in, young out
The Gadino story is a familiar one. Someone falls in love with the rapturous beauty of the Rappahannock countryside and concludes that it's hard to imagine a more fulfilling place to live and start a business.
But economic, demographic and technological realities have a way of complicating matters. Most new business owners — particularly those in any way reliant on tourists — know things can go dead during the winter when lodges and campgrounds in Shenandoah National Park are closed, but they often don't realize how dead. And, there just aren't enough people living here full-time to help ease the pain much. At 27.9 people per square mile, Rappahannock ranks 122nd among Virginia's 132 cities and counties in population density.
They also learn how hard it can be to find and hold on to workers, especially with so many young locals moving away to what they see as better opportunities elsewhere. Then there's the challenge of doing business in a community where reliable cellphone and broadband service can be a roll of the dice.
Craig Batchelor has been wrestling with these issues for two years, ever since he and his wife, Caitlin, and his brother Clay, bought the Sperryville complex now containing Thornton River Grille restaurant, the Corner Store, Rappahannock Pizza Kitchen (RPK) and the Francis Bar. With just under 50 people working for him, he's now one of the top 10 employers in the county. Many of his employees live outside Rappahannock, which means a commute that costs them time and money, and can also lead to staffing headaches during bad weather.
He sees firsthand how hard it is for young people to find a niche here. And that makes him worry about the county's future.
"When I stay awake and worry about things at night, it's that aging of the community," he said. "It's a slow, definite trend over the next 10 or 15 years."
Batchelor said he's met a lot of millennials who have grown up in Rappahannock. Some leave and come back. Most don't.
"Those who have stayed have tried to eke it out," he said, "but that often means having a lot of different jobs. That may be fine when you're 20 or 21, but when you're 27, it kinda gets old, especially if you want to start a family. If you want to get more stability, that can be hard here."
So can finding a place to live that's within the means of younger workers. That's why Debbie Donehey, owner of Griffin Tavern in Flint Hill, offers employees a reduced rate at a few rental properties she and her husband, Jim, own in the county.
"People can't work at the Tavern and afford to pay $1,000 a month rent," she said.
Future expenses
Like Batchelor, Donehey, who describes Rappahannock as "my little part of heaven," sees the community moving into a period of transition. As its residents get older, they will likely need more services, particularly when it comes to emergency care.
"It will be very difficult to do everything the county will need to do without more income of some sort," she said.
Where that comes from is the question that hangs over the community's future like a thundercloud. Currently, about 84 percent of the county's local revenue comes through property taxes. Donehey appreciates how the idea of relying more on commerce to generate revenue can stir up waves of anxiety.
She's had personal experience with rural transformation, having grown up near Doswell, Va., a tiny hamlet in Hanover County until King's Dominion arrived in the 1970s. At first, it seemed a blessing — "As a kid, I thought 'Oh, we're getting a Burger King,'" she remembers — but the place was forever changed.
Yet, Donehey, a former chair of the Virginia Restaurant, Lodging & Travel Association, believes efforts to attract more tourists to Rappahannock can help the county financially without ruining the idyllic feel of a place without stoplights.
"It's very difficult to prove to people who are opposed to promoting tourism that it's going to add value to your community," she said. "But I really believe there is value there.
"I would hope there's a big future for agritourism here if we can figure out what it is. We have some darn savvy people in this county. And, they care about it and want it to stay this way. But they also understand we have expenses."
Not money well spent?
While tourism is generally acknowledged as a financial opportunity — including in the county's comprehensive plan — there's hardly consensus over how big an opportunity and how much money and effort should be expended in trying to boost it.
Tourism's direct contribution to the county's budget is still quite small. Revenue from the local tax on meals (4 percent) and lodging (2 percent) has risen from just under $100,000 in 2000 to more than $260,000 for the current fiscal year, but that remains just slightly more than 1.5 percent of total revenue from local sources. (Any meals or lodging tax revenue generated by the Inn at Little Washington and other restaurants and B&Bs in Washington goes to the town only).
Another source of tax revenue is the state sales tax, currently at 5.3 percent. One percent of that revenue — now about $515,000 a year — comes back to Rappahannock. Not only is that only 3.5 percent of total revenue from local sources, but it's based on all sales, not just those to tourists.
Just under $50,000 has been allocated in the FY 2018 county budget to promote Rappahannock — about 0.2 percent of the total budget or about $7 per county resident. That includes a payment of $9,000 to Sandra Maskas, who, Friday through Sunday, welcomes and advises tourists who stop by the Rappahannock County Visitor Center on Route 211.
But Rappahannock is one of a handful of counties in Virginia without even a part-time tourism director. The last person to fill that role, Laura Overstreet, retired in 2012 and was never replaced.
Board of Supervisors vice chair Chris Parrish remains convinced that it's not money well spent. He believes that paying someone to develop a tourism strategy and coordinate events and promotion would not be a fruitful investment. In fact, he's not sure the county benefits that much from having a visitor center.
"If you took that away, I don't think you'd see a marked difference in tourism," he said. "Tourism will spread by itself by word of mouth. People come out here and they enjoy themselves and they go back home and talk about it.
"When it comes to tourism," he added, "you have to be a little careful of what you wish for. I've been to places that have been ruined by tourism. You know, the traffic, the attitude of the people."
Connecting the dots
Others, though, argue that tourism doesn't have to be a destructive force, that in a place like Rappahannock it's more about piecing together a marketable mosaic of what it already has to offer — from wineries and B&Bs to events as varied as the Farm Tour and the "Yeaster" party at Pen Druid Brewery in Sperryville.
"What you hear from B&B owners a lot is their guests always ask, 'What am I going to do out here?'" said artist Patti Brennan, owner of De'Danann Glassworks. "There's actually a lot to do, but it has to be presented in an organized way. No owner of a B&B is going to know all the things going on out here."
Brennan, who thinks relying on word-of-mouth promotion is "short-sighted," has done her part to get local artists, wineries and restaurants more exposure by getting them connected to the Virginia Artisan Trail Network, a statewide organization that maps out regional experiences for tourists by linking together artisans and hospitality businesses.
She contends that the county needs a staff person to connect the dots and cultivate collaboration among businesses, with the goal of getting tourists to associate Rappahannock with experiences other than pretty views. And, she believes that tourism doesn't have to have a big footprint.
"Yes, our landscape is the Rappahannock brand," said Brennan, who has lived in the county since 1981. "But we also do have a concentration of very talented people. None of what they've brought out here has done damage. Things really haven't changed that much."
Carl Henrickson, who with his wife, Donna, opened the Little Washington Winery off Route 211 in 2011, agrees that people need to be given a reason beyond beautiful scenery to drive out here. "At first, we sat here like everyone else in Rappahannock, waiting for people to show up. We put a sign up and we thought 'We're done with marketing.'"
But there were long stretches on weekend mornings and early afternoons when visitors were scarce. So, in 2012, they came up with the idea of a Wine Bootcamp — two-hour classes of 20 people wanting to learn wine basics. Carl Henrickson estimates that since then, based on their email database of Bootcamp graduates, close to 10,000 have attended. Also, he said, they spend about $20,000 a year to promote it.
He maintains that the time has come for the county to do a better job of projecting a more wide-ranging Rappahannock experience to the outside world. "What we're missing is that branding that says we have a product, and this is that product."
Not just for tourists
Not long ago, Theresa Wood, in her capacity as president of Businesses of Rappahannock (BOR), was at a conference in Richmond with tourism directors representing counties around Virginia. More than once, she said, when a person heard she was from Rappahannock, they would tell her, "Oh, I love Rappahannock. It's so beautiful there on the water."
The confusion with the river that flows into Chesapeake Bay is good for a laugh, but that lack of awareness is also probably reassuring to those in the community who believe the less outsiders know about Rappahannock, the better.
Wood gets that. She knows how many of the 188 businesses that are BOR members were started by people who chose to give it a go in Rappahannock because it isn't like other places. But she also believes that boosting local business doesn't have to be an all-or-nothing proposition.
"The vision we have is that the very thing Rappahannock has to offer — its natural beauty — we don't want to change any of that," said Wood, an owner of Kattle 1 Beef. "We're not looking to put a hotel on 211."
But there is value, she said, in exploring how other rural communities are adapting to uncertain futures, and what kind of businesses they see as having the most potential to sustain, rather than change them.
"My concern is that if we haven't planned for making a bridge between agriculture and tourism, then we could be in trouble," Wood said.
To that end, Wood has been encouraging BOR companies to tap into the considerable promotional muscle and grant opportunities of the Virginia Tourism Corporation, the driving force behind the state's tourism industry, which generated an estimated $25 billion in revenue last year.
The BOR board has also held workshops to help members get up to speed in using Facebook and other marketing skills and doing smartphone photography to keep up with competitors in bigger markets with better broadband.
But those things take up time, something owners rarely can spare when they're running very small businesses like those so common in Rappahannock — by far, the largest number of companies here have four employees or fewer.
Wood has made a point of trying to raise the profile of local companies. For the first time, BOR is working closely with The Inn at Little Washington to incorporate more county businesses into the big "InnStock" 40th anniversary celebration in September.
Also, this year the BOR has staged four ribbon-cutting ceremonies, to mark the openings of Happy Camper and Stonewall Abbey Wellness in Sperryville, LeFay Cottage at Little Washington and Hazel River Arts and Antiques. It's a symbolic gesture, but one meant to spotlight the role they play in the community.
"Many of the businesses here don't just serve tourists," she said. "They help sustain a way of life."
Career challenges
That way of life, of course, is why a lot of businesses are started in Rappahannock. Often, it's more a personal decision than a strategic one, based on the allure of a place rather than conventional market assets, such as easy access to a major highway, a skilled local workforce, a robust supply of potential customers.
So, many struggle, and if they do grow, it's slowly, which means few opportunities for young workers. Other factors, including the county's technological shortcomings, also help stifle career options.
Take the booming field of software programming. It's not really in play here. "Training in coding is huge right now. We could do that here," said RappU founder Doug Schiffman. "But I just don't know that the demand is there in the community.
"There are things we could do if we had full-blown cellphone and internet access here that we can't do now," he added. "If we had a cellphone network here, Rappahannock would be the perfect place for Uber and Lyft. You have all these people who are underemployed who have vehicles. You have all these older people who need rides everywhere and are able to pay for it. But we have no way of connecting them."
Currently, the greatest employment potential appears to be in providing services to the demographic group growing most quickly — affluent retirees. That ranges from landscaping their gardens and mowing their fields to providing care when their health starts to slide.
In line with that trend, RappU has focused its vocational training programs on health care, including a popular course to earn certification as a nurse aide. Schiffman said students are being recruited for jobs before they even graduate.
But no company that hires nurse aides is located in Rappahannock, which means course graduates either work for a company in another county, or they work off the books here.
That frustrates Schiffman. "My goal is not to train people and have them work in the underground economy," he said. "But they can often make more money getting paid cash than if they work for a company.
"We want them to be able to get real jobs, get real salaries, with paid benefits, and that allow them to put money toward a retirement account," he said. "The disappointment continues to be that the employers are not in Rappahannock. There's nothing I can do about that."
Breaking down walls
It's appropriate that Craig Batchelor's stake in Rappahannock sits at Sperryville's main intersection. It's not an exaggeration to suggest that his four businesses operate at a critical symbolic crossroads of the Rappahannock economy. The newer enterprises — RPK and the Francis Bar — are geared more to tourists and an upscale crowd, while the Corner Store has a long legacy in the community, and still sells basics, such as eggs, milk and paper towels, although at higher than grocery store prices.
Batchelor's fortunes also are tangled with the county's growing age imbalance. Yes, older, more affluent people are a big part of his customer base, but there's that problem of having a healthy enough supply of younger workers to keep them satisfied.
Batchelor, an older millennial, wonders if there will ever be a new wave of people his age who settle here.
"I would love to have more young people here, for a lot of reasons," he said. "We need a great team of young people who are passionate and interested in locally sourced food, people who share the values of Rappahannock and want to invest their lives here. We need that."
He also hopes that over time, new businesses will not be viewed as a harbinger of upheaval.
"I would like us to be able to strike a balance between our various demographics, while being honest about it," Batchelor said. "One of the things I don't love about our community is the been-here's/come-here's thing. I would love to have a business enterprise that is respectful to everybody.
"I would want folks who have been here a long time to know that we're not only catering to tourists. I really don't want to be another 'either-or' business. I'd like to break down some of those walls. Maybe that's totally pie in the sky. But you have to try."
This article was originally published by Rappahannock News. 
Large Natural Gas Producer to Pay West Virginia Plaintiffs $53.5 Million to Settle Royalty Dispute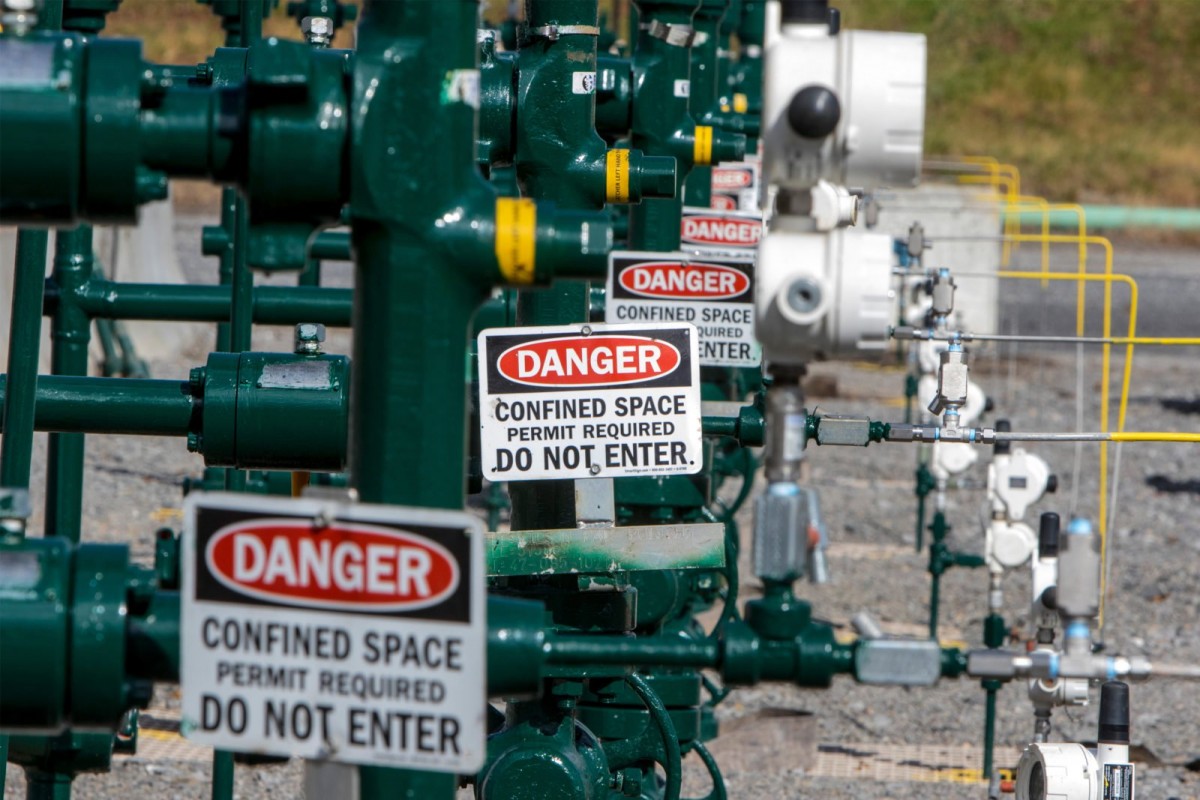 This article was produced in partnership with the Charleston Gazette-Mail, which is a member of the ProPublica Local Reporting Network.
As ProPublica's investigation detailed, EQT Corp. had been accused of deducting a variety of unacceptable charges from natural gas royalty checks. The company says it wants to "turn over a new leaf" in its relationship with the state's residents.
The second-largest natural gas producer in West Virginia will pay $53.5 million to settle a lawsuit that alleged the company was cheating thousands of state residents and businesses by shorting them on gas royalty payments, according to terms of the deal unsealed in court this week.
Pittsburgh-based EQT Corp. agreed to pay the money to end a federal class-action lawsuit, brought on behalf of about 9,000 people, which alleged that EQT wrongly deducted a variety of unacceptable charges from peoples' royalty checks.
The deal is the latest in a series of settlements in cases that accused natural gas companies of engaging in such maneuvers to pocket a larger share of the profits from the boom in natural gas production in West Virginia.
This lawsuit was among the royalty cases highlighted last year in a joint examination by the Charleston Gazette-Mail and ProPublica that showed how West Virginia's natural gas producers avoid paying royalties promised to thousands of residents and businesses. The plaintiffs said EQT was improperly deducting transporting and processing costs from their royalty payments. EQT said its royalty payment calculations were correct and fair.
A trial was scheduled to begin in November but was canceled after the parties reached the tentative settlement. Details of the settlement were unsealed Wednesday.
Under the settlement agreement, EQT Production Co. will pay the $53.5 million into a settlement fund. The company will also stop deducting those post-production costs from royalty payments.
"This was an opportunity to turn over a new leaf in our relationship with our West Virginia leaseholders and this mutually beneficial agreement demonstrates our renewed commitment to the state of West Virginia," EQT's CEO, Robert McNally, said in a prepared statement.
EQT is working to earn the trust of West Virginians and community leaders, he said.
Marvin Masters, the lead lawyer for the plaintiffs, called the settlement "encouraging" after six years of litigation. (Masters is among a group of investors who bought the Charleston Gazette-Mail last year.)
Funds will be distributed to people who leased the rights to natural gas beneath their land in West Virginia to EQT between Dec. 8, 2009, and Dec. 31, 2017. EQT will also pay up to $2 million in administrative fees to distribute the settlement.
Settlement payments will be calculated based on such factors as the amount of gas produced and sold from each well, as well as how much was deducted from royalty payments. The number of people who submit claims could also affect settlement payments. Each member of the class that submits a claim will receive a minimum payment of at least $200. The settlement allows lawyers to collect up to one-third of the settlement, or roughly $18 million, subject to approval from the court.
The settlement is pending before U.S. District Judge John Preston Bailey in the Northern District of West Virginia. The judge gave it preliminary approval on Monday, which begins a process for public notice of the terms and a fairness hearing July 11 in Wheeling, West Virginia. Payments would not be made until that process is complete.
The Charleston Gazette-Mail and ProPublica want to tell the story of the changing landscape in West Virginia, and how coal and natural gas are impacting it. West Virginians: Tell us how your community is changing. Call or text us at 347-244-2134, or email us: changingwv@wvgazettemail.com.
Kate Mishkin and Ken Ward Jr. cover the environment, workplace safety and energy, with a focus on coal and natural gas for the Charleston Gazette-Mail. Email Kate at kate.mishkin@wvgazettemail.com and follow her on Twitter at @katemishkin; email Ken at kward@wvgazettemail.com and follow him on Twitter at @kenwardjr.
This article was originally published by ProPublica.
As Top Dem on Senate Energy Committee, Manchin Prepares to Tout Region's Resources
The Senate Energy and Natural Resources Committee will begin holding full hearings this week with a new top Democrat: West Virginia Sen. Joe Manchin.
Manchin's ascension to lead the Senate committee devoted to energy issues drew concern from environmental groups and more left-leaning members of his own party who fear the centrist Democrat may not be a strong climate advocate.
At a recent meeting of West Virginia oil and gas producers, the senator from coal country said he hoped to address climate change in this role, but would also use his newfound post to better promote the Ohio Valley's energy resources.
Manchin, who said he will have a staff of about 17, will work closely with Sen. Lisa Murkowski (R-AK), who chairs the committee.
"The beauty about it is this: Lisa comes from Alaska, I come from West Virginia. Two heavy-lifting states, two heavy-producing states for the energy this country needs," he told attendees of the West Virginia Independent Oil and Gas Association winter meeting last month in Charleston. "With that being said, we can set an agenda that basically shows them what we're doing."
Manchin said he hopes to highlight the energy contributions made by West Virginia and other states in the region from both the coal and growing natural gas industries.
"We haven't been able to tell our story," he said. "We're just not telling it because there's a strong wind blowing that doesn't want that to get out. They want to believe there's something utopian in a perfect world. Well, I'm hoping we get there in our lifetime. I don't think so. Maybe our children or grandchildren, whatever. But until that happens I want to make sure they understand the ships from Russia are bringing natural gas in to the northeast. I want them to see that picture."
'All-In Energy Policy'
Environmental groups have expressed concern about Manchin taking the top spot on the Senate Energy and Natural Resources Committee in large part over fears the coal country Democrat will not be a strong voice for climate action.
In recent years, Democrats on the committee have used their positions to rail against Trump administration efforts to backtrack on climate policies and science.
Manchin has been steadfast in his position that while he believes climate change is real and that the country needs to prepare for its impacts, he will advocate for energy policy that contains a mixture of emissions-free electricity including renewables, but that also includes the use of fossil fuels for the foreseeable future. That is a break from some in the Democratic party who are seeking the immediate phase-out of fossil fuels in order to prevent the worst impacts from climate change.
"I've got a far left agenda coming from the people in my caucus, and I tell them basically that we're looking for an all-in energy policy," Manchin told the crowd.
Speaking after the meeting, Manchin also noted both he and Murkowski are pragmatic about the threat of a changing climate.
"We understand energy, we understand climate," he said. "We understand that we have to live in this wonderful, beautiful world of ours, make it cleaner and better, but use all the energy we have in a much cleaner fashion."
Manchin declined to provide examples of specific legislative proposals he might champion, but said investing in technology and research would be a top priority.
In preparing to take his post as second in command, Manchin said he had spent some time chatting with Microsoft founder and philanthropist Bill Gates. The billionaire has invested significantly in clean energy, including nuclear power. Manchin characterized Gates as pragmatic about the need to balancing clean energy and fossil fuels, and said he hoped to bring him to the committee.
Storage Hub Major Priority
The lawmaker also stressed his commitment to building more natural gas liquids storage capacity in the Ohio Valley. Specifically, Manchin noted his continued support for the Appalachian Storage and Trading Hub.
Manchin has long been a proponent of the project, now almost a decade in the making. It would be built with a combination of private investment and a $1.9 billion loan guarantee from the Department of Energy, which is being applied for by the project's developer, the Appalachia Development Group, LLC.
A year ago, the project got approval for the first of two application phases for a $1.9 billion U.S. Department of Energy loan. Last summer, ADG announced it was hiring an outside firm, Parsons Corporation, to help with the second phase and data collection.
"It's like the field of dreams, build it and they'll come," he said of the hub. "I think everything leads from that if people know we have available, dependable and affordable energy there to be accessed for the development that we need for our state, our region and our country, defense of our country, that's a no-brainer."
The full committee kicks off hearings this week. On Tuesday, it will hear testimony about the state of the country's energy and mineral markets. On Thursday, it will hold a hearing on energy innovation in the United States.
This article was originally published by WV Public Broadcasting.
Unpacking The Ways Climate Change is Affecting West Virginia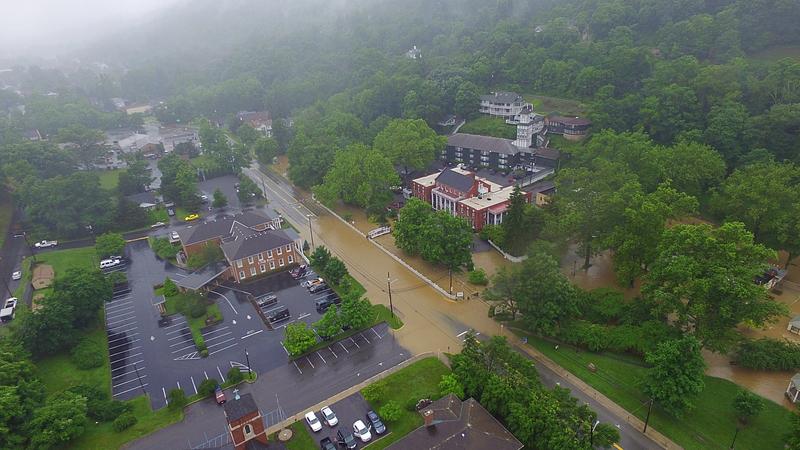 Last week, the Intergovernmental Panel on Climate Change, or IPCC, the U.N. body that provides objective, scientific reports on climate change issued a grave warning: Humans are running out of time if we are to prevent the worst impacts of global warming.
While the report took a global view, here in the Mountain State, scientists can already document the impacts of climate change. Many parts of the world are bracing for more extremes including and higher temperatures and more severe droughts, while the prognosis in West Virginia is more of a mixed bag.
"West Virginia's climate has become milder with warmer winters, cooler summers and generally more humid conditions year-round," said Evan Kutta, the climate sciences program manager for West Virginia University's Institute of Water Security and Science.
Data show that between 1906 and 2016 maximum temperatures decreased 5.3 percent, while minimum temperatures increased 7.7 percent. Over the last century, precipitation has increased 2.2 percent.
While some aspects of West Virginia's economy may benefit from the milder winters as a result of a changing climate – including agriculture and some outdoor recreation industries – expected increases in rainfall could pose challenges to human-constructed infrastructure.
"The flooding that happened two summers ago in 2016 was truly severe and that could be something that we see more often," Kutta said.
West Virginia is one of the most flash-flood prone states in the country, and maybe even the world. The stacked ridgelines of the Appalachian Mountains and deep hollows are really good at shaking moisture out of storms, and channelling it quickly downstream to larger rivers.
He added that more research and planning is needed to tap into the opportunities that could be wrought from climate change as well as challenges.
Agriculture and Forests
When it comes to West Virginia agriculture, climate change has mixed implications.
Unlike in places like California, where climate models predict warmer, drier conditions, in Appalachia, milder conditions could result in a longer growing season that could support a more diverse variety of crops, Kutta said.
However, with more moisture also comes more cloud cover.
"That reduces sunlight available for crop growth," he said.
In fact, the impacts of a wetter West Virginia are already being observed across the state's forests. Scientists see changes in the types of tree species putting down roots in West Virginia. Oaks are being replaced by maples, which prefer shadier and wetter conditions.
"Maples are more vulnerable to droughts, but the increasing number of maple trees in the state indicates that droughts are becoming less severe and water resources are becoming more abundant," he said.
West Virginia's Role
The IPCC report stresses that to prevent 2.7 degrees of warming, greenhouse gas pollution must drop significantly. Burning coal for electricity, which is the most carbon-intensive source of fuel, would have to decrease from almost 40 percent today to between one and seven percent by 2050.
That could greatly impact West Virginia, which is the second largest producer of coal in the United States and in 2017 sourced 93 percent of its own electricity from coal-fired power plants, according to the U.S. Energy Information Administration.
The state could also play a significant role in mitigating climate change, according to Kutta.
"The ongoing transition away from coal has been difficult, but West Virginia is rich in other natural resources that could represent a boon for the state's economy," he said. "The Marcellus and Utica Shale formations represent sources of natural gas, a cleaner fossil fuel that may ease the crucially needed transition to renewable energies."
Furthermore, the rugged terrain of the Mountain State offers many opportunities for renewable energy.
The ridges of the Allegheny Mountains could be prime wind turbine real estate. Abundant water resources could support hydroelectric generation and Kutta said West Virginia is even rich in geothermal energy.
"It's actually from all of the wells that have been drilled in the state," he said. "They've found temperatures in excess of 150 degrees Celsius just a couple of kilometers below the surface, which would be suitable for commercial scale energy production if the funds are available."
Overall, the new IPCC report paints a rather grim picture. The scientists who put it together looked at more than 6,000 published studies and found that over the next two decades the planet is on track to see global temperatures rise nearly 3 degrees above where they were prior to the industrial revolution.
The authors note the impacts of continued warming include food shortages, wildfires, severe droughts. Coral reefs will experience mass die-offs and millions of people living on the coasts will need to relocate.
The report estimates the cost of not preventing global temperatures from rising above 2.7 degrees will cost some $54 trillion in damages.
The authors also note that doesn't have to be our future, but the world needs to act fast to prevent it from happening. Kutta agrees.
"It's a problem that is bigger than each individual, so we need to be working together as a group to solve this truly enormous challenge," he said.
This article was originally published by West Virginia Public Broadcasting.