International Firm Hired to Help Off-Ballot GOP Senators with Messaging on WV Teacher Strike
As the 2018 midterm election approaches, some West Virginia Senate Republican leaders are making use of a large and influential worldwide public relations firm to aid in messaging about this year's teacher strike and the economy. The politicians making use of the public relations services, which an independent expenditure political action committee is paying for, are not on this year's ballot.
Campaign finance experts say promoting off-ballot politicians is very unusual for independent expenditure political action committees, or PACs, such as the one paying for these services. The public relations firm that's been hired has made national headlines for its possible connection to the FBI special counsel's probe of Russian interference in the 2016 presidential election.
Emails from employees of public relations firm Mercury, LLC, sent to West Virginia Public Broadcasting reporters — and others in news media who cover state government — have recently solicited interviews with Senate President Mitch Carmichael.
Those emails — which were sent by Mercury employees Katya Myagkova and Brent Petrone throughout the month of August — sought to have reporters speak with Carmichael regarding the federal Tax Cuts and Jobs Act and federal legislation attempting to curb the country's opioid crisis. The emails included a banner image with "West Virginia's Future PAC" and signatures identifying Petrone and Myagkova as Mercury employees.
Emails between Carmichael, Sen. Craig Blair and Mercury employees — obtained by West Virginia Public Broadcasting through a public records request under the state's Freedom of Information Act — also indicate the firm was helping GOP Senate leadership tailor messaging around a number of issues and craft a "proper narrative" regarding this year's teacher strike and West Virginia's economy leading up to the 2018 midterm elections, despite neither Carmichael nor Blair being up for re-election this year.
Emails Show Mercury Helped Carmichael, Blair Craft Messaging on Teachers, Economy
While records show that West Virginia's Future PAC spent a total of $21,731 in August on digital advertising services from Pittsburgh-based company Fifth Influence in support of Republican Senate incumbents Ryan Ferns, Ed Gaunch and Tom Takubo in the general election cycle, $37,500 the committee spent this reporting period was paid to Fulcrum Campaign Strategies, for consulting and PR services mostly used by Carmichael.
In a July 19 email sent at 8:24 a.m. with the subject "Thank you," Carmichael contacted Mercury employees Nicole Flotteron, Chapin Fay and Dan Bank — all of whom hold the title of senior vice president.
"Thank you for conducting the on-site meeting/training yesterday. Our team was very impressed with all aspects of Mercury. The outside entities that we invited and that gained further exposure to your team were equally impressed," Carmichael wrote in the first of two emails sent to Mercury employees July 19. "We look forward to working with you to craft the proper narrative as to the West Virginia comeback story and Republican commitment to education."
Another email sent July 19, this one with the subject line "Response to local AFT leaders agreeing with our statement" and sent at 8:37 a.m., Carmichael seeks advice from Flotteron, Fay and Bank in messaging related to teacher unions.
"What do you think of crafting a message in which we commend Christine Campbell, WV-AFT, and Dale Lee, WVEA, for agreeing with us and rejecting the socialist agenda of the national AFT?" Carmichael wrote. "The message could give credit to the WV Teachers for recognizing that the socialist policies of the left wing union bosses is not good for our state and would damage the economic recovery that is occurring under Republican leadership. Your thoughts……"
Days earlier, on July 17, Carmichael drew attention for a thread of eight tweets in which he criticized the American Federation of Teachers' adoption of a platform at the union's national conference in Pittsburgh.
Teachers in West Virginia — backed by the West Virginia Education Association and the American Federation of Teachers-West Virginia — went on strike for nine days during the 2018 legislative session demanding better wages and a permanent fix to the health care program for state employees, the Public Employees Insurance Agency.
With the Republican Senate majority once rejecting a 5 percent pay increase for teachers, the strike ended with the passage of a bill doing just that — but adding raises for all state employees — and the creation of a task force on the health care issue. The bill was passed only after being sent to a conference committee between the House and Senate, where members finally agreed to the 5 percent raises.
In the interest of full disclosure, the Educational Broadcasting Authority, which does business as West Virginia Public Broadcasting, is an independent state agency. As such, its employees also received the pay hike.
During and since the strike, leaders of teacher unions and their members have taken aim at GOP Senate leaders — particularly Carmichael — promising an education-focused takeover of the Legislature in the 2018 midterms. Through their political action committees, the unions have supported candidates they see as promoting a pro-public education agenda. The unions have largely supported Democratic candidates.
Carmichael and other top Republicans in the Senate have taken credit in recent months for the pay raise for teachers and all other public employees, despite the caucus' holdouts that drew out the strike. Some of the messaging around teacher issues has taken place under the consultation of Mercury.
"I'm not up for re-election," Carmichael said when asked about his use of Mercury for help with messaging on the aftermath of the teacher strike and its potential impact on the upcoming election. "I just want to make sure that the proper narrative is spoken as it relates to the teacher issue, because I think I've not — in my years of public service — seen anything have so much misinformation about a particular issue."
Despite not being on the ballot for the 2018 midterms, Carmichael has been a target — with his name and face being placed on billboards and other campaign materials reading "Ditch Mitch!" and "Ditch the Mitches And Their Candidates," referring to Carmichael and U.S. Senate Majority Leader Mitch McConnell. The latter of those two advertisements also states that Carmichael was "attacking teachers and public schools."
Carmichael argues that those efforts, funded by the West Virginia Democratic Party, have mischaracterized him in terms of what unfolded during the teacher strike.
"The press, in large measure, does a good job, but some of those opposing — the people that want to just create havoc — are distorting that message and, so, I think it's important for the people to know the truth and to hear it as it really occurred," Carmichael said about the narrative surrounding the strike.
"The West Virginia's Future PAC – which is an entity outside the legislative purview — contracted with Mercury to develop that messaging and make sure the story is told in a way that, you know, is sort of what we believe is the truth about the story and cut through all the different aspects of distortions and so forth. So, they're working with West Virginia's Future PAC to develop that message and make sure it gets out," he added.
Other emails show Carmichael forwarded a June 8 email newsletter from the West Virginia Chamber of Commerce to Flotteron. A June 14 email from Carmichael to Flotteron detailed state employment numbers from May sent to members of the West Virginia Legislature from West Virginia Chamber president Steve Roberts. "I'm compiling more data and will forward in a string of emails," Carmichael wrote to Flotteron.
An Aug. 8 email from Carmichael with the subject line "Fwd: Strikes Again?" included a newsletter forwarded to Mercury employees from The Center for Education Reform sent to Carmichael the day before. The newsletter detailed the possibility of teacher strikes by union members in Puerto Rico and Los Angeles.
More recently, Carmichael sought advice in responding to an email newsletter from the West Virginia Center on Budget & Policy. That Sept. 17 email newsletter from the West Virginia Center on Budget & Policy included the headline "New Census Data Shows Lack of Progress in West Virginia."
"Help me craft response….." Carmichael wrote in regard to the newsletter from the West Virginia Center on Budget & Policy.
As for Blair, who serves as chairman of the Senate Finance Committee, emails from Aug. 7 between he and Mercury staff show he asked for help when he forwarded a solicitation from D.C.-based website The Washington D.C. 100 — asking him to author a piece of writing on West Virginia's economy for the website. According to the email forwarded by Blair to Mercury employee Nicole Flotteron, The Washington D.C. 100 is "a bi-weekly publication consisting of 100-word long stories covering key policy issues and current events."
"Is this useful?" Blair wrote to Flotteron.
"We will write it for you. Standby," Flotteron replied.
On Aug. 16, The Washington D.C. 100 published a short piece with Blair's bylinetitled "Economic Growth in West VA."
About West Virginia's Future PAC & Mercury, LLC
A campaign finance report filed recently with the West Virginia Secretary of State's office shows the independent expenditure political action committee West Virginia's Future raised $320,250 from May 21, 2018 through Sept. 23, 2018. Contributors to that committee during that time period include a $15,000 donation from DuPont spin-off company Chemours as well as a list of more than 200 names of people who donated funds following a Wheeling dinner event on June 28, where the group raised $284,655.
The first general report from West Virginia's Future PAC was due Friday, Sept. 29, but wasn't received by the Secretary of State's office until Oct. 1. According to the state's campaign finance reporting system, the organization has been late in filing two of its three other reports that have been due. There is no penalty for a filing campaign finance reports after a deadline.
Among the $149,685.19 in expenses the committee paid during the first general election period from May 21 to Sept. 23, two payments totaling $37,500 were paid to Fulcrum Campaign Strategies for "strategic / communications consulting." According to the District of Columbia's Department of Consumer and Regulatory Affairs, Fulcrum Campaign Strategies has been used as a trade name for Mercury, LLC. Company officials also confirmed Mercury does business under that name.
According to Mercury's website, the company is a "global public strategy firm" that handles public relations, public opinion research, crisis management and mergers and acquisitions. The company's clients include AT&T, Airbnb, eBay, The Ford Foundation, Hyundai, Pfizer, Tesla and Uber. Mercury also lobbies on behalf of foreign governments.
Mercury has come under scrutiny during the past year for possible connections to President Donald Trump's former campaign manager Paul Manafort. In September, Manafort agreed to plead guilty to charges in the indictment and cooperate with FBI special counsel Robert Mueller's investigation into Russian interference in the 2016 election.
In Manafort's indictment, two companies identified as "Company A and Company B," were named as having done work under the direction of Russian-friendly former Ukrainian President Viktor Yanukovych. Manafort spent nearly a decade as a consultant to Yanukovych and his country's Party of Regions. A report from NBC News identified "Company A" as Mercury and "Company B" as the Podesta Group.
According to reports from various news outlets citing court filings from Mueller, Mercury could face legal trouble for their connections to Yanukovych.
"We worked for an [non-government organization] based in Brussels that supported Ukraine's entry into the European Union, which would have driven Ukraine closer to the west and further from Russia's influence. The project started more than six years ago and ended more than four years ago," Mercury partner Michael McKeon wrote in an email when asked about the company's connections to Yanukovych and the the FBI special counsel's probe of Russian interference.
"We hired lawyers to advise us on proper disclosure, reported our work to Congress in 9 different public lobbying reports and later voluntarily filed a FARA. Any questions you may have about the work is all in the public filings," McKeon added.
FARA is the acronym for Foreign Agents Registration Act, federal legislation requiring "persons acting as agents of foreign principals in a political or quasi-political capacity to make periodic public disclosure of their relationship with the foreign principal, as well as activities, receipts and disbursements in support of those activities," according to the U.S. Department of Justice.
McKeon also said none of the Mercury employees on the project in West Virginia worked for the non-government organization and most current employees were not with Mercury at that time of the company's work linked to Yanukovych.
Carmichael said he was unaware of Mercury's connections to Manafort's indictment in the Russian probe when he began working with the firm. He said he later became aware of those ties, but has no concerns about the company.
"I've just heard, anecdotally, somebody say, 'You know, hey, this or that' about Mercury. I don't have anything other than just a cursory [understanding of those allegations]," Carmichael said.
Asked about Mercury's work with Carmichael or anyone else in the West Virginia Senate, McKeon deferred to West Virginia's Future PAC.
Chris Asbuy, an attorney for West Virginia's Future PAC, provided a statement to West Virginia Public Broadcasting noting pay raises for state employees, reported economic growth, implemented regulatory reforms and other efforts by the Republican majority in recent years. He attributed those accomplishments to the GOP takeover of the Legislature in 2014.
"West Virginia's Future PAC hired Mercury to cut through the election year political chatter and help tell this remarkable comeback story directly to West Virginians," Asbuy wrote.
Independent Expenditure PACs
Independent expenditure political action committees, like West Virginia's Future, are created to expressly advocate for the election or defeat of a particular candidate — but not in cooperation with or at the request of that candidate. Typically, independent expenditure political action committees would not raise money for services such as polling or public relations services, according to campaign finance experts.
Dan Weiner of New York University School of Law's Brennan Center for Justice said promoting non-candidates and paying for services like public relations is atypical of independent expenditure political action committees.
"I would say that is quite unusual," Weiner said. "Bottom line, it is deeply troubling that a PAC would be funneling unlimited money for sitting office-holders, regardless of whether or not they are on the ballot. That raises quite obvious concerns."
Weiner said political action committees funding politicians not on the ballot -—or services for them — should raise questions about the possibility of political favors being returned in exchange for that help.
Why Mercury, When the Senate Has Its Own Communications Director?
While Mercury's services have provided public relations support for Carmichael and Blair, the Senate employs its own communications director who works with news media. Jacque Bland currently holds the title of communications director of the Senate, under the supervision of Carmichael in his role as Senate president.
In the position of communications director, Bland works as a liaison between all members of the Senate — regardless of party — and the news media. According to the state auditor's office, Bland was paid $73,640.01 for her work in 2017.
Asked whether Mercury's work has affected her job as communications director of the Senate, Bland declined to comment for this story.
Carmichael said the work performed by Mercury — particularly that which is focused on issues related to the teacher strike — is politically motivated and is inherently different than the work Bland does. He said the political messaging should be outsourced to an entity outside the Legislature.
"West Virginia legislative announcements and so forth get published on the Legislature's website. These recently, on both sides of the aisle, have become very political — they have become too political," he said.
Carmichael said he has had conversations with Democratic minority leaders Sen. Roman Prezioso and Del. Tim Miley about trying to limit the scope and use of the Legislature's public information office and get politics out of the equation. Prezioso and Miley confirmed those conversations.
"If it becomes political, you need to use an outside entity to craft that. That message needs to get [put together] outside of here. Jacque does a phenomenal job of getting this messaging — the informational pieces — out to the public. But in terms of it, if it's going to turn political at all, it needs to be done by a separate political arm outside of this Legislature. And, so, that's what Mercury's purpose is," Carmichael said.
Teacher Strike Still in Focus Ahead of Election with Plans for Additional Raises Announced by Gov. Justice
As the November midterms get closer — and with teachers issues remaining on the minds of voters — Gov. Jim Justice announced this week plans for another 5 percent pay raise for teachers and all other public employees and a promised dedication of $100 million to funding PEIA.
During a news conference Tuesday announcing those plans, Justice touted Republican accomplishments in terms of this past year's teacher raises and economic growth in general, citing a nearly $120 million budget surplus three months into fiscal year 2019. He also downplayed the role of the unions and the strike.
"Over and over and over, you can say what you want. But, at the end of the day, the teachers' pay raise last year — the teachers' pay raise — that all happened not because of people that were 'rah-rah-ing' and everything upstairs," Justice said. "It happened because the good work of the Republicans, the Republicans are the ones that passed it. Your Republican governor is the one came up with the idea of the five percent. Nobody but your Republican governor. The Republican House followed suit."
Justice acknowledged holdouts by Senate Republicans, but also gave credit to the majority caucus in the upper chamber.
"It took a little while to get the Senate on board. But when they came on board, what did they do? They came on board for not only the teachers — they came on board for everybody. Everybody got the five percent," he said.
In a news release dated Oct. 2 — the same day as Justice's announcement of plans for another round of raises for state employees — Carmichael released a statement through the Legislature's public information office. Bland is listed as the contact on the release.
"Thanks to pro-growth policies that have been implemented by the Legislature in recent years, our economy continues to expand, while tax revenue continues to increase, leading to historic budget surpluses," Carmichael said in the release. "In turn, we are able to use that growth to deliver our teachers the pay increases they need and deserve."
How much the teacher strike and issues related to public education will impact the 2018 general election remains to be seen.
This article was originally published by West Virginia Public Broadcasting. 
Congress Hears Testimony From Chemical Company Executives On PFAS Contamination
This article was originally published by the Ohio Valley ReSource.
Executives from three major chemical companies — DuPont de Nemours, Inc., The Chemours Company and The 3M Company — testified for the first time to Congress about widespread contamination from the group of nonstick, fluorinated chemicals broadly called PFAS.
The so-called "forever chemicals" persist in the environment, are linked to ill health effects, and have been found in numerous water systems in the Ohio Valley.
The hearing — the third on PFAS contamination by the House Committee on Oversight and Reform's Subcommittee on Environment — explored the extent to which companies that make PFAS chemicals knew about its impacts on human health and the environment and how they should be held accountable. 
"These companies with us here today have screwed up and we need to hold them accountable for doing so," said Committee Chairman Rep. Harley Rouda from California. "I hope the people representing those companies here today will admit their mistakes so that we can all move forward and achieve what I believe is our common goal: to clean up contaminated sites, stop exposing innocent people to toxic chemicals and making sure that all Americans have clean water and clean air."
Concern over PFAS contamination has grown nationwide. The Environmental Working Group estimates the drinking water systems of more than 700 communities are contaminated with PFAS. Perfluoroalkyl chemicals were used to make nonstick products and are found in some flame retardants including firefighting foam.
Company executives called to testify focused on internal efforts to address concerns over PFAS in the face of major high-profile lawsuits and settlements over contamination in West Virginia and Minnesota. All expressed support for the U.S. Environmental Protection Agency's "action plan." The agency in February proposed a series of regulatory steps to address PFAS contamination and cleanup.
Lawmakers in both parties criticized EPA for not moving swiftly enough. Congress is considering amendments to its 2020 defense spending bill that would speed up EPA's timeline and regulate the entire class of PFAS chemicals.
Company executives were split over how PFAS chemicals should be regulated, although none supported broad legislative action to regulate all 5,000 PFAS chemicals.
A representative from DuPont went the farthest. Daryl Roberts, DuPont's chief operating and engineering officer, told the House subcommittee the company welcomed specific regulatory actions, such as listing two PFAS chemicals, PFOA and PFOS, as hazardous substances under the Comprehensive Environmental Response, Compensation, and Liability Act, or CERCLA, also known as the Superfund law.
"We support legislation to list PFOA and PFOS, and only those two, as hazardous substances under CERCLA. That's further than the other companies here are willing to go today, but that's what we believe is correct," he said. "What we know about those chemicals is that they're bio-persistent. That's enough to know that there's a clear concern for those chemicals within society at this point in time, and we feel for that reason they should be regulated."
DuPont no longer makes PFAS chemicals. It split off its fluorinated chemicals business in 2015 to Chemours. A representative from Chemours said that company did not support such regulation. Chemours and DuPont are engaged in litigation over the split. Chemours argues DuPont misrepresented the environmental liabilities associated with PFAS chemicals.
3M's Senior Vice President of Corporate Affairs, Denise Rutherford, doubled down on her company's claim that there are no negative health effects from PFAS exposure.
"When we look at that evidence there is no cause and effect for adverse human health effects at the levels we are exposed to as a general population," she said.
That didn't sit well with some Democrats, including New York Rep. Alexandria Ocasio-Cortez who said this position goes against findings from government agencies and 3M's own scientists.
The federal government's Agency for Toxic Substances and Disease Registry says some studies in humans with PFAS exposure have shown: effects on growth, learning, and behavior of infants; an increase cholesterol levels; effects on the immune system; and an increase in the risk of cancer.
The hearing began with testimony from two attorneys whose lawsuits against DuPont and 3M unearthed thousands of internal company documents that showed both companies knew the chemicals were dangerous to human health and the environment for decades, but didn't tell its employees or federal regulators.
Rob Bilott, an Ohio-based attorney who successfully brought a class action lawsuit against DuPont for its dumping of PFOA, sometimes called C8, near its plant in Parkersburg, West Virginia, told lawmakers he and his team for 18 years have funneled scientific studies from within DuPont to EPA that enumerated the health risks associated with exposure.
In 2012, an independent panel of scientists — the C8 Science Panel — concluded drinking PFAS contaminated water was linked with six diseases, including kidney and testicular cancers.
The group looked at all existing studies and conducted new ones on 70,000 impacted community members from around the Parkersburg area.
"This independent scientific review has occurred. Unfortunately EPA has not acted," Bilott testified. "We have more than enough evidence. We should move forward and protect the public."
From Corn Liquor to State Pride – Origins of 'West by God Virginia'
Here at West Virginia Public Broadcasting, we've been asking listeners what they wonder most about West Virginia.
The latest question that won out in an online poll came to us from St. Albans resident Trish Hatfield. She asked, "Where does the phrase 'West by God Virginia' come from?" WVPB reached out to experts across the state and discovered one of the first times the phrase was found in a publication — and we have a good idea why it has stuck around.
"West by God Virginia" is an idiom many West Virginians know well, but its exact origins have traditionally been less well-understood.
West Virginia University linguistics professor Kirk Hazen did some digging for us into the phrase. The earliest printed version he found was in a Virginia magazine published in 1926 called "The Virginia Spectator." It reads:
"And it is, we believe, the only way that corn can be mixed and presented to a girl — except the iron plated ones from West (by God) Virginia."
The article was written by students at the University of Virginia who, in the middle of the prohibition, are likely alluding to making alcohol, Hazen said.
He said the quote is basically saying West Virginia women can hold their liquor.
"And the implication here is that they are accustomed to drinking homemade corn liquor," he explained. "So, they can handle it without having to mix it up in certain concoctions."
Hazen discovered this publication with the help from a Google Books application called Ngram Viewer. It's an online tool that sifts through a massive digital database of millions of publications in several languages.
Hazen said the phrase likely appeared in written form earlier than 1926, but to confirm that it would take months of sifting through physical documents, such as newspaper clippings, journals, books and magazines.
Hazen found another early publication of the phrase in 1939 in an academic article published by WVU's English department. The phrase is found in a footnote written by Harold Wentworth. The quote explores the possible history behind "West by God Virginia." It reads: 
"Among phrases so formed is the well-known 'West by God Virginia.' But the expletive insertion here is more syntactical than morphological. One story of the origin of this phrase, true or not, is that a native West Virginian, irked at being called a Virginian, retorted with an intonation that can only be suggested here, 'not Virginia, but West by God Virginia.'" — Harold Wentworth, WVU department of English, 1939
The exact origin of "West by God Virginia" as a spoken phrase is difficult to pinpoint.
Hazen points out how most spoken language is almost a living organic thing — not something that's tracked, monitored, sorted or in databases.
But Hazen and other experts say there's a good chance the phrase made its first oral appearance sometime after West Virginia became a state in 1863. But they say this is educated guesswork.
We spoke with another expert from West Virginia University. Associate Professor Rosemary Hathaway specializes in American folklore and literature.
Hathaway has been working on a book that explores the cultural history of the term "Mountaineer." She points to parallels between the origins of "Mountaineer" and the phrase "West by God Virginia."
"The first time the term Mountaineer shows up as a synonym for West Virginian is before statehood," she noted.
Hathaway said before we separated from Virginia, there was a legislator from Harrison County who sent a letter to a newspaper in Richmond expressing annoyance that his region, western Virginia, was not being fairly represented in the Virginia Legislature.
And when he signed that letter?
"He signed it, not with his name, but as a Mountaineer," Hathaway explained. "So, I sort of see that as being parallel to the phrase 'West by God Virginia' in the sense that it's just kind of a way of reminding both ourselves and outsiders that we are distinct from Virginia, and we have a unique identity and a unique history as West Virginians."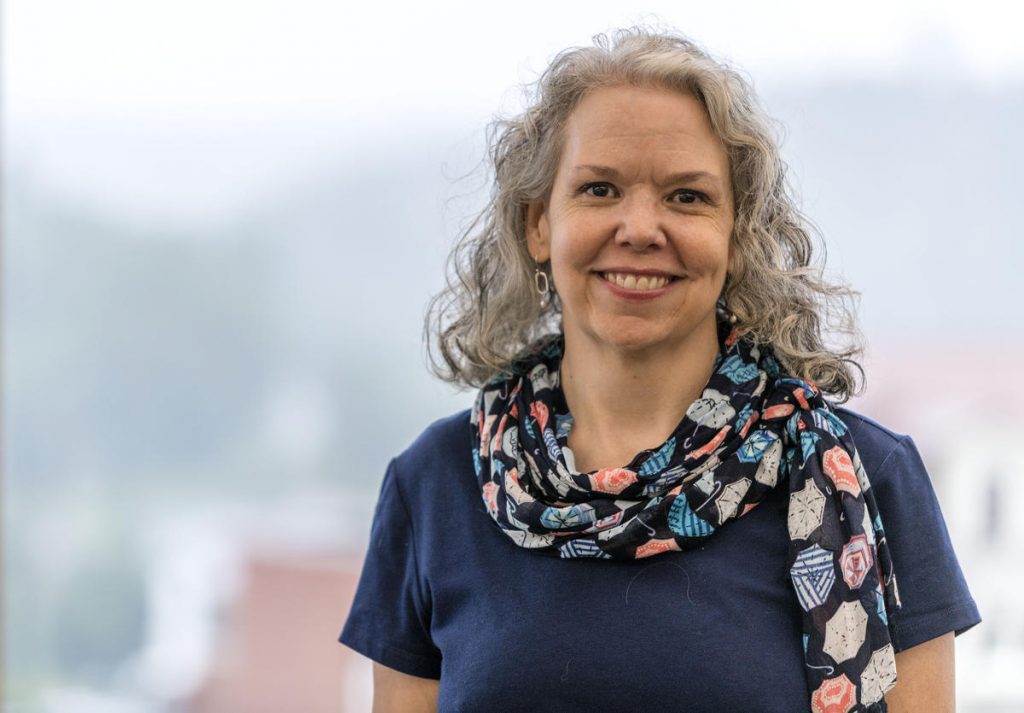 But none of this answers the underlying question — why did people start inserting "by God" into the name of West Virginia?
The use of "by God" in language dates back to the Anglo-Saxons, but it became commonplace in the 1600s, according to Eric Waggoner, the executive director of the West Virginia Humanities Council. Waggoner is also a retired history of English teacher.
Waggoner said "by God" has always been used as a way to emphasize something. He sees the inclusion of it in "West by God Virginia" as an expression of pride, when so much of the world perceives West Virginia in a negative light.
"There's been a sort of narrative about West Virginia that focuses on illness; it focuses on poverty; it focuses on hard times; it focuses on this sort of thin, cultural and educational infrastructure; a lot of things that are here that need attention and that people who live here know intimately," Waggoner explained. 
He said many West Virginians are tired and fed up with this negative narrative, and by adding "by God" into our state name, our identity, it allows us to reclaim our image.
"There's a kind of expression of pride, not just in place, but in being a person who is from this place, that 'West by God Virginia' seems to articulate in a very handy, in a very positive way," he said.
Even though the exact origin of the spoken phrase may be difficult to find, Waggoner and others said today it's often used to illustrate West Virginia as unique and separate from Virginia – that, by God, we are here, we exist and we have our own identity as West Virginians.
This article was originally published by West Virginia Public Broadcasting.
How Leaving Home Can Help Appalachia
This article was originally published by expatalachians.
Appalachian folk have a complicated relationship with leaving. It's a tension that shows up in regional media all the time: In stories about small towns working to keep their young people, about Appalachian millennials leaving New York to go back home, and, more negatively, about how folks in the region should just pack up and get out of dodge.
This isn't one of those stories. As one might surmise from the name expatalachians, I've already left Appalachia, and I'm not certain I'll ever live there again. And although I'm sympathetic to helping young people stay in the region, I also understand why they choose to leave. As I've written about elsewhere, folks have moved into and out of Appalachia looking for a better life for over a century, and I won't begrudge the current generation for doing the same.
Instead, I'm interested in discussing the possibilities leaving presents for Appalachia. Rather than enjoining people to stay or shaming them for going, I would argue conversations about leaving the region should instead focus on how to incorporate the Appalachian diaspora into regional conversations from where they are. Doing so successfully would not only expand our view of the Appalachian experience but also, with millions of Appalachian migrants and their descendants living outside the region, meaning we could better draw on migrants' diverse backgrounds and resources in addressing Appalachia's problems.
Doing this properly means wrestling with several fundamental questions. The one I would like to address here is where Appalachian migrants should fit in discussions about the region. Having left the region, to what extent can and should migrants claim a seat at the table in conversations about Appalachia, and when might their voices usefully contribute to discussions of its issues?
This question has gained increased urgency following the publication of Hillbilly Elegy by JD Vance, a descendant of Appalachian migrants raised in Southwest Ohio. I don't care much for JD Vance's views on Appalachia, or the solutions he offers to its problems. However, in addition to critiquing Vance's arguments, a particular line of Hillbilly Elegy criticism has focused on his lack of Appalachian credentials due to his being raised in Middletown, Ohio.
Wherever you come out on the debate, this line of criticism highlights the ambiguities Appalachian migrants face in trying to address the region. On the one hand, I personally find it hard to deny Vance's identification as Appalachian. Although not part of Appalachia, the region where he grew up, southwest Ohio, was a major destination for Appalachian migrants in the 20th century, and the Appalachian migrant identity remains relevant there. Furthermore, I fear this kind of territorial gatekeeping threatens to exclude those in the diaspora who sincerely and legitimately identify as Appalachian.
On the other hand, Appalachian migrants, including Vance, must also recognize their unique position in speaking from outside the region. Just as a well-off professor in Morgantown has a different experience from a glassmaker in Clarksburg, so too is an Appalachian migrant's experience of the region different from someone who stays. Those of us who've been outside the region for several years must accept that both we and the region may have changed since our departure, and that our experiences "abroad" mean we can no longer claim to speak as "typical Appalachians," if we ever could.
Moreover, while we may strongly identify with the region and its people, we must also accept that, in having left, our stake in the game is different from those who remain. As such, our role and our degree of power in deciding the future of the region should be different.
Of course, this does not mean migrants have nothing to contribute. On the contrary, in return for giving up our claims to being typical Appalachians, we have gained new experiences and insights that can benefit the region if used properly. One of expatalachians' founding goals was to create a place to share and debate these insights. Almost one year on, I'm proud of the fresh perspectives we've been able to inject into conversations about Appalachian history, politics, economics, environmental issues, literature, and more.
What other forms Appalachian migrant organizing may take remains an open question. In the past, migrants have created explicitly "Appalachian" organizations to agitate for better public services, state-specific clubs to commemorate their heritage, and hometown associations to network and reminisce.
As we are currently undergoing a renaissance in Appalachian organizing, diaspora activists would do well to look back on these experiences and think creatively about what kind of community they hope to create, and to what end. Whatever form it takes, for me Appalachian migrant organizing means prioritizing at least three goals.
First and foremost, in light of the Appalachian identity movement's uncomfortable relationship with racism and exclusivism, we must strive to build a diverse and cross-sectional movement that includes Appalachian migrants of all backgrounds, regardless of race, class, indigeneity, religion, gender, sexual orientation, or any other factor.
Secondly, while preserving a personal connection to the region is important in Appalachian migrant organizing, we must also seek to critically address and work toward resolving problems back home, be it through scholarship, donations, economic investment, volunteering, activism, or other endeavors. These problems must include not only pressing issues affecting the region, like the opioid crisis and poverty, but also deeper structural factors that are often ignored, including the present-day realities of racism and colonization.
Finally, to return to my original point, we must organize in solidarity both with fellow migrants and with folks back home while being cognizant of our different positions. This shouldn't just be an Appalachian migrant investment fund that seeks to "innovate" Appalachia while maintaining control. Rather, we must strive to build meaningful relationships and organizational structures between migrants and home communities so that, in seeking to promote positive change, we don't take power away from the region and the people ultimately supposed to benefit from it.
Nicholas Brumfield is a native of Parkersburg, WV currently working in Arlington, VA. He is also a 2007 recipient of the West Virginia Golden Horseshoe for exceptional knowledge of West Virginia history. For more hot takes on Appalachia and Ohio politics, follow him on Twitter: @NickJBrumfield.