Water In Appalachia Needs a Trillion Dollar Solution
This is the first of a two-part series on water infrastructure in Appalachia, and possible solutions to problems at the federal and local level.
The Problem
What West Virginia faces when it comes to its streams and rivers is a historically entangled knot of cultural pride, politics and industrial interests, Angie Rosser, the executive director at West Virginia Rivers, told me in a phone interview. The organization has been dedicated to monitoring and fighting for the water quality in West Virginia for over 30 years.
The same extractive and chemical industries that bring much-needed jobs and investment into this historically under-employed and over-exploited region also often carry with them environmental risks that materialize into illness and pollution, the causes of which are not only hard to fix, but often difficult to detect, or prove liability of in court.
The United Nations recognizes access to water and sanitation as one of our basic human rights. Yet there are places in Appalachia where that right is being indirectly infringed upon as a result of these extractive industries. Areas across Appalachia facing the most chronic water-safety threats include Martin County, Kentucky and Bladen County in North Carolina, where tap water in some communities can come out discolored and fetid — if it comes out at all.
The most infamous cases include the pollution of the mid-Ohio River Valley in West Virginia and Ohio, which houses a DuPont company factory that dumped an industrial chemical called C8, used to produce Teflon, contaminating the local water supply. The chemical has been connected to heart disease, birth defects and cancer.
In recent years, the Environmental Working Group — or EWG — a non-profit based in Washington, D.C., published a report that demonstrated a decades-long lack of enforcement on the part of the regulators and revealed that the agency's "safety levels" might be misaligned to the real-world environmental damage they cause, meaning that in light of the latest research the levels once deemed safe may, in fact, be harmful.
April Keating, co-founder of Mountain Lakes Preservation Alliance, named south Upshur County, Doddridge County and her own area of the city of Buckhannon and the Buckhannon River as just couple of examples in West Virginia where she's actively involved in remedying the effects of pollution from extractive industries, during her interview with 100 Days contributing reporter Emily Pelland.
Another case study is the Elk River spill of 2014 that affected over 300,000 people in nine West Virginia counties. At the time of the spill people, in the affected area were told to avoid coming into contact with the contaminated water and were banned from running their taps at home. The initial state of emergency issued by then-West Virginia Gov. Earl Ray Tomblin included advisory "NOT to ingest, cook, bathe, wash or boil water. Water in this coverage area (Boone, Cabell, Clay, Jackson, Kanawha, Lincoln, Logan, Putnam, and Roane counties) is okayed ONLY for flushing and fire protection."
As these events unfolded, National Geographic published an article that revealed the lack of full understanding across the scientific community of the health impacts of the spill and unwillingness of the government to share the little that was known.
But even when dangerous contaminant levels are clearly identified, there is still the matter of difficulty in proving the liability to extractive industries for health problems among populations living close to their facilities.
Keating pointed to "what they (the industry) call nonpoint source pollution. You know it came from somewhere … you can't pinpoint it exactly, and that's what the industries are depending upon — because they know that you cannot go into court and definitively prove where it (the pollution) came from even though you live next door to that compressor station or you live next door to that separation plant."
Water In Appalachia Needs a Trillion Dollar Solution from 100 Days on Vimeo.
The problem with water doesn't start with pollutants and end with infrastructure. In between there is the way, in which the drinking water quality is being defined and how the results are being presented to the public — a complicated regulatory dance between protecting Appalachia's water and protecting Appalachia's industry. Meanwhile, flexibility in enforcement of standards can be subtle and varies by state.
To help draw attention to this complicated balance, EWG created a national Tap Water Database that makes it possible to research every zip code in America and check the water quality. In order to account for these gaps in regulatory legislation, the EWG decided to follow Public Health Goals. Originally from California, these more-strict safe drinking water standards provide safety levels for many more chemicals than the EPA's regulations.
"The main thing is we don't know what we don't know, and there are thousands upon thousands of chemicals that are part of production processes that we don't know enough about," Rosser told me.
Keating pointed to over "750 chemicals that are used in fracking, many of which are carcinogens and endocrine disruptors and the heavy metals that come out of the earth."
But even with proper research and monitoring, the challenges to water quality and infrastructure in West Virginia and Appalachia are many. Rosser pointed to heavy pollution from the extractive industries, a severe lack of sewage infrastructure in some areas — leading to "stray pipes" dumping raw sewage into the rivers, populating them with dangerous bacteria — and the chemical industry with its own brand of pollutants.
EWG's Alex Formuzis explained that many of the Environmental Protection Agency's drinking water standards that follow the Safe Drinking Water Act haven't been updated in years.
The decades-long lag in the EPA updating the list of dangerous contaminants has resulted in a paradoxical situation, where a utility company could deliver contaminated water to its clients and yet still technically be in compliance with the EPA standards.
That very fact is an important factor when trying to understand the gap between what the data shows as utilities in compliance with the federal regulations, and then the health problems found disproportionately often among populations in certain areas, particularly in places rich in extractive or chemical and heavy industries.
I reached out to the EPA to comment on that claim. The agency responded by outlining a fairly complicated process of of reviewing and introducing new contaminants under the Safe Drinking Water Act. Here's part of it: "The EPA must publish a list of contaminants that are known or anticipated to occur in public water systems and are not currently subject to EPA drinking water regulations every five years, EPA publishes draft CCLs (Contaminant Candidate Lists) for public comment and considers those prior to issuing final lists or regulatory determinations."
The EPA's official also stated that: "The Safe Drinking Water Act (SDWA) requires EPA to review each national primary drinking water regulation at least once every six years and revise them, if appropriate. … EPA most recent Six-Year Review evaluated thousands of peer reviewed studies and millions of data points from drinking water treatment systems and was published in January 2017. The results of that review identified rules EPA can evaluate whether to modify to strengthen public health protection in future years. This review ensures that existing rules are offering the maximum public health benefit feasible."
On its face, that appears to be a lot of active effort to keep those lists updated. EWG sees it differently. According to the group, despite the process being in place, it has failed to produce any new and substantive regulation. The 2008 EWG's report stated that "the track record of the CCL program raises many reasons for concern, because in twelve years of this program's existence, EPA has not developed drinking water standards for even a single chemical listed in the CCL."
In an article, this time from 2016, EWG once again pointed to the EPA's inability to "exercise its authority to protect public health from previously unregulated contaminants."
The last Regulatory Determination for CLL 3, published in January of 2016, didn't add any new chemicals to the list and postponed its final determination on one (strontium). The Regulatory Determination for CLL 4 is due in 2021. EWG recognizes some of the chemicals on the CLL 4 list (1,4-Dioxane; 1,2,3-trichloropropane, cyanotoxins, manganese, PFOA, PFOS, nitrosamines, pesticides, and hormones/endocrine disruptors) as potential risks to human health.
"Since 1996, EPA has been stuck in an endless loop of reviews, seemingly unable to set new standards for numerous contaminants found in drinking water. And without federal regulations, these contaminants continue to threaten the health of many millions of Americans," author of the previously mentioned report and EWG's senior science adviser, Olga Naidenko, told 100 Days in an email.
Here are some contamination issues of several zip codes across Appalachia we selected from the Environmental Working Group's database. We chose to list results for both small and major water utilities.
Although our selection focused exclusively on Appalachian counties, the general pattern that emerged for the Appalachian states as a whole showed that in the case of nine of them (New York, Pennsylvania, Ohio, Maryland, West Virginia, Ohio, Virginia, North Carolina, South Carolina and Georgia) the utility companies with the highest number of violations were the ones serving the smallest communities, while for the remaining fours states (Kentucky, Tennessee, Mississippi and Alabama) the same was true, but instead for medium sized communities.
Let's take a closer look at one example. Oneida Water and Sewer Comm. in Tennessee serves over 11,000 consumers. In the last three years, that specific water utility remained in "significant violation of federal drinking water standards" for the total of nine quarters, and from October 2014 to September 2017 it spent the total of 12 quarters with "violations of federal drinking standards." The pollutants found in the water that exceeded health standards came from industry, agriculture or were treatment byproducts. All of the chemicals found were above the health guidelines, but below the national guidelines, are known to be related to cancer.
The rest of our selection can be found here.
---
The Fix
The people of Appalachia tend to value self reliance and, for the most part, manage to avoid the lure of outsiders promising false hopes. Many have accepted the price of living in an environment characterized by extreme costs, whether to their health or their surroundings, and extreme pay offs — to this day working in a mine remains among the highest paying jobs in the region. Rosser described it as a "fatalistic sense of place."
She has met and talked to people who were outraged over the water infrastructure and water quality, but also exhausted and sick because of those very problems. "I have stray sewage around me, but even me, working in this field, I try to put it 'out of sight, out of mind.' … because I don't know what to do about it," she said.
Mountainous populations are often spread out, making it harder to organize and muster mass movement around issues like this, even if they do affect one's everyday life. Priorities come to a head when basic, immediate needs and more idealistic, long term issues are pitted against each other.
It shouldn't come as a surprise then that the "Infrastructure Initiative" announced by the White House in February turned a lot of heads. The water infrastructure element occupies a prominent position within the proposal.
From flood management to waste water treatment facilities, the projects are supposed to be bolstered by the initiative in both direct funding and incentives for private industry to step up.
The $200 billion proposal is estimated by the White House to generate over $1.5 trillion of investment in American infrastructure. $50 billion of the entire federal pot of money is supposed to be funneled into rural America.
Water quality and infrastructure problems across Appalachia, particularly in the states with robust extractive industries and economies often based on boom-bust cycles, like West Virginia, Eastern Kentucky or Pennsylvania, are often intertwined with poverty.
"What I've seen and noticed and heard from others is that when you're in a heavily mined community, you look around and there's no other jobs, certainly no that pay $60,000 and upwards. … There are communities where water well becomes contaminated but then the company comes in and builds infrastructure for public water system," Rossier told me.
Keating's comments echoed that sentiment: "when you're talking to regular people, it's about jobs for them … When you're talking to county commissions it's about tax revenue … And when you have over 50 percent of the population living … at or below the poverty level, then you have an issue with people's well-being that isn't being addressed by the industries that they're able to get jobs in."
"So what happens in poor communities is that we were so focused on job creation that we'll take anything that's handed to us. We've been an extraction colony for over 150 years. It started with railroads and timber and then it went to coal and then it became gas."
Some in Washington, D.C., including West Virginia Sen. Joe Manchin, question the likelihood of the proposal coming through. "We're not seeing any money put into it … When you have $1.5 trillion of additional debt because of the tax cut, makes it hard to do anything, so we're fighting and trying to make sure they'll be able to (do it). I've got water and sewer needs, all over a very challenging terrain," the senator told me during our brief conversation in late April.
The money dedicated to water infrastructure, and in the infrastructure proposal overall, is meant to encourage investment, meaning the $1.5 trillion is a projection, not hard cash that's secured for rural America or Appalachia.
Out of the entire sum, the $50 billion would go to the Rural Infrastructure Program that would include all investments. Here's how the funds from that pot would be distributed:
80 percent of the funds under the Rural Infrastructure Program would be provided to the governor of each state via formula distribution. The governors, in consultation with a designated federal agency and state directors of rural development, would have discretion to choose individual investments to respond to the unique rural needs of their states.
20 percent of the funds under the Rural Infrastructure Program would be reserved for rural performance grants within eligible asset classes and according to specified criteria.

Funds made available to states under this program would be distributed as block grants to be used for infrastructure projects in rural areas with populations of less than 50,000.The Rural Infrastructure Program outlines the following way of determining how rural any given state is:
Distribution of Rural Infrastructure Program Formula Funds
The statute would create a "rural formula," calculated based on rural lane miles and rural population adjusted to reflect policy objectives. Each State would receive no less than a specified statutory minimum and no more than a specified statutory maximum of the Rural Infrastructure Program formula funds, automatically. (p.6-7)
According to the proposal, states could also apply for the Rural Performance grants for specific projects within two years from the enactment of the infrastructure proposal. Grants would be available for up to ten years, or until the funds run dry.
Asked about his take on the private industry picking up the tab, Sen. Manchin said that, in his view, private industry is good for more urbanized areas, but that "in rural America … there's not enough market. If somebody wants to come in and when they do, they will take the lion share and not make it any easier at all for people who live there."
Rosser shared a similar view: "there's no incentive unless they (private companies) are heavily subsidized."
April Keating and others we talked to think the proposal's language is a code for more leaniacy towards big businesses.
And that's an important point to keep in mind. The administration's proposal pushes for more engagement on the part of private industry by easing the permitting process, extending tax exemptions, or lessening the oversight, while at the same time arguing for benefits for the citizens and disregarding rampant environmental and health dangers.
Here are some examples we highlighted of language found in the actual document outlining the infrastructure initiative.
Asked about its position on the funding related to water infrastructure in the President's Infrastructure Initiative, an EPA official who wanted to remain unnamed admitted that the agency is not familiar with its specifics.
Although the funding itself for the initiative seems to be in question, it is worrisome that the agency that could be involved — in different capacities — with many of the projects looking to receive money from the proposal is not familiar with its details.
Issues involving the EPA range from extending permits' legibility from five years under the Clean Water Act to 15 years to, in some cases, allowing for automatic renewals to providing tax incentives to invite private investments in water infrastructure such as sewage facilities, solid waste disposal facilities or in environmental remediation costs on Brownfield and Superfund sites.
While political pressures first influence the shape of laws, it's also the political appointments at the level of the Cabinet Secretary of the Governor that lead the enforcement by West Virginia's State Department of Environmental Protection.
Another piece of the puzzle is the failure to keep people and companies accountable.
Keating told 100 Days that the mining companies often struggle with the disposal of waste, and use methods that are controversial to say the least. "Now they're talking about spraying it on roads. The brine itself that comes out of the earth is ten times saltier than seawater. And so even the brine without the chemicals would kill anything."
Appalachian communities tend to show a lot of mistrust towards government regulations, just as they show mistrust to the very industries that have been the economic backbone of the region. Rosser thinks that missing trust is a big part of the problem, but the current politics don't make it any easier for people to change their minds.
For example, on April 23 West Virginia Gov. Jim Justice issued his third executive order expediting permitting procedures for businesses, following two that rolled back and halted industry regulations. He also put a moratorium on new regulation and set up an expedited process for permit approvals for certain projects.
"Political forces and benefits to industry do get favor, sometimes over the science or what's in public interest in terms of environmental protection and health protection," Rosser said.
The recent "Almost Heaven" ad campaign was designed to promote tourism in West Virginia. Yet, Rosser said that "when you travel in West Virginia, water is everywhere and some pollution is invisible. It looks good. It looks pretty … We don't know what's in the water," she pointed out. Ironically, a majority of the video ad showcases pristine-looking streams and creeks.
But water infrastructure investment could be a part of something much broader than providing essential services.
According to professor of geography Martina Angela Caretta of West Virginia University, "If there was a concerted effort … to put more money into restoring infrastructure, restoring rivers and really pushing this restoration economy, would actually be a big push towards transitioning of the economy of Appalachia."
Prof. Caretta believes there is a workforce ready to take on those jobs, as well as plenty of grassroots organizing happening around the state. We will take a closer look at those individuals and organizations ready and willing to take on economic and environmental challenges.
---
This is the first of a two-part series. Part two of this article profiles individuals and groups across the region that focus on solving problems diagnosed here.
Writing and reporting: Jan Pytalski
Editing: Lovey Cooper, Colleen Good
Infographics: Shayla Klein
Additional reporting and videography: Emily Pelland
Unpacking The Ways Climate Change is Affecting West Virginia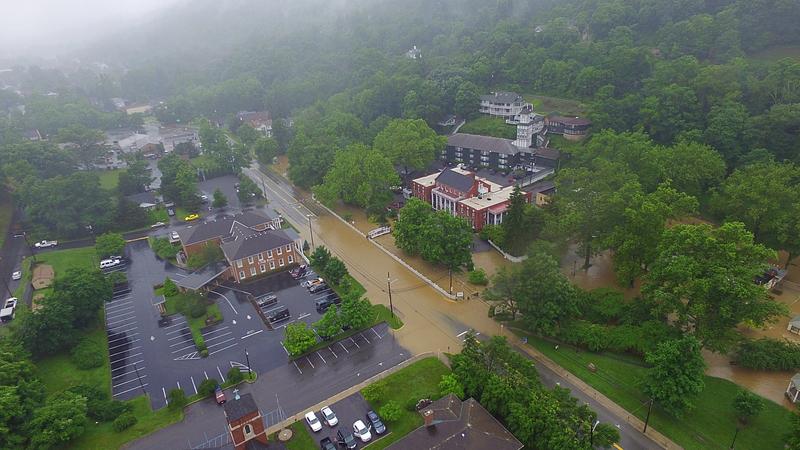 Last week, the Intergovernmental Panel on Climate Change, or IPCC, the U.N. body that provides objective, scientific reports on climate change issued a grave warning: Humans are running out of time if we are to prevent the worst impacts of global warming.
While the report took a global view, here in the Mountain State, scientists can already document the impacts of climate change. Many parts of the world are bracing for more extremes including and higher temperatures and more severe droughts, while the prognosis in West Virginia is more of a mixed bag.
"West Virginia's climate has become milder with warmer winters, cooler summers and generally more humid conditions year-round," said Evan Kutta, the climate sciences program manager for West Virginia University's Institute of Water Security and Science.
Data show that between 1906 and 2016 maximum temperatures decreased 5.3 percent, while minimum temperatures increased 7.7 percent. Over the last century, precipitation has increased 2.2 percent.
While some aspects of West Virginia's economy may benefit from the milder winters as a result of a changing climate – including agriculture and some outdoor recreation industries – expected increases in rainfall could pose challenges to human-constructed infrastructure.
"The flooding that happened two summers ago in 2016 was truly severe and that could be something that we see more often," Kutta said.
West Virginia is one of the most flash-flood prone states in the country, and maybe even the world. The stacked ridgelines of the Appalachian Mountains and deep hollows are really good at shaking moisture out of storms, and channelling it quickly downstream to larger rivers.
He added that more research and planning is needed to tap into the opportunities that could be wrought from climate change as well as challenges.
Agriculture and Forests
When it comes to West Virginia agriculture, climate change has mixed implications.
Unlike in places like California, where climate models predict warmer, drier conditions, in Appalachia, milder conditions could result in a longer growing season that could support a more diverse variety of crops, Kutta said.
However, with more moisture also comes more cloud cover.
"That reduces sunlight available for crop growth," he said.
In fact, the impacts of a wetter West Virginia are already being observed across the state's forests. Scientists see changes in the types of tree species putting down roots in West Virginia. Oaks are being replaced by maples, which prefer shadier and wetter conditions.
"Maples are more vulnerable to droughts, but the increasing number of maple trees in the state indicates that droughts are becoming less severe and water resources are becoming more abundant," he said.
West Virginia's Role
The IPCC report stresses that to prevent 2.7 degrees of warming, greenhouse gas pollution must drop significantly. Burning coal for electricity, which is the most carbon-intensive source of fuel, would have to decrease from almost 40 percent today to between one and seven percent by 2050.
That could greatly impact West Virginia, which is the second largest producer of coal in the United States and in 2017 sourced 93 percent of its own electricity from coal-fired power plants, according to the U.S. Energy Information Administration.
The state could also play a significant role in mitigating climate change, according to Kutta.
"The ongoing transition away from coal has been difficult, but West Virginia is rich in other natural resources that could represent a boon for the state's economy," he said. "The Marcellus and Utica Shale formations represent sources of natural gas, a cleaner fossil fuel that may ease the crucially needed transition to renewable energies."
Furthermore, the rugged terrain of the Mountain State offers many opportunities for renewable energy.
The ridges of the Allegheny Mountains could be prime wind turbine real estate. Abundant water resources could support hydroelectric generation and Kutta said West Virginia is even rich in geothermal energy.
"It's actually from all of the wells that have been drilled in the state," he said. "They've found temperatures in excess of 150 degrees Celsius just a couple of kilometers below the surface, which would be suitable for commercial scale energy production if the funds are available."
Overall, the new IPCC report paints a rather grim picture. The scientists who put it together looked at more than 6,000 published studies and found that over the next two decades the planet is on track to see global temperatures rise nearly 3 degrees above where they were prior to the industrial revolution.
The authors note the impacts of continued warming include food shortages, wildfires, severe droughts. Coral reefs will experience mass die-offs and millions of people living on the coasts will need to relocate.
The report estimates the cost of not preventing global temperatures from rising above 2.7 degrees will cost some $54 trillion in damages.
The authors also note that doesn't have to be our future, but the world needs to act fast to prevent it from happening. Kutta agrees.
"It's a problem that is bigger than each individual, so we need to be working together as a group to solve this truly enormous challenge," he said.
This article was originally published by West Virginia Public Broadcasting. 
Some call it the Rappahannock Hustle, and the many who do it need no further description.
It's the way to make ends meet by stitching various small jobs, formal and informal, into a livelihood. It helps prop up the local economy. But it also hews tightly to two challenges facing Rappahannock County's younger population: stable, well-paid work and affordable housing.
Addressing those challenges matters more as the overall population ages and as other rural counties compete to draw in people who bring new ideas and vibrancy.
After years of population loss, rural areas added around 33,000 residents nationwide between 2016 and 2017, the first time since 2010, according to an analysis of census estimates by the USDA's Economic Research Service.
Quality of life is the No. 1 factor pulling people toward more rural, low-density counties, says Ben Winchester, a researcher at the University of Minnesota Extension who studies what he calls "brain gain."
"That includes things like recreational opportunities, less traffic, less congestion," Winchester says.
Those things and more are what draw people to Rappahannock — home to rolling hills, starry night skies and a slower pace of life seldom found so close to a bustling metropolis. All ages and political persuasions here harbor a love of the natural environment.
Gaining access to it means facing certain challenges, and if you are young those hurdles can be higher.
Artist Kat Habib, 33, moved to the county in 2013 and has picked up work doing everything from painting houses to making coffee to bartending to property management.
Twenty-four year-old Tessa Crews has worked as a shop attendant and served at wedding parties. She now works as an innkeeper at the Inn at Mount Vernon Farm, does part-time design work for an Australian publishing company and picks up babysitting shifts.
"It's incredibly hard to make a living," says Habib. "And it's beautiful to be here and it's good to be here, but the cost of living is very high."
The Hustle is typically associated with urban communities, the grind of which many who move here are escaping, but local housing's high cost and limited stock, paired with that paucity of reliable, steady work, make it a necessity.
A shortage of full-time jobs that pay a living wage, with benefits — particularly for college graduates — impacts all age groups in Rappahannock, not just those under 40 like Habib. Piecemeal work and part-time gigs — frequently as part of the underground economy — are more readily available. Folks cobbling these work opportunities together are often younger and single.
The rural economy has become more diversified, said Winchester, who studied rural communities in Minnesota and Nebraska. He found evidence there of people holding a diverse array of jobs and more self-employment. Those characteristics have echoes here in Rappahannock.
"You have to be more creative when you live out here," says Sperryville Realtor Cheri Woodard, herself a long-time entrepreneur. "You have to think about what you can do, what skills you're bringing, what can you offer to people."
That's true for Crews, who grew up in Rappahannock and officially moved back late last year. She'd been gone long enough, she says, to realize what was special about the county.
Like others, she discovered that knitting together an income in the Hustle economy relies on word of mouth.
"If you look online it doesn't exist, but as soon as you start talking to people, that's how it happens," Crews says.
Forming that local connection isn't always easy or immediate, but the advantage often goes to those like Crews who grew up here or have some connection to the county.
A numbers game
Job availability is one thing; willing workers is another. Help Wanted signs hang in windows around the county, but small business owners say they struggle to find employees.
"I cannot find young people that want to do the work that we do," says Adam Kerr, 39, the founder and president of Rappahannock Landscape & Nursery. That's not unique to Rappahannock. But part of it here is also a numbers game. "There's not a lot of young people," he says.
Kerr pays his employees well and offers them some retirement benefits.
But finding a way to pay Rappahannock rents often over $1,000 a month is tough on a $10-an-hour salary, which is more common.
"There's work here if you want to work," says Habib. "The question is, can you rely on it from week to week, and that's tricky."
Cara Cutro grew up seeing her parents leave the county to make their livings, so when she decided to come back after six years away, she just knew she'd find a way.
"Part of what's allowed me to survive here, aside from feeling very strongly that this was my home, was working multiple jobs, having multiple hats," she says.
Cutro started working in restaurants and then created a mobile massage business. She diversified her services to include private online coaching and medicinal herbs. In 2016, she opened a physical location in Sperryville, Abracadabra Massage & Wellness, but has continued to pick up landscaping work when needed. She also shares her home with a roommate.
"You have to be determined that you're going to live here, and you have to make it work," she says.
That determination often comes with some deeper connection, and people who haven't grown up here may be less inclined to stick it out.
Aron Weisgerber, 33, built the home he now shares with his wife and two children on land his parents own. He realizes that gives him an advantage — though he still pieces together work in construction, solar panel installation, realty and outdoor education.
Woodard concedes that real estate is expensive overall. There are homes under $250,000 and some rentals under $1,000, which she says are "very desirable." But Airbnb is taking up some potential rental spots, and some are tucked away on private property, reserved for friends and family.
"Our inventory here is small," she says.
Community is key
Another shortfall, say some residents under 40, is the lack of a social scene or a place to meet new people.
"There's nothing here, aside from going to the bar, and there's not that many of those either," says Kerr, who picked up side work in order to build his business.
He has a young son and much of what's kept him in the county is the support of his family. For a young family to come here and do it on their own, he says, "that is just mind-blowing to me."
Habib looked at other counties in the region and liked them because they were more affordable and had larger populations of people under 40. She chose Rappahannock, she says, because it felt like the Virginia of her childhood.
What's kept her here are the outdoors and finding a house that she says really feels like home. More importantly, she's found a creative, supportive community.
"There's many of us that are creative and seeking our dreams," she says. "We're not the nine to fivers. If we were we wouldn't be here because we couldn't survive."
Others agree; it's the people that make this place.
Researcher Winchester says he's found that jobs are less of a priority for people looking to move to a place like Rappahannock.
"Ultimately people would look around, and they looked for a community before they looked for a job," he said.
But that can lead to underemployment, said Winchester, be it a lack of full-time work or work that deviates from one's skill set.
Not all doom and gloom
It's not unusual for high school graduates to leave small towns for college or other opportunities, says Winchester, who cautions towns against "feeling bad about losing their young people."
"What they should be working on is letting their young people know they have some place to come back to," he adds.
Habib, who is from Warren County, grew up coming to Rappahannock and loving it. She is a studio potter and makes floral arrangements. She also has a steady part-time job managing a career and college access program at Headwaters, a nonprofit group supporting local public education, that provides about half of her income and allows her to spend more time in her artist studio.
While the Hustle makes life hard, for many younger residents it can allow them the flexibility for creative projects and passions.
Maya Atlas, 28, found her path to Rappahannock through her mother, who bought a home and started harvesting lavender. Atlas, who moved out with her partner last September from D.C. to take over the farm, bartends at Francis for a paycheck and helps milk cows and make butter for a neighbor. She has picked up various jobs both out of necessity and a desire to meet people.
Atlas says she brought some of her city pace with her and has since learned to scale back a bit. But the learning curve has "been exponential," she admits. Like many who just make the leap, she says she was perhaps naively unconcerned with finances.
"We will make it work," she says. "It's just a matter of what level of hustle you have to put in."
Still, a slower pace can frustrate people wanting to see progress made, including better broadband access.
For Erin Antosh, 34, who runs an online consulting business, connecting with clients took a toll. She found herself driving to Warrenton, where she had a small office, and spending less and less time being able to enjoy the things that brought her to Rappahannock — the scenery and outdoor recreation. She moved up to D.C. recently to be better connected.
"Rappahannock has the potential to be a place for young people to live and thrive," says Crews, who sees her job at the Mount Vernon inn as a way to advocate for what's special about the county. "But there are serious hurdles that still need to be overcome."
This article was originally published by Rappahannock News. 
This story is part of a series of special reports titled "Work in Progress," with support from Foothills Forum and Rappahannock News looking at the dynamics of changing agricultural economies. The story was originally published by Rappahannock News.
As Rappahannock ages and farmers struggle, where does business — particularly tourism — fit into the economic mix?
Rappahannock County is the kind of place that makes dreams seem possible.
Bill Gadino knows this. It was almost 30 years ago that he bought a rolling patch of 15 acres between Washington and Sperryville, secluded behind the county's elementary school, yet not far from the tourist thruway of Route 211.
Within a year, he was planting grapes, and soon was selling them to the Gray Ghost Vineyards down the highway. In 2003, he and his wife, Aleta, took the leap and moved here. A year later, they started making their own wine. The year after that, Gadino Cellars opened for business.
The dream was coming into focus.
It wasn't easy, but in time, as many as 150 people were showing up at the winery on a good weekend.
Lately, the future seems less clear. Weekend crowds have shrunk to more like 60 or 70 people, he said. The boom in Virginia wineries and cideries — there are more than 260 — has not been good for the ones in Rappahannock. Now, there's much more competition between here and Washington, D.C., and local wineries are feeling the pinch.
"We've built a beautiful place here, but this is draining for us, expense-wise," said Sudha Patel, owner of Narmada Winery in Amissville. "You worry how long can you keep it up."
Bill Gadino shared a recent, troubling conversation with a mother and daughter who had stopped by. He mentioned to the mother that he hadn't seen her for a while.
"And she said, 'You're just too far for me to come out to.' I asked her where she was coming from," he recalled. "And she said, 'Oh, I live in Gainesville.' That's the mentality of people."
When tourists do make the drive here, he added, they often expect to pay less for their wine than they would closer to D.C. And so, business has taken a hit, as has Bill and Aleta's plan of one day turning the winery over to their daughter, Stephanie and son-in-law, Derek Pross, who worked there. The younger couple has moved to North Carolina.
"She told me, 'It's not going to grow, Dad. It's going down, it's not going up.'"
Old in, young out
The Gadino story is a familiar one. Someone falls in love with the rapturous beauty of the Rappahannock countryside and concludes that it's hard to imagine a more fulfilling place to live and start a business.
But economic, demographic and technological realities have a way of complicating matters. Most new business owners — particularly those in any way reliant on tourists — know things can go dead during the winter when lodges and campgrounds in Shenandoah National Park are closed, but they often don't realize how dead. And, there just aren't enough people living here full-time to help ease the pain much. At 27.9 people per square mile, Rappahannock ranks 122nd among Virginia's 132 cities and counties in population density.
They also learn how hard it can be to find and hold on to workers, especially with so many young locals moving away to what they see as better opportunities elsewhere. Then there's the challenge of doing business in a community where reliable cellphone and broadband service can be a roll of the dice.
Craig Batchelor has been wrestling with these issues for two years, ever since he and his wife, Caitlin, and his brother Clay, bought the Sperryville complex now containing Thornton River Grille restaurant, the Corner Store, Rappahannock Pizza Kitchen (RPK) and the Francis Bar. With just under 50 people working for him, he's now one of the top 10 employers in the county. Many of his employees live outside Rappahannock, which means a commute that costs them time and money, and can also lead to staffing headaches during bad weather.
He sees firsthand how hard it is for young people to find a niche here. And that makes him worry about the county's future.
"When I stay awake and worry about things at night, it's that aging of the community," he said. "It's a slow, definite trend over the next 10 or 15 years."
Batchelor said he's met a lot of millennials who have grown up in Rappahannock. Some leave and come back. Most don't.
"Those who have stayed have tried to eke it out," he said, "but that often means having a lot of different jobs. That may be fine when you're 20 or 21, but when you're 27, it kinda gets old, especially if you want to start a family. If you want to get more stability, that can be hard here."
So can finding a place to live that's within the means of younger workers. That's why Debbie Donehey, owner of Griffin Tavern in Flint Hill, offers employees a reduced rate at a few rental properties she and her husband, Jim, own in the county.
"People can't work at the Tavern and afford to pay $1,000 a month rent," she said.
Future expenses
Like Batchelor, Donehey, who describes Rappahannock as "my little part of heaven," sees the community moving into a period of transition. As its residents get older, they will likely need more services, particularly when it comes to emergency care.
"It will be very difficult to do everything the county will need to do without more income of some sort," she said.
Where that comes from is the question that hangs over the community's future like a thundercloud. Currently, about 84 percent of the county's local revenue comes through property taxes. Donehey appreciates how the idea of relying more on commerce to generate revenue can stir up waves of anxiety.
She's had personal experience with rural transformation, having grown up near Doswell, Va., a tiny hamlet in Hanover County until King's Dominion arrived in the 1970s. At first, it seemed a blessing — "As a kid, I thought 'Oh, we're getting a Burger King,'" she remembers — but the place was forever changed.
Yet, Donehey, a former chair of the Virginia Restaurant, Lodging & Travel Association, believes efforts to attract more tourists to Rappahannock can help the county financially without ruining the idyllic feel of a place without stoplights.
"It's very difficult to prove to people who are opposed to promoting tourism that it's going to add value to your community," she said. "But I really believe there is value there.
"I would hope there's a big future for agritourism here if we can figure out what it is. We have some darn savvy people in this county. And, they care about it and want it to stay this way. But they also understand we have expenses."
Not money well spent?
While tourism is generally acknowledged as a financial opportunity — including in the county's comprehensive plan — there's hardly consensus over how big an opportunity and how much money and effort should be expended in trying to boost it.
Tourism's direct contribution to the county's budget is still quite small. Revenue from the local tax on meals (4 percent) and lodging (2 percent) has risen from just under $100,000 in 2000 to more than $260,000 for the current fiscal year, but that remains just slightly more than 1.5 percent of total revenue from local sources. (Any meals or lodging tax revenue generated by the Inn at Little Washington and other restaurants and B&Bs in Washington goes to the town only).
Another source of tax revenue is the state sales tax, currently at 5.3 percent. One percent of that revenue — now about $515,000 a year — comes back to Rappahannock. Not only is that only 3.5 percent of total revenue from local sources, but it's based on all sales, not just those to tourists.
Just under $50,000 has been allocated in the FY 2018 county budget to promote Rappahannock — about 0.2 percent of the total budget or about $7 per county resident. That includes a payment of $9,000 to Sandra Maskas, who, Friday through Sunday, welcomes and advises tourists who stop by the Rappahannock County Visitor Center on Route 211.
But Rappahannock is one of a handful of counties in Virginia without even a part-time tourism director. The last person to fill that role, Laura Overstreet, retired in 2012 and was never replaced.
Board of Supervisors vice chair Chris Parrish remains convinced that it's not money well spent. He believes that paying someone to develop a tourism strategy and coordinate events and promotion would not be a fruitful investment. In fact, he's not sure the county benefits that much from having a visitor center.
"If you took that away, I don't think you'd see a marked difference in tourism," he said. "Tourism will spread by itself by word of mouth. People come out here and they enjoy themselves and they go back home and talk about it.
"When it comes to tourism," he added, "you have to be a little careful of what you wish for. I've been to places that have been ruined by tourism. You know, the traffic, the attitude of the people."
Connecting the dots
Others, though, argue that tourism doesn't have to be a destructive force, that in a place like Rappahannock it's more about piecing together a marketable mosaic of what it already has to offer — from wineries and B&Bs to events as varied as the Farm Tour and the "Yeaster" party at Pen Druid Brewery in Sperryville.
"What you hear from B&B owners a lot is their guests always ask, 'What am I going to do out here?'" said artist Patti Brennan, owner of De'Danann Glassworks. "There's actually a lot to do, but it has to be presented in an organized way. No owner of a B&B is going to know all the things going on out here."
Brennan, who thinks relying on word-of-mouth promotion is "short-sighted," has done her part to get local artists, wineries and restaurants more exposure by getting them connected to the Virginia Artisan Trail Network, a statewide organization that maps out regional experiences for tourists by linking together artisans and hospitality businesses.
She contends that the county needs a staff person to connect the dots and cultivate collaboration among businesses, with the goal of getting tourists to associate Rappahannock with experiences other than pretty views. And, she believes that tourism doesn't have to have a big footprint.
"Yes, our landscape is the Rappahannock brand," said Brennan, who has lived in the county since 1981. "But we also do have a concentration of very talented people. None of what they've brought out here has done damage. Things really haven't changed that much."
Carl Henrickson, who with his wife, Donna, opened the Little Washington Winery off Route 211 in 2011, agrees that people need to be given a reason beyond beautiful scenery to drive out here. "At first, we sat here like everyone else in Rappahannock, waiting for people to show up. We put a sign up and we thought 'We're done with marketing.'"
But there were long stretches on weekend mornings and early afternoons when visitors were scarce. So, in 2012, they came up with the idea of a Wine Bootcamp — two-hour classes of 20 people wanting to learn wine basics. Carl Henrickson estimates that since then, based on their email database of Bootcamp graduates, close to 10,000 have attended. Also, he said, they spend about $20,000 a year to promote it.
He maintains that the time has come for the county to do a better job of projecting a more wide-ranging Rappahannock experience to the outside world. "What we're missing is that branding that says we have a product, and this is that product."
Not just for tourists
Not long ago, Theresa Wood, in her capacity as president of Businesses of Rappahannock (BOR), was at a conference in Richmond with tourism directors representing counties around Virginia. More than once, she said, when a person heard she was from Rappahannock, they would tell her, "Oh, I love Rappahannock. It's so beautiful there on the water."
The confusion with the river that flows into Chesapeake Bay is good for a laugh, but that lack of awareness is also probably reassuring to those in the community who believe the less outsiders know about Rappahannock, the better.
Wood gets that. She knows how many of the 188 businesses that are BOR members were started by people who chose to give it a go in Rappahannock because it isn't like other places. But she also believes that boosting local business doesn't have to be an all-or-nothing proposition.
"The vision we have is that the very thing Rappahannock has to offer — its natural beauty — we don't want to change any of that," said Wood, an owner of Kattle 1 Beef. "We're not looking to put a hotel on 211."
But there is value, she said, in exploring how other rural communities are adapting to uncertain futures, and what kind of businesses they see as having the most potential to sustain, rather than change them.
"My concern is that if we haven't planned for making a bridge between agriculture and tourism, then we could be in trouble," Wood said.
To that end, Wood has been encouraging BOR companies to tap into the considerable promotional muscle and grant opportunities of the Virginia Tourism Corporation, the driving force behind the state's tourism industry, which generated an estimated $25 billion in revenue last year.
The BOR board has also held workshops to help members get up to speed in using Facebook and other marketing skills and doing smartphone photography to keep up with competitors in bigger markets with better broadband.
But those things take up time, something owners rarely can spare when they're running very small businesses like those so common in Rappahannock — by far, the largest number of companies here have four employees or fewer.
Wood has made a point of trying to raise the profile of local companies. For the first time, BOR is working closely with The Inn at Little Washington to incorporate more county businesses into the big "InnStock" 40th anniversary celebration in September.
Also, this year the BOR has staged four ribbon-cutting ceremonies, to mark the openings of Happy Camper and Stonewall Abbey Wellness in Sperryville, LeFay Cottage at Little Washington and Hazel River Arts and Antiques. It's a symbolic gesture, but one meant to spotlight the role they play in the community.
"Many of the businesses here don't just serve tourists," she said. "They help sustain a way of life."
Career challenges
That way of life, of course, is why a lot of businesses are started in Rappahannock. Often, it's more a personal decision than a strategic one, based on the allure of a place rather than conventional market assets, such as easy access to a major highway, a skilled local workforce, a robust supply of potential customers.
So, many struggle, and if they do grow, it's slowly, which means few opportunities for young workers. Other factors, including the county's technological shortcomings, also help stifle career options.
Take the booming field of software programming. It's not really in play here. "Training in coding is huge right now. We could do that here," said RappU founder Doug Schiffman. "But I just don't know that the demand is there in the community.
"There are things we could do if we had full-blown cellphone and internet access here that we can't do now," he added. "If we had a cellphone network here, Rappahannock would be the perfect place for Uber and Lyft. You have all these people who are underemployed who have vehicles. You have all these older people who need rides everywhere and are able to pay for it. But we have no way of connecting them."
Currently, the greatest employment potential appears to be in providing services to the demographic group growing most quickly — affluent retirees. That ranges from landscaping their gardens and mowing their fields to providing care when their health starts to slide.
In line with that trend, RappU has focused its vocational training programs on health care, including a popular course to earn certification as a nurse aide. Schiffman said students are being recruited for jobs before they even graduate.
But no company that hires nurse aides is located in Rappahannock, which means course graduates either work for a company in another county, or they work off the books here.
That frustrates Schiffman. "My goal is not to train people and have them work in the underground economy," he said. "But they can often make more money getting paid cash than if they work for a company.
"We want them to be able to get real jobs, get real salaries, with paid benefits, and that allow them to put money toward a retirement account," he said. "The disappointment continues to be that the employers are not in Rappahannock. There's nothing I can do about that."
Breaking down walls
It's appropriate that Craig Batchelor's stake in Rappahannock sits at Sperryville's main intersection. It's not an exaggeration to suggest that his four businesses operate at a critical symbolic crossroads of the Rappahannock economy. The newer enterprises — RPK and the Francis Bar — are geared more to tourists and an upscale crowd, while the Corner Store has a long legacy in the community, and still sells basics, such as eggs, milk and paper towels, although at higher than grocery store prices.
Batchelor's fortunes also are tangled with the county's growing age imbalance. Yes, older, more affluent people are a big part of his customer base, but there's that problem of having a healthy enough supply of younger workers to keep them satisfied.
Batchelor, an older millennial, wonders if there will ever be a new wave of people his age who settle here.
"I would love to have more young people here, for a lot of reasons," he said. "We need a great team of young people who are passionate and interested in locally sourced food, people who share the values of Rappahannock and want to invest their lives here. We need that."
He also hopes that over time, new businesses will not be viewed as a harbinger of upheaval.
"I would like us to be able to strike a balance between our various demographics, while being honest about it," Batchelor said. "One of the things I don't love about our community is the been-here's/come-here's thing. I would love to have a business enterprise that is respectful to everybody.
"I would want folks who have been here a long time to know that we're not only catering to tourists. I really don't want to be another 'either-or' business. I'd like to break down some of those walls. Maybe that's totally pie in the sky. But you have to try."
This article was originally published by Rappahannock News.