Teachers walk out across West Virginia over pay, benefits
Teachers across West Virginia walked off the job Thursday, demonstrating at the state Capitol and at some schools in frustration over what they say is state leaders' refusal to pay them and fund their benefits adequately.
Late Wednesday, Gov. Jim Justice announced that he had signed a bill, passed by the state Senate earlier in the day, that would give teachers a 2 percent raise as of July 1, and a 1 percent raise each of the following two years, as well as raises for other public employees.
Teachers say those raises would be swallowed up by premium hikes and benefit cuts from the Public Employee Insurance Agency. At the governor's urging, PEIA board members froze those cuts for a year, but teachers say a long-term solution is needed.
More than 1,000 demonstrators were in line Thursday morning at the Capitol's West Wing entrance, waiting to express their displeasure with state lawmakers. As of 2:30 p.m., more than 4,500 people had entered the Capitol through the two public access points, according to the state Department of Military Affairs and Public Safety.
Randi Weingarten, national president of the American Federation of Teachers union, joined protesters on the Kanawha River side of the state Capitol. About 200 people were there shortly after 8:30 a.m., when a honking bus let off a dozen more. The crowd chanted "Fed up, fired up!" and "Enough is enough!"
"I'm reporting for duty on the picket line," Weingarten said. "They are engaged in a righteous and fundamental American values fight for dignity and respect."
She said West Virginia teachers have been "disrespected by their government officials who think it's more important to give tax cuts to the wealthy and to corporations" than to invest in education.
"People are saying we can't actually live and teach and we need the Legislature to actually treat us like the priority education should be," she said.
Weingarten said the first step to ending the walkout by March 10, the end of the legislative session, would be "to not do what the Senate did, which was actually to lower the House proposal."
The state Senate shaved a year off the House of Delegates' proposed teacher pay raise of 2 percent next school year, followed by three years of 1 percent annual increases.
Donald Thomas, a teacher at Putnam County's Hurricane High School, was among those protesting in front of the Capitol. He expressed a commonly heard comment on the already enacted freezing of Public Employees Insurance Agency health insurance premiums and other aspects of PEIA benefits through the middle of 2019.
Amid the growing protests from public school employees, Justice proposed that move, which stopped previously approved benefit cuts from occurring, and Republican legislative leaders have pushed to find funding to support the freeze.
"They want to wait until after November, I think is the problem most people have, trying to shut us up for the election," Thomas said. "I feel like that's what most people are taking from the 17-month freeze."
In Boone County, a group of teachers held up signs and waved to passing drivers in front of Scott High School.
"These are issues we've wanted to address for a while now," said Scott High teacher Kelli Vance. "Especially with it being statewide action, it goes to show it's a bigger deal to us than they thought."
Heather Ritter, a librarian at Scott, said: "When we went to the Board of Education's website last night and saw the entire state was red— that was amazing. They weren't unified in 1990, but we are today."
Counties highlighted in red denoted ones that were taking part in today's protest. Eventually, the entire map was colored red Wednesday evening.
Staff writer Caity Coyne contributed to this report.
This article was originally published in Charleston Gazette-Mail. 
Fact-check: Is Jim Justice the First West Virginia Governor to Fight For Teacher Pay Raises?
West Virginia Gov. Jim Justice, facing a competitive Republican primary in 2020, recently introduced an ad touting his accomplishments in office, including a focus on K-12 education.
The ad, released in a Dec. 4 tweet, features several West Virginians reading off a series of scripted accomplishments from Justice's tenure. One of the accomplishments, voiced by a teacher, is that "Jim Justice is the first West Virginia governor to fight for pay raises for educators."
This struck us as odd since governors of all parties regularly tout their support for teachers — a group that's popular with voters and, in many states, a politically powerful constituency.
Teacher salaries have been an especially sensitive issue in West Virginia. Between 2005 and 2017, West Virginia teacher salaries never rose higher than 44th in the nation. That history set the stage for a 2018 teacher strike in West Virginia, which was the state's first major K-12 walkout in almost three decades. Justice eventually signed a 5 percent pay bump, which is more than the legislature had offered prior to the strike.
So is Justice really the first West Virginia governor ever to push for teacher pay raises? His office did not respond to inquiries for this article, but we found that each of Justice's five immediate predecessors either proposed or enacted teacher pay raises.
Gov. Earl Ray Tomblin, Democrat, 2011-2017
In his first state of the state address in 2011, Tomblin proposed a one-time, across-the-board $800 increase for teachers. "Frankly, it should be more and we need to strive for a day when our teachers are paid at a rate equivalent to the most important role they play," he said in the speech, according to the Associated Press.
In 2014, despite offering few increases in his relatively austere budget proposal, Tomblin did include a 2 percent pay raise for teachers. The bill he eventually signed contained a $1,000 raise for teachers for the 2014-2015 school year.
Gov. Joe Manchin, Democrat, 2005-2010
As governor, Manchin — now a U.S. Senator — periodically sparred with teachers' unions over the size of his salary increase proposals. But both Manchin's Senate office and West Virginia teachers' unions agree that he proposed a teacher salary increase and signed it into law.
During his tenure, Manchin raised teacher salaries by 3.5 percent, according to a joint statement released by the West Virginia Education Association, the American Federation of Teachers-West Virginia, and the West Virginia School Service Personnel Association when the groups endorsed Manchin's Senate reelection bid in 2018. Manchin's Senate office cited the same 3.5 percent increase when we inquired.
The legislation Manchin signed also improved teachers' annual salary increments and allowed educators to move from a 401(k)-style defined contribution plans to a defined-benefit system.
Gov. Bob Wise, Democrat, 2001-2005
In his 2001 state of the state address, Wise proposed raising teacher salaries by $1,000, plus $2,500 in incentives. "Teachers are the heart of the educational system. We must honor the work of our teachers," he said.
After leaving the governor's office, Wise became CEO of the Alliance for Excellent Education, an education advocacy group.
Gov. Cecil Underwood, Republican, 1997-2001
In his 1998 state of the state address, Underwood proposed giving teachers a $750 pay raise. He signed a three-year pay raise into law later that year.
Gov. Gaston Caperton, Democrat, 1989-1997
Caperton was governor during a divisive, 11-day West Virginia teacher strike in 1990, but he ended up presiding over a significant pay increase for the state's teachers. The strike was settled when all parties agreed on a $5,000 pay increase phased in over three years.
Last year, PolitiFact reported that most significant recent improvement in West Virginia teacher pay compared to other states came between 1990 and 2000, a period during which Caperton and Underwood were in office.
Like Wise, Caperton headed an education group — the College Board — after serving as governor.
Our ruling
Justice's ad said he's "the first West Virginia governor to fight for pay raises for educators."
That's far off-base. Seeking pay raises for teachers is practically a rite of passage for governors, and West Virginia is no exception. Not one, not two, but each of Justice's five most recent predecessors — Tomblin, Manchin, Wise, Underwood and Caperton — either proposed a teacher pay raise, signed one into law or both. We rate the statement Pants on Fire!
This article was originally published by PolitiFact.
Appalachians are Dying at Higher Rates than Almost Anywhere Else in the Country. Investing in Education Could Change That.
Appalachia is, and has been for decades, lagging behind the rest of the nation in a number of health outcomes. The region struggles with heart disease, diabetes, cancer and much more.
But new research on the rate at which Appalachians are dying has health officials calling for more investments in not just health care but in education and economic development to reverse the trend.
Alarming Death Rates
A recent study by the National Center for Health Statistics found that in 2017, four of the five states with the highest death rates in the U.S. lie either partially or fully in Appalachia: Alabama, Kentucky, Mississippi and West Virginia. These four states, and the fifth on the list, Oklahoma, saw people dying at a rate 50 percent higher than the five states with the lowest rates: California, Connecticut, Hawaii, Minnesota and New York. 
The elevated death rates were reflected in the top five causes of death in the country: heart disease, cancer, stroke, chronic lower respiratory diseases and unintentional injuries. The rate for chronic lower respiratory diseases was double that of the five lowest states on the list; the rate for unintentional injuries, nearly so.
"We knew that mortality rates vary widely by state; that has been the case for a long time," said Jiaquan Xu, an epidemiologist with the National Center for Health Statistics and author of the study. But for several of the causes in the states with the highest rates, he said, "those rates are much higher than we originally thought."
The purpose of Xu's study was simply to present the statistics. It does not dig deeper into the causes of the disparate rates seen across the country, nor the elevation of the rates in Appalachian states. But Xu trusts there will be people sufficiently concerned by his findings to delve into the causes. Randy Wykoff is one such person.
Roadmap to a Healthier Future
Wykoff is the dean of East Tennessee State University's College of Public Health. In research of his own, he's dug deeper into the death rates of central Appalachian counties and their causes.
Wycoff has looked closely at the death rate of the 238 counties that make up the central part of the region. Those counties are in Kentucky, North Carolina, Ohio, Tennessee, Virginia and West Virginia. He found the mortality rate in those counties to be a little more than 25 percent worse than that of the rest of the country.
His research also indicates that the death rate for those Appalachian counties is about 25 percent worse than that of the 353 non-Appalachian counties in the same six states.
"What we see in Appalachia is just considerably worse health as measured by early death, among many other statistics," Wykoff said.
In a 2017 paper titled "The Future of Appalachia: Health," Wykoff and coauthor Olivia Egen, an ETSU doctoral student, noted that an American in the poorest income category is three times more likely to die before the age of 65 than an American in the wealthiest category.
Educational attainment plays a critical role in life expectancy, Wycoff said at a recent gathering of health care professionals hosted by the University of Kentucky's Center of Excellence in Rural Health in Hazard. There, he cited research that shows that the life expectancy of a black man in the U.S. with a college degree is almost 81, while that of a black man with at most a high school education is 71.
Low educational achievement and poor health are interlinked in a number of ways. "One is that they are both the result of long-standing poverty," Wykoff said. "There's the common-causal relationship of the two; things that lead to poor health also lead to lack of education."
But there's also a direct relationship. "People who are less educated tend to get jobs that are more stressful and physically damaging," he said, citing, for example, coal mining and other extraction-industry occupations. Others work in service-industry or part-time or temporary jobs – jobs with low wages and no health benefits.
Wykoff's voice is among the many in central Appalachia arguing that there are accessible avenues to a better education for all, which can, in turn, lead to a healthier population. In 2005, he said, Tennessee ranked among the states with the lowest high school graduation rates in the country. "[But] by last year," he said, "we were in the top 10. So you can't say that these are things we can't change. We know we can." 
The private sector is stepping up to invest in educational programming for rural Tennessee students, Wykoff said, and the state's Tennessee Promise program, which covers tuition and fees for students to attend community college or other institutions offering associate degrees, will also make a difference in future health outcomes.
The Interconnectedness
But, Wykoff cautioned, in order to build a healthier Appalachia, we must create opportunities throughout the whole of the region. Without well-paying jobs close to home, he said, "When you say, 'Hey, get your college degree and you'll be better off,' what that really means is, 'Get your college degree and if you leave this area you'll be better off.'"
Economic development, he stressed, is essential. "We've got to have jobs for people, meaningful jobs, once they get their education…It's inseparable: economic development, education and health."
Wykoff believes that the region's elected officials, educators and business, community and faith leaders are increasingly aware of this interconnectedness. "I think we're starting to have the right conversations," he said.
He quotes a phrase commonly attributed to former Speaker of the U.S. House of Representatives Tip O'Neill: "All politics is local."
"I like to say that all public health is local," Wykoff said. "That's not [entirely] true, but it's somewhat true. You've got to have communities coming together and saying, 'Okay, we want to do something about this.'"
In their "Future of Appalachia" paper, Wykoff and Egen outline some broad, essential initiatives that must be advanced, including changing health-related behaviors (smoking, poor diet, no exercise), addressing the social conditions associated with poor health (economic opportunity, investment in education), improving access to care (spoke-and-hub hospital systems, mobile services, telehealth) and disrupting intergenerational cycles of poor health (health-related education and encouragement for new parents and elementary-school kids and in the workplace and faith communities).
Ultimately, the authors acknowledge, efforts to lower death rates, and elevate the quality of life, in Appalachia must begin at the beginning. They write: "What we eat, how we exercise, our commitment to education, our understanding of health, and many other factors, are driven by the environment we grow up in." 
It'll take time, but, the authors conclude, "if we work together to assure that every child in Appalachia has the best possible start in life we will see a dramatic change over the course of that child's life." Children who grow up in this "new" Appalachia "will not only be healthier, but they will also become the agents of change over the ensuing generations."
Commentary: The Cost of Rural School Consolidation
On paper, consolidating South Robeson County High School in rural North Carolina might make sense. But how do we account for the intangible losses like community identity, cohesiveness and social investment?
A few weeks ago, the Robeson County, North Carolina, Board of Education voted to close South Robeson High School, my alma mater. The school currently serves Rowland, an old rail town with a population of approximately 1,000 people, and the outlying rural areas.
In Robeson County, people identify with their local communities, an allegiance often fortified by high school attendance. Losing the high school means losing a part of the community's identity, an irreparable tear in the social fabric that may never heal. It also means creating perpetual outsiders of the students who will be siphoned off to other local schools, away from their community and their lifelong friends.
For me, closing the high school symbolizes the county giving up on the community where I grew up. I learned so many lessons in the halls of South Robeson High School. As president of the school's Beta Club and the Native American Student Association, I learned about leadership, the value of public service and what it means to give back to your community. These lessons were amplified by the fact that I was actually serving my own community, a lesson that will be lost on the students who would have to attend schools in other communities.
I also learned about disparities in access to educational opportunities, even within the same school district. My high school did not have AP classes or a plethora of extracurricular activities; funding did not allow for any of that. I hoped that one day the school board would allocate more staff and money to my home community so students could reach their full potential. Now, that may never happen, a fact that fills me with profound sadness.
In making their decision, the school board cited a decline in attendance. The board also cited a $2 million budget shortfall that needed to be closed "immediately." The population data support this decision. According to the latest American Community Survey from the U.S. Census Bureau, since the 2010 Census, the population has declined in the schools' service areas. The residents tend to be older than the rest of the county, a trend with troubling implications for the number of children entering the local schools. On paper, it might make sense to close these schools and focus on the parts of the county that are growing, especially considering the dire state of the finances of the public schools of Robeson County.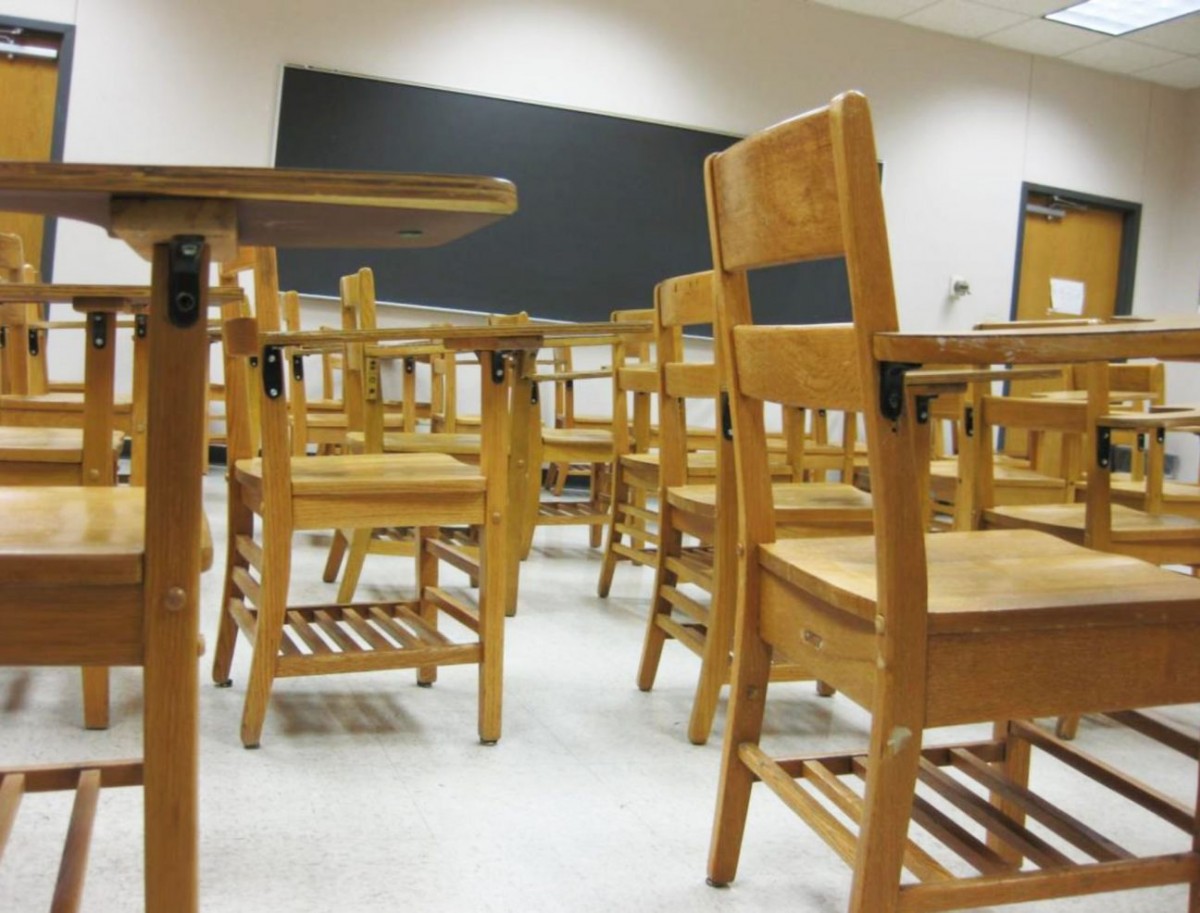 Robeson County is not alone in facing these tough decisions. According to the National Center of Education Statistics, there were 2,700 fewer rural schools in the 2015-2016 school year than existed just a decade prior.
When a rural school closes, it affects the entire community. In fact, according to a study by the Urban Institute, the impacts of a school closure are most acutely felt in rural communities, which often lack the wraparound services needed to compensate for the hole in the community a school closure creates.
However, what works on paper may have troubling implications in reality. At a community meeting on July 8th, students, parents and community members voiced their concerns to the school board. The Town Clerk for Rowland noted that closing the high school would kill the town. Already an impoverished town that has never recovered from the decline of its initial industry, the railroad, it would lose one potential draw to both businesses and residents – easy access to a high school. Without the ability to attract new businesses and residents, the town's economic woes would continue to grow. That also represents a bit of a paradox. In order to grow, you need resources. This is especially true in public education, which is usually funded by local property taxes. If residents leave and property values decline because of lack of economic development (or even access to a high school), the remaining local schools are going to suffer. Shutting down the high school would almost certainly exacerbate the current issues that the town is facing.
For a moment, the story appeared to have a happy ending. The day after the public hearing, the Robeson County Board of Education voted to reopen South Robeson High School for the coming year. However, there was a huge caveat. The high school would also house students from Rowland Middle School, meaning grades 6-12 would have to attend school in a facility designed for only four grade levels.
But even this measure of good news turned out to be fleeting. On July 19, the board reversed itself and voted to close South Robeson High School after all.
Christopher Chavis  is  a native of Robeson County, North Carolina, and a member of the Lumbee Tribe of North Carolina. His article, "The Past, Present, and Future of Rural Northern New England: A Study of the Demographics and How It Affects the Rural Lawyer Shortage," is forthcoming in the University of Maine Law Review.
This article was originally published by the Daily Yonder.