Diamonds and Demons: Portrait of a Tennessee Community in Recovery
"We're faced with an epidemic to opiates and it has affected just about every living room in this community, very much like it has across our entire nation." –– Charlene Hipsher, Roane County District Attorney General's Office.
The statistics are numbingly familiar. In 2016, more than 64,000 Americans died from a drug overdose, making it the leading cause of accidental death in the United States. Appalachian communities, including many in East Tennessee, are especially hard hit.
More Tennesseans died last year from an overdose than ever before in recorded state history: 1,631. Many of the deaths were linked to opioids such as fentanyl, heroin and painkillers.
At the epicenter of East Tennessee's opioid crisis is Roane County, a mostly rural community about an hour outside Knoxville.
The epidemic has, "filled up our jails," says District Attorney General Russell Johnson.
Jails are so overcrowded, many inmates sleep on floor mats. Many also suffer from untreated mental illness, trauma and health problems.
But, "more jail, more jail, more jail," is not effective in helping addicts who commit nonviolent crimes, Roane County Judge Dennis Humphrey says.
A search for solutions prompted county officials to launch a specialized "recovery court" in 2016. The rigorous program aims to connect addicts with the intensive treatment they need to get clean and stay out of trouble.
In this short TruckBeat documentary, we witness the court in action and meet one of its first graduates.
We learn how the program is changing the way many people in Roane County see the opioid epidemic –– and themselves.  And we explore the issues behind an East Tennessee lawsuit against opioid manufacturers, including OxyContin-maker Purdue Pharma.
"The Appalachian region is known for hardworking people. Prescription drug manufacturers targeted this area because hardworking people have aches and pains," says Hipsher.
Cinematographer Phil Batta:
We began following the story of East Tennessee's opioid epidemic in Roane County in 2015.
As TruckBeat's cinematographer, I recognized that filming around sensitive topics like addiction, health and poverty in Appalachia posed ethical questions, constraints and creative challenges.
We approached the story with empathy, considering how visual choices could influence viewers' perception of the community.
Diamonds And Demons follows a graduate of Roane County's recovery court.
I needed to symbolize his sorrow, struggles and hope.
Bare courtroom benches and a circle of unoccupied chairs at a Narcotics Anonymous meeting signify wasted human potential and the loss of loved ones to addiction. The empty seats are also an invitation to participate in solving the epidemic.
Filming inside the Roane County jail, we had a bird's eye view of prisoner pods from behind a one-way mirror. We could see the inmates, but they couldn't see us.
This invisible vantage point risked dehumanizing the inmates. To counterbalance our privileged view, I relied on composition, showing inmates intertwined with jail officials inside cell blocks, and human moments, such as inmates giving each other haircuts.
Trust is critical when working in often-stereotyped communities like those in Appalachia. As documentarians, the importance of answering, "why are we here?" cannot be overstated.
We cultivated relationships with key community members, who allowed our camera into places where people's lives hung in the balance. We built personal networks that positioned us as collaborators in telling Roane County's story, to the benefit of all involved.
TruckBeat's serial format helped us capture a more accurate story of the place and the issues. Publishing quickly to the web meant subjects could see how we represented them in almost real time.
That we were invited back again and again to continue filming is a testament to the mutual trust we established.
About the story:
Diamonds And Demons is the fifth video documentary in TruckBeat's Roane County series, which also includes dozens of audio stories produced at Knoxville's WUOT public radio, and live storytelling events.
Credits:
Produced by: Jess Mador and Phil Batta for TruckBeat.
The video featured music by: Ars Sonor and Yuichiro Fujimoto
About TruckBeat: 
TruckBeat is an independently produced interactive health storytelling project featuring the voices and images of East Tennessee. TruckBeat was created by independent producer Jess Mador, in partnership with Matt Shafer Powell at WUOT, Knoxville's NPR-member station. We take our bread truck turned mobile studio out on the road to report on community health topics in depth: addiction, obesity, mental health, access to health care – and why ZIP codes may matter more to health than genetics. TruckBeat originally launched in 2015 as part of AIR's 15-city Localore: Finding America initiative.
Bios:
Jess Mador (@jessicamador) is TruckBeat's Lead Producer. She's an award-winning multimedia journalist who has produced stories for news organiza
tions around the country, including Minnesota Public Radio, NPR News and PBS stations. She has a Master's degree from the Columbia University Graduate School of Journalism. Mador is currently managing editor at NPR member-station WYSO in Yellow Springs, Ohio, while also continuing to produce TruckBeat independently.
Phil Batt
a is an award-winning cinematographer and director who specializes in creating short-form documentaries and visually rich multi-platform media for social impact. His work appears on PBS, The New Yorker, UK Channel 4, ITN, The Guardian, ABC7, CNN and ITVS. He's also shot and edited projects honored as official selections at international film festivals and exhibitions.
More about TruckBeat:
On Oct. 7 in Washington, D.C., TruckBeat (@WeAreTruckBeat) was recognized by the Online News Association (ONA) for excellence in digital reporting, winning first prize in the Topical Reporting, Small Newsroom category. TruckBeat was also a finalist for Excellence and Innovation in Visual Digital Storytelling, Small Newsroom category.
Links:
TruckBeat homepage: https://www.truckbeat.org/
Vimeo direct link: https://vimeo.com/236213973
Facebook:
https://www.facebook.com/truckbeatproject/
https://www.facebook.com/jess.mador
https://www.facebook.com/philipp.batta
Instagram:
https://www.instagram.com/jessmador/

As the Number of Children in Need Keeps Growing, W.Va. Foster Parents Are Looking for More Support
Five out of every 100 babies born in West Virginia are born with neonatal abstinence syndrome, or NAS, the physical effects experienced during withdrawal from drugs. Many of these babies are put into foster care.
There are a lot of families stepping up to take them in, but many in West Virginia — which has the highest rate of children taken into state care in the U.S. — say they feel unprepared for the task of taking care of the children with this group of conditions.
Scott and Donna Tiddle took their son home, as a foster baby, when he was just a few weeks old. It's not exactly what they expected they'd be doing at that time.
"I mean, we're 48 years old, we're close to 50," Scott Tiddle said. "You know, most of the people I work with are thinking about retirement and empty nest and traveling."
Their toddler is now doing well but has had health issues and developmental delays because of opioids he was exposed to before he was born.
"It's hard to forget what happened to him, and what didn't need to happen to him," said Tiddle, holding his two-year-old son in his arms. His son still has yet to take his own steps.
Initially, he and his wife didn't think they were ready to foster a child with a disability. They fostered their son not knowing what kind of health issues he might eventually encounter. After a year, they adopted him.
"I could not give him away," Donna Tiddle said. "There was just no way. He was a part of this family, and no matter what obstacles come our way, he's ours."
But the Tiddles needed to learn how best to take care of a baby with NAS. In their training to become foster parents, the Tiddles said they didn't get any guidance on how to take care of a baby with NAS symptoms.
Another foster mom, Kelly Crow, recalled a similar experience while taking care of a baby girl with NAS. She remembers a lot of intense crying, which was scary. But ultimately she found that what the baby needed was pretty simple: around the clock cuddling.
"The best thing you can give them is all the love you can give them so, physically, all the touch that you can, all the soft voices that you can," Crow said.
Marissa Sanders, who runs the Foster, Adoptive and Kinship Parents Network, an advocacy group for foster families in West Virginia, said the people who often need the most support are those who've taken in a grandchild or a neighbor. These foster parents are called "kinship parents."
"Those people often don't get any training, they don't have the same level of support and background, [or] access to workers that a certified foster parent has," Sanders said.
Sanders, a former foster mom herself, said she wants the state to do more to help these grandparents, and other foster parents, learn how to cope with difficult behaviors.
"When you're parenting a child who has experienced significant trauma, who is away from their birth family, there's a whole lot of extra support needed," Sanders said.
This article was originally published by West Virginia Public Broadcasting.
Appalachia Health News is a project of West Virginia Public Broadcasting, with support from Marshall Health and Charleston Area Medical Center.
Inside West Virginia's Overwhelmed Foster Care System
As many American parents struggle with opioid addiction, the number of children put into foster care in the U.S. is steadily increasing. 
In West Virginia, the foster care system has been hit particularly hard; roughly 6,700 children in the state are in foster care, an increase of almost 70 percent in six years. 
About 85 percent of the children in state custody have a parent who struggles with substance use disorder.   
"We recognize we have a child welfare crisis in the state. We have had to take children and keep them in a hotel or a motel somewhere close [to home]," said Bill Crouch, cabinet secretary of the West Virginia Department of Health and Human Resources
This means children sometimes stay in hotels, with social workers, or even inside state offices, on cots or blow-up mattresses.
The first thing social workers do when a child needs to be removed from their home is to try to find a relative, like a grandparent. But if no relative will take them, they turn to a foster care agency. 
According to Charlotte Barnett, a social worker with the Children's Home Society in Charleston, on Friday afternoons she and her staff are often scrambling to find someone who will take a child, even just for the weekend. 
Every spare inch of the society's building is filled with piles of donated baby clothes, carseats and toys. Barnett trains and oversees about thirty foster families in Kanawha County. When Child Protective Services call looking for a family, Barnett is the one who picks up the phone, day and night.
"And especially the late-night ones, I'm sure that worker has been working all day to try to find a home. It's heartbreaking," she said.
Many Friday afternoons are spent trying to find homes for children in need. On a recent Friday, Barnett received a call from a social worker looking for a home, immediately, for three siblings — every appropriate foster home the social worker knew of was full. 
Barnett and the other social workers called every foster family on their list. By late afternoon, a temporary home was found for the three kids. The next morning, the social workers embarked on a wider search, across the state, to find a foster home that would take all three siblings. Finally, they found one. 
This type of situation is common inside West Virginia's foster care system.
"Every judge in the state of West Virginia will tell you that their dockets are completely filled with abuse and neglect cases," said Kanawha County circuit court Judge Joanna Tabit. 
Tabit decides which children stay in foster care and which are reunited with their birth families The ultimate goal is to get the kids back with their parents, but that only happens in about half of all cases.
"The timeframes are just too tight," Tabit said — parents are usually given a year to prove they can kick their addiction. 
"And you're not gonna be able to get everyone into recovery, and to get everyone into where they need to be, because most people do relapse; that's just part of the addiction process."
This article was originally published by West Virginia Public Broadcasting. It is part of Appalachia Health News, a project of West Virginia Public Broadcasting, with support from Marshall Health and Charleston Area Medical Center.
Opioid Epidemic May Have Cost States at Least $130 Billion in Treatment and Related Expenses – And That's Just The Tip of the Iceberg
Joel Segel, Pennsylvania State University; Douglas L. Leslie, Pennsylvania State University; Gary Zajac, Pennsylvania State University; Max Crowley, Pennsylvania State University, and Paul L. Morgan, Pennsylvania State University
The devastating health effects of the opioid epidemic have been well documented, with over 700,000 overdose deaths and millions more affected.
And Americans are learning more every day about the role drug companies and distributors played in flooding towns and cities across the country with pain pills.
We know comparatively less, however, about the financial costs of the crisis. Several studies have emerged in recent years that estimate the national economic costs of the epidemic at anywhere from US$53 billion to $79 billion in a single year.
But given that states have led the charge in suing opioid makers with the aim of recovering some of their own costs, we wanted to know more specifically how the crisis has hurt their budgets. This is critical to understanding what they can recover from their lawsuits.
So we led a team of 20 researchers at Penn State in a series of studies that looked at the various ways state budgets have borne the burden of the opioid crisis. The result is the first comprehensive tally of state opioid costs.
The high cost of overdoses and treatment
The most prominent – and largest – costs are those related to medical care.
Although prior studies have estimated the medical costs of opioid misuse, none has provided a comprehensive accounting of costs to states' Medicaid programs. These costs include those related to overdoses, treatment for opioid-related conditions and other care they may receive due to resulting health consequences such as hepatitis C and HIV.
Our team crunched the data from 17 states' Medicaid claims databases and then extrapolated the data to make national-level estimates. We estimate that overall, state Medicaid programs spent at least $72 billion due to opioid misuse from 1999 to 2013, the most recent year with available data.
Based on an estimate of Medicaid costs of $8.4 billion in 2013, we estimate states likely spent an additional $40 billion since then, bringing the total bill to at least $112 billion.
Lower employment, less tax revenue
In addition to effects on health care use, opioid misuse can also lead to significant declines in employment, which in turn can then rob states of expected tax revenue.
Using an online tax simulator and an existing study on the effect of individuals leaving the workforce due to opioid misuse, we were able to estimate how much tax revenue states may have lost.
We estimate that states may have lost nearly $12 billion in tax revenue from 2000 to 2016 due to the effect of opioid misuse on individuals' ability to work. Ongoing costs are about $700 million a year, bringing an estimated total through 2018 to over $13 billion.
There are other costs to states associated with a share of the population being unable to work, such as rising eligibility for cash assistance, nutrition programs, state-funded health insurance and other safety-net programs.
While we do not have good data available to provide estimates, moving forward these will be important costs for states to consider.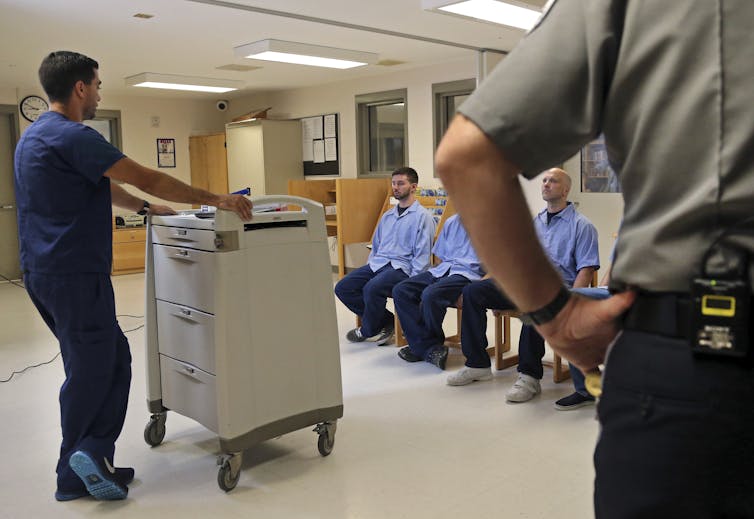 Criminal justice costs
Criminal justice is another important component of opioid-related costs to states.
To date, many cost studies have focused on how those in prison or jail may be unable to work. Yet states and local municipalities spend considerable resources on arrests, courts and corrections that result from opioid misuse.
While several studies have attempted to estimate these costs, none have comprehensively examined the full set of opioid-related criminal justice costs at the state level. Due to the difficulty of obtaining reliable data, our team focused on Pennsylvania. We estimate that, from 2007 to 2016, the opioid crisis cost the criminal justice system in the state $526 million.
These figures are highly variable from year to year and among all the states, making it very difficult to come up with a comprehensive, nationwide estimate. Given that Pennsylvania has both a large population and has been hit unusually hard by the opioid crisis, costs in Pennsylvania are likely higher than average.
However, the Pennsylvania estimates demonstrate the costs are high and are likely to veer well into the billions of dollars nationwide.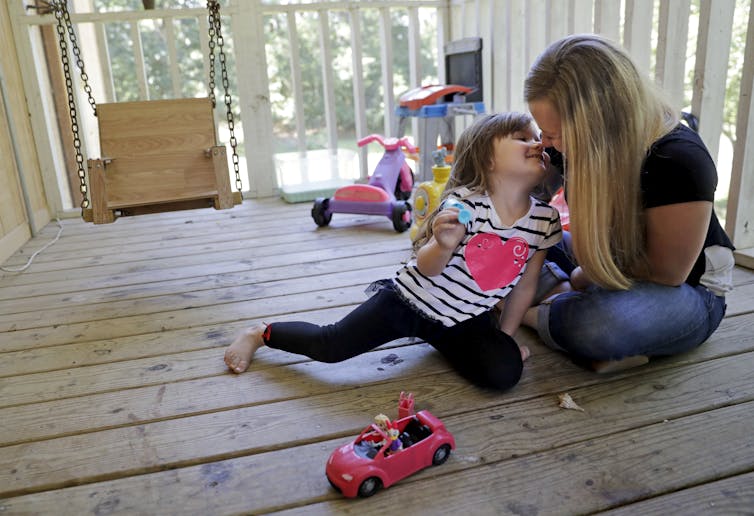 Caring for children
While much of the attention has focused on those misusing opioids, one of the populations hardest hit by opioid misuse is children.
Opioid misuse has been shown to lead to increased interventions from state welfare and child protection agencies. While data remain limited, our team used a modeling approach to show that opioid misuse may be associated with $2.8 billion in costs to the child welfare system across all states from 2011 to 2016.
Additionally, babies born to mothers who were using opioids prenatally may be born with withdrawal symptoms – namely, neonatal abstinence syndrome – that require significant care. The effects of neonatal abstinence syndrome, and the related costs, may continue for a long time as affected children may require significant special education resources.
Data in this area are inherently difficult to identify in each state. However, we found that for a cohort of children born with neonatal abstinence syndrome in Pennsylvania in 2015, additional costs to provide special education services might have been about $8.3 million. A very rough estimate of the nationwide costs would be in the ballpark of at least $50 million per year.
Tip of the iceberg
Collectively our studies tallied about $85 billion in estimated financial costs to state budgets during the periods identified in each one. After extrapolating that to cover costs through 2018, we think the total comes to at least about $130 billion, with an ongoing bill of $6 billion to $10 billion every year.
While these figures might be lower than some other estimates that either include broader economic costs or fail to account for variations from year to year, the bottom line is that our data show states are bearing a very high financial burden in this crisis.
Our estimates also provide a benchmark states can use in litigation as they seek to recoup these costs to help cover the ongoing expenses associated with containing and ending the epidemic – and hint at why so many opioid manufacturers are mulling bankruptcy.
Yet our analysis is just the tip of the iceberg, as it covers only costs to state governments and excludes the broader economic costs of the crisis. Individuals and their families have also suffered enormously and are likely bearing even greater costs – both financial and emotional.
Joel Segel, Assistant Professor of Health Policy and Administration, Pennsylvania State University; Douglas L. Leslie, Professor of Public Health Sciences and Psychiatry, Pennsylvania State University; Gary Zajac, Managing Director of the Criminal Justice Research Center, Pennsylvania State University; Max Crowley, Assistant Professor of Human Development and Family Studies, Pennsylvania State University, and Paul L. Morgan, Eberly Fellow, Professor Education and Demography, and Director of the Center for Educational Disparities Research, Pennsylvania State University
This article is republished from The Conversation under a Creative Commons license. Read the original article.