In Rural Tennessee, a Food Business Could Boost an Old Railroad Town
Johnny Lynch, the mayor of Unicoi, Tennessee, always wanted buffalo. Four years ago, he helped the town of 3,600 in the mountainous northeast corner of the state adopt the buffalo as its municipal brand as a kind of tribute: the animal once populated the region until it, along with the native Cherokee people, was pushed out by white settlers.
Lynch decided he could bring the buffalo back — or at least, he'd get a few for his farm.
In early August, Lynch stood on a grassy hillside near his house and called out to one of his seven buffalo. "Sammy, come on!" he hollered to the bull, whose full name is Sammy Fathead. The 1,500-pound animal came charging down a path to meet Lynch at the gate of his pen, where Lynch fed him slices of apple and scratched his side.
Lynch, a 69-year old with a salt-and-pepper beard, was wearing a pale-green T-shirt with the silhouette of a buffalo on it. He and his wife have lived on this land since 1976. They both wear many hats: they operate an event space called Farmhouse Gallery & Gardens; Lynch's wife, Pat, bakes bread in a brick oven he built and sells it at local markets. Lynch paints watercolors and operates a small blacksmith shop; he's worked as a taxidermist and wildlife rehabilitator in the past. He built the covered bridge at the head of his driveway, and is in the process of building an indigenous-style longhouse next to his vegetable garden.
Lynch is a bit of a southern Appalachian renaissance man, the son and grandson of railroad workers. But as the mayor of Unicoi since 2004, he's also spent much of his career trying to wean the town off its dependence on the railroad industry.
Part of that vision started to come to fruition last month as Unicoi opens the Mountain Harvest Kitchen, a business incubator where people from the region can process their foods for sale — whether it's turning garden-picked tomatoes into salsa to take to farmers markets or preparing meals to sell out of food trucks. Along with commercial-grade equipment, the kitchen offers classes on food safety and nutritious cooking, and host a training academy for new farmers. The goal is to encourage new forms of economic activity to replace the railroad industry and re-orient this rural Appalachian region toward a more sustainable future.  
A town trying to bounce back
Trains hauled coal through Unicoi since the early 20th century on what used to be called the Clinchfield Railroad, now operated by CSX.
"The railroad is what this area was built on," Lynch said.
The original terminal was five miles south of Unicoi in Erwin, a town where the two downtown cafes are called the Steel Rails Coffee House and the Choo Choo Cafe. Construction was completed in 2015 on an $8 million overpass in Erwin designed to ease traffic congestion caused by coal trains passing through. The day before the ribbon-cutting ceremony on the bridge, CSX announced it was ceasing operations in the county, eliminating nearly 300 jobs. The company closed the yard that afternoon, citing the declining coal industry as the culprit.
Though challenging, the situation didn't turn out to be as dire as it could've been. "We're not as bad off as we were afraid when the railroad left," Lynch said. "People in Appalachia are pretty resilient people. We find ways of rebounding from situations like that."
Some of the CSX employees were transferred elsewhere, and local agencies helped retrain laid-off workers or find them jobs — Northeast State Community College, for instance, offered railyard workers priority enrollment in a one-year chemistry class so they could replace retiring employees at a nuclear fuel company in Erwin. Still, Unicoi County remains in the top 10 statewide in terms of its unemployment rate: 5.9 percent as of June.
With the closure, some coal-relief money went toward a planned community kitchen in Unicoi, a project that had been in the works since the mid-2000s. It took on renewed importance when the railroad left, shaping a path forward for an area struggling with its identity. At first, Lynch thought a cannery — a licensed facility where local people could process apple butters and strawberry preserves — would be a good resource.
But as plans developed, the project became more ambitious, eventually becoming what it is today. The kitchen received money from the Appalachian Regional Commission (ARC), the federal-state partnership that has funded development projects in Appalachia since the Johnson administration. Unicoi's grant came specifically from ARC's POWER initiative, which aims to help "coal-impacted communities" diversify their economies.
In March, President Trump suggested eliminating the ARC in his budget proposal. In their more recent proposed budget, House Republicans seem to be trying to save the agency by slashing its funding by 14.5 percent, instead of eliminating it. The Mountain Harvest Kitchen funding is safe, but people are worried about similar projects in the future.
"You've got to do something to change the economies, and that's what ARC has tried to do with the POWER grant," said Mike Housewright, Unicoi's city recorder. "The elimination of ARC would have a huge impact on an Appalachia that's already struggling."
Unicoi: A future food hub?
The Mountain Harvest Kitchen — just off Interstate 26, which connects northeast Tennessee to Asheville, North Carolina — is a full-scale business incubator with cooking, baking and preserving equipment.
"I'm excited to death," Lynch said. "My hope is that it's going to be a real service to the whole region."
He and his colleagues see the kitchen not only serving Unicoi County, but drawing in food entrepreneurs from surrounding counties and states.  
Bakers, caterers and farmers who want to process their crops started using the space Aug. 11.
Kimberly Roberts, one of Mountain Harvest's first clients, wants to start a cupcake business. She came up with the idea after lamenting the lack of bakeries in the area.
"I can't afford to have a kitchen of my own yet because I'm just starting out," said Roberts, who lives in Elizabethton, about a half-hour drive from Unicoi.
She planned to rent space by the hour in the Mountain Harvest Kitchen and sell her pastries at local farmers markets. She eventually wants to launch her own food truck.
"There's a lot of interest in using our space as a commissary for food trucks and mobile food units," said kitchen manager Lee Manning, a food scientist who moved to Unicoi from Athens, Georgia. Her vision is for food truck businesses to expand throughout the region, but she says there's demand even closer to home. "Even in Erwin, I've seen food trucks," she said.
In the meantime, Unicoi is forging ahead with its plans. The city has committed to funding the $1.2 million kitchen for the first three years, but Manning wants it to be self-sustaining. Unicoi has spent a third of its own equipment budget — as the kitchen gains clients, and Manning gets a clearer sense of their projects, she'll add more gear to accommodate them. "We're looking outward to see what people want from our space," she said.
So far, the kitchen has three types of ovens, canning equipment, a dehydrator, an industrial vegetable peeler, a blast chiller, a bread proofer, plus stand mixers and food processors. A bottling line and a label maker are in the works for people who want to make salsas or barbecue sauces.
The kitchen is a huge undertaking, but it's just one of Lynch's projects to bring tourism to Unicoi. The town refurbished a Revolutionary War-era cabin, where musicians perform bluegrass music weekly, and built a trailhead that leads to a path up Buffalo Mountain in the Cherokee National Forest. A new state park is also in the works.
City leaders hope the Mountain Harvest Kitchen is the tipping point, leading to new restaurants and more local food products. How it all pans out remains to be seen, but Lynch said there's plenty of opportunity.
"The things that we're doing, we feel, grab hold of [tourism] so we can really grab hold of that train as it goes by."  
Rural's Connection to Environment Means Bigger Climate-Change Impact
Mainstays of rural American culture and economy – such as timber, agriculture, tourism, ranching, hunting, fishing, winter sports – could see major disruptions from climate change. The impact will be big enough to disrupt the national economy, a federal report says.
Rural communities face clear economic and environmental risks from a changing climate, according to the 2018 National Climate Assessment.
The report documents changes in the timing of seasons, temperature fluctuations, increased incidence of extreme weather and change in rainfall – all patterns with the potential disrupt rural economic activities.
Climate change in rural communities poses an outsized risk to the national economy, the report says.
"Rural America's importance to the country's economic and social well-being is disproportionate to its population, as rural areas provide natural resources that much of the rest of the United States depends on for food, energy, water, forests, recreation, national character, and quality of life," the report stated.  
While not all regions face the same impacts due to increased greenhouse gasses in the atmosphere, the assessment explains how increased volumes of carbon, methane and other greenhouse gasses in the atmosphere will lead to changing climatic patterns. The report's authors predict that changes will likely increase volatility in agricultural commodity markets, shift plant and animal ranges, increase the number and intensity of droughts and floods, and increase the number and size of wildfires throughout the rural landscape.
For portions of rural America with an economy based on agriculture, climate scientists are most worried about shifting geographic suitability of particular crops and abnormal timing for planting and harvest. These changes may result in additional use of herbicides and pesticides, which could create additional health risks from chemical applications. Crop and pasture yields and profitability could also be affected by changes in rainfall, temperature and extreme weather events. Increased flooding could increase soil erosion and water pollution from agricultural runoff, according to the report.  
Rural communities with an economy based on recreation and tourism also face significant challenges due to climate change, according to the report. Rising seas could damage rural Florida's multi-billion dollar recreational fishing sector and cause further ecological damage to the Everglades region.
Coastal erosion and rising oceans throughout the nation could affect wildlife habitat, disrupting hunting, fishing, bird watching, and other wildlife-related activities.
Rural places with significant winter recreation activities could face risks as snow-pack is expected to decrease.
Forest-dependent rural communities are likely to face significant change as well. Forest geographies and species composition are likely to shift as the climate changes. The number of pests and disease will increase. These factors could decrease timber and pulp harvests in some places. Forest fires are also expected to continue to increase in number, intensity and cost.
The report identifies certain demographic trends in rural communities that make climate change adaptation more difficult.
"Modern rural populations are generally older, less affluent, and less educated than their urban counterparts. Rural areas are characterized by higher unemployment, more dependence on government transfer payments, less diversified economies, and fewer social and economic resources needed for resilience in the face of major changes," the report states. That combination of an aging population with higher poverty rates increases vulnerability of rural people and places to changes in climate.
"Emergency management, energy use and distribution systems, transportation and infrastructure planning, and public health will all be affected," the study states. State, regional, local and tribal governments in rural communities tend to be under-funded and rely heavily on volunteers.
"Even in communities where there is increasing awareness of climate change and interest in comprehensive adaptation planning, lack of funding, human resources, access to information, training, and expertise provide significant barriers for many rural communities," the report concludes.
This report is the fourth National Climate Assessment, and summarizes the impacts of climate change on the United States. The report process was established by the Global Change Research Act of 1990 and mandates that the U.S. Global Change Research Program (USGCRP) deliver a report to Congress and the president no less than every four years.
A team of more than 300 experts guided by a 60-member Federal Advisory Committee developed the report. Scientists and researchers from federal, state and local governments, tribes and Indigenous communities, national laboratories, universities, and the private sector volunteered their time to produce the assessment. Information was gathered through a series of regional engagement workshops that reached more than 1,000 individuals in over 40 cities. Listening sessions, webinars and public comment periods also provided valuable input.  
This article was originally published by Daily Yonder.
When Losing 14 to 1 is a Win — Sort Of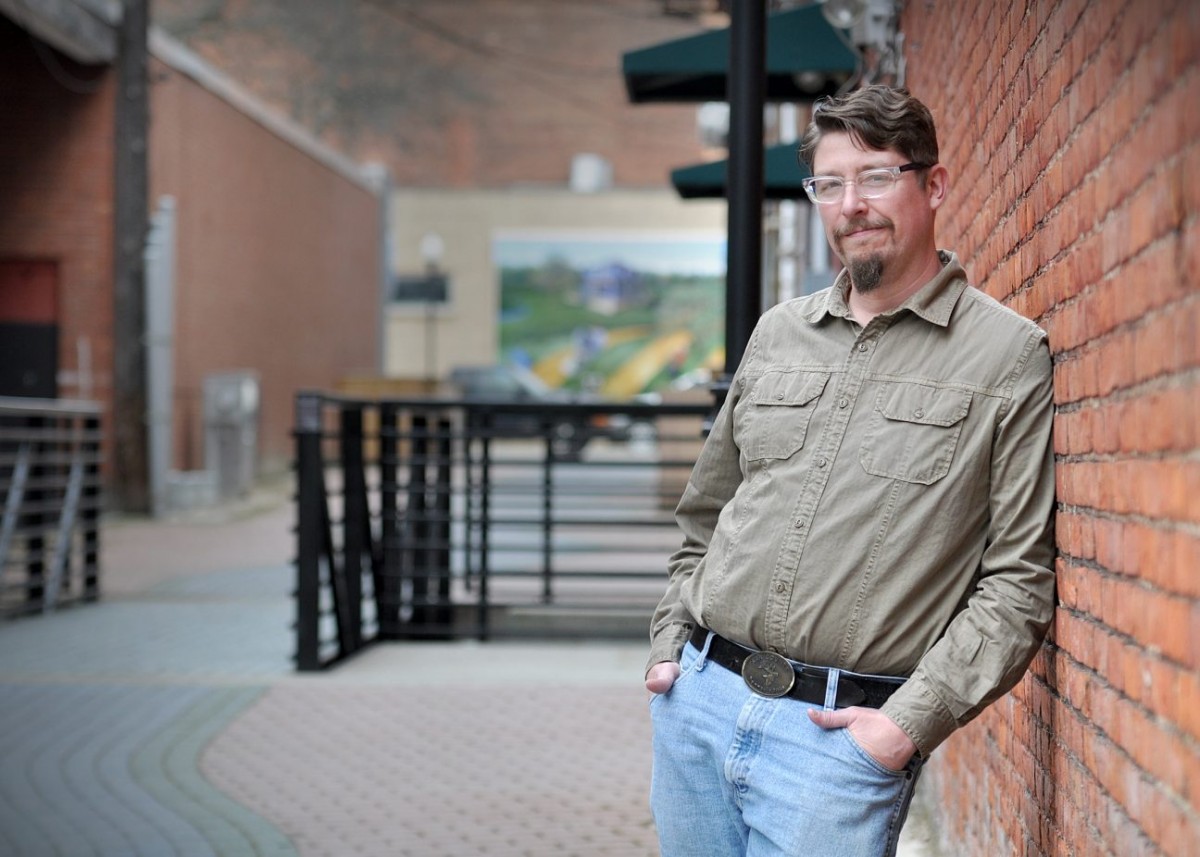 A last-minute write-in campaign against an unopposed Pennsylvania state representative yielded 900 official votes. It wasn't nearly enough to win, but it was enough to show that there's more to Appalachia than the average TV pundit claims.
Well, I didn't win. Let's get that out of the way.But on the night of November 6th, 2018, after launching a last-minute zero-budget Green Party write-in campaign against an unopposed Republican incumbent, in a Pennsylvania district that perpetually votes at about a 70 percent clip for even Republicans who get absolutely blasted in statewide races (see: gubernatorial candidate Scott Wagner, soundly defeated by Tom Wolfe), I wound up making a nearly 5 percent dent.
The how isn't quite as important as they why, I think, but in brief: exactly two weeks before the election, I announced on Facebook my intention to mount a write-in campaign for the Pennsylvania House of Representatives, disgusted that for the fourth time in seven elections, the local incumbent — Brad Roae — faced literally no competition. Nobody squared off against him in the Republican primary and nobody ran on the Democratic ticket. In fact, only twice in his tenure has he faced opposition from Democrats, each of them throttled to the tune of 60-40 or thereabouts in the general election.
As an even sorrier indication of the state of political engagement in the rural part of Northwestern Pennsylvania where I live, only once has a Republican ever challenged him in a primary. It's smooth sailing every two years, which leads to a tepid, basic and uninspiring legislative track record. Taxes are bad, he says. And, oh, let's have some laws to weaken environmental protections for gas well drilling. He has made public media posts that appear to equate school boards to Hitler, and he has argued that state funding shouldn't support students who major in "poetry or some other pre-Walmart major."
Yeah, that's who I lost to, my 900 votes or so to his 13,000. And that's the guy who has gone to Harrisburg for more than a decade representing my home. Among the many things that gall me about his incumbency is the way that, outside of Appalachia, a lot of people would probably nod their heads and say, yup. Brad Roae is the kind of representative people think Appalachia embraces, is the kind of person so many non-Appalachians see as purely representative of who we are and what we stand for.
But here's the thing. I'm finding hope in my two weeks as a candidate, and in the sudden flurry of interest and support. I ran because there had to be some opposition for democracy to have any chance at all, and when I did so I hoped I'd get 1 or 2 percent, not embarrass myself, shoot for the bar of 300 votes. That would be the same number of votes I would have needed as signatures to get on the ballot had I, say, planned ahead.
Then a funny thing happened. I started making videos introducing myself and my ideas, and put together a platform paper, and people started sharing these materials on Facebook, and I had to work through the anti-Russian Bot regulations the social media site now has so I could finally "boost" two of those posts on the morning of the election, and even before all that the organic sharing of an electorate dying for something, anything, that pushed against Appalachian political stereotypes meant 9,000 people had seen my stuff. Then, even though people had to first know I was running and then actually bother typing my name in, I fared okay. I earned about 65 votes for each day of my campaign. And I spent $50 on stickers, $20 on my Facebook ads.
Official county returns compiled right before Thanksgiving gave me 851 votes. The Monday following, I reviewed the official computations and found another 60+, if I include misspellings like Matt Terrance and, Michael Ferrence, and Matthew Fetterman (for a voter who maybe confused me with our Democratic Lt. Governor candidate John Fetterman), and That Guy Whose Name Starts With F, as well as The Guy on Facebook Ask (name redacted), as well as a litany of close-but-no-cigar last names coupled with Matt or Matthew: Ferrer, Ferraro, Fetter, Farreah, Ferrenc, Ferrous, Ferris, Ferentz, Ferrick, and DeFerence. I got 14 votes in neighboring state districts, and four votes for the U.S. House Race. Among other write-ins, I beat a slew of names that received a single vote or a handful, tough competitors like Brad Roae (who a few people wrote in, even though he was on the ballot), Stephen Colbert, Anyone But Him, Anyone Else, Jesus, God, and Red Breasted Nuthatch.
Look, my day job is writing and teaching. I'm a professor at a small liberal arts college, chair of the Department of English, writer and teacher of creative nonfiction. I was born in southwestern Pennsylvania, among the played out coal fields and strip mines an hour east of Pittsburgh. I earned a Ph.D. at West Virginia University, where I specialized in Appalachian literature. I wrote a memoir about my brain tumor, and the geology of the Allegheny Plateau, and the curious exile of inhabiting the weird position of Northern Appalachian, which means you're not quite normal American and not quite Appalachian. None of that adds up to politician, but all of it adds up to frustration. I've spent most of my life, other than brief adult stints in Arizona and France, living in a region that skews way right, even as that right continues to exploit and degrade the people and place. All Appalachia ever has been allowed to be is exploited. That's it. And that's all the rhetoric of the GOP offers, when you boil it down. Let's Make America Great Again, like when black lung wrecked lives on the regular and, newsflash, is now roaring back to life since the unions have been busted, and the economy of the region stayed busted, so the people crawled down into mines without the protections hard fought with blood and love by the striking workers of Blair Mountain, and the striking workers of Pittsburgh steel, and the striking auto workers of the Rust Belt.
Public historian Elizabeth Catte gets it right (she's the author of "What You're Getting Wrong about Appalachia") when she argues that Appalachians have been socialists all along. They just don't know it. They gathered together. They fought the power of industrial dominion. They powered America with their coal, yes, but they also fueled the national movement for respect and dignity for labor. Then the GOP figured out how to weaponize hatred and fear, and there you go. You get Joe Manchin, alleged Democrat. And you get a region that votes more than 2/3 for Trump and Trump-esque troglodytes like Pennsylvania's GOP gubernatorial candidate Scott Wagner, who claims that global warming is probably just accumulated body heat from a larger human population or happens because the earth is getting closer to the sun, and campaigns by saying he'll dance on the governor's face while wearing golf spikes.
It boils down to this: I am so tired of waking up on November Wednesdays in Appalachia, seeing election results and, worse, national punditry that says this is all we are and all we'll ever be. The election map of my state is bright red, other than around a few urban centers, just like most of Appalachia. That seems to translate to the same conclusion we get over and over and over again: dumb hillbillies voting for the worst. That conclusion seems to be supported by the simple math of our state politics, where more than half of state legislators run unopposed in their general elections, and our incumbency rate is about 90 percent. Few candidates ever put up a fight to change that.
So what's an Appalachian creative writing professor to do? You run a last-ditch campaign. You tilt against the windmills in a manner that is both impotent (because you get crushed at the polls) and, at least for me, hopeful. Because having a choice, any choice, other than the incumbent mattered to the 2,000 people who either voted for me or tossed in a symbolic protest write-in. Because people stopped me when I walked by, and messaged me on Facebook, and were angry when they learned about the campaign only after they voted because, damn it, they couldn't vote for the incumbent, and leaving it blank is just what the GOP has wanted for so long. The story of Appalachian politics has been about that blankness, a cultivation of the sense — and you can read this in almost every national outlet at some point in the last two years, usually with a quote from that faux-Appalachian pseudo-pundit J.D. Vance — that there's nothing but right-wing fools in these hills and hollers. Appalachia is given up for dead again, this time just as a tarnished example of the hatred and backwardness of politics in this strange, strange land.
That's just not how it is. That's not the Appalachia I know nor the one I saw in my brief campaign. Heck, I ran this mini-campaign focused specifically on lefty sustainability, as in ecology and tree-hugging, as well as economies that stop repeating the boom-bust cycles of our past, and I drew a mighty good swipe of votes all at once, in the end. There are a lot of people in my county who believe in the value of the environment, and the necessity of fine educations, and the rightness of universal healthcare, and the imperative of social justice, and the glory of love in all its forms. There are progressives in these hills, you know. And a lot of them, but also a lot who hear those same old stories and worry about what the neighbors will think, so they don't vote, or accept the inevitability of political monoculture. Thus the slam happens again. And again. And again. Unopposed Republican. Platforms of no taxes. Tacit acceptance of the Confederate Battle Flags that flutter on too many once-Union farmhouses.
Yeah, I got creamed. But I think we also won something that night. And we'll keep coming back for more, riding a blue wave tinged with green, fighting for a change in the rural center of America that so many figure is lost forever. You know the joke, about Philadelphia and Pittsburgh and a lot of Alabama in between. Well, Alabama has a Democratic Senator, and so does Pennsylvania. We can do more, do better, push against the dogged stupidity of a right-wing cultural war that makes us all weaker and worse off. We can step into these races, and we can square off and say, hit me, and we can get hit, and eventually we can win. I know I'll give it another shot – with my name printed on the ballot next time. I'll need at least a couple of months next time, to get enough votes to be competitive, if history holds. But I'll vow, and I hope others will too, that no one gets to run unopposed anymore. No one gets to spit out tired political bullshit and not get called out. This is our Appalachia too.
This article was originally published by the Daily Yonder. 
There's a Tool that Claims to Predict Potential for Criminal Behavior. Should PA Judges Use It?
The Pennsylvania Commission on Sentencing is considering a "risk assessment" tool, which, according to social justice activists, would reinforce existing bias in the criminal justice system. But the tool's designers say it would give judges more data to base sentencing decisions on as opposed to primarily relying on uniform guidelines.
The commission is hearing public feedback about the risk assessment tool on Thursday, Dec. 13, from 10 to 11:30 a.m. at the Allegheny County Courthouse (436 Grant St., Pittsburgh).
How would the "risk assessment" tool work? Say you're facing a criminal charge. In addition to the usual information about your present and past — as in the crime for which you are on trial and your prior record, if any — the judge also has a report trying to predict your future. On a scale from 0 to 18 points, an algorithm has indicated how likely you are to reoffend, based on data about recidivism rates.
Read more about how the risk assessment tool is used to calculate sentences from PublicSource.
This story was originally published by PublicSource based in Pittsburgh.