Saving Lives on Subreddits: The Online World of Those Addicted to Opioids
Reddit is a modern day canary in the coal mine for the people of Appalachia — a region of the United States being disproportionately affected by the opioid epidemic.
Since the presidential election, Reddit's r/opiates has transformed into a lifesaving map for people with addiction navigating a minefield frequently filled with fentanyl, a synthetic opioid nearly 100 times more potent than morphine.
In 2017 alone, r/opiates has featured fentanyl warnings for New York, Delaware, Virginia, Massachusetts, and North Carolina. These warnings are making a difference, moderator spinderalla69 said over private message.
"I remember seeing comments on other warning's we've posted that people in those areas do see the mentioned stamps, and then avoid them, or they comment that they have had friends overdose on the same stamp, confirming that whatever is in the stamp/dope is extremely potent and dangerous," said spinderalla69, who cherishes the pseudo-anonymity woven into Reddit's ethos and declined to share her identity.
One person directly impacted by r/opiates was Aaron, 27, of McDowell County, West Virginia. Aaron, who faces legal issues related to drug dealing and abuse, withheld his real name out of fear of arrest.
Aaron's descent into addiction began at 13 when he abused the pain medication hydrocodone. A few years later, his father was prescribed oxycontin after crushing his back in an accident.
"I snuck to his room, broke one up into four pieces and ate one," Aaron said. "About five minutes later I was in pure bliss. Warm waves flooded my body. I decided to take another piece and then I nodded off."
By the time he was 20, Aaron was snorting five-to-eight 30 mg oxycontins per day. Since then, he has tried nearly every drug imaginable and has unsuccessfully used suboxone and methadone to detox. Today, he's more than 80 days sober thanks to kratom, an herb the Drug Enforcement Agency once considered making a schedule 1 drug (a list that currently includes heroin).
"Around my area, I believe a lot of people use [opioids] out of boredom. There's no jobs, no way to have fun besides video games and riding four-wheelers and motorcycles. There's nowhere to go except a run down mall over in another county," Aaron said. "The pill epidemic is a lot more expensive at $35 to $50 for an oxycontin 30 mg. A lot of people need two to get thru the day and a lot of people don't want to wake up feeling sick so they're willing to rob, steal or kill to get their fix. Crack did leave some people bad off, but not like the pill sickness."
Aaron credits r/opiates with helping him learn about kratom and giving his life purpose. As a way to pay it forward, he's provided fentanyl warnings in West Virginia.
"People's pressing a fake 215, and crushing up ginseng pills mixing them with fentanyl and some other stuff and selling as heroin," Aaron, who goes by the handle of Optimistic-angel1 on Reddit, wrote in a February 2 post on the website — making note of activity in neighboring Mercer County, which sits just east of McDowell.
While the overdose warnings on Reddit may be a new trend, those with addiction have been no strangers to information sharing, said Dr. Michael Brumage, executive director of the Kanawha-Charleston Health Department in West Virginia. Brumage has heard of people setting up networks to share info on bad heroin batches in the past while working with the department's needle exchange program.
"While we don't directly test for fentanyl, we are detecting an increase in the amount of fentanyl mixed in with heroin from asking our patients and from reports from law enforcement officials," Brumage said. "We are even seeing reports of fentanyl-laced marijuana, which is a new and dangerous finding."
These fentanyl warnings are reaching more opioid users on Reddit than ever before. Since Trump won the nation's highest office in November, r/opiates has grown in users by 42 percent. This number reflects a two-fold increase in user growth when compared to the same timeframe starting in 2014.
To date, the subreddit has amassed more than 37,000 subscribers representing the entire addiction spectrum — habitual users, addicts desperate to get clean, and everything in between. R/opiates is not for the faint of heart.
This past month alone featured a post from one user experimenting with old opium tablets, another poking fun at being dope sick and a brief obituary for a moderator who died May 31 from an overdose likely involving fentanyl.
Fentanyl's potency has been linked to a spike in overdoses country-wide. Between 2005 and 2014, the rate of opioid-related inpatient stays increased 64 percent while the rate of opioid-related emergency room visits nearly doubled, according to a new report from the Agency for Healthcare Research and Quality (AHRQ). A closer look at counties in and around Appalachia prove this deadly trend persists.
Montgomery County, in western Ohio, had more than 400 people die from overdoses this year alone while West Virginia has been hit so hard that a state program providing burial assistance for poor families is broke because of opioid-related deaths. In 2015, the state with the highest rate of overdose deaths was West Virginia (41.5 per 100,000 people), according to the Center for Disease Control and Prevention. Other states from the Appalachian region rounding out the top five were Kentucky (29.9 per 100,000) and Ohio (29.9 per 100,000).
At the crux of why West Virginia remains a overdose hotbed is the state's overreliance on industries like coal mining and its high unemployment rate, Business Insider reported. The state is also in dire need of improved substance abuse support. West Virginia only had 750 drug rehab beds in 2015 to service a population of 60,000 people who identified as needing treatment, the Charleston Gazette-Mail reported. For many, r/opiates has become a life preserver in a worsening storm.
A lifeline was exactly what Dustin Cinnamon, of Lawrenceburg, Kentucky, was looking for from r/opiates last summer.
An opioid addict for over a decade, Cinnamon was about to turn himself into jail for a 2013 felony drug possession charge that fell through the cracks. Knowing how lonely jail his five month jail stint would be, Cinnamon asked r/opiates to mail him letters (he received one). He also weaned himself off heroin using suboxone in order to mitigate withdrawal symptoms.
Released in March, Cinnamon almost immediately participated in a University of Kentucky study on opioids. He earned roughly $5,400 for spending six weeks in the study. Every day, Cinnamon agreed to swallow a placebo or a non-FDA-approved pill used in treating chemotherapy-induced nausea. He then had to snort an opioid or placebo and perform certain tasks like pressing a button numerous times while his vitals were monitored.
Cinnamon has since moved to New York City but continues to visit r/opiates. He praised the subreddit's honesty and support. Cinnamon said he has always felt comfortable sharing his real identity on Reddit because he hasn't been involved in any major drug dealing-related crimes in a long time. He believes r/opiates will only continue to grow as the stigmatism around addiction continues to lift around the country.
"For a long time, we were afraid to say anything, voice our opinion about addiction," Cinnamon said. "We have people dying left and right, we have sons and daughters of senators and congressmen and lobbyists suffering, and I think that what we are seeing is the culmination of these issues being transformed into a dialogue that we are finally admitting that it's time to have."
Fernando Alfonso III (@fernalfonso) is a reporter for the Houston Chronicle and a former staff writer for the Lexington Herald-Leader.
This story was co-published in collaboration with The Guardian.

Opioid Marketing Unintentionally Protected Rural Black Region
Purdue Pharma, the manufacturer of Oxycontin, put the sales pressure on doctors who already wrote more opioid prescriptions. That steered the pill away from black, rural counties and toward regions with greater numbers of whites. A noticeably lower overdose rate across the rural Deep South may be one result.
Rural counties in the South with a high percentage of African Americans tend to have lower drug-overdose rates, leading to speculation that racism may have had the unintended consequence of insulating blacks from some of the opioid epidemic.
"Across the rural South and into the Delta region, where you have very large proportions of rural African American populations, the overdose rate is actually relatively low," said Michael Meit, co-director of the Walsh Center for Rural Health Analysis, which released a map of county-level overdose deaths earlier this fall.
Economics and social conditions don't explain the large difference, so the cause is more likely to be related to race, Meit said.
"I do think that the pathway into opioids for many rural communities was prescription drugs," he said. "And I think, for whatever reason, the prescription drugs were not marketed towards rural African American populations."
That was the case with Oxycontin, the prescription drug credited with triggering the opioid epidemic that started in the mid-1990s. Beth Macy, author of Dopesick, a 2018 book about the epidemic in Virginia, said the manufacturer of Oxycontin marketed the new drug to doctors who were already prescribing larger numbers of opioids. That tended to be doctors in rural, white communities, she said.
"It [the instance of opioid prescriptions] was worse in places where there had been people with legitimate pains because of work injuries, logging, mining, fishing in Maine, coal, furniture factories," Macy said. These were primarily white, rural communities with blue-collar employment that produces an above-average number of injuries.
Macy is a former reporter for the Roanoke (Virginia) Times. The paper covered the early spread of Oxyontin abuse from Southwest Virginia up the Shenandoah Valley. Later, Macy reported on the rise in heroin addiction and trafficking along the I-85 corridor. Scholars say that increase in heroin use was fueled in part by addiction caused by prescription medications like Oxycontin. Unlike most drug epidemics, prescription opioid abuse began in rural areas and spread to cities and suburbs. Part of the pattern stemmed from marketing strategy, Macy said.
With access to a national database of prescriptions, Purdue Pharma, the manufacturer of Oxycontin, was able to focus on doctors predisposed to prescribing opioids. "[Purdue Pharma] knew where their best chances of success were, and they were in these kinds of towns that had high rates of disability and already had people with legitimate pain."
Purdue Pharma officials later pled guilty to criminally understating the addictiveness of the drug, among other charges. By the time Purdue Pharma had admitted to violating the law and relinquished $600 million in a fine and other payments, opioid addiction rates in the path of the company's marketing campaign were already elevated.
That marketing push largely missed rural counties in the South with a large proportion of black residents. Doctors there weren't in the top tier of opioid prescribers, thus they did not meet Purdue Pharma's marketing criteria.
Doctors are less likely to prescribe painkillers to African Americans because of conscious or unconscious stereotypes about blacks and drug abuse, numerous studies have shown.
The lower rates of opioid prescriptions for blacks is reflected in regional and national data. Nationally, whites were more than 50% more likely to die from an opioid overdose than blacks in 2016, according to the Centers for Disease Control. A national map showing overdose death rates created by the Walsh Center shows that predominately black counties in the South have a noticeably lower overdose rate than other parts of rural America.
Rural blacks are also less likely to name drug addiction as the biggest community issue. In a recent poll of rural Americans, blacks were more likely to name economic concerns as their top community issue while whites were more likely to name drug addiction as the worst community problem.
The same poll, conducted by NPR, the Robert Wood Johnson Foundation, and Harvard University, found that blacks were more likely to name cancer as their top health concern while rural whites named drug addiction as the biggest health problem.
This story was originally published by the Daily Yonder. 
White House Takes on Opioids on Its Own Turf – the Mass Media
On Thursday, the White House unveiled the first act in its effort to fight the opioid epidemic by harnessing the power of digital media and cable TV.  
A partnership between the White House Office of National Drug Control Policy, the Truth Initiative, a nonprofit previously focused almost exclusively on efforts against the tobacco industry, and the Ad Council created and premiered "The Truth About Opioids" ad campaign. The project aims to "close the knowledge gap" about the dangers of opioids and "empower people with the truth" to help them fight and prevent addiction.
The campaign kicked off with an airing of the first spot early that morning on the Today Show.
Soon after, during a phone briefing, the President's Counselor, Kellyanne Conway, delivered a carefully crafted speech, in which she reiterated that the Administration understands the multifaceted nature of the opioid crisis and that the campaign is only a part of an effort aimed at "preventing new misuse and new addiction by raising awareness."
Spearheaded by the Truth Initiative, best known for its aggressive anti-tobacco campaigns, "The Truth About Opioids" will target primarily young people between 18 and 24 years of age, across all digital media platforms.
Four short documentary-style video clips tell the real cautionary tales of four young adults who harm themselves in violent ways in order to gain access to more opioids.
The shock value is there, and so is the production value. The videos provoke that unpleasant sensation one gets from well-executed, naturalistic depictions of pain.
Every spot provides a backstory, probably the most important element of the whole endeavor, trying to show that opioid addiction is not — necessarily — a typical, recreational drug addiction.
The ads point to the systemic issues of over-prescribing and lack of proper medical guidance that leaves young people addicted and desperate.  
The campaign's website provides a host of additional information with a clear goal of delivering easy to digest, basic knowledge on the issue. It's hard to say just how successful these efforts will be.
We have written in the past about the potential pitfalls of following in footsteps of failed mass media campaigns, like the infamous Nancy Reagan initiative, "Just Say 'No.'"
Robin Koval, CEO and President of the Truth Initiative, pushed back against that narrative. During the briefing, she pointed to extensive research conducted prior to the release, as well as Truth Initiative's previous success in messaging to young adults.
Koval said that the Truth Initiative "tested over 150 different message possibilities, and pretested all of the advertising and the executions themselves."
She also shared the criteria used to test the proposed messaging. "One, does it decrease intentions to misuse? […] Two, does it impact willingness to share with someone else?  Does it increase risk perceptions? […] do these ads compel you to want to learn more — as we say, 'Know the truth, spread the truth' — and do they compel you to want to share them in your peer network? […]" According to Koval, the final ads were the most successful with the targeted age group.
Facebook, Google, YouTube, NBCU, Turner, Amazon, and VICE are among the companies that chose to donate their resources – broadcasting time, research, or online targeting tools – to help disseminate the campaign and reach the desired audiences. These are powerful allies for the cause.
Although the acting director of the ONDCP, Jim Carroll, didn't put a price tag on the entire project, Lisa Sherman, President and CEO of the Ad Council, revealed that ONDCP "has funded a very small amount of money to support some of the other hard costs of the campaign."
Carroll did answer other journalists' question, saying that the campaign did not tap into the $10 million pot dedicated to fighting the opioid crisis that was secured in the Omnibus spending bill.
Koval added that "We [The Truth Initiative] felt very strongly that, because we had the ability to donate this, we want other funds to go to those very, very urgent matters of prevention, of rescue, of recovery, which are the things that are happening on the ground, right now, every day."
While we can state fairly conclusively that "scare them straight" types of campaigns have historically worked poorly in reducing harm, these new educational efforts combined with relatable messaging could hold some promise.
The funding structure and emphasis on donated resources by some of the biggest tech corporations also holds promise.
For once, the powerful algorithms that seem to be driving so much of today's online media traffic and economy are said to be targeting one of the nation's biggest health problems.
Yet, no matter how optimistic the prospects of the campaign, we should remember that there remains a number of unanswered questions. To the people of Appalachia, some are more interesting than others.
How will the modern, 21st century online-based campaign overcome the connectivity problems across Appalachia? Is the knowledge gap the true problem in poverty-stricken communities, where the black market for the opioids serves as a source of supplemental income?
Last, but not least, when asked during the briefing about the choice of the age range of 18-24 as a target audience, Koval said that the choice was driven by Truth Initiative's experience and pre-built trust among young adults. "We chose to focus on the group that we know […] It's an audience that trusts us, that we have relevance with, credibility, and where we can create impact."
That leaves large swaths of affected populations out of the campaign's reach, often ones that — in sheer numbers — suffer the greatest loss of life due to the crisis.
According to CDC data, death rates due to drug overdoses are the highest among 35-44 and 44-54 age groups.
Here's data accompanying the graph.
The promised scope of the campaign and the partnerships it managed to secure are impressive. Let's hope the impact will be equally so.
Exchange of Ideas: How A Rural Kentucky County Overcame Fear To Adopt A Needle Exchange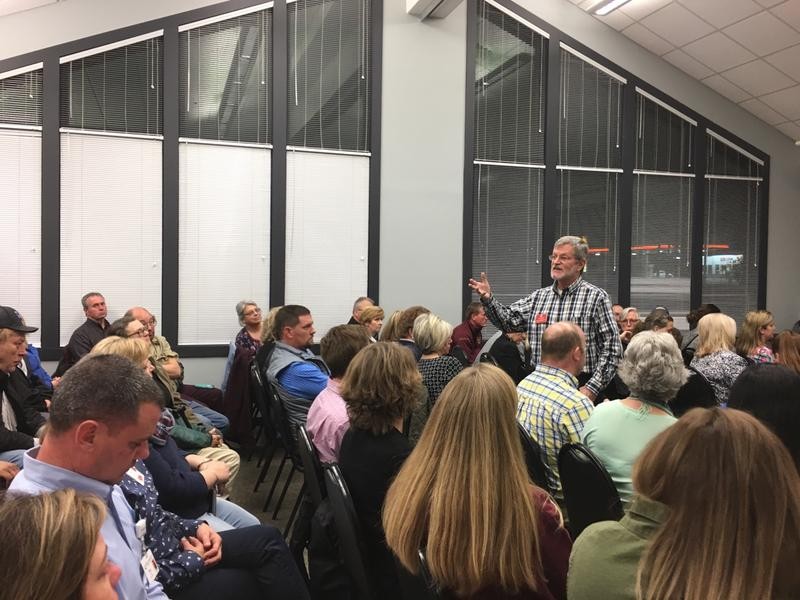 Greg Lee, Kentucky's HIV/AIDS educator, starts the town hall on a somber note.
"How many people in this room know someone who has died of an overdose death?"
It is a standing-room only crowd. Most hands go up.
"Amazing," he says, sadly.
The meeting is at the Bourbon County Public Health Department, just next to the county's drug rehab center and down the hill from a playground where used needles are found far too often.
For two-and-half-years there has been fierce opposition and two failed votes over a needle exchange here. On this evening, the key players are gathering one more time for a third debate on the needle exchange proposal.
Mike Williams, judge executive of Bourbon County, has been pushing for a needle exchange since state legislation made it an option in Kentucky. Bourbon County was the first rural county, following Louisville and Lexington, to attempt to start an exchange. After the failed attempts, he hoped 2018 would be different
"I was determined there was going to be a vote," Williams said.
Cecil Foley, longtime magistrate, represents the most rural parts of the central Kentucky county.
"I was dead against it, to be honest with you," Foley said of the needle exchange.
Joe Turner is the founder of Recovery Warriors, a group that works for addiction treatment.
"I knew going into the meeting it was going to be an uphill battle," he said.
In addition to the toll of overdose deaths, the Ohio Valley now also has some of the nation's highest-risk areas for outbreaks of needle-borne disease such as HIV and Hepatitis C. Health experts say a needle exchange is a strong defense against both overdose and disease. But exchange programs face strong public opposition, particularly in culturally conservative communities.
Which way would Bourbon County go?
"Handouts" or Help?
A skeptical tone dominates the early discussion in Bourbon County's meeting. One audience member says, "I see those people all over dumpster diving, they'll just take the needles and sell them to their friends."
Lee pushes back and says the exchange is provided to prevent that. The woman is unconvinced. "I don't think it will," she says.
Others in the audience say addicts are just looking for a handout.
But amid the skepticism there is sympathy as well. When Magistrate Foley uses the word "druggies" some in the audience push back.
"If we are enabling druggies to break the law, that's illegal," Foley says.
"These people aren't druggies, they are human beings," a man in the audience booms in response, followed by applause.
Foley said later that moment caught him off guard.
"I was surprised, to be honest with you, that they came back so hard," he said in an interview after the meeting. "I know they are human beings. I've a nephew who is in jail right now for using drugs."
.As the meeting continues, Turner, wearing a ball cap and a black "Recovery Warrior" T-shirt, makes his way to the microphone.
"I've been arrested more times than I'd like to admit by some of the very people in this room," he says, drawing some knowing laughs.
That was before he got clean five years ago, he said. Now Turner's helping others, including Foley's nephew. He said he connects up to 10 people a week with treatment. His phone rings constantly as people ask for help.
Turner tells the audience that the people he works with don't want the life of an addict.
"They want help," he says. "They will bum a ride, they will take a bike, they will hot foot it to come here and get a clean needle. They beg me for help."
Health experts laid out how quickly needle-borne diseases can spread and how often people can have full-blown AIDS before ever getting tested. Lee talks about how much it costs to treat cases of HIV and Hep C and how that cost falls to the taxpayers. The price of prevention is far lower.
Difficult Decisions
The difficult discussions over needle exchange programs are happening across the Ohio Valley. Public health officials, increasingly alarmed by disease outbreaks and the unrelenting toll of overdoses, promote needle exchange programs as a way to reduce harm, encourage addiction treatment, and offer disease testing services.
The 2015 HIV outbreak in Scott County, Indiana, which was fueled by needle drug use, is fresh in the minds of many public health practitioners. More recently, outbreaks in southern West Virginia and northern Kentucky have renewed concerns, and the Centers for Disease Control has identified many counties in the region as at high risk for disease.
But the health facts run up against deeply held opinions about the moral aspects of drug use and the notion that a needle exchange enables drug addicts to continue harmful behavior.
Some opposition is rooted in religious convictions. Some is based in fear that an exchange will draw addicts from the surrounding region and bring what was considered an urban problem to a small town.
Seach for needle exchange programs with our interactive map >>
Even some places that have established needle exchanges are now reconsidering, worried that such programs bring crime into their communities or that local efforts are helping people from other counties or states. Charleston, West Virginia, recently suspended its needle exchange program amid criticism and pressure from the city's mayor.
But by and large, needle exchange programs have expanded rapidly in the past two years in response to the opioid crisis. At the end of 2016, there were 30 needle exchange programs in Kentucky, Ohio and West Virginia. By the end of 2017, the region established nearly 40 additional exchanges, more than half of which are located in CDC at-risk counties.
Ten more exchanges have already opened their doors in 2018. Ten more exchanges are slated to open in the coming months in Kentucky alone, bringing the total to 46 Kentucky needle exchange locations.
Personal Tragedies
For about an hour the Bourbon County meeting is adversarial, with little common ground apparent. The meeting's tone starts to shift in hour two as folks like Magistrate Don Menke share personal tragedies.
"My brother-in-law died, overdose. My nephew just died, was missing for a week," he says. "They found him in a hotel room. Overdose."
At least five people rise to say they have a relative who is addicted or who has died. Judge Williams says he's been to the funerals of the children of five friends since he first proposed the needle exchange more than two years ago.
"Those funerals are real," he says. "That pain is real."
At this point, Magistrate Foley seems to be having second thoughts about his opposition. But, he says, a needle exchange is still a tough sell for his constituents.
"I'm going to need your help," he says to the room. "Where I live out in the county, nobody is in favor of a needle exchange. Y'all are going to have to help me tell this story that I heard here tonight."
The room goes silent as Judge Executive Williams calls for the vote.
All eight magistrates cast their ballots. Foley votes, "Yes."
There is a pause while the tally is made. The final vote: 6 to 2 in favor.
"The measure passes," Williams says to thunderous applause.
What Works
In follow-up interviews, Foley, Turner and Williams, still all a little surprised at the outcome, reflected on why the measure was approved.
Foley said that if more people heard the whole story behind an exchange program, they would change their minds like he did.
"It's more of a safety issue and it's meant to stop the spread of disease and to save money."
Turner said it's crucial that support is homegrown.
"Most people from small, rural towns, they don't like outsiders," he said. "It's got to be grass- roots."
Williams said he was jubilant at the outcome. But it was hard to tell from reading his face during the meeting. He said he didn't want to react too much because he knew many people still were strongly opposed. He offered this advice to other community leaders: Persevere.
"It took us three times," he said. "Don't give up, and keep presenting the facts."
The Bourbon County needle exchange program begins operating in May.
This article was originally published on Ohio Valley Resource.