Rural hospitals may struggle under House GOP's proposed healthcare overhaul
Over the last two years, the number of coal mining jobs in Boone County, West Virginia has halved. Drive through the county now, and signs of depression are becoming evident in shuttered storefronts and homes in increasing need of repair.
Given that context, it's somewhat startling to stumble across the brand new Boone Memorial Hospital on the edge of Madison.
Boone Memorial is a small, rural, hospital in southern West Virginia. The next closest facility is in Charleston about 45 minutes away. Before the Affordable Care Act, Boone had to absorb almost $6 million of uncompensated care costs a year.
In 2015, after the ACA became law, uncompensated care costs for Boone Memorial dropped to a little more than a million dollars. Uncompensated care is when hospitals are not reimbursed for services – usually when patients are unable or unwilling to pay. One reason for that 4 million dollar shift may be because West Virginia expanded Medicaid through the ACA.
"A change in the cash flow from Medicaid, would impact us pretty significantly," said Boone Memorial CEO Virgil Underwood. "And if we were not in a position where we were watching our cash flow as closely as we are, it certainly could be problematic for us."
Not an isolated issue
Boone Memorial is not the only hospital in Appalachia for which a shift in cash flow could be problematic.
However, it's hard to make sweeping statements about trends in rural hospitals because there are so many factors that impact how well a rural hospital is doing. But, we did take a look at the data.
"Medicaid expansion states have rural hospitals with a median operating margin that is positive and it is statistically higher than those states that did not expand Medicaid," said Michael Topchik, national leader for the Chartis Center for Rural Health.
West Virginia is one of 32 states, including Washington, D.C., that expanded Medicaid.
After the ACA, uncompensated care costs in West Virginia's rural hospitals went down almost across the board. In fact, uncompensated care costs halved from almost 85 million in 2013 to about 43 million dollars in 2015.
"So we saw that those patients that didn't have insurance, had insurance and so that was a really good thing for us and for a lot of the rural hospitals or any of the hospitals in West Virginia," said Skip Gjolberg, CEO of St. Joseph's hospital in Upshur County.
CBO report consistent with other analyses
The Congressional Budget Office released a report this month analyzing the impact of the U.S. House of Representatives health care proposal to replace the ACA. Critics of this report say the CBO is unreliable and does not make accurate predictions. But the information in it is consistent with other analyses from agencies like the Kaiser Family Foundation and Michael Topchik's Chartis Foundation and is the best tool to project potential impact.
Topchik said the CBO report predicts that overall, the federal government will make fewer payments to states under the ACA replacement plan.
Potential for Diminished Capacity of Care
"So inherently, there will be a scaling back of coverage of the amount of people covered and the ability of people to then receive care in rural hospitals will be diminished," he said.
The CBO report projects that by 2026, 24 million people will lose health coverage – partially through changes in the way that Medicaid is funded. For one thing, all those Medicaid expansion patients who gained coverage under the ACA, may now lose it.
"That's not going to help rural hospitals and very well could push some of the most marginalized hospitals over the edge," Topchik said.
Rural hospitals generally disproportionately care for the elderly and Medicaid population. For hospitals like Boone Memorial and St. Jo's, changing in the way funding is reimbursed for those populations could make things really tough.
"West Virginia hospitals, and we're no exception, are on a pretty tight margin. And anything that will either decrease our volume or reduce the reimbursement we get will negatively impact this hospital," said Gjolberg.
If the expansion money goes away, Gjolberg said their margin of profit would likely disappear as well.
And if hospitals like St. Jo's and Boone Memorial have to scale back services or disappear altogether, it would mean fewer health care services in rural areas that need them the most.
3 Ways Trump Could Disrupt Health Care for the Better
Since his winning presidential campaign, Donald Trump has been repeatedly billed as a disrupter. From trade and foreign policy to immigration, Trump has consistently tried to shake up the status quo.
As experts in health care management and policy, we believe the president should now focus his talent for disruption in our sector.
And unlike the issue of immigration, there is widespread bipartisan appreciation of the crisis in health care, with bloated costs and an industry that fiercely resists change.
Why health care needs disrupting
While the growth of health care costs has been relatively muted in recent years, they are still cripplingly high and pose a threat to the entire economy.
Health care now accounts for about 18 percent of the economy – up from about 13 percent two decades ago – and is expected to make up about a fifth of the U.S. gross domestic product by 2026. The United States spends more on health care than any other country.
Yet Americans have little to show for it. U.S. life expectancy at birth, for example, is lower than 11 other high-income countries including Japan, Germany and the U.K. At the same time, infant mortality is the highest.
In addition, despite the mitigating impact of the Affordable Care Act, 28.3 million remained uninsured in 2018.
Furthermore, rising health care costs crowd out other consumer spending, which has the potential to erode Americans' standard of living.
Here are three ways Republicans and Democrats can come together to disrupt the health sector to reduce costs and improve efficiency.
1. Let nurses and pharmacists do more
One of the key drivers of rising health care spending is the high cost of labor.
And one reason for that is state laws and regulations control what medical professionals can and cannot do in a way that requires high-paid physicians to perform certain duties or make medical decisions that nurses, pharmacists and others with more modest salaries could easily do. While the intent may be to ensure quality, the end result of this ring fencing in our view is that it protects certain groups – including nurses and others – from competition. It also ties the hands of health care managers seeking to improve efficiency.
For example, state scope of practice rules generally restrict prescribing medications to physicians – even though others such as nurse practitioners and pharmacists are fully qualified to do this in most cases. Similarly, ophthalmologists rather than optometrists are primarily allowed to prescribe eye medication, while dental hygienists require the supervision of a dentist.
And as for the impact on quality, a 2013 study showed that the quality, safety and effectiveness of care is similar between less costly nurse practitioners and more costly physicians.
To change this, Trump could direct federal regulators to craft guidelines that greatly expand the scope of what nurses, pharmacists, hygienists and the like can do, and then have Medicare and Medicaid make payments to health plans, hospitals and states contingent on compliance with those guidelines.
Increasing competition and letting less well-paid health care professionals handle more of these duties and decisions should help contain and possibly even lower costs.
2. End the monopoly on drugs
Another major culprit behind out-of-control health care inflation is high prescription drug prices, especially for patented medicines. Most prescriptions are for generic products that are commonly inexpensive, but new drugs often command eye-popping prices.
Studies show Americans pay at least three times more for drugs than residents of other high-income countries. And a quarter of Americans who take a prescription drug say they skip doses or take fewer pills than they should because of the high cost.
Pharmaceutical firms can charge such high prices for new drugs because patents give them monopoly power for years. Moreover, insurers have been willing to pay.
The Trump administration has already made an important if narrow move to remedy this by directing that Medicare Part B use international reference prices in some cases when reimbursing pharmaceutical companies. That is, the program would pay the average price of a drug in a basket of countries, which is usually lower than prices in the U.S. A recent government study of the impact estimated the program would have saved more than $8 billion had reference pricing been used in 2016.
But it could do more, particularly as there is significant bipartisan interest in the issue.
An even bolder approach would involve reforming the patent system underpinning biomedical research. Currently the patent system provides incentives for biomedical research, with the potential to reap enormous profits. A more efficient way to finance groundbreaking research in our view would be to put a tax on the sale of prescription drugs and use the proceeds to fund research on new ones.
Pharmaceutical and other biomedical companies would compete for those grants – making the decision over what types of drugs to develop a social decision rather than a private one – and any drug they develop with the money would be patent-free. Nobel Prize-winning economist Joseph Stiglitz, for one, has argued in favor of an approach similar to this.
In our view, this would drastically reduce prices.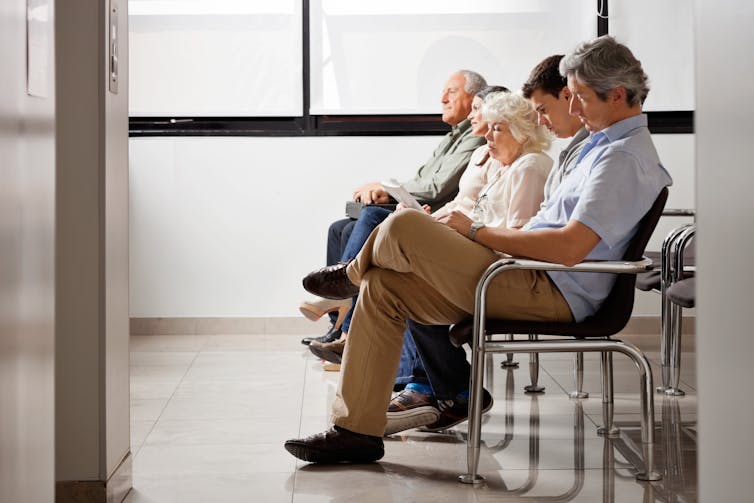 3. Put consumers in the driver's seat
A third problem that leads to high health care spending is the lack of consumer control.
Normally, when someone wants to buy something – be it groceries or a car – a consumer looks around in stores or online and compares prices to make an informed choice about what works best given her needs and budget.
Health care does not conform to this model. Information is asymmetric —- which means one side knows more than the other —- and consumers tend to defer to their providers. Moreover, insurance renders consumers insensitive to prices with little incentive to shop. Cost containment breaks down if shoppers cannot obtain prices.
Trump could empower consumers by aggressively pushing for greater standardization and use of technology in health care. This could include giving consumers more control of their health records in the cloud and requiring insurers and providers to give them more information about prices and the quality of competing options. And as with occupational control, the administration could condition Medicare and Medicaid payments on following its standards.
Knowledge that all providers have ready access to all your medical information will likely encourage switching to lower cost providers. And just as giving consumers more control led to significant innovations, competition and savings in retirement plans, the same thing would happen in health care.
Peter Hilsenrath, Joseph M. Long Chair in Healthcare Management & Professor of Economics, University of the Pacific and David Wyant, Assistant Professor of Management, The Jack C. Massey Graduate School of Business, Belmont University
This article is republished from The Conversation under a Creative Commons license. Read the original article.
Rural Citizens Vote Against Their Own Medicaid in State and Federal Elections
Most of Betty Rosengrant's extended family needs Medicaid. They're also mostly Republicans. Rosengrant says she knows Republicans have proposed cuts to the federal/state health care system, but that "people just vote the way their parents voted, and that's Republican." 
Rosengrant, 69, and her family have had their share of medical crises, including her husband's death from cancer and her own difficult knee replacement. There have been times her family's needed to rely on Medicaid, which covers costs for those with income below 138% of the official federal poverty level. Some of her children, grandchildren and great-grandchildren have too.
Her family and her town of Hancock, New York (pop. 3,500 if you don't count summer camp kids or fall hunters), resemble many Republican communities across the U.S. According to the Census Bureau, one in five Americans dwell in rural areas — places where the 2016 voting went heavily for Republican candidates calling for cuts in "entitlements" like Medicaid.
They're also the communities where Medicaid is key to health care access for one-quarter of the population, according to Families USA. In fact, according to The Washington Post, 51 percent of rural births are covered by Medicaid, compared to just 45 percent nationally and an even lower percentage in urban/suburban areas. In Hancock, many people get their primary care at a storefront clinic on Main Street, where an average of 40 to 50 percent of patients are on Medicaid, according to the clinic director. (The clinic is run by the Lady of Lourdes Hospital, which is 45 miles away in Binghamton.)
There are several reasons more rural people rely on Medicaid. Incomes are lower than in cities. There are also fewer unionized employers or large employers, both of which typically have company-sponsored health plans. As well, with jobs harder to come by, a higher percentage of rural people are self-employed, work part-time or are unemployed. 
Medicaid, established in 1965 as a complement to Medicare for the elderly and disabled, was meant to provide health care access to the poor. Like Medicare, it's been a target for Republican budget cutters ever since. In October, Senate Majority Leader Mitch McConnell (R-KY) called for cuts in both programs as have GOP House leaders.
Unlike federally administered Medicare though, Medicaid, while funded by the federal government, is administered by the states. This doubles the jeopardy as both Congress and state legislatures continue to attack the program.
One such two-pronged attack was part of the Trump administration's effort to undo the Affordable Care Act (ACA). In addition to subsidized health insurance plans, the ACA expanded Medicaid access, enabling another 1.7 million low-income people to receive health coverage in states that adopted an option of a higher income eligibility. Most that did had Democratic state governments. Continuing attacks on the ACA threaten that access.
When the Trump administration issued a "guidance" allowing states to impose work requirements on Medicaid applicants, a number of states with Republican-majority governments quickly adopted them, though critics warn the requirement could end up denying people coverage. In three states the new work requirements were approved. Another seven have applications pending.
Pennsylvania has a Democratic governor, but the Republican-controlled legislature is still pushing legislation which, if approved, would require Medicaid recipients to be working or seeking a job, and also would raise their co-pays for care. Most of Pennsylvania's Republican congressional representatives, primarily from rural districts, also back a Republican tax plan that could severely cut Medicaid in the future by converting it into block grants, which would cap state spending regardless of how many people qualify for coverage.
Ben Waddell, a sociology professor at Ft. Lewis College in Colorado, says he understands why Rosengrant's extended family and so many other rural Americans vote the way they do.
"Rural people out West descend from people who moved here hoping to make their own way," he says. "These days, with globalization taking away jobs, what matters to them is having a job and having self-respect, not so much having health care." He recalls a coal-fired power plant near Norwood, the small Colorado town where he grew up, being ordered closed during the Obama administration and how people there worried about the lost jobs. He says Trump's 2016 campaign promise to "bring back coal" resonated.
"People don't always understand all the scaffolding of these programs like Medicare and Medicaid or how globalization really works," he says, "but they do respond to the simple messages they get from Republicans about how Social Security and Medicare are 'in trouble.'" He adds, "I think rural voters in Appalachia think the same way." 
Rosengrant, a lifelong Republican who recently began voting Democratic, is not surprised so many people in her community support politicians who threaten their Medicaid. "Most people around here don't read newspapers, and just watch Fox TV," she says. "They don't even know who the candidates are that they vote for, and even if they don't just vote party line, they don't know that the Republicans want to cut Medicaid."
Dave Lindorff is a veteran award-winning investigative journalist who writes for Salon, the London Review of Books, the Nation and other publications. He is author of "Marketplace Medicine: The Rise of the For-Profit Hospital Chains" (Bantam, 1992) and for five years was a Hong Kong and China correspondent for Business Week magazine. He lives near Philadelphia.
This story first appeared at investigative and solutions journalism website Tarbell.org. 100 Days in Appalachia is co-publishing the story.
Black Lung Benefits Fund in Deepening Debt as Epidemic Surges
A new study from the Government Accountability Office finds that the federal fund supporting coal miners with black lung disease could be in financial trouble without Congressional action. As NPR has reported, the GAO found that the fund's debt could rise dramatically at the same time that black lung disease is surging.
Most federal benefits for coal miners disabled by back lung are paid from the Department of Labor's Black Lung Disability Trust Fund, which covers the cost for companies that have gone bankrupt.
The trust fund is mainly supported by a tax on coal, but according to the GAO, those taxes have not covered costs, leaving the trust fund over $4 billion in debt. The GAO says that debt could soon climb to more than three times that amount if Congress doesn't take action.
Other recent federal studies show that black lung disease is surging both in frequency and severity, especially in central Appalachia.
Bethel Brock, a retired paralegal in Wise, Virginia, is a disabled former coal miner who fought for years to win federal black lung benefits. As Brock explained, more cases of severe black lung could raise costs significantly.
"The cost is on giving a miner a health card for his lungs and heart," he said. "Cases where a miner might have to have a lung transplant can run into the millions of dollars."
Decades of Debt
In 1981, Congress approved a temporary tax increase on coal in hopes of getting the trust fund out of debt. The increase was extended in 2008, and is set to expire at the end of this year. That would cut the fund's income by more than half and the GAO predicts the fund's debt would more than triple by 2050, reaching over $15 billion. Even if the tax cut is extended, the fund's debt is expected to continue to grow slightly.
Republican Senate Majority leader Mitch McConnell of Kentucky said he's aware of the issue, but would not say whether he'd support extending the tax.
"It doesn't expire until the end of the year," McConnell said, "and so we've got plenty of time to take a look at solving that problem."
The issue puts McConnell in an uncomfortable position. Many of the affected miners are his constituents but he also enjoys support from the mining industry, which opposes extending the tax.
Who Pays?
The National Mining Association told NPR it hopes that some or all of the debt will be forgiven. That's what happened in 2008, when taxpayer funds absorbed $6.5 billion of the fund's debt.
United Mine Workers of America president Cecil Roberts argues against forgiving the debt. In a press release, Roberts said reducing the amount companies pay is "not just wrong, it is rewarding bad corporate behavior."
Evan Smith, a black lung attorney and blogger at the Appalachian Citizens Law Center, said industry opposition to extending the tax raises some big questions.
"I want coal to make sense. I want there to be coal mines, I want there to be coal miners," he said. "But if you say that you cannot protect your workers at the current price of coal, then does the entire enterprise make sense?"
Because black lung can be prevented by limiting dust exposure, experts for many years thought the disease would soon be a thing of the past. But central Appalachia is now facing the largest epidemic of severe black lung ever documented.
This article was originally published by Ohio Valley Resource.