The Mountaineers as a metaphor: How WVU's heartbreaking loss reminds us of what else we're missing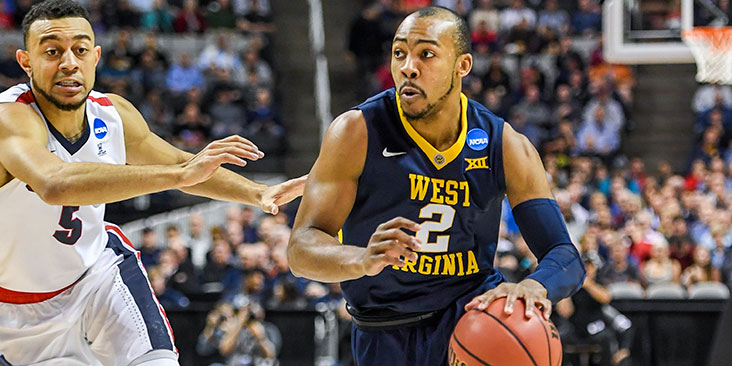 On nights like Thursday night, it feels like it's the very mountains that are keeping us down. No matter how high we climb, it's never quite high enough.
Very few people outside the state of West Virginia know that the Mountaineers are the winningest college program without a national championship. But West Virginians? We feel it acutely, like the last breath of winter slicing through the trees, like the numb feeling after a Mountaineer loss.
My father will never get to see WVU win a national championship. On a cold morning last fall, two days into hunting season and two days before Thanksgiving, his heart stopped.
Maybe it was the thousands of miles he had walked along the trout streams of the Monongahela National Forest. Maybe it was the passion with which he devoted himself to the city of Elkins and his friends, family and neighbors. Maybe it was the countless times his heart had skipped a beat worrying about the Mountaineers at the end of a close game. Maybe it was just time.
He took his last breath under the canopy of a deer blind, with the golden light of day driving away the dawn along the hillside below him. He was only 64, but it was a fitting close to the life of a Mountaineer.
I thought about my dad a lot while watching the game. How he would have jumped out of his chair – shouting "yeah!" – when we went up by three after the break. How he would have slapped his hands together and muttered "shoot" when Gonzaga went up, stretching out the "shhhhh" like a curtain drawing close.
This past year was hard. A close friend from high school succumbed to the depression that had plagued him since childhood — an occurrence, like heart disease, that is far too common in the state. A win, in some ineffable way, would have felt like a defeat over that darkness.
I understand intellectually, perhaps, how ridiculous it is to put this emotional baggage on a basketball team. But the Mountaineers aren't just another basketball team and WVU isn't just another school.  It has roots.  I went there; my father went there; his father went there.  My great-uncle played basketball with Charlie Huggins, who went on to be a great coach in Ohio and father to the current WVU coach. My uncle played football with Joe Manchin, who went on to be our U.S. Senator. The school, like the state, is a part of me, just as WVU is interwoven into the fabric of the state like no other college in the country.
With so many panhandles and regional quirks, the school is a unifying force in a state stretched in so many directions. Those of us who grew up there know it's three, four, maybe five states in one, while others don't even know we're a state at all (is that near Richmond?).  For those of us driven away by the lack of opportunity, who long for country roads to take them home (there's a reason every great song about the state is written through a rear view mirror), Mountaineer sports provide that momentary connection. In a state that has seen such economic distress while enduring a hundred years of condescension and belittling stereotypes, WVU's athletic success over wealthier, more pedigreed schools is the comeuppance we so desire, even as that one big win eludes us.
Our shared love of — and continual frustration with — WVU athletics was a cornerstone of my relationship with my father, as it is with so many sons and fathers in the state. I can remember Tony Caridi's golden voice crackling out of an old radio while we shucked beans on our back porch. I can remember calling him from the stadium to shout over the din of a crowd singing "Country Roads" arm-in-arm after Pat White and Steve Slaton stunned Louisville in a triple overtime win in 2005. And I can remember calling him on Skype while living in London to lament that horrible football loss to Pitt in 2007 — the closest we had ever come to playing in a national championship in my memory.
He was proud of WVU despite its losses, proud of the state despite understanding its flaws, proud to call himself a Mountaineer despite the destruction we inflicted on its mountains and his beloved streams. In a state blighted first by industry and then by its exit, it sometimes feels like hope and pride are too much to ask.
The Mountaineers made us proud.
Coach Huggins, one of the great coaches in the sport, prepared the team well just a short time removed from a heart-related scare of his own and WVU gave the country one of the best basketball games of the year. It was ugly and beautiful, excruciating and thrilling. Javon Carter seemed at times like a one-man offensive barrage against an entire army of blue and red. Nathan Adrian ended his career doing what he did best, diving out of bounds for a loose ball, creating something out of nothing, reminding us again that putting in the hard work and effort can pay off for a hometown boy. And Sags [Sagaba Konate] had the most beautiful block I've ever seen – Chris Webber sounded so excited I thought he was going to jump from out behind the announcers' booth and sub in for Elijah Macon just to get in on the action.
And yet, despite our best efforts, the state will have to wait another year for a national championship. It will have to wait another year for a lot of things: a better economy, an end to the opioid epidemic, that maddening last section of Corridor H. But the grit, the determination, and, yes, the heart the team showed in the face of a more talented and higher ranked squad made us all a little prouder to call ourselves West Virginians.
More importantly — and this is perhaps the essence of what makes WVU matter so much to this state – the team gave us hope.
I know if my dad were alive, I would have gotten a call after the game. After recounting the highlights, he would have told me the team played a great game and the players should be proud of themselves.
And as he wished me goodnight, I would have heard him smile over the phone: "Well, there's always next year."
Seth Gainer (@SethGainer) is a business consultant and former staffer to Senator Jay Rockefeller. He lives in Washington, D.C. but still calls Elkins home. He hates that his new D.C. plates get him tickets driving those country roads.

West Virginia's 'Bad News Bears': Chico's Bail Bonds More a Social Club Than Softball Team
It's an early August evening on Libertore Field at White Park in Morgantown. The orange prison jumpsuit jerseys of Chico's Bail Bonds are impossible to miss — and so is our play. But, that's not necessarily a compliment.
On this evening, the team loses in typical Chico fashion.
The team name, of course, comes from the 1976 film The Bad News Bears, in which a down-and-out and cheap beer-swigging Walter Matthau coaches a group of rag-tag Little Leaguers and tries to whip them into shape.
Morgantown's Chico's aren't too far off from their fictitious counterparts.
On this night, there are flashes of defensive greatness in the outfield from Chico veteran Sean Kelley and rookie Dave Lawson. A few Chico batters turn infield errors into a few runs, thanks to some heads-up baserunning.
We hold our own against an outmatched and much younger rival, Gene's Beer Garden, only to crumble when we needed to come through.
But all isn't lost, as it never is with Chico's. The night is still young. Win or lose, the team had yet to get to the best part of the Chico's game-night experience.
Becoming a Chico
I found myself a part of this group of gentleman misfits somewhat by chance, but looking back on it all, it makes perfect sense.
It was a Wednesday night in late winter or early spring of 2017, and I had popped into 123 Pleasant Street after a long day at work. I sat down, looking for some sort of reprieve from the heaviness that can be my job. I stopped in to catch up with my friend, Tyler Grady.
"You said, 'Hey dude, is there a softball team around here or anything?' And I don't remember if I even said anything other than, 'Come with me — follow me right now,'" recalled Grady, a Morgantown musician, car salesman, entrepreneur and a bartender at 123 Pleasant Street.
"We walked around the bar and I took you downstairs to the lower bar that was not open at the time. I stood up on the liquor shelf, I climbed up and I got down our trophy that was given to us — the Olivia Newton-John trophy, our 0-and-23 trophy. And I was like, 'The greatest softball team of all time is here,' " Grady, who plays right field, remembers.
The Olivia Newton-John trophy is a reference to Tommy John surgery — a procedure baseball pitchers undergo after tearing a tendon in the elbow of their throwing arm. Any baseball fan surely would get the joke.
I immediately understood the sense of humor that informed Chico's. I could also tell I didn't necessarily have to be good — this was about goofing off and having fun.
But Chico's is an institution — with a history far longer than my two-season career platooning at first base.
Among the many stories of Chico's lore include a player being picked up from jail to make a game, a player buying an orange Miata and getting a vanity license plate with 'CHICO84' and strange nicknames like 'Meatball.'
A Staple of Morgantown Softball
With just one season under their belt as the Nyabinghi Dance Hall, the team took on the Chico-moniker 20 years ago — in 1998 — the same year the bar took on the name of its address, 123 Pleasant Street.
Morgantown native Louis "LJ" Giuliani took over ownership of the bar and sponsorship of Chico's. He says Chico's immediately embodied the open-minded identity of 123.
"It doesn't matter if you're white or black, straight or gay, or whatever. It's all kinds that take the field when Chico's takes the field," Giuliani said, noting that 123 held the same values from the beginning.
Chico's utility player Jon Vehse, who works in construction and other odd jobs, remembers the early days of 123 Pleasant Street the same way.
"This bar — especially when it started — it was the bar for everybody that didn't have a bar. Everybody got along. You know, it was the place for everybody that didn't have a place. In a lot of ways, Chico's is kind of like that," Vehse said.
After 20 years, many Chico's have come and gone from the team and from Morgantown. But even those who have moved on still stay connected to the team and look back on the early days with fondness.
"It was probably, really, to do something healthier besides sitting in the dark bar. I think to go out and do something that was more participatory and less spectator-driven — because, we all sat around and watch baseball together at that time. So, it was nice for us to go out and do something [and] get out in the sun and see the day together," said Greg Leatherman, a journalist now living in Florida who was around when the team began.
Morgantown's Music Scene and 123 Pleasant Street
Giuliani, now retired from the softball field, says Chico's was always rooted in Morgantown's music and art scene.
"A lot of the players that they grabbed on to just happened to be musicians. Brian Porterfield, Tom Batchelor, you've got Jeff Goodwin who is a musician. He's playing on the team now," said Giuliani, recalling some of the players who have exercised their musical talents from the stage at 123 and other local venues.
Softball wasn't their first talent — nor their second, third or fourth, Giuliani said with a laugh.
"It was a way to bring like-minded folks [together] that liked talking about music or art or how many shots of Jameson they had. It was based more on like-mindedness," he explained.
Following each Chico's game, as it has been since the beginning, the Bonders gather at 123 for cheap beers like Black Label and Pabst Blue Ribbon — and, as Giuliani mentioned, celebratory shots of Jameson.
For Vehse and other Chico's, the post-game celebration is the perfect cap — with seemingly disparate people milling about, discussing music, sports, politics and sharing stories of life's misadventures.
"More often than not, it is the highlight of the evening. But there's there's just a certain camaraderie. I think there's a genuine affection between people," he said.
Among Chico's, Vehse is known for his love of curating the music from the jukebox in the lower bar.
"From Beethoven to Bob Wills, from the Rolling Stones to Prince Far I. There's everything on that jukebox. It is an eclectic evening. It is awesome," Vehse said of the musical selections.
Creating the Chico Mythology: Game Summaries Recap the Misery
But, even after a few drinks at 123, a Chico's game night isn't over until it's been recapped and shared on the team's Facebook group.
Part comedy, part mythology, the game write-ups exaggeratedly highlight the ups-and-downs over an always hard-fought seven innings. If Chico's doesn't get clobbered into a 10 or 15-run mercy rule before getting through all 7 innings, that is.
"There's three of us that have kind of done this and that's myself, David Forman and Jim Antonini," Greg Leatherman said. "And, basically, it is sort of like the literary connection to Chico's softball team — is that we've always captured the games win, lose or draw and written up how the game went — in both a serious, professional, sort of sportscaster way but also with a lot of humor."
Shortstop, team manager, Morgantown native and occupational health science researcher Jim Antonini has taken over the write-ups in recent years.
"It's the same story and it's gotten harder to write them — because, we continue to lose. There's only so many ways you could describe a loss and drinking beer after a softball game," Antonini explained.
If you were at any given game, you would know what is and isn't absolutely true. If you weren't, well, that's left to your own imagination to decide.
Here's one of Antonini's write-ups from a game back in 2011:
The clock struck midnight. Down 19-18 in the last inning with two outs and two Bonders on, hot-hitting Ethan Wells hit deep, majestic drive to center field, bringing the roaring Chico followers to their feet. To the Bonders' dismay, the Colasonte's left center fielder dashed out of the darkness and fog of the thick, hazy summer night and made a diving, stabbing, tumbling, catch — ripping the hearts out of the Chico followers and team members.

In disbelief, first baseman Leatherman retreated to his car and wept — not about the loss, but about the pride he felt for his fellow Bondsman.

On this night, Chico's were everything they had not been this forgettable season: Daring, hustling, bold, youthful. Not wanting to go home, six or seven Chico's milled aimlessly around the closing 123 bar at 3 a.m.

An exhausted and worn down Vehse stood over the darkened jukebox — with the power long shut off after last call — still trying to make selections…just wanting to hear Peggy Lee sing "Is That All There Is" one more time.
Another Losing Record, But No Giving Up
Chico's finished their 2018 campaign with a record of 3 wins and 25 losses. Two of those wins came as a result of a no-show forfeit from the opposing team, while the third came on a gloriously executed 7 innings against Davis Cabinetry.
Such a pathetic record should make anyone reconsider their motivations to keep playing softball. But, if you can't tell, Chico's isn't about winning. Antonini says no matter what happens over the course of a season, it's hard to imagine hanging it up.
"I think every year there's a point in the year — probably after you've played 18, 20 games and it's like 'Why are we doing this?' We come out and sometimes we really get humiliated," Antonini said. "But, then, the game ends and then you get together and everybody has a few beers and then it's it doesn't seem that bad. It's a pretty good way to spend a night."
Giuliani, despite having not played in recent years, feels the same.
"Chico's is kind of a state of mind in the sense that we're not here to judge, we're here to support and we're here to spend time with each other. And that's the bottom line. We're a softball team that's more of a social club than an actual softball team," Giuliani said.
So, if you ever find yourself around 123 Pleasant Street surrounded by orange softball shirts, you'll know you're hanging out with the Chico's. Buy a few of them a drink and strike up a conversation. After all, we assuredly just got beat.
This story is featured on an upcoming episode of West Virginia Public Broadcasting's podcast ​Inside Appalachia focused on the impact of baseball throughout the region. It was originally published by West Virginia Public Broadcasting. 
'Fallout' Video Game Series' Post-Apocalyptic Vision of West Virginia Might Not Be Worth the Trip
Video games are often not great at depicting rural life. But all signs indicate that the next game in the "Fallout" series, "Fallout: 76," is going to be set somewhere in the mountains of West Virginia—for better or worse. The news has been met with a range of responses, from celebratory to cautionary, but either way the short trailer released last week serves as a conscious choice on the part of the game's developer Bethesda to diverge from expectations that their next big release would continue their popular "Elder Scrolls" series.
Information found in earlier "Fallout" games referring to a "Vault 76" located somewhere in Virginia, as well as a certain iconic West Virginian song making its way into the recent teaser, make it pretty clear that Bethesda is eyeing the Mountain State as the setting for the next big iteration of its best-selling game series.
But while the "Fallout" video game series has never properly given the Appalachian region its unique retrofuturist/post-apocalyptic treatment, the game series' history of portraying rural areas proves that it might not handle its own vision of West Virginia in a way that's responsible to the state's real-life residents.

The "Fallout" series has always been about loss and its implications. The word "fallout" itself has multiple meanings as far as the game's themes are concerned. Nuclear fallout from a brief but devastating world war results in the physical state of the game's world (once a gleaming sci-fi utopia, now a decimated landscape dominated by twisting metal and debris), but there's an altogether different sort of fallout visible in the disastrous condition of so many of that same world's civilizations and people—namely, that they've regressed to a point where killing or attacking strangers has become part of the new post-apocalyptic way of life.
A hefty percentage of the folks who players encounter in the game will either immediately try to kill them or else will ask them to complete some kind of quest on their behalf (at the end of which they may also try to kill the player). But most of them are just trying to survive in any way they can. They're fighting every day with whatever vaguely weapon-shaped implements they have on hand in order to hold on to what little land they have left. The people of the "Fallout" series' world are deeply connected to and shaped by their local landscapes, forgotten or ignored by whatever remains of the government, wary of outsiders, and fiercely loyal to whoever (or in some cases, WHATever) they've chosen to call their family.
Those images might start to sound pretty familiar to many Southerners, particularly those who have lived or grown up in the Appalachian Mountains. But those hoping that their rural experiences will be responsibly represented in the newest "Fallout" iteration have reason to worry; for an explanation, look no further than "Fallout 3" (the first major game in the series with current developer Bethesda at the helm) and its downloadable content "Point Lookout."
Set in the Point Lookout State Park region of Maryland on the state's western shore, the in-game region of '"Point Lookout" hardly resembles the present-day region's outdoorsy New-England-fishing-village vibe.

Instead, the area looks like something out of the movie "Deliverance."

Deranged "swampfolk" roam the land, killing anyone without "the marks" (disfiguring mutations) and worshipping eldritch gods through blood sacrifices and worse. It's later explained in-game that the swampfolks' appearances are the result of intense nuclear radiation as well as (naturally) generations of inbreeding. Much like the horror film "Wrong Turn", the game trades in on its audience's preconceived notions of rural residents in order to instill fear and create a feeling of otherness or strangeness in its players. Everything about these enemies is designed to call to mind the "dangerous hillbilly" stereotype, from their threadbare overalls to their broken shouts of "There you is!" when they spot the player character roaming their lands.
These characters are not human, a fact that the game telegraphs to the player in various ways (some more subtle than others). The swampfolk are implied to be capable of trade and interact offscreen with certain non-player characters. Despite this, there is only one true swampfolk character players can interact with directly, and it's a young boy who has specifically been outcast from the swampfolks' society due to lacking their distinguishing disfigurements. The way to know in-game who is a friend and who's a foe starts to become a question of simply who looks the most traditionally "human."
One of the few humans tolerated by the swampfolk is a local moonshiner, because of course the swampfolk love moonshine. They use scavenged teddy bears, bizarre idols and wood carvings to mark the boundaries of their territory, and occasionally dead swampfolk can be found carrying around human flesh in their pockets. Even the game's official downloadable editor lists the swampfolk as "creatures" rather than human enemies, despite their ability to speak, obvious culture, and mostly-human appearances. Consistently, the gameplay and story of "Point Lookout" work in tandem to "other" the swampfolk through stereotypical redneck characteristics, only to follow up this othering by dehumanizing them so the player won't feel bad later about killing dozens and dozens of them over the course of the DLC.

Again, none of this is surprising on its own, given how important it is in a video game to develop a visual language to signal to players who and what their enemies are. But Bethesda's use of harmful rural stereotypes as a shorthand for "enemy" reinforces these stereotypes within American culture at large, and its dehumanization of the characters that embody these stereotypes can't help but also dehumanize people in the real world with the same characteristics.
It's possible, even given this track record, that "Fallout: 76" will pay homage to the Appalachian region's unique history and traditions without stereotyping and minimizing the culture it depicts, and many in the game industry are hopeful that it will . And to be fair, we'll all have to wait until Bethesda's E3 conference on June 10 to know for sure that the game is even set in West Virginia in the first place.

But Bethesda's past missteps have made it unclear whether or not the company values making the kind of effort required to portray rural working class people with any kind of dignity. And if other recent big budget games like "Far Cry 5" are anything to go by, mass-appeal games still have a long way to go before they're able to evoke rural themes and imagery without completely flattening or misrepresenting the very folks they're working so hard to call to mind.
Ryan Scott Morris (@Ryabn_Morse) is a North Carolina writer based in the Research Triangle. He attended Appalachian State University, and his work has appeared in Scalawag Magazine, Show Your Skin, and Timothy McSweeney's Internet Tendency. He lives in a little white house with a baby blue porch over a basement full of dying plants.
Derek Redd: 'Hot Rod' Documentary Tells Hundley's Complete Story
As Tony Caridi and Dan Lohmann began the journey that ultimately led to their documentary "Hot Rod," the story of "Hot Rod" Hundley's life through childhood and his legendary careers as both basketball player and broadcaster, they knew they had a great story.
It was in the middle of that journey that they realized just how poignant this story was.
The result is a 92-minute journey through highs and lows, the bright times and dark times of a West Virginia legend, the most complete and compelling study of "Hot Rod's" life.
The seeds of the project were planted days after Hundley's death in 2015. Lohmann, the documentary's director and director of photography, and Caridi, a producer of the documentary along with Lohmann, started talking about the legend's life. Lohmann had lived in Salt Lake City for nine months working on the broadcast of the 2002 Winter Olympics. There, he realized how beloved Hundley had become as the Utah Jazz play-by-play broadcaster, a job he held for 35 years and earned him a spot in the Basketball Hall of Fame.
"I always thought that, to me, the story was the people in West Virginia knew him as a great player and never knew how great a broadcaster he had become," Caridi said. "People in Utah knew him as a broadcaster but never knew how great of a player he was."
So the two began talking to seminal names in basketball and broadcasting to craft that report. In that regard, the documentary sports an all-star team — legendary broadcasters like Jim Nantz and Dick Enberg, legendary players and executives like Jerry West, former Jazz coach Jerry Sloan, former Jazz coach/executive Frank Layden and former Phoenix Suns executive Jerry Colangelo.
They discussed Hundley's wizardry on the court and the antics that made him Bunyanesque in Morgantown, then his transition from player to play-by-play, a rare move that Hundley made with exceptional results.
They talked about his ebullient personality and his wide smile. They joked about the 6-foot-4 former guard's alligator arms when it came to picking up the check and his status as "America's Guest." They discussed his decline and death from Alzheimer's disease.
Yet, as often happens in investigations of this depth, a handful of interviews led that story to evolve into something so much more. The voices that drove the documentary down a new path came from Hundley's daughters — Kimberly, Jacquie and Jennifer.
They talked about his absence as a father in their childhood, his unfaithfulness as a husband to their mother. And that allowed the documentary to delve into Hundley's own upbringing — how his parents split when he was young, his father didn't see him until a month after his birth and how he was passed from family to family in Charleston as a child.
"When we sat down with the daughters, we had an idea about what they were going to talk about, but we really didn't know," Lohmann said. "In spending that time with them, the morning after his statue was unveiled [at the WVU Coliseum], that was the time we found out that Hot Rod had so much more of a texture to him than so many people knew about."
It was then that Lohmann and Caridi realized what they had — everything. The complete story. A story no one else really had, how Hundley used that beaming smile and his hilarious antics his entire life to hide the pain he could never completely escape. And they knew it was their responsibility to properly tell it.
They accomplished that mission, as they learned while watching the audience watch the documentary at its Wednesday premiere at the Clay Center.
"You heard sobs," Caridi said. "You heard laughter. You heard applause. It was great. I think people really liked it. And that's why you do it."
The documentary debuts on AT&T SportsNet Pittsburgh at 7 p.m. Tuesday, and that station will show the project at least two dozen times over the next 12 months. It also will be shown on other AT&T SportsNet properties around the country. It debuts on West Virginia Public Broadcasting at 8 p.m. April 16, and will show the documentary at least 48 times over the next 12 months.
That makes Caridi and Lohmann happy, too. They've created a documentary that tells the real story of a legend, one that is distinctly West Virginian.
"He's the great American story, but he's the great West Virginia story," Lohmann said. "West Virginians by nature are a proud bunch. We're real. And that's something that he was. He did things that no one had ever done and will ever do again. How many people can say that in sports? And he's one of our own."