Appalachia: You can't get there from here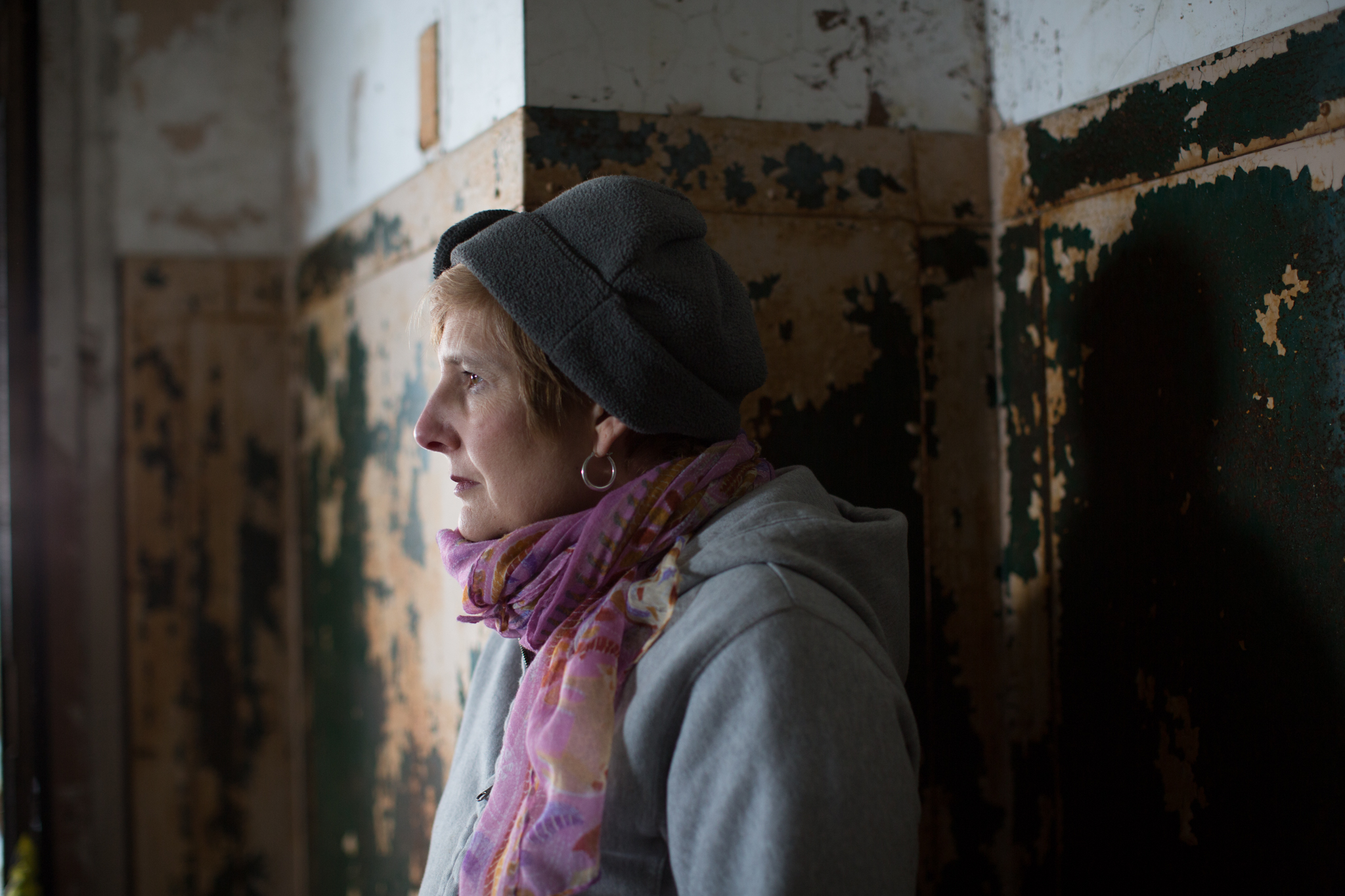 There are many competing and overlapping definitions of Appalachia. In the larger U.S. culture, the one birthed by local color fiction in late 19th Century popular national magazines struck root.  While this prototype has mutated, its many iterations still largely dictate to the wider U.S. imagination what supposedly really ranks as Appalachia.
Concurrent with these serial pieces on lost "mountain ancestors," another perhaps even more foretelling story for Appalachia was propagandized. Unlike the serials' tales of salt-of-the-earth, clannish, feuding, poor, white, uneducated, male, moonshining hillbillies, the pamphlets and journals promoted by South-of-the-Mason-Dixon land speculators used science and statistics to sell domestic and European investors on their section of Appalachia as an untapped reserve ripe to experience the fiscal prosperity of the industrializing U.S. North.
In short order, the wealthiest, most cosmopolitan financiers on earth (for example, J.P. Morgan), poured money into Appalachia and bought massive land-holdings, propped up "coal barons" to carve out mines and towns in a romanticized Eastern version of the "Wild West," finagled in railroads, secured indefinite federal fiscal incentives, dispersed recruiters down South and abroad to lure in tens of thousands of cheap laborers and fueled two energy sectors: coal and oil.
The high demand for labor in the first seventy-coal-producing-years buttressed a new coal-centered network of towns, and thus, a coal-centered culture was dug in. Here, the collective coal industry reigned as King. Coal provided that section of Appalachia with massive employment until the introduction of the continuous miner machine in the mid-1950s. Within five years, automation cut the need for actual human coal workers by half. Since then, employment with King Coal has continued to fall, generally due to technology or pricing displacement.
Yet, here we still find ourselves in the 21st Century with a mountain-bred white coal miner as the larger U.S culture's standard-bearing Appalachian. Like anywhere, the facts on the ground are more complex. In short, what other Appalachians are there? And from this prototype Appalachian, can we even get to those Appalachians from here?
Like most any "region" or state, Appalachia is a political and a created place, patched together largely by business people, politicians, bureaucrats, lawyers and academics. With respect to the latter, Appalachian Studies pieces together an Appalachia through a range of historic, literary, musical, political, sociological, artisan, artistic and theological lineages and line-ups. That field also brings us an Appalachia of exploitation, labor uprisings, internal imperialism, externalized environmental costs, sacrifice zones: a place discarded, corrupt, abused, with towns, people and landscapes left for dead.
Tracing contemporary Appalachia, geologists track and appraise every square inch for its mineral potential. Biological systems engineers assess its rich water resources. Reclamation scientists work to turn Appalachia's many rural industrial brownfields and surface mined sites into utilitarian spaces of rewilding or supposed economically beneficial use, one that may create a job or two.
Environmental and rural sociologists track Appalachia's boom and bust cycles of energy sector employment likening it to the debilitating high accompanying gambling addiction. Medical researchers contend our exposure to hard physical labor–work often breaking our backs–combined with a regional upper-middle class job hawking big pharma, has pushed us to our current drug-addicted edge.
One of a couple of U.S. regions to rank its own federal-state partnership commission — the Appalachian Regional Commission (ARC), the ARC's Appalachia crams in places as disparate as most of Pennsylvania, the upper half of Alabama, the solidly Piedmont city of Winston-Salem, a section of Georgia north of Atlanta, the large section of eastern West Virginia whose hundreds of thousands of acres of gas fields rights were most recently owned by the democratic socialist Norwegian government and five southern West Virginia "coal" counties recently deemed to be in a Great Depression. What prompted the ARC's Appalachia came about through a "discovery" in the 1960s that these contiguous places at that time lagged behind the rest of the U.S. in terms of economic growth.     
More recently, if not homebound by mesothelioma or other reasons, former Appalachian coal miners have gone into trucking or moved to cities to take up construction, or moved north or west to work in oil and gas. In much of Appalachia now, like most of the U.S., if employed, you are likely to be working in medical or retail; if in the most rural counties, then you most likely work for the county itself or the state. However, in terms of how we think of ourselves in Appalachia as a physical risk-taking, hell-raising, hard-working macho people who can take a lot, "nursing family," "Dollar General family," or "county road worker family" just doesn't evoke the same gut reaction as "mining family." As the economic possibilities in Appalachia continue to shift, we'll see if reaching back 140 years before coal to become again a "farm family" or if being a "recreational tourism family" can evoke that mining kind of solidarity or family pride.
In the early 1990s East Tennessee State's Now and Then magazine featured a survey of who considered themselves Appalachian first, before a state or other regional affiliation. Bluefield, West Virginia topped that list, a hamlet that exploded during the reign of King Coal into a significant industrial crossroads sporting a bustling freight yard, a historic Black College, its own minor league team, a hopping nightlife and a micropolitan culture rich with white mountain folk and sharecropper, African American and southern and Eastern European immigrant music, houses of worship, foods, businesses, socialites, strong bosses, organized crime, union organizers and workers–so much so that before its downturn after Black Tuesday 1929 Bluefield was deemed "Little New York."
How does a little town with so much in common with the freewheeling rollicking Big Apple come to think of itself as Big Appalachia? Guess it makes as much sense as a patrician Playboy New Yorker reality TV star in a trucker hat. Or, that person's palling around with a paisan, the Bobby Kennedy-supporting son of a Sing Sing tenured Brooklynite. And, the patrician and the paisan ending up a Republican president and mayor respectively. The fact is: Most people and most places have many layers and sides.
Moreover, maybe, this once little New York and these big New Yorkers aren't so far from each other as Americans. To paraphrase Whitman, they both contain multitudes. It is those of us observing and reflecting or deflecting that have lost clear sight of each and their shared anxieties, pathologies, habits, hopes and dreams.
Appalachia too has been pigeonholed as a space separate from much of the rest of rural America, when in fact, many rural places share its same concerns: what to do economically and environmentally after the local single sector economy automates away jobs or dries up entirely; how to hold and create leaders where one industry has held the reigns of local power; how to shrink smart and make places livable for a declining population and in the face of local brownfields and blown out buildings; how to get past long held local and regional rivalries and find common ground for shared learning and sharing of resources; how to service and fund issues of health and addiction as workforce issues; how to follow and anticipate the next sources of local resources to be used by mainly outside investors and given those, how to shape and ensure more equitable accountability for land, economic, health and educational stewardship; how to support and connect economic sectors in which the jobs won't be automated away and how to build the economic infrastructure for those without the massive federal and state underwriting, grants, tax incentives, research and development support, policy lobbying and university kowtowing wrangled by large-scale industries.
Sounds like plenty for a national level conversation on the rural and — for that matter — of the shared concerns of rural and urban America. Let this current examination of Appalachia set up a different popular media prototype–an Appalachia as a place where these quantifiable and qualifiable needs of the rural come into national profile and action.
We must stop hyper-exceptionalizing Appalachia and each other and instead connect rural and urban places across the country and the world in similar straits. We can learn and become more together than in regional factions, than hemming each other into worn out and disputable identities that obscure our common concerns.
We are in this multi-layered Appalachia and America together and — regardless of how we are supposed to be different — it looks instead like we got some real comparing of notes, some real catching up to do.
Originally from West Virginia, Crystal Cook Marshall researches and works on rural economic sector development in Central Appalachia. With a range of agricultural and other partners she currently is working on an agricultural economic sector anchor project for the Southeast to be spearheaded in Southern West Virginia. Before returning to Appalachia, Cook Marshall worked as an educator, writer, and nonprofit executive in the US and abroad. Additionally, she and her husband farm in North Carolina.
How Leaving Home Can Help Appalachia
This article was originally published by expatalachians.
Appalachian folk have a complicated relationship with leaving. It's a tension that shows up in regional media all the time: In stories about small towns working to keep their young people, about Appalachian millennials leaving New York to go back home, and, more negatively, about how folks in the region should just pack up and get out of dodge.
This isn't one of those stories. As one might surmise from the name expatalachians, I've already left Appalachia, and I'm not certain I'll ever live there again. And although I'm sympathetic to helping young people stay in the region, I also understand why they choose to leave. As I've written about elsewhere, folks have moved into and out of Appalachia looking for a better life for over a century, and I won't begrudge the current generation for doing the same.
Instead, I'm interested in discussing the possibilities leaving presents for Appalachia. Rather than enjoining people to stay or shaming them for going, I would argue conversations about leaving the region should instead focus on how to incorporate the Appalachian diaspora into regional conversations from where they are. Doing so successfully would not only expand our view of the Appalachian experience but also, with millions of Appalachian migrants and their descendants living outside the region, meaning we could better draw on migrants' diverse backgrounds and resources in addressing Appalachia's problems.
Doing this properly means wrestling with several fundamental questions. The one I would like to address here is where Appalachian migrants should fit in discussions about the region. Having left the region, to what extent can and should migrants claim a seat at the table in conversations about Appalachia, and when might their voices usefully contribute to discussions of its issues?
This question has gained increased urgency following the publication of Hillbilly Elegy by JD Vance, a descendant of Appalachian migrants raised in Southwest Ohio. I don't care much for JD Vance's views on Appalachia, or the solutions he offers to its problems. However, in addition to critiquing Vance's arguments, a particular line of Hillbilly Elegy criticism has focused on his lack of Appalachian credentials due to his being raised in Middletown, Ohio.
Wherever you come out on the debate, this line of criticism highlights the ambiguities Appalachian migrants face in trying to address the region. On the one hand, I personally find it hard to deny Vance's identification as Appalachian. Although not part of Appalachia, the region where he grew up, southwest Ohio, was a major destination for Appalachian migrants in the 20th century, and the Appalachian migrant identity remains relevant there. Furthermore, I fear this kind of territorial gatekeeping threatens to exclude those in the diaspora who sincerely and legitimately identify as Appalachian.
On the other hand, Appalachian migrants, including Vance, must also recognize their unique position in speaking from outside the region. Just as a well-off professor in Morgantown has a different experience from a glassmaker in Clarksburg, so too is an Appalachian migrant's experience of the region different from someone who stays. Those of us who've been outside the region for several years must accept that both we and the region may have changed since our departure, and that our experiences "abroad" mean we can no longer claim to speak as "typical Appalachians," if we ever could.
Moreover, while we may strongly identify with the region and its people, we must also accept that, in having left, our stake in the game is different from those who remain. As such, our role and our degree of power in deciding the future of the region should be different.
Of course, this does not mean migrants have nothing to contribute. On the contrary, in return for giving up our claims to being typical Appalachians, we have gained new experiences and insights that can benefit the region if used properly. One of expatalachians' founding goals was to create a place to share and debate these insights. Almost one year on, I'm proud of the fresh perspectives we've been able to inject into conversations about Appalachian history, politics, economics, environmental issues, literature, and more.
What other forms Appalachian migrant organizing may take remains an open question. In the past, migrants have created explicitly "Appalachian" organizations to agitate for better public services, state-specific clubs to commemorate their heritage, and hometown associations to network and reminisce.
As we are currently undergoing a renaissance in Appalachian organizing, diaspora activists would do well to look back on these experiences and think creatively about what kind of community they hope to create, and to what end. Whatever form it takes, for me Appalachian migrant organizing means prioritizing at least three goals.
First and foremost, in light of the Appalachian identity movement's uncomfortable relationship with racism and exclusivism, we must strive to build a diverse and cross-sectional movement that includes Appalachian migrants of all backgrounds, regardless of race, class, indigeneity, religion, gender, sexual orientation, or any other factor.
Secondly, while preserving a personal connection to the region is important in Appalachian migrant organizing, we must also seek to critically address and work toward resolving problems back home, be it through scholarship, donations, economic investment, volunteering, activism, or other endeavors. These problems must include not only pressing issues affecting the region, like the opioid crisis and poverty, but also deeper structural factors that are often ignored, including the present-day realities of racism and colonization.
Finally, to return to my original point, we must organize in solidarity both with fellow migrants and with folks back home while being cognizant of our different positions. This shouldn't just be an Appalachian migrant investment fund that seeks to "innovate" Appalachia while maintaining control. Rather, we must strive to build meaningful relationships and organizational structures between migrants and home communities so that, in seeking to promote positive change, we don't take power away from the region and the people ultimately supposed to benefit from it.
Nicholas Brumfield is a native of Parkersburg, WV currently working in Arlington, VA. He is also a 2007 recipient of the West Virginia Golden Horseshoe for exceptional knowledge of West Virginia history. For more hot takes on Appalachia and Ohio politics, follow him on Twitter: @NickJBrumfield.
A Regional Focus on Health Care, Community by Community
Understanding Appalachia requires coming to grips with the complexities and challenges of rural healthcare.
It means understanding that addiction isn't just an opioid issue, as methamphetamines make a comeback in our communities. It means understanding that health goals reflect a Maslow's Hierarchy of Needs chart from one community to the next, and that how we define wellness is as diverse and place-based as other forms of Appalachian culture. It means understanding that there are no one-size-fits-all solutions in the creative ways that our communities tackle addiction, vaccines, mental health, access and affordability.
With support from Jim and Alexis Pugh, we hired a part-time editor/reporter for developing this beat. We'd like to introduce him to our readers and invite story pitches for tackling this topic together.
— 100 Days in Appalachia
Introduce yourself to the 100 Days audience. How does your background inform your perspective on health and health care issues in Appalachia?
I've been covering rural health throughout the Southeast for some years now. Appalachian born, in the mountains of Western North Carolina. I began writing about health care on a regular basis in 2008 with a series of articles on the breakdown of the mental health care system in North Carolina. I then began to more fully appreciate the complexity of health care issues and the range of repercussions of the decisions we make societally about health care.
I worked for a couple of years under a grant to cover rural health issues in North Carolina, and that job allowed me to spend a lot of time on two-lane roads – those roads William Least Heat-Moon coined the "blue highways" for the color in which they appeared on old Rand McNally maps. I've since been doing the same work as a freelancer, from the Finger Lakes region of New York to the Mexico border. I love driving those roads, realizing that I'm now somewhere I've never been before, then arriving at my destination and exploring how the issues this particular community is grappling with are the same and different as others elsewhere.
I'm looking forward to now returning my focus to Appalachia. I divide my time between Nashville, Tennessee, and Carrboro, North Carolina. I make the trek between those two cities every couple of weeks, and whenever I'm headed west and begin the climb up Old Fort Mountain or headed east and hit Pigeon River Gorge, I feel the tug. It's less than a hundred-mile stretch, but it's so distinctly Appalachia.
With 100 Days, I'm psyched to reorient along a roughly north-south axis, unfolding this region that ambles from Schoharie County, New York, to Kemper County Mississippi. Granted, much of this work will be done from my desk in Nashville or Carrboro. But I'll always be looking forward to that next excursion.
Of course, not all of Appalachia is rural. I do enjoy Appalachia's metropolitan areas, love discovering them anew, and look forward to further delving into their particular health care issues and successes.
Urban or rural, I'm intrigued by the role that place plays in the health care issues communities face and in their outcomes. I'm so looking forward to witnessing Appalachia.
When people see that we're launching a health vertical, it might seem like we're late to the game, that any number of outlets already have a strongly established focus on issues in this area. In what ways do you hope to lead the conversation about health in Appalachia?
Appalachia is facing some considerable health care challenges. In addition to the rising costs of care, rural communities are experiencing diminishing access to services, including hospital closures, and difficulties in recruiting health care professionals. Rural and urban communities alike have been particularly hard hit by opioids.
But Appalachia isn't a monolithic region, and there are nuances to these issues from one sub-region to the next, from community to community. While underscoring shared concerns, I intend to draw out those distinctions. I most especially want to bring attention to the particular ways in which communities are finding solutions
When I write that I'm from Western North Carolina, I capitalize the "W," as those in the region commonly do – because beyond identifying the region geographically, "Western" is an integral part of a proper noun, denoting cultural distinctions. I could ramble on about what those distinctions are – the libertarian instinct, etc. My point is that place matters. Murphy, North Carolina, in the far southwestern corner of WNC, is 355 miles from Raleigh, the state capital.
There are four other state capitals closer to Murphy. To assume that all North Carolinians share a sense of place, an identity, would be a mistake. I want to explore the contours of geography and culture, and how they shape health, health care, attitudes, practice and policies.
I intend to report on the challenges individual communities are facing and their responses to those challenges, and on decisions that the federal and state governments make and the outcomes of those decisions – whether to expand Medicaid coverage, for example, and the implications of that decision.
Are there any specific topics you think media outlets outside of the region do a bad job of covering here or that have perpetuated stereotypes of the people in Appalachia? In what ways do you hope to challenge those views?
I think there's a perception that Appalachia is waiting for a handout, that people in the region are expecting the federal government to solve all their problems. I hope to help counter that narrative.
The first piece I wrote for 100 Days was titled "New Report Cites Economic Woes, Addiction and Optimism in Appalachia." It was about the results of a survey conducted by the Robert Wood Johnson Foundation, National Public Radio and the Harvard T.H. Chan School of Public Health titled "Life in Rural America." Those results underscored the loss of jobs and the scourge of addiction. But the researchers also found that rural Americans are largely optimistic about their future, placing their faith in a shared sense of community. I described how that sense of community is expressed in Moorefield, West Virginia.
I strive to take a solutions-oriented approach to my work. I've written about the closures, mergers and acquisitions of hospitals and the ripple effects they have on communities. That's certainly an issue today in Appalachia. In reporting on these transactions, I've described how communities have responded – at times, rebelled.
I intend to tell the stories of ground-level, multi-fronted responses to the health care challenges Appalachian communities are experiencing.
The focus outside, and inside, the region, in terms of covering health in Appalachia, is largely focused on the opioid epidemic. In what ways do you hope to shine a new light or further the conversation around this topic?
I refer to my answer to the previous question: solutions. Whenever possible, I intend to report on solutions.
Recently, I attended a listening session hosted by the Appalachian Regional Commission in the small town of Wilkesboro, North Carolina. The objective was to discuss workforce issues related to the opioid epidemic. Participants brainstormed job-placement strategies and how communities can engage substance-abuse treatment programs, recovery initiatives and other services. They shared information on available resources in the community. People had driven up to three hours to attend – health care professionals, business owners, social workers, elected officials, academics, law-enforcement officers and plain-old concerned citizens. It was an impressive display of solution-oriented community resolve.
I've reported on naloxone initiatives, needle-exchange programs, law-enforcement assisted diversion programs and health care professionals assisting mother and child in alleviating the effects of neonatal abstinence syndrome, addressing the stigma attached to medical-assisted treatment. I've ridden along with a peer support specialist who helps former inmates in recovery and others who assist those exiting the criminal justice system.
I intend to remain attentive to programs focused on the treatment, care and recovery of those with substance-use disorders and on the prevention of addiction, but with an eye toward how we are solving these problems in our communities.
Distress Grows For Ohio Valley Farmers As Trade Deals Stall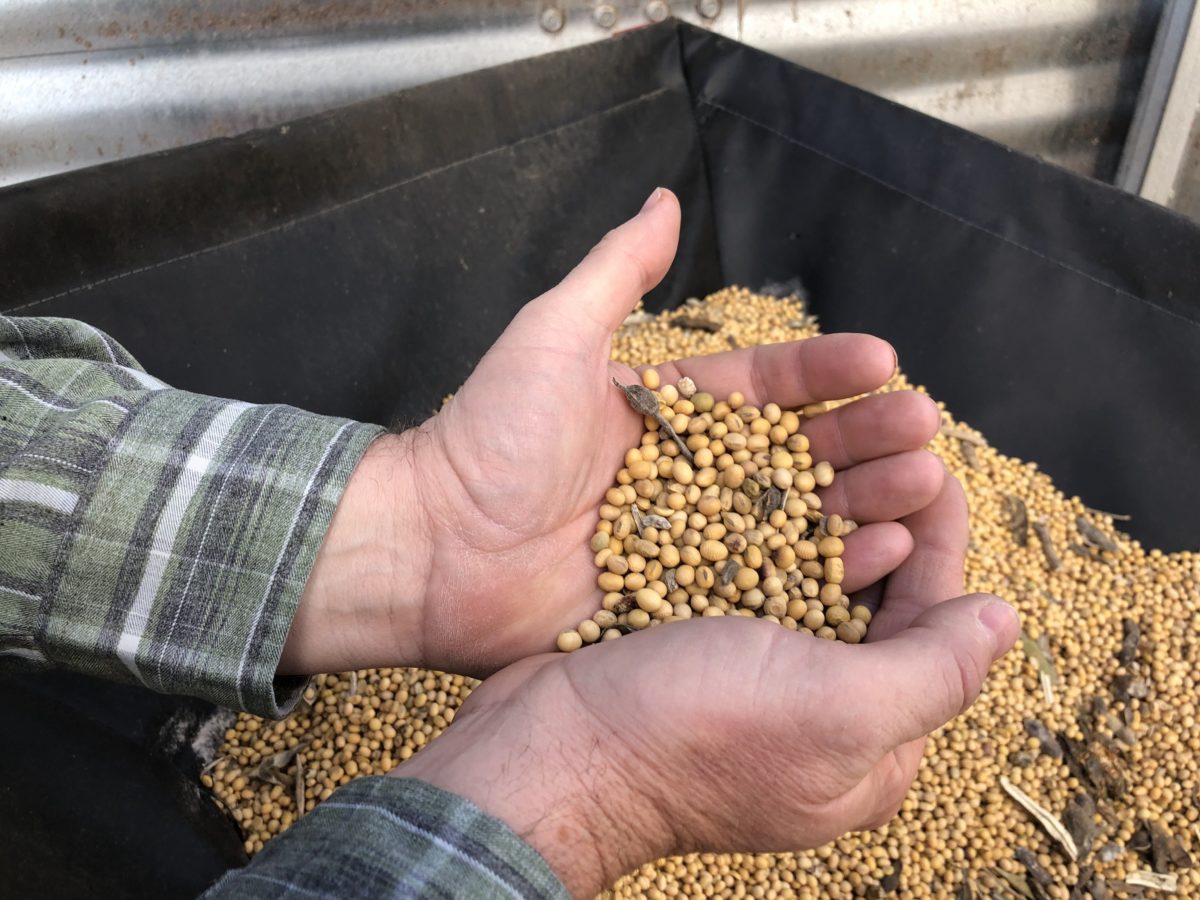 This story was originally published by the Ohio Valley ReSource.
West Kentucky Farmer Barry Alexander doesn't have an answer on when the Trump administration will reach a trade deal with China, now a year into tariffs that have hamstrung some Ohio Valley industries.
Alexander is optimistic these continued negotiations will be worth it, but his plan in the meantime lies in massive, silver storage bins on Cundiff Farms, the 13,000-acre operation he manages.
He pulls a lever, and out tumbles a downpour of pale yellow soybeans.
"These beans have been in here since Halloween day," Alexander said. "The large bin on the right, that's 350,000 bushels. The next-size bins down, that's 180,000 bushels. To give reference, a thousand bushels is one semi-truck load."
He's been trying to hold onto about half of his soybean and corn bushels, waiting to see if he can sell for a better price before he's forced to start planting again in early April.
Crop prices have crashed partly because of Chinese tariffs, and the losses have put a strain on some farmers he knows.
"There are farmers that have decided to retire because they didn't want to work through these things now. We're to that point," Alexander said.
Alexander said he's survived in part because his sprawling farm has resources to work with: eight full-time employees, two new $550,000 combines he traded up for, and the storage bins to help ride out bad crop prices.
"Our large structures are not cheap, but financially for our farming operation, they're a necessity for us to do what we do," Alexander said.
Farmers like Alexander are coping with losses from tariffs and a continuing trade war, and it's not clear when it will end. A March 1 deadline for negotiations with China was delayed indefinitely by President Trump, and an agreement with Mexico and Canada that Trump signed in November has yet to be ratified by Congress. The retaliatory tariffs on U.S. crops and dairy remain, compounding problems caused by overproduction and low crop prices, and small farmers are suffering the most.
Size Matters
"If you look at all the large farmers, these guys have the storage facilities to wait out bad prices," Kent State University-Tuscarawas Agribusiness Professor Sankalp Sharma said. "For a lot of these small guys…they couldn't actually store their commodity, they still had to deal with those lower prices."
Sharma and others argue grain prices have been low for five years because farmers are overproducing, and tariffs are only making the situation worse.
"The United States soybean harvest this year in general was just crazy. There was a bumper crop, and prices were down because of that," Sharma said. "This was just your classic demand and supply situation."
Both Ohio and Kentucky set records for soybean harvests in 2018: 289 million bushels and 103 million bushels, respectively. This is up significantly compared to two decades ago, when Ohio harvested 162 million bushels and Kentucky harvested a little over 24 million bushels in 1999.
Farmers are also becoming more efficient than ever before — Ohio set records in 2018 for most corn and soybean bushels produced per acre.
Oversupply problems haven't been limited to grains, though. Small dairy farmers are also dealing with excess supply and tariffs, with hundreds of cases of extra milk being dumped at Ohio Valley food banks.
Farms At Risk
Greg Gibson's operation is small, but his family has made it work for decades. He milks 80 cows at his dairy farm in Bruceton Mills, West Virginia, and he took over the operation in 2002. The past year of tariffs hasn't been easy.
"Everything's down. Historically, if milk price is down you can sell some corn or you could sell some replacement animals are something," Gibson said. "But nothing has a lot of value to sell right now, so it's really hard to generate any additional revenue. And a lot of that is because of the trade problems we're having."
Like many Ohio Valley farmers, Gibson is receiving payments from the $12 billion in federal relief from the Market Facilitation Program intended to to help those who suffer losses from tariffs.
Gibson appreciates Trump's efforts to renegotiate trade deals, and like Alexander, is cautiously hopeful about the prospects of new trade deals.
But he said he's also disappointed in Trump because the payments are not nearly enough to recoup his losses. He says milk's price has plummeted nearly a dollar per hundred pounds of milk sold and the payments only reimburse 12 cents of that.
"I would have rather him said 'I got to do this. You're going to take the hit. Sorry.' Don't promise me you're going to take care of me and then don't," Gibson said.
Some commodity associations including the National Corn Growers Association and the National Milk Producers Federation have called on the Trump administration in past months to bolster what they call lackluster relief payments.

Gibson's squeezed budget has had him extend paying off his farm loans and put off paying several repair bills. He's also had to put up his 150-year-old family farm as collateral for his loans.
Farm lenders say Gibson's situation isn't unique right now. Senior Vice President of Agricultural Lending Mark Barker helps oversee lending for Farm Credit Mid-America, which serves most of Ohio and Kentucky.
"Are we doing things differently? Well, sure," Barker said. "Because we have customers coming in now and telling us 'I'm struggling at this point. I'm challenged.'"
Barker said while most people are making their loan payments right now, the rapidly increasing amount of debt farmers are taking on to deal with depressed prices is concerning, especially for smaller operations.
"It seems like the larger producers, you think about their equipment and everything else, they've got some added advantages," Barker said. "It doesn't mean the smaller producer is necessarily 'out,' but I do think they got more challenges in this current environment."
U.S. Department of Agriculture economists predict nationwide farm debt will reach $263.7 billion in 2019, levels of debt not seen since the 1980s farm crisis, when thousands of farm families defaulted on their loans amidst a trade embargo with the Soviet Union and high loan interest rates.
New Farmers
Tom McConnell leads the Small Farm Center at West Virginia University's Extension Service and tries to help small farms succeed, in a state that has the highest proportion of small farms in the nation. He's lived through the 1980s farm crisis and saw many dairy and beef farmers lose their farms.
He said one solution for small farmers to withstand these depressed prices is to switch to crops that bring a higher value, like vegetables. But those can be more labor-intensive, and the transition can be difficult.
"If you've been in a family that has milked cows or grown row crops for three generations, and I suggest you grow three acres of sweet corn and five acres of snap beans, there will be some resistance to that," McConnell said.
McConnell said it might take a new generation to redefine what a successful small farmer business model can look like.
One of those younger small farmers is Joseph Monroe, who moved from Indiana to central Kentucky to raise beef cattle and grow tomatoes and greens. Monroe believes a way forward for smaller farms is to find ways to work together to sell products and have a greater market impact.
"I think there needs to be some pioneers and some examples out there of how to draw up a contract to work together," Monroe said. "I think we need to throw all the darts and see what hits."Share on Twitter

This story was originally published by the Ohio Valley ReSource.